If you've been up to date with recent events, you must have heard the term "metaverse."
The previous century was known for mass production and the growth of the internet. The future generations may remember the 21st century for creating and expanding the virtual world, or metaverse.
It promises to be more immersive, interactive, and collaborative than what the internet has accomplished thus far.
It will not only influence traditional vocations or fairly common hobbies, but its impact on society and how humans interact with one another will be substantial.
What is Metaverse?
It is a digital environment where digital representations of people, places, and objects exist. To put it another way, it's a "digital world" where digital items represent actual people.
Metaverse has numerous applications, including meetings, manufacturing, floor visits, onboarding, training, and more. It can reinvent anything. Using 3D glasses, the experience will be entirely immersive.
In a gaming or fantasy metaverse environment, it can be anything you can think of.
Moreover, an avatar – or some component of it – will be able to travel across and between different zones of the metaverse. It will be identifiable as "you," regardless of what you're doing or what platform you're using.
Metaverse Characteristics
Here's a look into the features that shape the metaverse.
1. The virtual world
The virtual world is the metaverse's most important characteristic. You can enjoy 3D graphics and sound while exploring it on a computer, gaming console, mobile device, wearable device, or other devices.
You can access the virtual world at any time. You can edit it by adding new virtual buildings or other stuff, and the modifications will be saved when you return.
You may even be able to move in and own a part of the property.
2. Socialization
Metaverse is a social environment inhabiting avatars, bots, virtual agents, and artificial intelligence forms.
You may interact with other people or even do activities with them. Given Facebook's history as a social network, the social aspect of the metaverse is likely to be vital.
3. Virtual-Reality (VR)
You'll need a virtual reality headset for this. The idea is that you get immersed in the virtual world, making you feel even more present, at least until you come across anything still in the actual world, such as a coffee table.
4. Real-World Connection
According to some views, virtual things in the virtual world represent genuine stuff in the real world.
You could, for example, control a real-world drone using a virtual drone in the metaverse. You may establish the connection between the physical and virtual worlds as "digital twins."
Metaverse Tech Stack
It is a virtual-reality area where users may interact with a computer-generated environment and other users. Following is a list of five of those next-generation technologies, as determined by the study.
1. Python and JavaScript
The Python programming language is the most popular for a wide variety of applications. In the metaverse, it is used to produce the stacks of blocks that make up new scenery, items, and avatars.
It intends to make virtual reality (VR) a more accessible technology by decreasing entry barriers for both professionals and beginners.
Similarly, Javascript finds multiple use cases in building the metaverse, including blockchain and VR/AR.
2. 3D Modeling
We refer to spatial information when we talk about extended reality (MR/VR/AR). This includes 3D models, audio, and other multimedia that may be spatialized. The first step is to create authentic 3D material to make this happen.
We've seen what the iPad's LIDAR and the Hololens 3D Kinect Sensors can do, and we can go to the metrology industry to see what advanced 3D reconstruction looks like.
Not only is 3D reconstruction critical, but we must also consider how we will handle all of the data and make it worthwhile to consumers.
We want an environment that allows metaverse users to develop and access content on top of the real world or within virtual worlds from anywhere and on many devices, depending on the context.
We can understand how this will operate in the coming years when more robust silicon for XR devices is available, if we analyze how the accuracy of the reconstruction is relevant for the interaction between real and digital. The degrees of immersion will be incredible.
3. Artificial Intelligence
Now that we've covered 3D reconstruction, we can move on to AI's next major XR integration. They employ artificial intelligence to support the avatar's lips and body movements, resembling its true self.
The avatar becomes a digital twin, and as technology progresses, it will grow increasingly similar to its real-world brother.
Over the following decade, we will see technological developments contributing to the metaverse. Immersive headsets will have eye, face, and lip tracking as regular features, allowing you to converse with others more precisely through your digital avatar.On the platform, digital people are 3D counterparts of chatbots. They aren't exact duplicates of other people; instead, they are more akin to AI-enabled non-player characters (NPCs) in a video game who can react and respond to your activities in a virtual reality world.
Language processing is one of the most common applications of AI in digital people.
Artificial intelligence can help break down natural languages such as English, and convert them to a machine-readable format. Do analysis, arrive at a response, convert the results back into English, and send it to the user.
This entire procedure takes only a fraction of a second, much like a genuine discussion.
The best aspect is that, depending on the AI's training, the findings might be turned into any language, allowing people from all over the world to access the platform.
4. Internet of Everything (IoE)
Much as AI is required to provide context-rich knowledge, we also need data to feed such context-aware systems and make them operate. Connectivity between devices is required for this.
Consider how smart gadgets enable you to command your favorite digital assistants, such as Alexa or Google Assistant. Let's move from the Internet of Things (IoT) to the Internet of Everything (IoE). We can feed data and interactions relevant to the user into our XR systems and the metaverse.
We saw a recreation of an apartment in the Meta announcement film where a user switched on the TV by simply gazing at it and making a gesture.
The Internet of Things would make this a seamless reality, allowing us to operate devices other than our XR system and bypass the limitations of voice commands with our virtual assistants.
5. Blockchain
Metaverses are collections of thousands of terabytes and exabytes of data that must be stored, communicated, and synced across nodes for all users to experience the same virtual reality experience.
Blockchain will be a valuable resource for a multitude of reasons. For example, cryptocurrencies are likely to overtake cash as the major means of payment.
Furthermore, blockchain assures that digital photographs are unique. We can use blockchain to verify that a particular avatar is genuinely you.
Non-fungible tokens (NFTs) will also play a significant role in the platform. In the future, we will be able to analyze art or explore a virtual world while understanding that it is unique.
It can manage economic, legal, and even social connections between platform users via a smart contract. The smart contract will enable the creation of fundamental virtual world regulations such as "if avatar A says the phrases 1, 2, and 3 to avatar B, it will be banned for 24 hours."
Metaverse Key Players
Hundreds of organizations are working on either a single platform or many metaverse aspects. Here are a few notable names.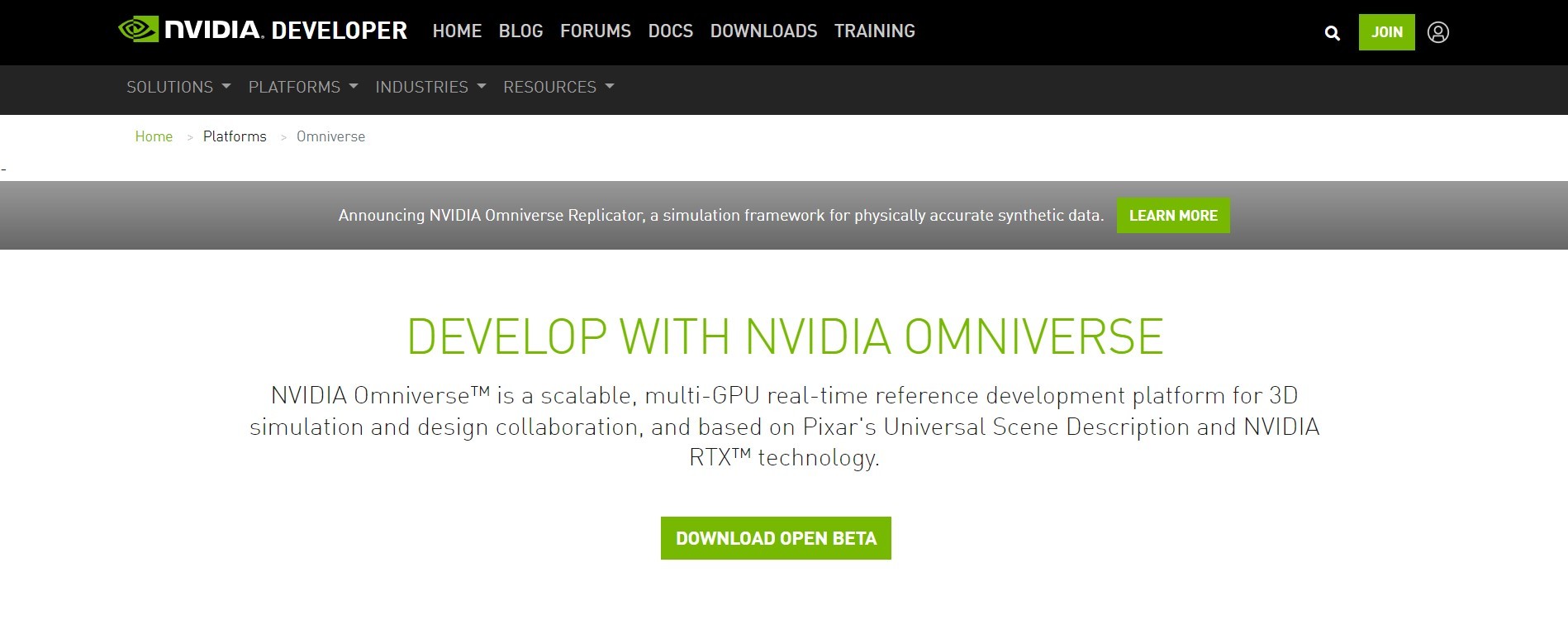 The Nvidia Omniverse Platforms are a collection of 3D, virtual, and augmented reality experiences that NVIDIA has launched.
This platform intends to provide game creators with photo-realistic simulation and collaboration tools, allowing engineers and designers to build accurate replicas of real-world infrastructure and locations for a more immersive gaming experience.
These include real-time conversations, streaming services, and server and workstation sharing are collaborative capabilities.
Facebook is a key participant in the metaverse arena. It is now in the news due to the recent change in its name to Meta Platforms, previously Facebook Inc.
The social media behemoth is one of the most admired augmented and virtual reality investors. It has been trying to create a metaverse out of its VR environment, Horizon, accessible via the brand's Quest headsets.
Located in San Francisco, Synthesis AI aims to provide engineers with the tools they need to create experiences based on synthetic, data-driven digital representations of the actual world.
Consider witnessing a sporting event from the perspective of a favorite athlete, engaging with lifelike avatars of friends, or physically experiencing things for the first time.
These applications rely on computer vision AI to simulate human-object interactions in 3D settings. Developing these AI skills calls for massive volumes of high-quality data created using synthetic data technologies and virtual humans.
Microsoft Corporation is also not far behind in the domain of this platform.
Microsoft CEO Satya Nadella hinted at this during an earnings call, saying that the company's goal was to integrate the physical and digital worlds by developing an "enterprise metaverse."
Microsoft, with the well-known Xbox and Minecraft, is a notable player in the gaming sector, which will also see developments to include the notion of the platform.
Roblox Corporation, an American video game business that went public last year, envisions the metaverse as a place where "people may join together within millions of 3D experiences to study, work, play, create, and interact."
The California-based gaming organization hopes to benefit consumers and developers in creating digital environments.
Roblox Founder/CEO David Baszucki has also stated that the firm is excited to create future commerce and business experiences on the platform, fueled by its virtual currency, Robux.
Conclusion
The metaverse is no longer a far-fetched concept; it is now a reality. Our physical world will become increasingly virtual in the next few years because of evolving technology.
The metaverse tech stack includes programming languages like Python and JavaScript; 3D modeling, AI, AR/VR, IoT, and Blockchain. These technologies play a critical role in shaping the metaverse, exploring new possibilities, and taking virtual experiences to new heights.
Many of the world's prominent technological corporations are investing in the metaverse, which appears promising. If it is successful, it could change our experiences in unimaginable ways.
Are you excited to see what the metaverse has in store for us?