Table of Contents

[Hide]

[Show]
Let's face it, web conferencing is no fun. Whether you use Zoom, Microsoft Teams, or Google Meet, you will end up somewhat frustrated with the limitations of the medium.
For sure, 1-on-1 calls are serviceable– especially with improvements in video and sound quality in consumer devices. But once you start adding more people, it becomes difficult to manage.
Zoom's Breakout Room feature tries to remedy this by giving moderators a chance to divide a large call into smaller groups. Despite this, it's a bit of a hassle to set it up for an event or conference.
Remote teams are starting to notice the lack of spontaneity that an open-plan office provides. A quick message on Slack as having a quick visit to a co-worker's desk.
Online conferences and events hosted on Zoom fail to live up to their real-life counterparts, where you can walk around and interact with whoever happens to walk by you.
Gather is a virtual meeting platform designed to fill that gap.
At first glance, it may look like your typical RPG game. However, Gather might just be another breakthrough in the ever-evolving Metaverse. Let's explore what Gather has to offer for your team.
What Is Gather?
Gather is a social communication platform that can't really be placed in a single category.
It is a video-conferencing platform, where starting a meeting can be as simple as moving your avatar next to the person or group you want to speak to.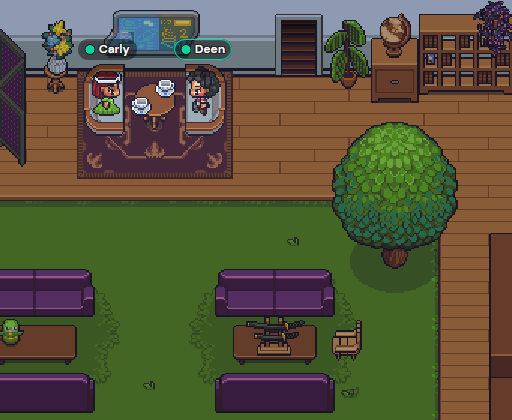 Aesthetically, it looks like a video game. The pixel-art style gives off a fun vibe that is endlessly customizable and easy to explore.
At its heart, however, is the community aspect. Whether you use Gather's virtual spaces for one-time events, weekly meetings, or day-to-day office work, Gather excels at giving you a sense that you're together with someone.
Who is Gather for?
Gather aims to create a "Metaverse for humanity". The internet has allowed people to cross physical barriers in order to communicate and be together.
Remote-based teams can use Gather as a virtual office. Many of Gather's features facilitate what you might find in your typical office: meeting rooms, whiteboards, and even areas to take a break and interact with coworkers.
Gather has also been used to host parties, mixers, and conferences. Livestreams and webinars can be made more interactive with Gather virtual spaces. Attendees can interact with presenters face-to-face with their virtual avatars. It becomes easy to network with different groups by simply moving your avatar around different private spaces.
Educators can also look into Gather as a space for virtual classrooms for schools adapting to a remote learning environment.
Key Features
Design Gather virtual spaces or select from dozens of templates.
Quick voice and video chat by dropping by a teammate's avatar. You can also use the Screenshare option to show your team what you're working on.
Team collaboration tools such as virtual whiteboards and shared documents
Customizable avatars and workspaces
Interactive objects
MapMaker mode, where users can create their own office floorplan.
Various leisure games for team building and breaks
Pros
More flexible than a Zoom meeting. Virtual space allows users to walk around and interact with teammates without having to rely on Zoom invites or breakout rooms.
Customizable virtual spaces allow you to give your team or participants a unique experience they can't get on a Slack or Discord channel.
Interactive objects can make your virtual event or workspace better. Instead of sharing a link, you can have posters on the wall that share files, presentations, and websites to anyone who views it.
Cons
Limited mobile support
As it is a bit more graphics-intensive than your typical Zoom or Microsoft Teams, meeting, lower-end devices may experience lag when using Gather along with other open applications.
Pricing
Gather is Free for small groups of up to 25 concurrent users. The monthly plan for remote teams is $7 per user and comes with an optional guest list and domain-restricted access.
For events, Gather offers two main plans. The 2-hour event plan allows up to 500 concurrent users, priced at $2 per user. This plan is ideal for parties and socials. Gather also offers a Per-day plan, priced at 3USD per user, ideal for conferences and off-site events.
Conclusion
As employers and job seekers begin to lean toward a global and remote work environment, it's crucial that we keep a sense of togetherness as human beings.
Simple habits like regular Zoom catch-ups and social events help tremendously, but platforms like Gather take it a step further with their Gather virtual spaces.