In the bitcoin market and on the internet, we've come across a variety of words. Web 3.0, NFTs, Metaverse, Soulbound tokens, Web5, and a slew of other concepts are among them.
Every day, it appears as if more intricate and often perplexing terminology develops without allowing us to delve into the specifics of each one. TBD(The Block Head), Jack Dorsey's crypto venture, has announced the development of Web5, a Bitcoin-based decentralized network.
The goal of this project is to return personal data and identity management to web users. The internet is a network of websites, systems, servers, and computers as we know it. More akin to a worldwide system that democratizes knowledge access.
Although in our quest for knowledge on the internet, we leave traces of ourselves on online platforms signing up and accepting their cookie policies, we leave traces of ourselves on online platforms by signing up and accepting their cookie policies.
With the number of websites and platforms we visit, we frequently struggle to remember and safeguard our accounts and passwords.
Jack Dorsey's Bitcoin-based platform sees 'Identity' as the web's missing layer and is working to fix it.
In this piece, we'll take a closer look at Jack Dorsey's Web 5, including its components, use cases, and more.
Web 2 & Web 3 –
Web 5
Web5 is a decentralized online platform that allows developers to construct decentralized web apps using decentralized IDs, verifiable credentials, and decentralized web nodes, giving individuals ownership and control over their identity and data.
In basic terms, web5 intends to give people more control over their online identities and data by developing apps and protocols that put the user first.
It ultimately comes down to establishing a decentralized society (DeSoc) in which identity management takes precedence over personal benefit.
The objective of Web5 is to develop a one-of-a-kind collection of tools based on Bitcoin that will revolutionize the financial system as we know it. Investors and people would not only be able to secure and own their data, but they would also be able to maintain control over all of their relationships.
One of the key complaints of Web5 vs. Web3 is that, despite marketing attempts to the contrary, Web 3.0 systems are typically more centralized about what people believe. Web 3.0 platforms, according to Jack Dorsey, are built on a single point of failure systems, citing Solana (SOL) and Ethereum as examples (ETH).
As a result, a system based on Bitcoin's decentralized structure and lack of single points of failure could be a better fit for the principles advanced by Web 3.0 enthusiasts.
Web5's foundations include self-owned identities that enable decentralized identity authentication and routing, verifiable credentials as data formats and models for cryptographic presentation and claim verification, and decentralized web nodes (data storage and message relay nodes).
How does Web 5 work?
TBD's Web5 vision is made up of a variety of software components that, when integrated, allow app developers to focus on developing immersive user experiences while also allowing for decentralized identification and data storage.
It's entirely built on the Sidetree protocol and ION, which work without the usage of tokens, trusted validators, or other consensus mechanisms.
The Decentralized Web Node(DWN) is the initial component. DWNs are mesh-like datastores that allow one entity to operate many nodes that all sync to the same state. The next piece of the puzzle, Web5's DWN, will be utilized to identify data tied to a certain DID (Decentralized Identifier).
A DID is a globally unique permanent identification that can be generated and registered cryptographically without the need for a central registration body.
The Self-Sovereign Identity Service is the next critical component (SSIS). SSIS (Self-Sovereign Identity Service) is a decentralized identity management service that allows individuals and organizations to take ownership of their digital identities.
SSIS is a secure, decentralized, and tamper-proof approach to maintaining digital identities that are built on a blockchain platform and uses smart contracts.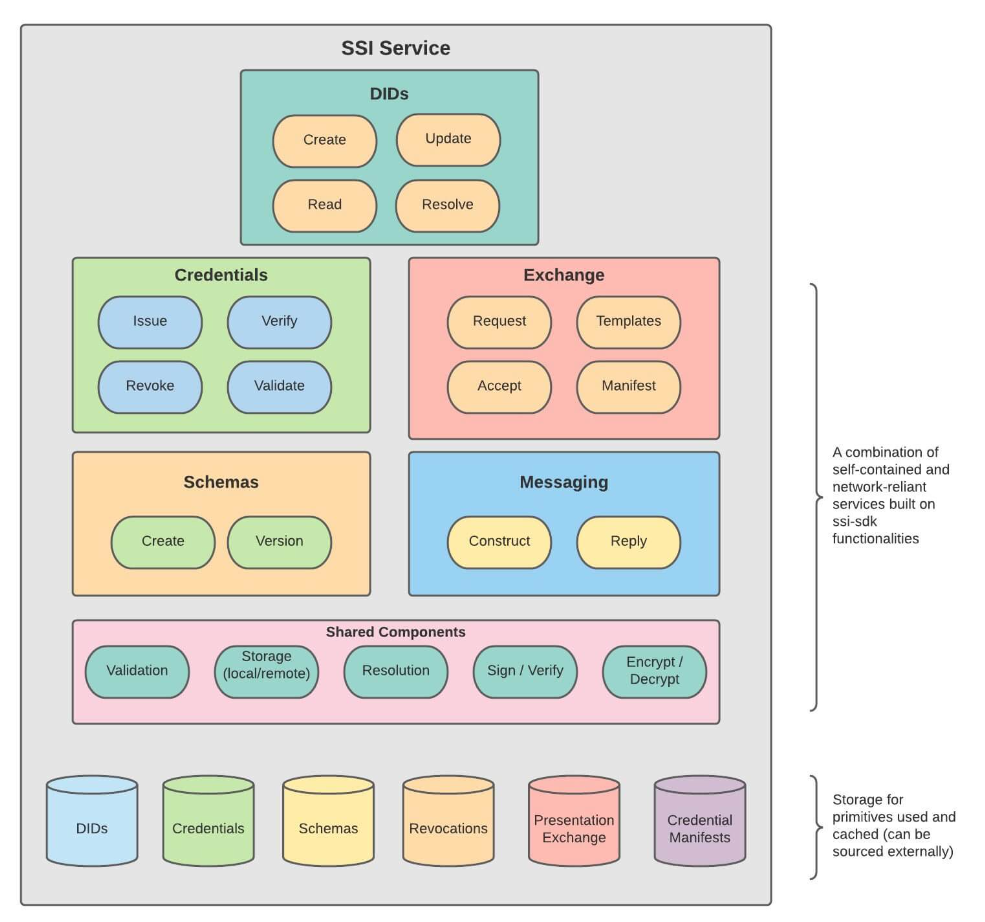 The Self-Sovereign Identity SDK is the third major component. The Self-Sovereign Identity SDK is a toolkit that allows developers to quickly create self-sovereign identity-based apps.
It's made to operate with any identity management system and comes with a collection of tools and APIs to assist developers to build apps that offer users control over their data.
Web 5, PWAs to DWAs
PWAs are Progressive Web Apps, which you use on a daily basis (Pinterest, Uber, Spotify). They're online applications that mimic the user experience of native apps by utilizing contemporary web technologies.
PWAs are intended to be quick, dependable, and entertaining. Jack Dorsey is building the architecture for DWAs using the aforementioned Web5 components (Decentralized Web Apps).
Developers would be able to construct programs with decentralized identification and data storage capabilities, giving consumers complete control over their personal information.
Jack boldly asserted shortly after sharing Web5 documents on Twitter that it "will likely be our most important contribution to the internet."
Web 5 use cases
Control Your Identity
Jay keeps his identity, data, and authorizations for external apps and connections safe in a digital wallet. Jay logs into a new decentralized social networking platform with his money.
Jay doesn't need to establish a profile since she's connected to the app with his decentralized identity, and all of the connections, relationships, and postings she makes through the app are saved on his decentralized web node.
Jay can now switch applications whenever he wants and keeps his social profile.
Take control of your data.
Aayush is a music fan who despises having his personal information tied to a single company. It causes him to constantly re-create his playlists and tracks across many music applications.
Thankfully, Aayush can save this data on his decentralized web node, which provides a route out of this maze of vendor-locked silos. Aayush can give any music app access to his settings and preferences in this way, allowing him to carry his tailored music experience with him everywhere he goes.
What precisely will Web 5 look like?
The advent of virtual assistants who forecast your requirements without many clues based on your actions is a foreshadowing of the Intelligent Web to come. Web 5.0 apps will be able to analyze data on a more complicated level, both emotionally and intellectually. This is the Web that works in genuine synergy with daily life, without even thinking about it, and is naturally connected with everything we do.
Artificial Intelligence allows computers to communicate in human-like ways, but the technology that allows them to think, reason, and reply in a human-like manner is not as far away as you might believe.
Web5 is predicated on the premise that Web3, the concept of creating a decentralized web utilizing blockchain technology and cryptocurrencies, has the right objectives but is implementing them incorrectly.
Web5 combines Bitcoin, a decentralized monetary network, with a slew of excellent computer science technologies to build a new ecosystem of decentralized identities, data storage, and apps in which users maintain ownership over their personal data.
Conclusion
The internet democratized information sharing, but it lacks a critical layer: identification. With hundreds of accounts and passwords, we can't remember, it's difficult to keep personal information private.
Identity and personal data have become the property of other parties on the internet nowadays. Your apps will benefit from Web5's decentralized identification and data storage.
It allows developers to focus on designing beautiful user experiences while giving users back control over their data and identities.