Real estate is often advised as a great addition to any investor's portfolio. But will virtual real estate follow suit?
The blockchain-powered Metaverse has grown in popularity in recent years. Digital ownership in the form of NFTs has made it possible to guarantee ownership of digital goods and easily resell them whenever you want to.
With many investors embracing this new digital economy, virtual land may just be a solid investment to make today.
This article will go over a few reasons why you should consider buying virtual land in the metaverse. We'll explore a few options on where to buy virtual land and how you can claim it.
We will also look into some potential risks when buying virtual real estate and how you can avoid them.
Why Buy Land in the Metaverse?
There are a few reasons why buying virtual land can make a decent investment.
Virtual Property is Limited
Much like actual real estate, most protocols ensure that only a limited number of properties are available for sale. As the supply of virtual real estate diminishes, it's likely that prices for land will only get more expensive.

If the trend of metaverse interaction becomes mainstream, getting virtual property while it's still relatively cheap can become a good position to be in as an investor.
Opportunities for Passive Income
Many virtual land opportunities offer ways to earn money if you own a property. Virtual landowners can rent out properties or allow companies to put ads on their land.
Metaverse Real Estate has been done before
Before blockchain technology-enabled truly secured digital ownership, people already took their chances with virtual real estate.

In 2006, Ailin Graef became a millionaire after investing money into the popular metaverse-like game Second Life. The Second Life marketplace is still active today, with plenty of properties up for rental, presumably giving many early investors a steady source of income.

Unlike Second Life, however, blockchain virtual real estate is not in control of a single entity. Large companies and real estate firms have already started to invest in NFTs and metaverse platforms.
While virtual real estate is still very new, these large entities are taking a chance with these investments.
Popular Metaverse Protocols
Sandbox
Sandbox is a virtual world where users can build, own, and earn inside the game.
The Sandbox platform consists of three integrated products: the Voxel Editor, Sandbox Marketplace, and Game Maker.
The VoxEdit package allows users to create their own animated 3D objects. These objects can then be published in the Sandbox Marketplace as NFTs. Users can use the Game Maker to create interactive experiences that exist in the Sandbox world.
Players who want to populate the world with assets and interactive experiences need to buy LAND. Each LAND is a unique NFT tied to a player. A total of 166,464 LAND tokens will be available in the Sandbox platform.
Users can rent their LAND or populate them with content to increase the value of their virtual property.
How to Buy LAND
To buy land in Sandbox you need to go through four main steps:
Set up a Wallet


In order to participate in the Sandbox platform, users must first create a crypto wallet to purchase ETH. The most common wallet used is Metamask. Users may download a Metamask wallet for their browser through their

official website

.


Buy SAND and ETH


Before buying any properties, users will need to have both SAND and ETH in their wallets. SAND is needed for all transactions in the Sandbox platform, and ETH is required to pay for gas fees. Users can buy SAND and ETH on popular cryptocurrency exchanges such as Binance or Crypto.com.




Once you have acquired the necessary tokens, you can deposit them into your Metamask wallet.

Create a SANDBOX account and transfer SAND


To create a Sandbox account, head over to the

Sandbox login page

. There will be a prompt that will require you to connect your account to a crypto wallet. Click on "Sign" on your MetaMask browser pop-up to complete the verification.

Buy LAND in a LAND sale or on OpenSea
Users can use the MAP tool to look for available LAND to buy. Clicking on any valid tile will allow you to see the land's size and location.

Users also have the option to buy LAND on third-party platforms such as OpenSea. The OpenSea Marketplace offers some features that will allow you to confirm that the NFT for sale is tied to actual property in the sandbox.


Decentraland
Decentraland is an Ethereum-based blockchain platform where users can buy and sell digital real estate in a virtual world.
The Decentraland platform uses a non-fungible asset called LAND.
Land is divided into various parcels with specific Cartesian coordinates on a map. Users can purchase these parcels using MANA, Decentraland's cryptocurrency token. There is a fixed quantity of 90,000 properties.
Users can buy and sell parcels and estates of LAND in their Marketplace platform. Users can look at the Atlas View to interact with a map that shows every parcel in Decentraland. Parcels that are up for sale will be highlighted.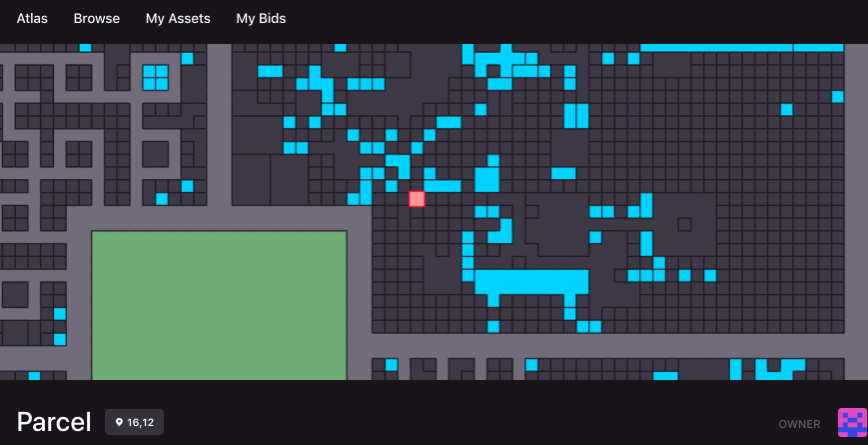 Key Features of Owning Land Parcels
Non-fungible asset that runs on the ERC 721 standard

Property owners are in control of what content to put in their land

The scarcity of properties can allow investors to sell at a profit
How to Buy Land in Decentraland
Sign Up for Decentraland



Users must first create an account in Decentraland through their

official website

.

Select a Parcel
Users can check out the Decentraland Marketplace for lands that are for sale. Blue tiles indicate that the property is for sale.
Check Price and Info
Before purchasing the land, you can check the price, location, and other information by clicking on the tile found in the map view.

Buy Virtual Land


After choosing which parcel to buy, users can click on the "Buy" button to complete the transaction with their Metamask wallet.

Alternatively, users can choose to find land for sale on third-party platforms such as OpenSea.

Risks of Buying Land in the Metaverse
The main risk of buying virtual land is that the platforms may just not become popular in the future. With so many platforms competing to be the best, it would be a risky move to go all-in on any particular platform.
Long-term predictions in this space are nearly impossible because of how new the technology is.
Another risk of buying land is that you are essentially buying an NFT attached to a particular platform. There will always be a risk that the value of your NFT will drop to nearly nothing and nobody will be interested in buying it. With how expensive virtual properties can be, it's possible to lose a large chunk of your portfolio from a bad investment.
Looming over all investor's minds is the possibility that the metaverse may just be all hype. Platforms such as Decentraland and SandBox are still severely lacking in content and activities to do. Many investors buying land on these platforms may be investing for short-term gains, which could potentially make the prices of these properties highly volatile.
Conclusion
Virtual land in the metaverse offers a great opportunity to invest early. There is potential for the metaverse to be a major part of the web as virtual and mixed realities become more mainstream.
However, like most blockchain assets, the market for virtual real estate is still highly speculative. Investors should do their own research to see the benefits of each metaverse platform.