The gaming industry is investing a growing amount of money into blockchain-based initiatives, particularly in developing metaverses that will improve the entire gaming experience.
Following Facebook's October 2021 rebranding as "Meta," the notion of metaverses and gaming in them has exploded in popularity, since they have changed the way people connect digitally and influenced how we define ownership of in-game digital goods.
There are several game metaverses available.
However, some look more promising than others.
The Sandbox metaverse is one such metaverse that you should be aware of.
It took an open and decentralized metaverse approach. This is where the user can generate money by creating their own content.
I'm here to fill you in on this incredible initiative.
Let's get started!
The Sandbox is a pay-to-win game that uses blockchain, DeFi, and NFTs in a three-dimensional metaverse. It allows users to develop and build their own games and digital assets, as well as personalize them with free creative tools like VoxEdit and Game Maker.
It allows players to create and construct their own avatars to access the numerous landscapes, games, and hubs. The developed digital items can finally be monetized via NFTs and sold for SAND tokens on The Sandbox marketplace.
Developed by Pixowl, it is a metaverse and gaming environment built on Ethereum that allows users to create, share, and monetize in-world assets and game experiences.
It intends to disrupt the existing gaming business in which platforms own and manage user-generated content, limiting the rights of artists and gamers.
Moreover, users in The Sandbox have complete control over their in-world creations.
How does it work?
The addition of a user-generated content ecosystem to the blockchain is the first step. They've created three interconnected products and services to give a holistic experience for creating user-generated content.
Furthermore, these solutions empower consumers by offering them copyright ownership of their work through using Blockchain technology and smart contracts.
The Sandbox's first project was VoxEdit, a Voxel Editor that allows users to build voxel objects, rig them, and animate them. With this 3D modeling and NFT creation application, Windows and Mac users can start designing 3D objects ranging from humans to plants, animals, and tools.
Once built, you can export the objects from VoxEdit and use them as in-game assets in The Sandbox store.
The native marketplace for The Sandbox is its second product. You can upload, publish, and sell your VoxEdit work on the NFT marketplace.
To offer decentralized storage and access, all uploads are routed through IPFS. That upload is registered on the Ethereum Blockchain to prove ownership. All inventions that pass this phase become assets that players can sell via an initial selling offer on the NFT marketplace.
Finally, there's The Sandbox Game Maker. Developers and fans who wish to make 3D games can do it for free and without needing to know how to code. A visual editor can help you create games in a matter of minutes.
Every new game contributes to the ever-growing library of interactive creations and experiences in the metaverse.
The Sandbox Ecosystem
As discussed above, the Sandbox blockchain gaming platform is made up of three products that work together to deliver a complete user-generated content (UGC) creation experience.
Users will benefit even more from the merged goods since they will be able to employ blockchain and smart contracts to protect copyright ownership for their user-created material.
Let's explore them in detail.
VoxEdit is a simple and clean voxel modeling and NFT creation application for PC/Mac that lets users build and animate 3D objects. These include people, animals, cars, plants, tools, and tools that can be sold on The Sandbox marketplace and used as in-game components.
You can quickly manipulate voxels, which are square 3D pixels that resemble building blocks, with VoxEdit to produce amazing effects.
You can then export the objects created using VoxEdit and use them as NFT game components on The Sandbox store.
You can upload, publish, and sell NFT products created using VoxEdit on The Sandbox's NFT marketplace.
To offer decentralized storage, creations are first uploaded to an IPFS network and then registered onto the blockchain to establish ownership.
After that, inventions become assets that can be sold by placing an initial selling offer on the marketplace, where interested purchasers can then acquire them.
The Sandbox Game Maker allows anybody to create stunning 3D games for free. Because of accessible visual scripting tools, no coding is necessary to build spectacular 3D games in minutes.
As a result, creators contribute to a large metaverse filled with a diverse spectrum of incredible interactive creations and experiences.
Game Maker allows users to create their own virtual environment within The Sandbox ecosystem. You can either develop or purchase assets from the marketplace to use on the acquired LAND to build their virtual environment.
Because it is a drag-and-drop system, anybody can use the game builder to create their own virtual environment without any coding knowledge.
What are SAND, LAND, ASSET Tokens?
To establish a circular economy among all sorts of users who will engage with the platform, The Sandbox employs multiple token types: players, creators, curators, and land owners:
SAND: The ERC-20 token that serves as the foundation for all transactions and interactions.
LAND: In The Sandbox metaverse, LAND is a digital piece of real estate. Players purchase LAND to populate it with games, assets, and interactive experiences. Each LAND is a one-of-a-kind (non-fungible) token that exists on the public Ethereum network (ERC-721).
ASSET: A token created by gamers that construct/assemble user-generated content (UGC). ASSETs adhere to the ERC-1155 standard and can be exchanged on the market, with their primary function being to act as building blocks in The Sandbox Game Maker.
SAND Explained
SAND is an integral component of The Sandbox, which was released on the Binance trading platform in August 2020. They are focusing on building essential mechanisms that will make SAND inextricably linked to The Sandbox and its value.
Being an ERC-20 utility token established on the Ethereum network, it will eventually serve as the foundation for transactions within The Sandbox and has the following uses:
Governance: SAND is a governance token that enables holders to vote on platform DAO (Decentralized Autonomous Organization) governance decisions. They can vote on critical matters such as Foundation grant attributions to content, and game producers, as well as feature priorities on the platform roadmap. SAND owners can vote directly or delegate voting powers to other players.
Platform access: It allows players to spend SAND to play games, purchase equipment, or modify their Avatar character. Creators spend SAND to obtain assets, land, and via staking. LAND sales will drive demand for SAND. Artists can use SAND to purchase Gems to define rarity and scarcity and submit assets to the marketplace.
Staking: SAND allows for staking, which generates passive revenue on lands: by staking it, you obtain additional SAND. It is also the only method to obtain expensive Gems and Catalysts, which are needed to create assets.
Foundation: The Sandbox Foundation's mission is to promote the platform's ecosystem by providing grants to encourage the creation of high-quality interactive content and games. To date, the foundation has funded over 15 gaming projects and given over 100 artists the opportunity to create NFTs before their public premiere.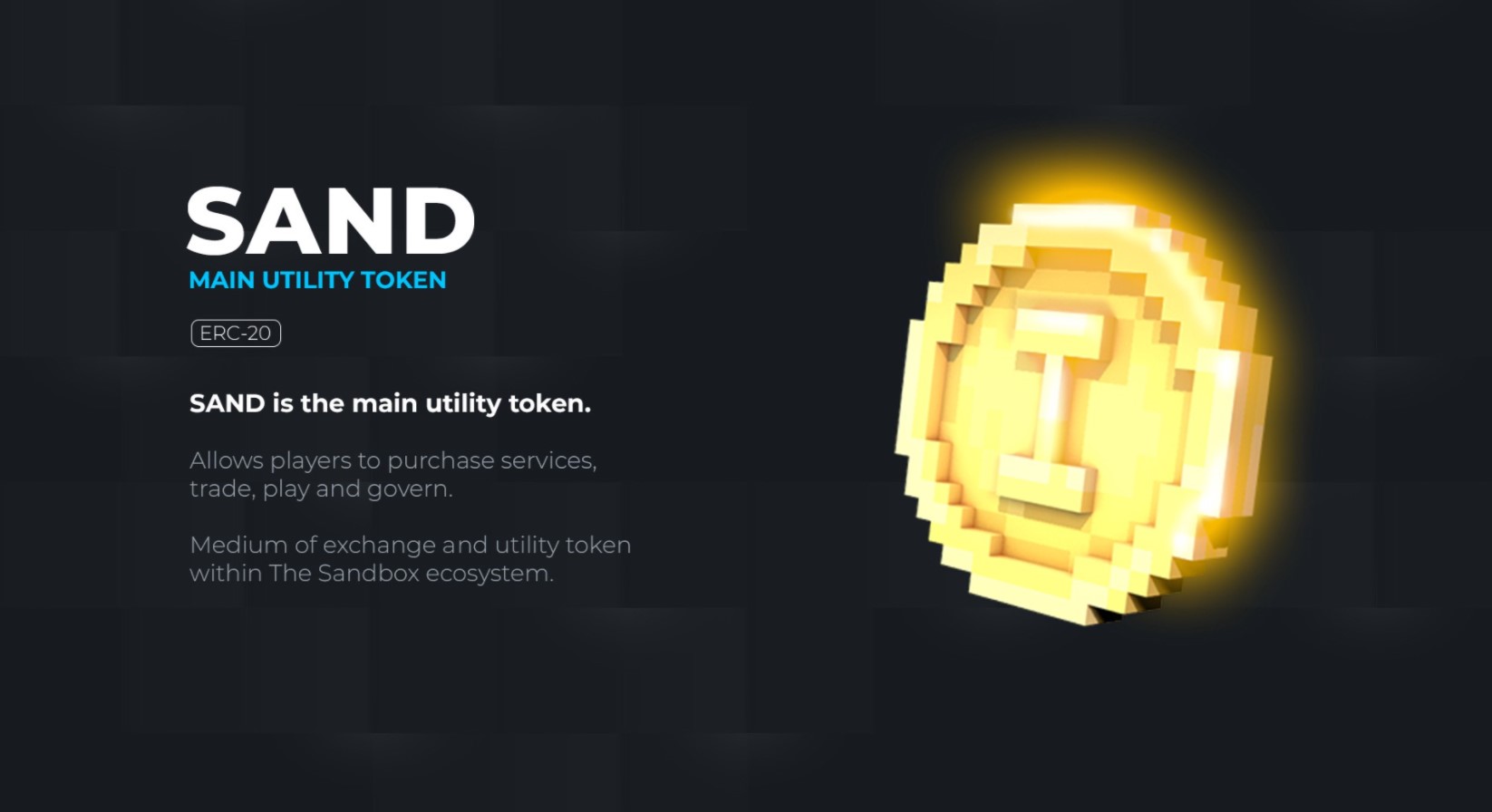 The Sandbox (SAND) crypto has the following distinguishing features:
Users can develop, generate, sell, and acquire digital assets in the blockchain-based virtual world.
Blockchain technology is introduced to the gaming sector.
Focuses on user-generated content and builds a Metaverse of interested participants that contribute to development.
What is the purpose of SAND?
Exchange medium: The Sandbox's ecology uses $SAND as a means of trade. It will be required to make purchases from its marketplace. It will be necessary to acquire the following items like land, assets, Gems and Catalysts, and Avatar personalization.
Governance: $SAND holders will govern The Sandbox metaverse.
Assets sale:

To monetize their voxel works, voxel artists will require $SAND to publish them to the marketplace for sale.

Staking: Staking onto LAND using $SAND is also possible. Stakers will be rewarded with highly sought-after Gems in exchange for their efforts.
Play2Earn: By playing games, players will be able to earn some $SAND. It's that simple.
Playable games: Some of the games will be free-to-play (F2P). However, this is not true with all of them. At their option, the game designer may charge players a small fee of $SAND to play their games.
LAND Explained
In The Sandbox metaverse, an LAND is a digital piece of real estate that users can purchase to create interactive experiences. You can fill LAND with Games and Assets once you control it.
Each LAND is a one-of-a-kind (non-fungible) token that exists on the public Ethereum network (ERC-721). Within The Sandbox, there will be a maximum of 166,464 lands, each enclosed on a map that creates its metaverse.
Sandbox map consists of two plots which are mentioned below:
LAND: The LAND is the most basic Sandbox unit on the map. Each LAND in the game world is 96 by 96 meters in size, just large enough to handle all types of blockchain gaming, but not so large that it can't be governed by a single person.
Estate: The term "estate" refers to a collection of land. Collaborative teams of artists can build larger and more immersive online experiences.
The Sandbox metaverse is centered around LAND. You will be able to play and create games, earn tokens, hold contests, and much more!
What can you accomplish with LAND?
Hosting games: One of LAND's key tasks is to enable game creators, whether skilled or inexperienced, to create, construct, distribute, and monetize digital experiences such as games and dioramas.
Stake: Investing in LAND allows you to stake $SAND tokens in the LAND to gain passive benefits like rare and sought-after GEMs and CATALYSTs.
Rent: Owners of LAND or estates can also lend out their properties to game designers. If the LAND owner does not want to develop an experience on their land, this will allow them to monetise it.
Play games: Gamers can play games as well as examine the designers' dioramas.
Organize competitions and gifts: LAND owners can hold contests and prizes on their LANDs. To offer an example, a game can be developed on the LAND, and the top three gamers who finish the game in the shortest amount of time can win a rare asset or some $SAND.
Where can you purchase LAND?
Official Sandbox LAND sales are held on the map of The Sandbox website, where you can purchase LAND.
The dates of these sales are publicized weeks in advance to give you plenty of time to plan.
Alternatively, certain third-party NFT exchanges, such as OpenSea and Rarible, offer second-hand LAND for sale. Keep in mind that usually, they can be more costly than LAND in legitimate sales.
The Sandbox Advantages
1. True digital ownership
Consider making a game or constructing a digital asset that is yours for life?
The Sandbox helps gamers and creators in generating UGC that will always be theirs, granting them ownership in the first place.
In contrast to mainstream gaming, where no matter how wonderful your art is or how well you design a game, it will always belong to the firm, with little to no ownership granted to the user or the developer. It is the decentralized power that comes with a blockchain-backed metaverse.
If you've ever played an Asphalt game where you can buy vehicles and store them in your garage, you'll know what I'm talking about.
Think about this: If you're barred off the platform, is the car yours for the rest of your life?
Nobody can stop you from using The Sandbox in the first place, and blockchain technology guarantees that your asset is secure and cannot be stolen or removed from the internet.
2. High profit margin
In conventional gaming, the organization has most of the proceeds from the sale of assets or digital items by one player to another on the platform. The player has complete control over the metaverse.
If a player intends to sell his LAND or asset on the market, he must do it through the marketplace. Because he owns the product, he is entitled to the bulk of the sale proceeds.
3. Passive income source
The Sandbox allows users to rent their owned virtual property, i.e. LAND, to other players. It is a wonderful source of passive income that works similarly to collecting rent from a renter in the real world.
Furthermore, players can always use VoxEdit to build digital assets and sell their piece on the marketplace, gaining extra revenue inside the metaverse.
The Axie Infinity game enterprise has perfected the art of generating income for its users.
4. NFT investment
Sandbox supports NFT, which is popular. It includes a dedicated marketplace for trading ERC721 and ERC1155 NFT coins.
It allows you to develop a digital asset with the option to upload and sell it on the marketplace. It also advertises its assets on OpenSea, one of the most well-known NFT marketplaces.
But… The competition's growing
The Sandbox is taking on industry titans in the shared experience gaming market.
Giants like Minecraft and Roblox will be difficult to overcome. They have the potential to force any competitors out of the market since they are backed by large tech giants (Minecraft by Microsoft) with massive war chests.
Sandbox, on the other hand, is banking big on decentralized gaming, which might be a game changer in this field.
The Future
The Sandbox has completed Alpha Season 1 and is presently working on Season 2. It is allowing anyone to access a social center and develop a fantastic collection of fantasy and role-playing experiences that can be shared as NFTs with other players, producers, and artists on the site.
Its team has expanded to more than 100 employees. It stays on the Ethereum blockchain, which charges transaction fees.
However, the company is working on a layer 2 solution that might lower transaction fees and speed up transactions.
Furthermore, many people are only now becoming aware of this metaverse, and they purchase LAND to help the platform's content and experiences grow. There is still more space for growth, but the most challenging challenge is recruiting people who aren't currently connected in the blockchain ecosystem.
The Sandbox has attracted thousands of gamers owing to its near-addictive gaming idea, easy-to-use tools for building in the metaverse, and profit possibilities.
It gained popularity during the pandemic, with some players spending their entire lockdowns absorbed in The Sandbox setting. The game's value stems from the player's sense of ownership and creative flexibility.
Conclusion
Since its start in 2012, The Sandbox has come a long way.
It has evolved from a shared experience gaming platform to a metaverse that empower users by granting them ownership of their digital assets and LAND parcels.
It is more than simply a gaming platform; it is also an NFT marketplace where artists can develop and sell their works in return for SAND tokens.
Further, it has turned into a virtual real estate marketplace where actual individuals can purchase houses or rent out space to make a passive income.
The future of The Sandbox sounds exciting, doesn't it?
Let us know your thoughts in the comments.