Regarding consumer engagement, experience is the holy grail, from marketing and sales to customer service and brand loyalty.
We all talk about it, strive for it, and set it as a goal, but to some extent, it remains an idea we're continually striving towards.
When do our companies give genuinely great customer service?
Is this something we'll have to keep working on as new possibilities present themselves? If a consumer had a good experience with you, they are more likely to come back and buy from you again.
Social media, smartphone applications, in-app marketing, artificial intelligence, augmented reality, and other technologies have all promised to help us prioritize experience.
As more alternatives become available, maintaining smooth and consistent consumer experiences across all digital platforms becomes increasingly crucial. A digital experience platform (or DXP) can help with this.
This article investigates the developing topic of Digital Experience and highlights the finest digital experience platforms (DXP) that digital experience managers are employing in top firms today.
What is a Digital Experience Platform?
The Digital Experience Platform (DXP) is indeed a software platform that allows you to communicate with a wide range of consumers through a variety of digital touchpoints.
Simply said, it's a platform that allows you to develop personalized experiences based on your data and make them available to people anywhere they go. Platforms for digital experiences go by various names and serve many purposes. Components of digital experience tools, for example, might include:
Application development, DevOps, and software development tools
Customer relationship management (CRM)
Technology for payment processing
Data security, data storage, network monitoring, and other IT-managed services
Software development, DevOps, and application development tools
On digital applications such as websites, portals, games, and online marketplaces, digital interactions can occur between consumers, clients, workers, and a variety of other sorts of users.
Advantages of Adopting a Digital Experience Platform
The following are some of the advantages of adopting a digital experience platform:
You must become more sensitive to changes in digital trends by using a flexible architecture.
Real-time recognition of user requirements.
Improve the accuracy of your marketing initiatives by optimizing consumer touchpoints.
Create more responsive apps that interact easily with existing systems.
Integrate your technological stack to make it possible for dissimilar systems to interact with one another.
Gain a comprehensive view of clients using far more detailed data and information.
15 Best Digital Experience Platforms
An open digital experience platform with built-in monitoring and performance tools aimed towards non-technical users.
Acquia provides DXP for medium-sized organizations. The Acquia Open Digital Experience Platform integrates the company's Drupal Cloud content management and Marketing Cloud customer data management features into one platform.
Acquia is easy to use, even for non-technical users, making it suitable for companies wishing to teach large groups in digital content management and DX delivery.
Because of this, they obtained a high score on the assessment criteria for usability.
Features
Content drives site traffic – Low-code solutions enable non-technical teams to deliver more content more quickly.
Multi-channel delivery should be simplified – Reaching consumers where they interact online doesn't have to take a village, from your corporate website to your customer's mobile devices, wearables, and more.
Make actionable data a visible option – Legacy solutions are no longer adequate. To extract meaningful data and better understand their consumers, modern enterprises require a CDP with machine learning capabilities.
Deliver converting content – Get the robust customer analytics, customer journey builder, and customization capabilities you require to provide genuine experiences to the correct audience.
More than just hosting is available – The cost savings are limitless with tools that facilitate migration from another CMS, upgrading from Drupal 7, developing new sites using an out-of-the-box CMS, and much more.
Pricing
Acquia's cost starts at $141/month in the United States and varies by country, including $144/month in the European Union; $158/month in Australia, and $158/month in Singapore.
However, there is no free trial. You can find more information in the price section.
Adobe Experience Manager is the company's solution to a DX platform, including forms and communications procedures, web content management, and high-traffic handling with cloud scale and security.
This Managed Service supports your digital experience strategy by automating and tracking it.
The program, like other Adobe products, is crammed with features. The tool shines in the way it handles component building pieces and flexible workflow integration.
If you can stomach the price, it is one of the best web content management systems for larger businesses.
Features
Content & Commerce:-
With its enterprise-ready CMS, you can combine digital asset management and efficient document processing.

Experience Manager Assets is a cloud-native DAM tailored to meet content demands.

Streamline the shopping experience across all media.
Data Insights & Audience:
Examine both online and offline behavior to acquire a complete picture of the client's journey.

Real-time customer profiles may be activated for quick personalization.

Cross-channel consumer interactions may be shown in a single real-time interface.
Customer Journey:
At-scale AI-powered testing, personalization, and automation.

Omnichannel marketing and real-time customer engagement are combined into a single intelligent, cloud-native solution.

Bring all of your media plans, search marketing, TV advertising, and creative management together.
Pricing
You can begin with the vendor's free demo, and Adobe Experience Cloud starts at $250,000 per year. You can find out more about it here.
OpenText is a cloud-native platform that helps big enterprises, such as energy companies, financial services firms, and government agencies, attract, acquire, engage, and maintain customers through marketing and customer support experiences.
Besides, it offers cloud services for personalization, speech recognition, real-time text analytics, sentiment analysis, and automated alerts.
It incorporates a lot of machine learning technologies for autonomous textual analysis and image recognition, relying on both its own machine learning engine, Magellan, and a lot of third-party services depending on the task at hand.
It also provides multi channel content distribution across a variety of customer touchpoints.
Features
Business network – Improve global commerce and supply chain operations for long-term success.

Content – Create a contemporary workplace by linking content and digital business smoothly.

Safety and security – Improve cyber resilience by securing important and sensitive information.

Developer – Using API services and tools, you can get apps to market quicker and smarter.

Experience – Modernize client interaction by implementing data-driven experiences across the customer journey.

Analytics and Artificial Intelligence – Machine learning and integrated artificial intelligence can be used to provide insights.

Automation – With important knowledge, optimize, and automate operations.
Pricing
Although OpenText has not given price information for this product or service, it does offer free trials.
Oracle Material and Experience (CX Content) is a DX platform that converts content into experiences, particularly those reliant on rich media.
Within a common repository, this platform stores and maintains all types of material, including text, semi-structured forms, photos, videos, soundtracks, and other types of snackable content components.
CX Content also features a collaborative video editing environment for line-of-business employees to create their own videos.
Features
User-friendly

Universal asset hub

AI-enabled classification and personalization

Design, create, and manage any content type

Omnichannel

APIs for integrating and extending
Pricing
You can sign up for a 30-day Oracle Cloud trial and receive $300 in Content Management Premium Edition credits, or choose the Starter Edition, which is included with Always Free cloud services.
Bloomreach is a well-known digital experience platform for online commerce, serving 25% of e-commerce experiences in the United States and the United Kingdom.
Its experience platform, BrX, offers a variety of modules, such as SEO and merchandising. Bloomreach software creates highly tailored digital experiences for retailers, brands, distributors, manufacturers, and a wide range of enterprises and organizations worldwide.
Features
Hybrid and headless deployment

AI-driven site search

Standards for OOB privacy and compliance

Docker container utilization

Marketing & merchandising tools

Personalization & channel management

REST APIs that can be customized
Pricing
It has three premium tiers – Content, Discovery, and Engagement.
However, the price is not disclosed by Bloomreach; you must ask for it from the price section.
Core DNA stresses that their platform brings all of your digital marketing components together under one roof.
Rather than keeping up with several integrations and platforms, you can keep track of the data in one place and make global modifications from that same area.
Core DNA is a cutting-edge digital experience platform (DXP) that was built from the bottom up.
Features
Allow consumers to create product lists and simply reorder items from their previous purchases.

Imperva web application firewalls are one of several tools used to safeguard apps and data from cyber-attacks.

This program enables you to construct content items with a generic, adjustable structure and show them on the Slots-integrated/configured pages.

Set up one-way or two-way related items, upsell, and cross-sell to boost average order value.

You have no restrictions on the amount or type of items you may offer in your online store.
Pricing
There are three premium tiers available, as shown below:
Core DNA CMS: $1,250 each month (paid yearly).

Core DNA eCommerce: $2,450 each month (paid yearly).

Expertise DXP: price on request.
Liferay offers a digital experience platform that claims to be tailored to your company's needs, connecting with where you are now and expanding with new capabilities as your company expands.
In other words, they claim you can get started with this platform rapidly. Its tagline is "One Platform. Endless Solutions."
It is mostly employed in B2B and B2E scenarios to serve those with a variety of developmental difficulties. With Liferay, you can develop a portal solution that is specifically suited to your company's needs.
You may create nearly any form of the portal you need to fulfill the demands of your consumers using its various extensions, known as "portlets."
Whether you operate in finance, research, health, or government, it is a platform worth considering when creating a gateway.
Features
It has a single presentation layer that integrates all corporate systems into a single, simple interface for all end users.

It allows users to configure modules, plugins, and access functions, allowing for the easy deployment of many modules on a single platform.

Administrators in it can configure, edit, add, and change user attributes without changing the database.

It allows numerous users to browse single pages and URLs at the same time.
Pricing
Liferay offers a 30-day free trial of the platform and servers, but pricing is not displayed by the vendor; you can contact sales for more information.
It tracks and warns on mission-critical processes, enhances website performance with actionable information, and analyzes your apps.
By simulating upstream and downstream speeds and latency using Network Throttling, this tool may uncover performance flaws affecting mobile consumers.
It excels at reporting, analytics, measurables, and KPI tracking, earning high marks in the Features-Reporting section of the assessment criteria block.
They continue to excel in information visualization, site health indicators, and diagnosing malfunction areas once data is collected. This platform is really effective for gaining significant information regarding user experience.
It avoids complications that your users may have when using your website. It detects problems with your online performance and cloud services.
Features
Websites, cloud apps, multi-step user flows, business transactions, performance budgets, third-party tags, APIs, and other services may all be tracked.

Convert data into action. Analyze your website against 300+ performance-related best practices, and classify errors by team, kind, and severity level.
Pricing
Rigor offers a free trial, but you have to contact them for pricing details.
Scale your development by creating UI technology-independent apps using SAP-Fiori element templates as a starting point.
SAP, a market leader in corporate application software, is developing machine learning, Internet of Things (IoT), and advanced analytics solutions. It is a comprehensive set of intelligent DX delivery solutions for web-based apps, iOS, and Android.
The software's user experience is highly consistent, even across multiple devices.
Furthermore, the design is straightforward and basic, resulting in a highly smooth and appealing user experience; for example, things such as the search box and report filtering are easily accessible.
Features
The apps can help to accelerate onboarding and minimize training time. Users may get their job done faster and more precisely using simple and intuitive displays that are based on how people operate.

Its design system provides you with the templates, tools, and principles you need to develop beautiful corporate apps that users will like.

The tools, technologies, and templates below may help you design, test, and deploy corporate apps more quickly using your preferred development framework.
Pricing
Although SAP-Fiori has not given price information for this product or service, it does offer free trials.
A multi-channel method that can handle vast volumes of material throughout the business by blending and linking them together. MindTouch, based in San Diego, was recognized as one of JMP Securities' 2017 Hot 100 top privately held software firms, with 43 million monthly users.
It provides several styles and formatting possibilities for your material through embedding and other technologies.
The material can be integrated into other programs or systems via embeddable web widgets or a secure API.
The heart of NICE integrations is a series of connections known as "Touchpoints," and its open API allows developers to further modify its content integrations.
Features
Content management – Create, manage, and publish content using WYSIWYG authoring.

System administration – Manage, site settings, permissions, and integrations.

Branding and design – Personalize the look worldwide as well as for specific parts or user categories.

Analytics – Use contributor and user activity information to optimize content.
Pricing
Although MindTouch has not given price information for this product or service, it does offer free trials.
It is originally known as Experience Cloud, which is a digital experience platform that enables businesses to rapidly and easily create connected digital experiences for their customers, partners, and workers at scale.
Companies can simply design and offer tailored content, websites, portals, mobile applications, and stores by combining capabilities like Salesforce CRM, CMS, and Experience Builder with a portfolio of pre-configured apps.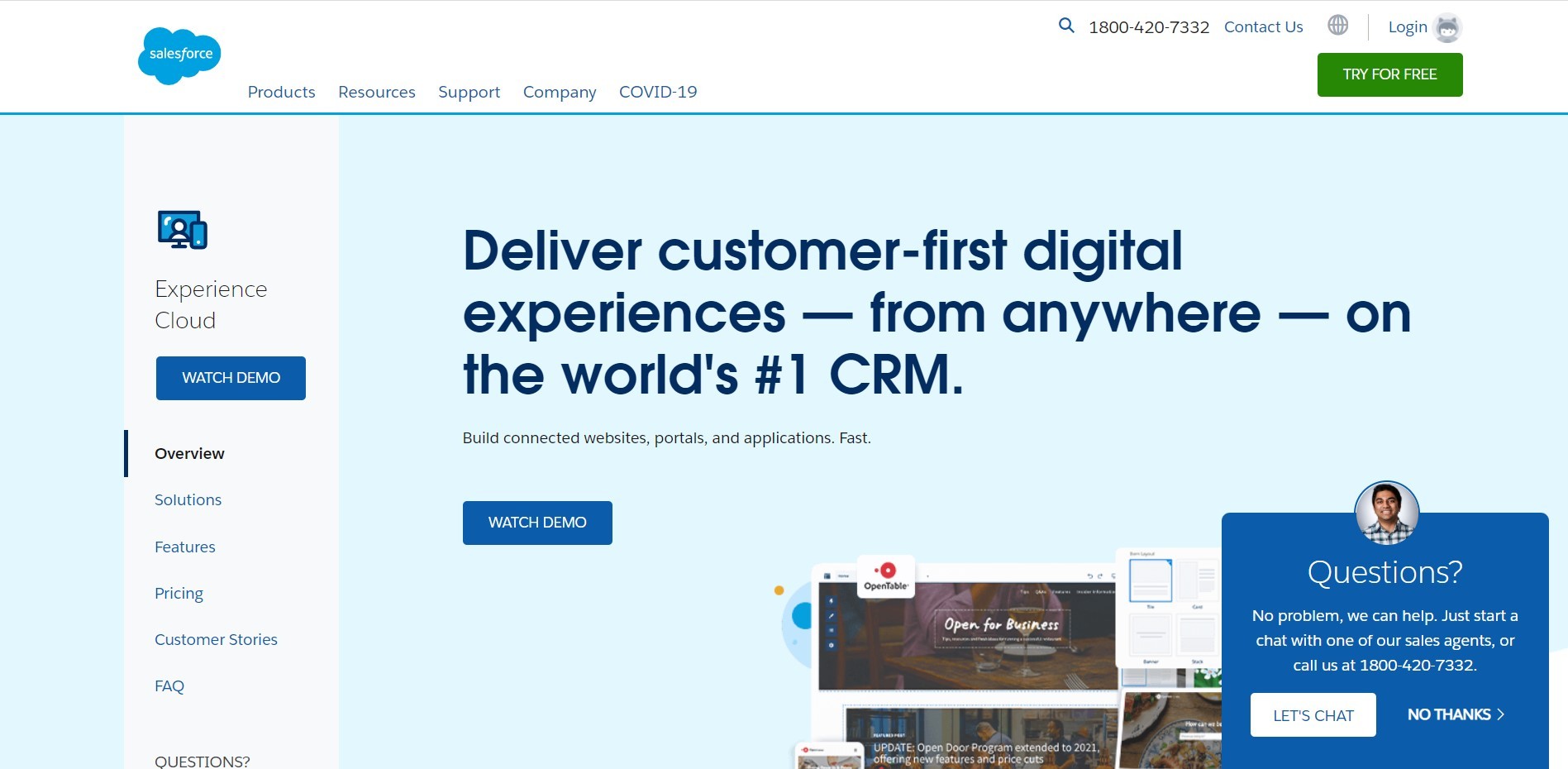 The Experience Cloud enables businesses to create content in one location and send it to any location, including websites, portals, mobile applications, and stores.
Features
Customize Experience Cloud to match your company's identity and expand your digital experiences. Create visually appealing, user-friendly settings that serve as an interactive extension of your business.

Collaborate from any device, at any time.

Create next-generation experiences and portals that interact seamlessly with Salesforce in a matter of minutes.

Employees may work on projects together, discover subject-matter experts, receive updates, and much more.
Pricing
Self-Service:
Customer Community costs $2 per login or $5 per membership.

Customer Community Plus costs $6 for each login or $15 per membership.
Partner Relationship Management costs $10 per login or $25 per member.
External Apps cost $15 per login or $35 per membership.
You can find additional information in the price section.
A platform for universal content management that includes print manufacturing, marketing project planning, variations, and targeting capabilities.
Censhare is a digital experience platform that supports all file types (including video and 3D), does multi-level duplicate checks, uses automatic versioning, has an integrated picture editor, and uses rule-based archiving and de-archiving.
This program includes an excellent workflow engine that focuses on customization and setting various workflows. The process/workflow design flow is adaptable, which reduces time-to-market.
Features
Data modeling

Data quality control

Document classification

Documentation management

Electronic forms

Change management

Content creation

Customizable branding

Customizable templates
Pricing
The Censhare price is subscription-based and starts at $1,000 per month. You can find out more by visiting the website.
Along with its various capabilities, e-FirstSpirit Spirit's DXP emphasizes its ability to work with other platforms or products you may already be employing.
It also emphasizes that the platform itself does not require much programming or coding skills on the user's part, but is approachable and simple to learn.
FirstSpirit is an SaaS-based digital experience platform that uses tailored content to engage consumers and improve revenue. It is simple to use; even non – tech individuals can design and distribute personalized content.
Features
Simple tools and a straightforward user interface enable non-technical individuals to design and deliver tailored, content-driven experiences that encourage customers to act wherever they are—all without requiring HTML.

It provides strong compatibility with neighboring technologies, services, and data sources, as well as proven integrations and a flexible API-driven microservices architecture for faster time to value.
Pricing
Yes, it does provide a free trial. This product or service does not have a price listed by FirstSpirit DXP.
Product information management, digital asset management, a customer data platform, and digital commerce are all part of a DX platform. Pimcore is an open-source enterprise DXP used by over 80,000 businesses that combine PIM/MDM, DAM, CMS/UX, and eCommerce solutions.
It's adaptable application design allows for growth and expansion as needed, resulting in an agile ecosystem. Product data integration is made easier by the simple import and export of data between Pimcore and other systems.
Features
A popular open-source web content management system that can manage multi-site, multi-lingual, and mobile-friendly material.

For consistency and accuracy, use multi-channel delivery to automate publishing procedures across devices and channels.

It can acquire, manage, and share any sort of digital data and is intended for simple integration into current IT system landscapes.
Pricing
Pimcore provides a free trial as well as two subscription options, Cloud, and On-Premises. You can find additional information in the price section.
Mura offers a robust API that allows you to use the program any way you see fit while also providing for a great deal of flexibility, scalability, and integration. This was one of the software's most powerful features.
Content management, customization, and content as a service include capabilities for creating content hubs, landing pages, and applications, as well as tools to sync online experiences with email, PPC, SEM, and other web channels.
Features
Third-party integration

User management

Rule-based publishing

Template management

Customizable forms

Document management

Drag & drop

API

Access controls/permissions

Activity dashboard
Pricing
Mura provides a free trial. You can find out more about pricing by contacting them.
Conclusion
Customers want to have positive interactions with your brand. More importantly, they want truly memorable experiences that will keep them coming back for more.
The experience involves everything from searching for and finding your website to sales, customer support, and follow-up.
Providing a great client experience might become increasingly difficult as your business grows, but having a robust e-commerce website can support.
A digital experience platform, or DXP, can give a place for creating and automating encounters that will keep people coming back for more.