In today's technologically fast-paced world, an increasing number of businesses manage their corporate assets and activities online.
Information graphics, documents, photos, videos, audio, and brand kits are just a few of the digital creative assets that firms often deal with nowadays.
Digital asset management becomes difficult for these online businesses as they grow since many assets are dispersed over several cloud storages or email inboxes.
However, if you use a single DAM application rather than several solutions for diverse jobs, this won't happen.
We'll talk about the best digital management software in this post so you can start using it right now.
What is Digital Asset Management?
DAM software helps organizations to maintain a "single source of truth" where all of their digital content is kept, organized, searchable, retrieved, and shared.
Peers, staff, customers, contractors, and other key stakeholders can have regulated access to their entire digital content library, which includes images, pictures, creative assets, video, audio, presentations, papers, and more, thanks to a single DAM system that is quick to develop and easy to use.
Depending on the organization's demands and unique use cases, digital asset management systems come in a variety of forms and sizes.
While a major retail company can use a DAM system largely for managing the product pictures for its online stores, a large charitable organization can use a DAM system primarily for storing and exchanging current papers within its internal teams.
In order to increase efficiency across the whole lifespan of digital information, the majority of digital asset management solutions now provide add-on modules like brand guidelines and project workflow management tools in addition to file storage.
Best Digital Asset Management Software
Monday is a wonderful digital asset management software because it has stripped away many of the extraneous features of traditional digital content management systems and focuses on basic, visually clear layouts that assist any marketing team to understand the flow of work.
It lets you track several projects using dashboards that offer high-level insights in a visual and straightforward way, assign and prioritize work, use different views to understand where everything is, and allocate and prioritize jobs.
You can set up automated reminders, get due date notifications, and automatically allocate members of your creative team to new assignments thanks to its client management features.
The software also offers automation and robust notifications that are configurable, allowing you and your team to concentrate on the most crucial tasks.
Although it doesn't provide standard automatic reporting, it is designed to assist you to assess many elements of your projects and processes by providing a broad overview at a look.
Additionally, Slack, Google Drive, Gmail, Google Calendar, and other project management tools are integrated.
Pricing
You can start using the platform for free and premium pricing starts from $8/seat/month.
Filecamp is an excellent choice for businesses that wish to manage and conveniently access their digital assets via a cloud-based solution.
This digital asset management platform allows infinite users to access your assets, including stakeholders, and provides comprehensive permission setup choices to regulate access.
With this platform, sharing and labeling materials is a breeze. With its built-in commenting and proofreading capabilities, it also enables fruitful cooperation among teams.
Its mobile-friendly interface ensures that you can use it on your smartphone as well. Filecamp serves as a single content management platform, allowing users to create, edit, label, and organize digital files.
Stock pictures, films, papers, presentations, and other creative items are among the assets. With the help of its white-labeling tool, you can also customize the content of this program by adding images, brand colors, and corporate logos.
Additionally, it enables you to write and publish an online brand manual that your associates and business partners can access at any time and adhere to in order to preserve brand consistency.
Pricing
The premium pricing of the platform starts from $29/month.
Adobe Experience Manager Assets is a feature-rich asset management application that streamlines and automates all of the chores associated with managing your digital assets.
Aside from managing assets over their entire lifespan, you can also receive cutting-edge insights about the performance of your digital assets.
It supports 3D, AR, VR, and panoramic photographs in addition to the standard file types for documents, images, and multimedia. This application makes use of Artificial Intelligence (AI) technology to automatically categorize files and documents, trim photographs, and distribute assets.
However, keep in mind that certain sophisticated aspects of this platform will require technical know-how and could not be simple for inexperienced users.
Additionally, file version history and asset management are available in different languages with Adobe Experience Manager.
You can reduce the time-consuming email-based process when working on creative materials and utilize this as a platform to develop, communicate, and interact with your teams.
Pricing
The pricing is not listed on the platform, please contact the sales for its pricing.
MediaValet is a digital asset management service that assists businesses in managing, finding, and sharing their high-value digital assets (source, WIP, and final).
It improves team efficiency, increases asset ROI, and drives revenue growth as a cloud-based DAM accessible from anywhere. Users can find what they need in seconds thanks to advanced search and tagging tools.
Artificial intelligence tags photographs and documents automatically using object, language, and color recognition, making them readily discoverable upon upload.
Audio/Video Intelligence automatically produces metadata tags for people, objects, text, and spoken words in video material, and it can also generate subtitles in over 70 languages, making video content more accessible.
Teams from all over the world can expand fast and affordably with MediaValet because of the unlimited users and administrators available with corporate subscriptions.
Additionally, limitless training and support make sure that everyone utilizing the system feels comfortable doing so and can get the most out of it.
In addition to these, it connects with Wrike, Workfront, Slack, OKTA, Active Directory, Drupal 8, Adobe Creative Cloud, Sharepoint, Office 365, Hootsuite, and more.
Pricing
The pricing is not listed on the platform, please contact the sales for its pricing.
Scaleflex is a GDPR-compliant, software-agnostic Digital Asset Management platform that assists teams in storing, managing, optimizing, sharing, and accelerating all digital and media assets.
If you manage a remote team, you'll like the fact that it has a user interface in more than eight different languages. An inline image editor with social network presets, duplicate management, versioning control, and media optimization are just a few of its features.
You can also configure custom permissions and user roles, allowing your team to cooperate and share with internal and external partners.
In terms of innovation, their AI and machine learning enable bulk background removal, video transcoding, and adaptive streaming, as well as auto-tagging for enhanced search capabilities.
There are several integrations available, including those with Adobe Creative Cloud, WordPress, Magento, Canva, Opencart, Kontent, Pabbly Connect, Sylius, Akeneo, Prismic, and Zapier, and they are always striving to grow their library of integrations.
Its headless APIs for bespoke integrations will be welcomed by your developers.
Pricing
You can try the platform by requesting a demo and also you have to request a quote for its pricing.
For the purpose of storing and managing your rich media assets throughout their lifespan, Box provides you with a safe and centralized library. Searching, labeling, and sharing the assets become simple processes since it consolidates all material.
You can work in real-time with internal or external collaborators utilizing features like automatic metadata tagging and comments with this one-stop shop for your digital assets.
Additionally, this platform streamlines your company's approval processes to reduce the chance of human mistakes. You can effectively manage the assets as a consequence across all phases, from conception to publishing.
Due to its ability to centralize feedback and evaluations, Box is also excellent for assigning reviews and approving new assets. By adding the right information to files, you can help people rapidly search for and locate the material they're looking for.
Companies can utilise different granular permission settings to manage who can see, modify and download the files on this web-based platform, and they even watermark their mission-critical data.
Most importantly, its admin panel enables you to keep track of and provide data on content activity.
Pricing
The pricing of the platform starts from 21CAD/per month.
Bynder facilitates the creation, discovery, and utilization of digital assets through faster collaboration and an emphasis on brand consistency across all markets, and platforms. It offers cloud digital asset management via a modern, simple interface.
One central area to store all brand and campaign assets, direct asset availability for users worldwide, easier file searching, built-in security measures such as two-factor authentication, user rights and access settings to secure your material, and more are among the features.
Bynder ranks well in the Features and Functionality part of our assessment criteria, owing to their excellent support for a wide range of file kinds, flawless browser integration, user-friendliness for the transmission of brand standards, and a slew of other impressive features.
There are several integrations, such as those with Slack, Adobe Creative Cloud, Adobe Experience Manager, Sitecore, Sitefinity, BloomReach, Drupal 7, Drupal 8, WordPress, Okta, Google, Hootsuite, Microsoft Active Directory, Collect.io, Shutterstock, SDL Tridion, Templafy, and TYPO3.
Pricing
Bynder provides customizable pricing upon request and gives a free trial.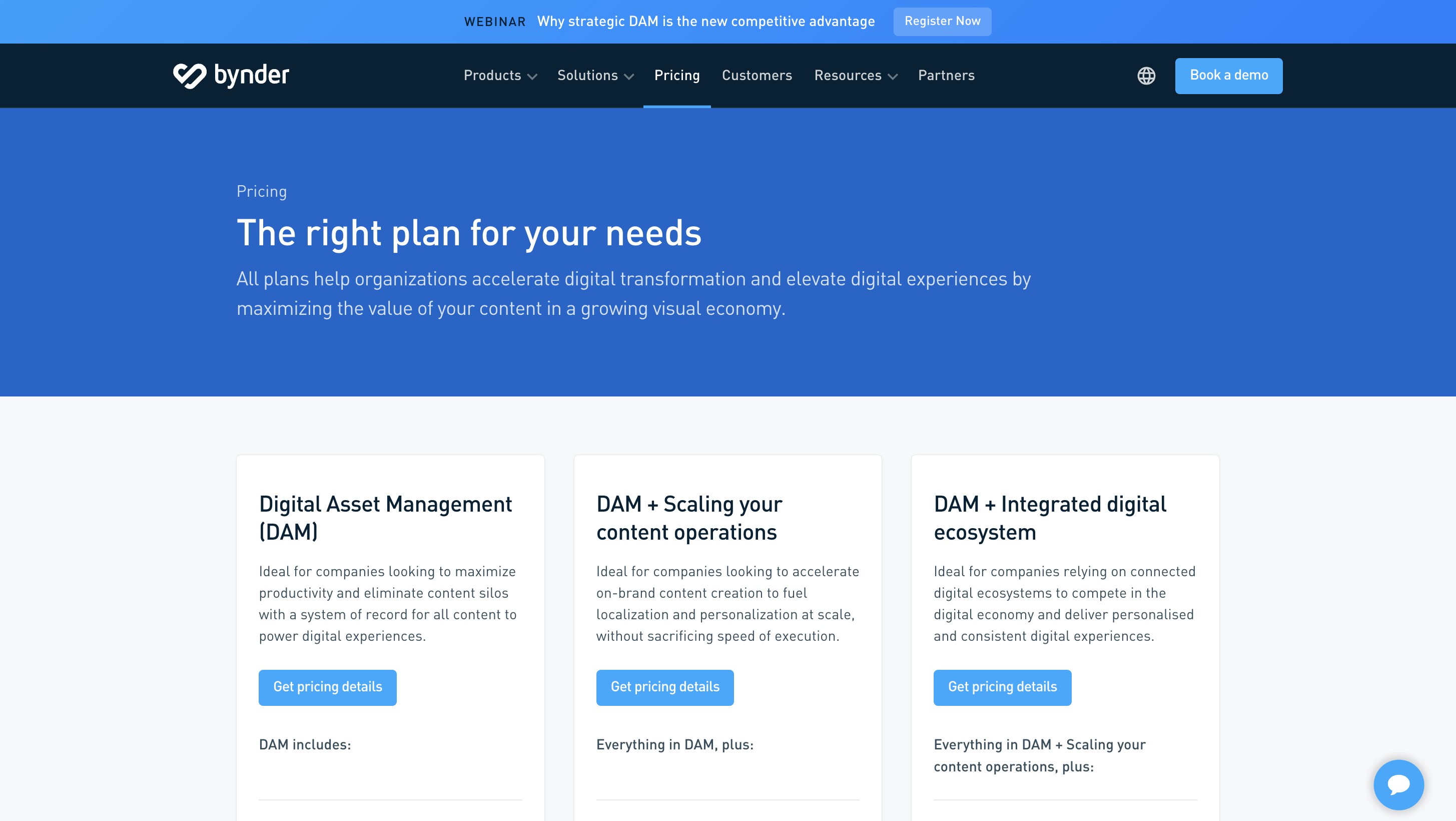 Canto is a digital asset management platform that facilitates collaboration and helps organize all visual assets.
A few of the features they provide include thorough search mechanisms, clever sharing amongst various stakeholder groups, and a wealth of assistance (online training or customer service).
Canto received such high marks in the part of the assessment criteria for usability because of, among other things, its flexibility in deployment and execution.
Overall, the program was straightforward to use, adapt to unique use cases, and personalize, and it was friendly to novice users.
Canto offers workflows, comments, and approvals for collaboration that help you create efficient asset collaboration processes. Finding the correct information on our site is simple-peasy thanks to AI-powered filters, search, and face recognition.
With the help of version control, watermarks, and user permissions, it also protects your brand identification.
Numerous services are integrated, including Box, Dropbox, Google products, Drupal, Egnyte, Facebook, Adobe Creative Cloud, Mailchimp, Pinterest, Slack, Twitter, TYPO3, Vimeo, WordPress, and YouTube.
Pricing
Bynder provides customizable pricing upon request and gives a free trial.
Cloudinary is your best option if you want to utilize a DAM application that can serve the requirements of individuals, small teams, and small organizations.
To encourage improved consumer involvement, it simplifies digital media or asset management. You can use this platform across the whole content life cycle, from content upload through storage, real-time editing, and customized distribution.
Quick content posting and full asset utilization are ensured by its potent editing tools with personalization options.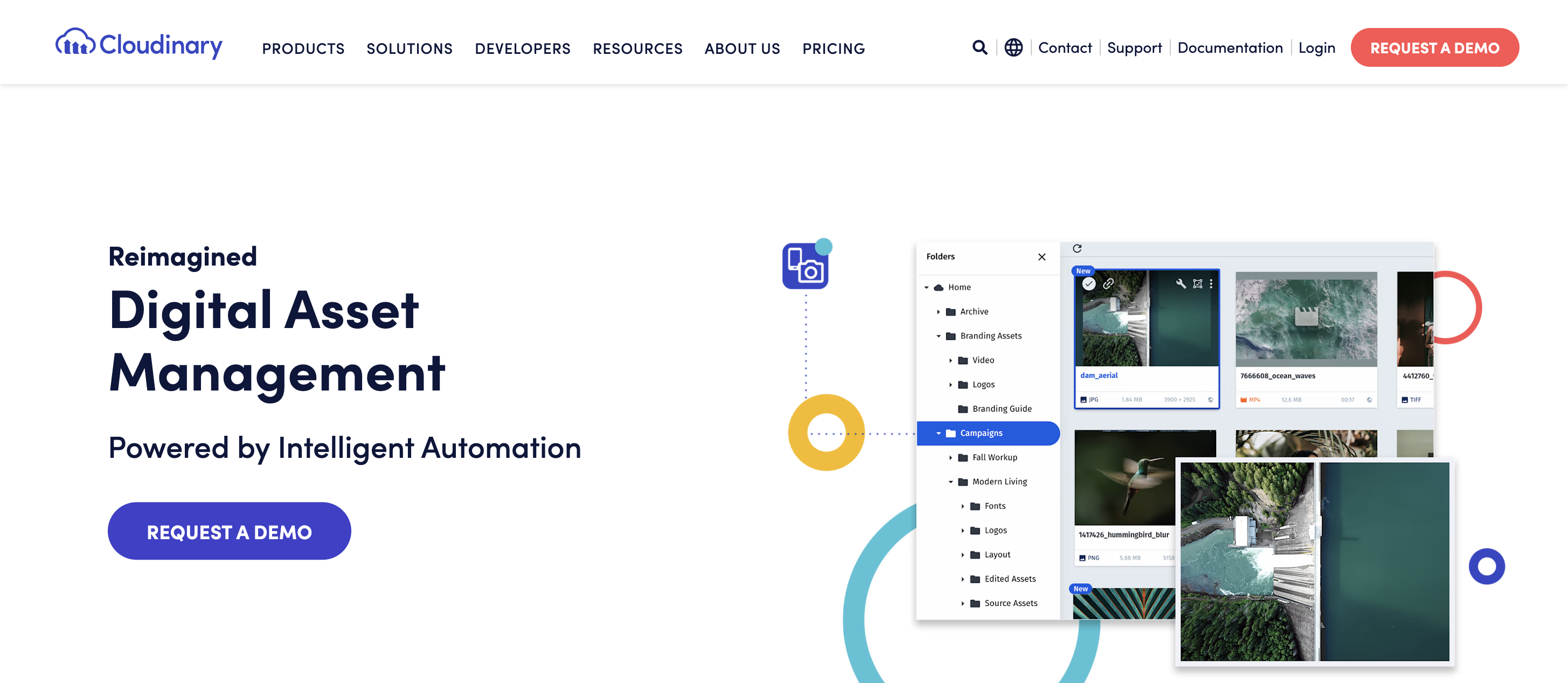 Its collaboration capabilities allow your creative and marketing teams to execute cross-departmental assignments with ease. The technology also has a sophisticated dashboard with online reporting.
Cloudinary also protects your digital files by providing automated backup and revision monitoring.
You can also use this platform's integration feature, which supports Adobe Creative Cloud, Salesforce, WordPress, Amazon Web Services, Agility, and Magnolia.
Pricing
You can start using the platform for free and premium pricing starts from $99/month.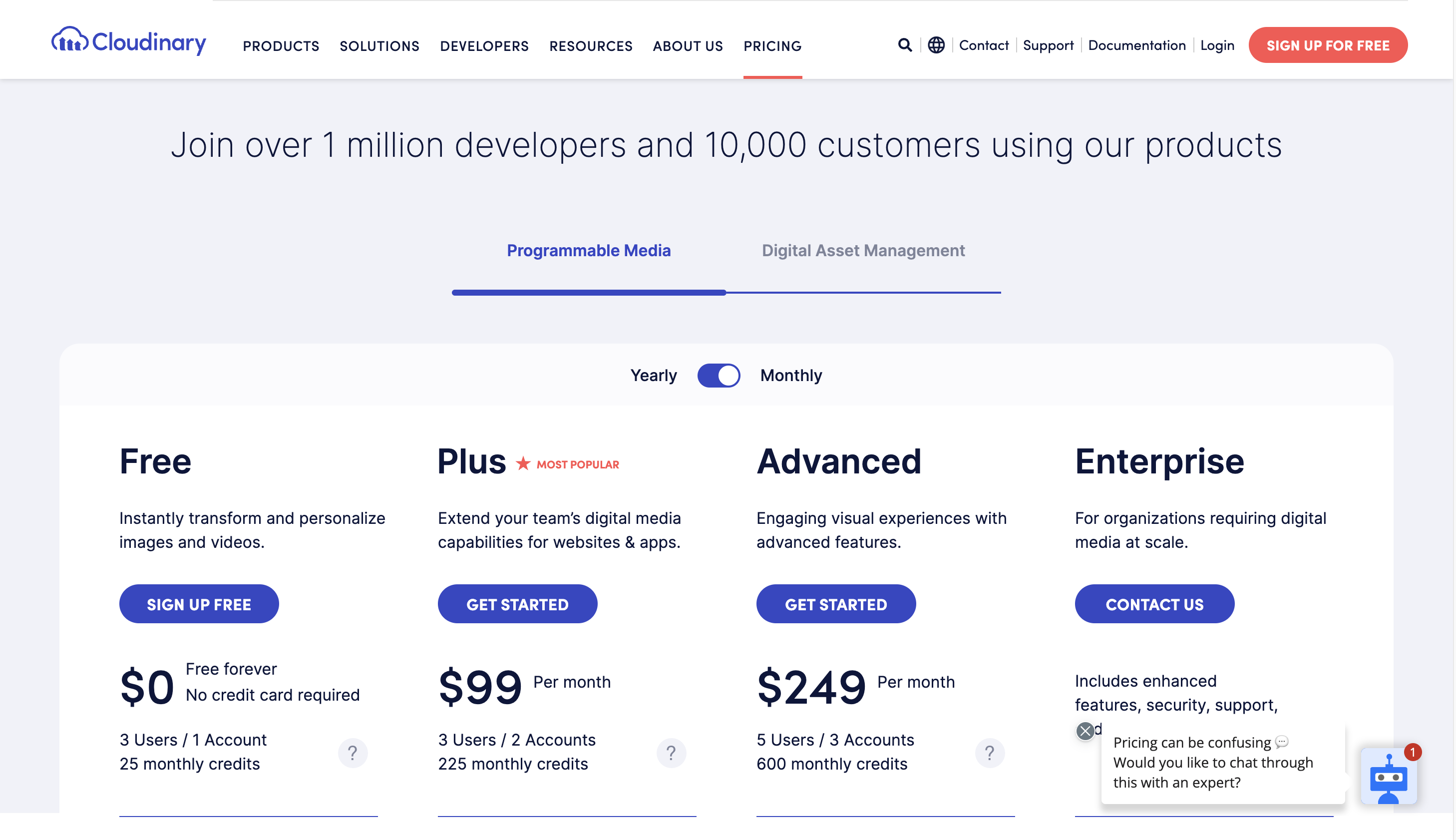 Widen is a fantastic platform for organizing, sharing, and disseminating your brand assets and product material throughout the web.
Finally, it enables your marketers, salespeople, and partners to obtain the material they want on demand. This tool is noteworthy for its excellent search capability and customizable metadata structures.
Widen distinguishes out in this regard in our feature and functionality review, where searchability and flexibility reign supreme.
In addition to utilizing metadata to identify your assets, you can limit access levels by assigning different roles and permissions to distinct user groups.
There is an analytics tool in Widen, which you won't find in every digital asset management. This enables you to better understand your audience and provide more insightful creative output.
It interfaces with a wide range of systems, including those for project management, social networking, customer relationship management, marketing automation, and more.
Pricing
The pricing is not listed on the platform, please contact the sales for its pricing.
Conclusion
In conclusion, businesses employ digital asset management (DAM) software for streamlined digital asset monitoring, organization, and sharing. Any type of electronic media, including pictures, documents, and multimedia files, might constitute an asset.
You can use these technologies to manage digital assets over their entire lifespan while maintaining safe access. Companies can move to these platforms and stop using the many tools they would have formerly utilized for these tasks.
Despite the fact that we have listed some of the top DAM programs, selecting the ideal one might be challenging. To choose the appropriate digital asset management software, you must first determine the specific needs of your firm.