Table of Contents

[Hide]

[Show]
Video editing can be tedious and time-consuming at times. Even with the greatest video editing tools, a stunning output takes human work. But, fortunately for us, the development of the AI video generator has simplified a lot of things.
Content marketing as an industry has evolved from a novice to a well-established giant that you cannot afford to ignore if you want to see your brand thrive in the market.
It combines artificial intelligence and new practices to better serve its consumers. To create engaging, interactive video content, businesses are increasingly utilizing every concrete resource possible in the content and design departments.
They are using platforms for AI video generation for all of their assistance. AI Video Generation Platforms allow you to generate easy, entertaining, and informative video content as well as convert text to video.
This post will go through the top artificial intelligence (AI) solutions for generating videos from the text that will make your life simpler. As a result, you'll be able to quickly make captivating movies for personal or corporate use with only a few clicks.
DeepBrain AI instantly creates AI-generated films from simple text. With the help of its artificial intelligence (AI) video synthesis solutions, users can be guided through an almost infinite number of situations and in-person encounters by lifelike human-based AI avatars.
It creates AI avatars that are accurately modeled on actual individuals by using their voices, physical characteristics, gestures, and regional languages. Avatars created by DeepBrain AI were created primarily to support individuals in difficult jobs that require human creativity, comprehension, and awareness rather than to replace them.
Professional templates can help you advance the quality of your text-to-video works. You can quickly locate the ideal template to meet your demands thanks to the large selection of available designs.
You can use our text-to-video tool to reach a worldwide audience; it supports more than 80 different languages. Moreover, the presenters in your videos will be more realistic and natural-looking thanks to AI technology, which also gives them a more polished appearance.
Pros
Realistic AI videos can be produced fast and simply. To obtain your first AI movie in no more than five minutes, simply prepare your screenplay and use our Text-to-Speech function.
Use an AI avatar created specifically for your brand.
Make AI videos in a variety of languages, including Hindi, Arabic, Chinese, English, and Spanish.
In terms of creating, recording, and editing videos can save time.
Cons
No, limitations have not yet been found.
Pricing
The premium pricing of the DeepBrain AI platform starts from $29/month.
Synthesia is an awesome AI video generator that allows you to effortlessly make realistic AI films in minutes. Its films feature a real presenter communicating messages to the viewers, offering a far more personal encounter.
The technology offers several solid application cases, including digital marketing, business communications, and even staff training. Professional videos in Synthesia are created in four phases.
First, choose a template and an avatar, then write your content, add photos, and make your movie.
As a result, if you're seeking a wonderful solution to save time and resources while developing video content, go no further than Synthesia. It is a wonderful option for small organizations and individuals looking for high-quality video content at a low cost.
Pros
Make professional-looking videos with outstanding voiceovers.
Excellent platform for automated video generation, particularly for instructional and training applications.
Human presenters are innovative. Unless you want authentic voices, there is no need to record your own voiceovers.
Advanced customization is possible with API access.
Videos can last up to 30 minutes, making them ideal for all types of content creators.
Without the need for third-party video editors, you can easily and quickly edit videos.
Cons
Many restrictions apply to personal plan customers.
It only allows for forward-facing positions.
Pricing
The platform costs $30 per month to use.
Designs.ai is a piece of artificial intelligence software that can be used to make films, logos, mockups, voice-overs, and social media material.
Log in to the website, pick a video, add your text, select the industry category, and then select the voiceover. You can convert text to video and add speech to it using one of more than 50 high-quality natural-sounding voice-over avatars.
This enables you to quickly produce presentations, explainer films, tutorials, and social media material.
You can also use this video creation program to resize your social media video content for each site, such as Facebook, Instagram, and Twitter. Designs.ai can also be used to make a logo for your website.
There are over 1,000 icons to pick from, and you can save your logo in JPEG, PDF, SVG, or PNG file formats.
Pros
It offers an appealing and contemporary user interface.

Text-to-video conversion

Allows you to create films using pre-designed templates.

Aids in the making of videos from your own video files.

More than 20 languages are supported.
Cons
A premium plan is required to download videos.
Pricing
The platform is free to try, and pricing begins at $29 per month.
Invideo is a strong video editing program that can also convert text to video. It has over 5000 layouts, iStock images, a music library, filters, and other features.
InVideo provides over 50 AI-powered themes for simply converting text-based content to videos.
From their collection of 5000+ configurable templates, you can produce various types of films such as video advertising, promotions, YouTube videos, intros, and more.
To make videos, select a template or theme and insert text. That's all there is to it; you can simply transform that script into an incredible AI video. You can include music, text, photos, and other files.
Pros
One of the top producers of Al videos (text-to-video)

offers a free plan that enables you to create movies with a 40-minute runtime cap.

Cheaper than other options

Create a range of movies, such as gorgeous commercials, flyers, YouTube videos, intros, and more.

Enables you to create movies using more than 50 AI-powered themes.
Cons
It's possible for the platform to crash while you're using it.
Pricing
The initial usage of the site is free, and monthly premium access costs $15.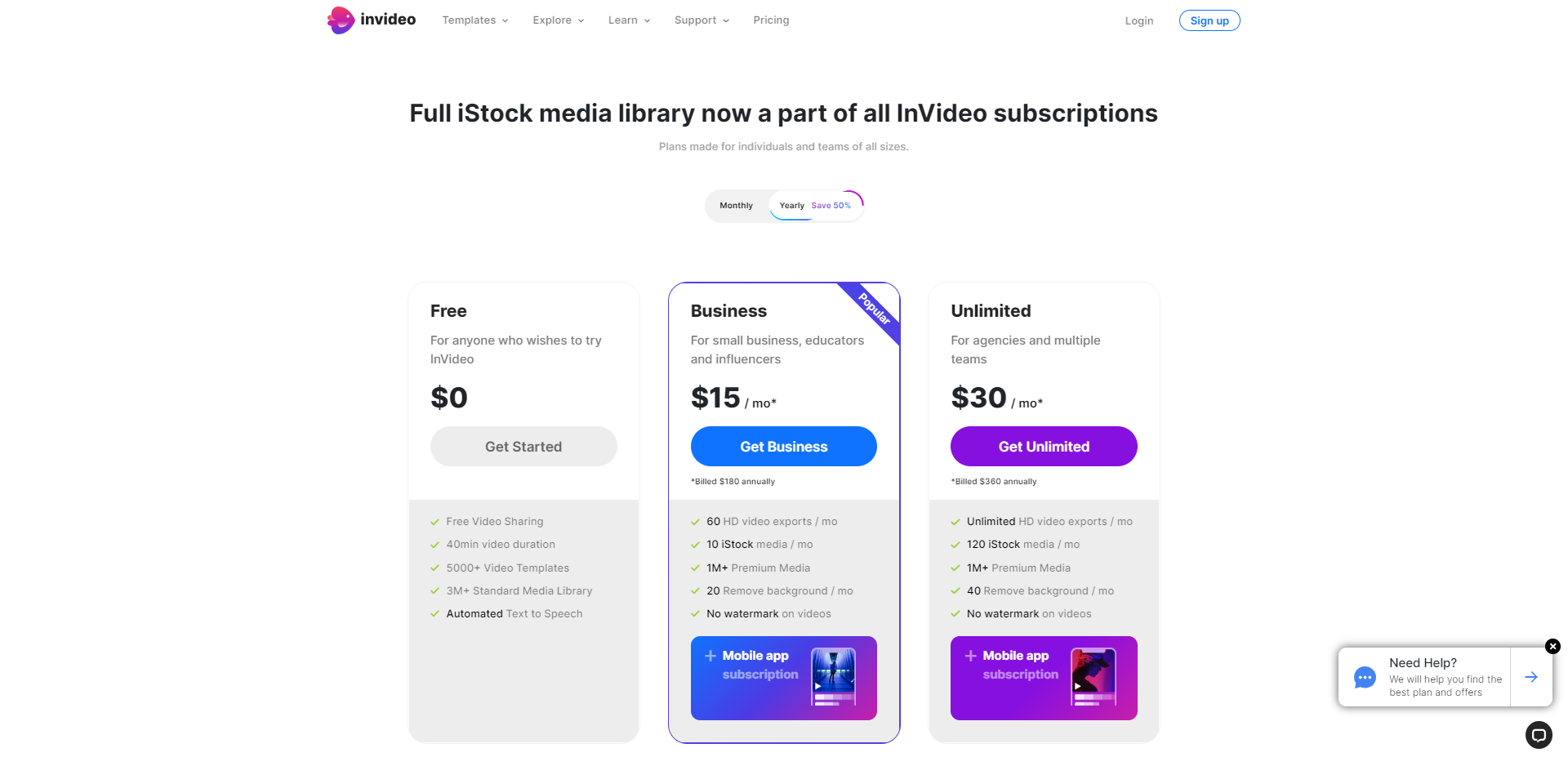 Pictory is an excellent tool for swiftly converting text into videos. The startup uses Artificial Intelligence technology to generate social-friendly material in minutes with no effort.
You can even add your own remarks using only ordinary words on top of any current film. They provide a range of resources, ranging from articles to videos, scripts, and images.
Text can also be used to alter videos with speech. The AI-produced video editor is really simple to use; it works on a drag-and-drop basis, so you'll be able to swiftly transform your content into an appealing advertising clip.
Pros
The platform is simple to use.
AI Voiceover capabilities are provided.
Thousands of photos and videos are available.
Automatic Script and Video Synchronization.
Cons
Some voiceovers come across as robotic.
Customization is limited.
Pricing
The platform is free to try, and a premium subscription begins at $19/per user/month.
Synthesys is a powerful Al tool with several capabilities. Aside from making a movie with an Al presenter entirely from text, the application can also build and maintain voiceovers and even add "TalkingFaces" to your site to increase conversions.
You can develop a one-of-a-kind virtual spokesperson to produce visual content that amplifies your messaging.
As a result, if you're looking for an all-in-one Al-powered video production tool, I feel Synthesis.io is unquestionably the finest option.
Pros
All-in-one program with a plethora of functions

The Al presenter's movements and voiceovers are all genuine and human-like.

Provide a built-in, web-based video maker that allows for complete video customization.

Provide 74+ avatars and many more types for users to choose from for their movies.
Cons
Each video may only be one minute long, which might be inconvenient for content developers. If you wish to make a longer film, you'll need to use third-party software to combine short videos made by Synthesys.
Pricing
Please contact sales for the price as it is not mentioned on the platform.
One of the best online video editors, Veed.io, allows you to easily make gorgeous films. It comes with a ton of features that make it incredibly simple for anybody to produce and edit films online, with no experience necessary.
You can use it to convert any text into a video or to modify movies by trimming, cropping, adding subtitles, and more.

Thousands of content producers, including marketers, educators, and creatives, utilize it to develop compelling content and expand their audiences because of its cutting-edge video editing capabilities.
As a result, you should try using this platform to generate any sort of video content, including marketing videos, instructional videos, corporate films, videos for social media, etc.
Pros
Provides a free plan where you can download a 10-minute film.

You'll get access to a plethora of video creation templates.

All options include video editing tools and auto subtitles.

You can construct a limitless number of projects and render them in an infinite number of ways.

Video creator for social networking platforms such as Facebook, YouTube, and Instagram, and others
Cons
You may have some trouble with the auto subtitle function.
Pricing
You can begin using the platform for free, and a premium subscription begins at €13 per editor each month.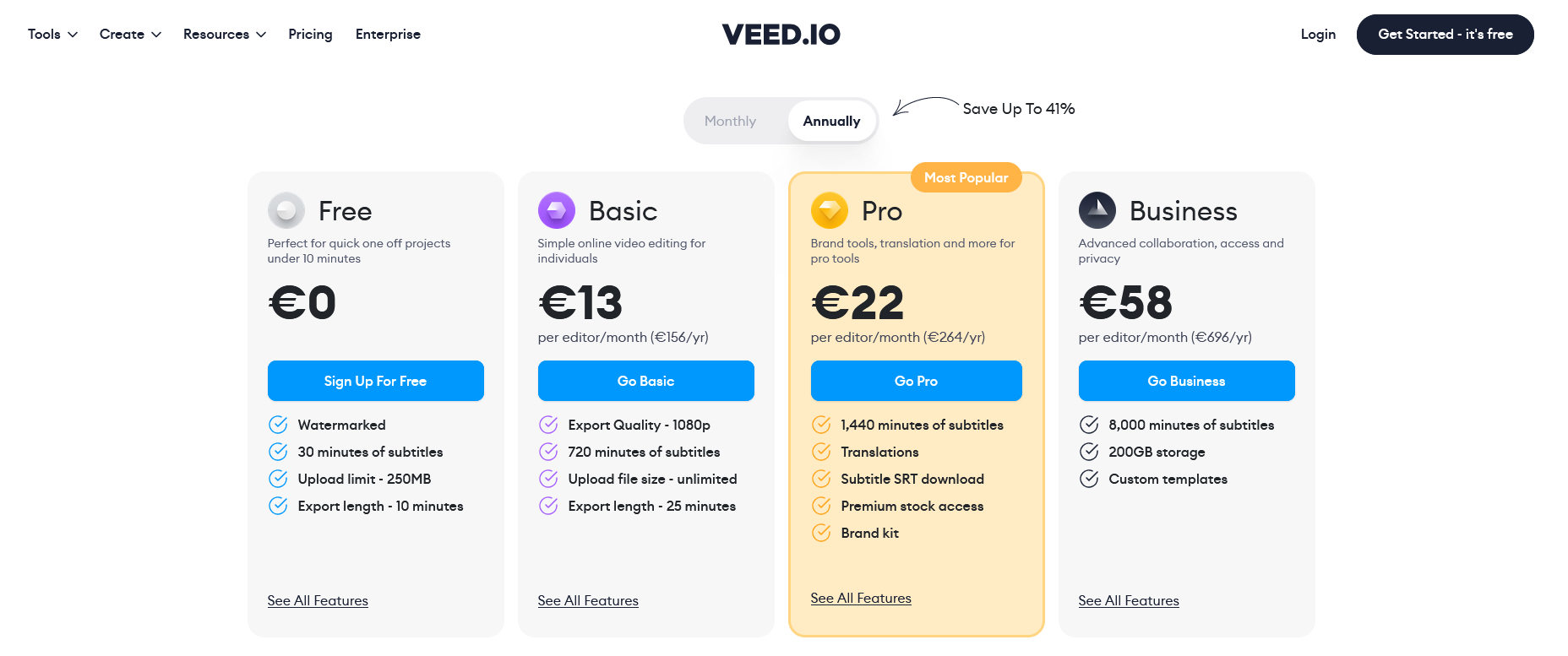 Conclusion
In conclusion, AI video generators enable the production of high-quality films quickly, whether you're making videos for explainer videos, social media, presentations, or marketing campaigns.
You can save money while producing the ideal video content for your marketing with the aid of the seven texts to video programs described below. To start a YouTube channel, vlog, make an online course, or deliver a presentation, you don't need to be a skilled video editor.