Artificial intelligence (AI) in particular is dramatically altering the way that creative processes work. Numerous creative genres, such as AI music, AI poetry, and AI painting, are reproduced into new forms with the aid of artificial intelligence.
There is no denying that AI is fundamentally altering the nature of art. In light of the fact that artists can now produce distinctive, intricate works of art with a wide variety, the future of AI and art is endless.
Online discussion on A.I. image generators is growing, but they are not really novel. These tools' underlying technology has been around for a while. Just now, they are becoming more approachable for the typical user.
In this article, we'll examine the top tools for AI illustration creation.
So, what is an AI illustration generator?
The AI illustration generator is a tool for creating realistic graphics from the text. This type of tool is based on a deep learning algorithm that was trained on a big dataset of photographs and descriptions.
AI illustration generators can be used for a variety of objectives, including producing inspiration for creative work, visualizing ideas, experimenting with various scenarios or concepts, or simply having fun with AI.
You can utilize AI illustration generators to quickly produce images of landscapes, animals, objects, characters, 3D models, or anything else you can think of, and then customize and detail them.
AI development has given rise to a number of incredible AI illustration generators for both personal and commercial usage.
Some AI illustration generators are adept at producing only a certain kind of art, such as a landscape or a portrait, whilst others are adaptable enough to produce a broad variety of artwork. Determining which AI illustration generator best suits your demands is crucial.
Best AI illustration generators
DALL-E 2 is an advanced AI picture generator designed by OpenAI, the same team that created GPT-3, the leading natural language machine learning algorithm.
As a result, DALL-E 2 is the most powerful AI image generator on the market, capable of producing a wide range of digital art and images from text. Simply enter the phrase, and Dall-E 2 will generate a sequence of images based on it.
It can be used to make graphics, develop goods, and generate new business ideas. One of the most useful aspects of DALL-E 2 is its paintbrush, which allows you to add elements to your image like shadows, highlights, colors, textures, and so on.
If DALL-E has any shortcomings, it is that it occasionally disobeys orders. In rare cases, the algorithm will completely disregard portions of the input. Fortunately, it doesn't occur frequently enough to be a deal-breaker.
Even then, the outcome is typically satisfactory enough for you not to care too much.
Pricing
DALL-E 2 is presently accepting free registrations from the general public as of late September. The only requirement is that you receive 50 free monthly credits to utilize the service before having to pay $15 to purchase an additional 115 credits.

Jasper.ai is widely regarded as a go-to tool for creating high-quality A.I. images. This text-to-image generator allows you to generate four copyright-free images from a single prompt, which you can then use any way you see fit.
The major service provided by the brand is an AI writer and text editor, but it also contains a picture generation tool. Jasper.ai can quickly help you produce great images for a website, social media, or even a personal project.
You have a wide range of possibilities thanks to Jasper Art. Many of the most well-known painters in history have styles that you can imitate.
Jasper's features can be adjusted using a huge selection of options until you're happy. In order to provide you with more possibilities and to save you time, Jasper further provides you with four distinct photos each time you produce images.
Pricing
Its pricing starts from $20/month per user for unlimited art.
Stable Diffusion converts words to visuals by utilizing the most recent developments in AI technology. Stability AI, an AI startup, developed this AI art generator.
One of the most recent AI art producers on the market is this device. The program can create photographs of astounding quality and is completely free to use.
It's fairly simple to test out the tool using the browser version. Simply launch their website and create a picture.
Furthermore, the license permits the tool's free usage for both business and non-commercial purposes.
Pricing
It's free to use for everyone.
Hypotenuse AI is another AI-powered copywriting tool that grabs the spotlight. It was initially introduced as a tool to help eCommerce companies generate product descriptions.
But with time and several software updates, it has evolved to include a blog post generator in addition to other copywriting tools. The fact that it also provides an AI image generator from text is the finest feature for you.
Additionally using GPT-3 technology, Hypotenuse AI. This allows it to provide material for many use cases.
Hypotenuse AI now offers the ability to produce photos using the same technique. The nicest thing is that it would speed up the process of creating content (text and photos).
Its picture generator gives you entire control to create images to your preferences. There are several settings, styles, lighting, artists, and other modifiers available.
Pricing
The platform allows you to test out premium plans, with premium pricing starting at $29/month.
Fotor AI art generator has been used by over 200 million people worldwide in over 200 countries.
Its only aim as an AI art generator is to make professional picture editing available to everyone. The online picture editing software is sophisticated and feature-rich.
The software resembles an online version of Adobe Photoshop. It has since developed patented artificial intelligence, machine learning, and computer vision technology that enables users to easily create beautiful images.
Color, size, brightness, and contrast can all be adjusted with Fotor. The straightforward yet sophisticated photo editor includes useful effects and tools for making your images look high-quality, atmospheric, and magical.
Excellent for photos, but not so good for drawing and designing.
Pricing
You can start using the platform for free and premium pricing starts from $8.99/month.
Midjourney is an amazing AI that produces text-to-art on a Discord server even if it is not based on a website.
This AI bot was developed by a self-funded team and has recently gained enormous popularity after settling in during the beta phase. Midjourney only appears as a bot on the Discord server and outputs the graphics there.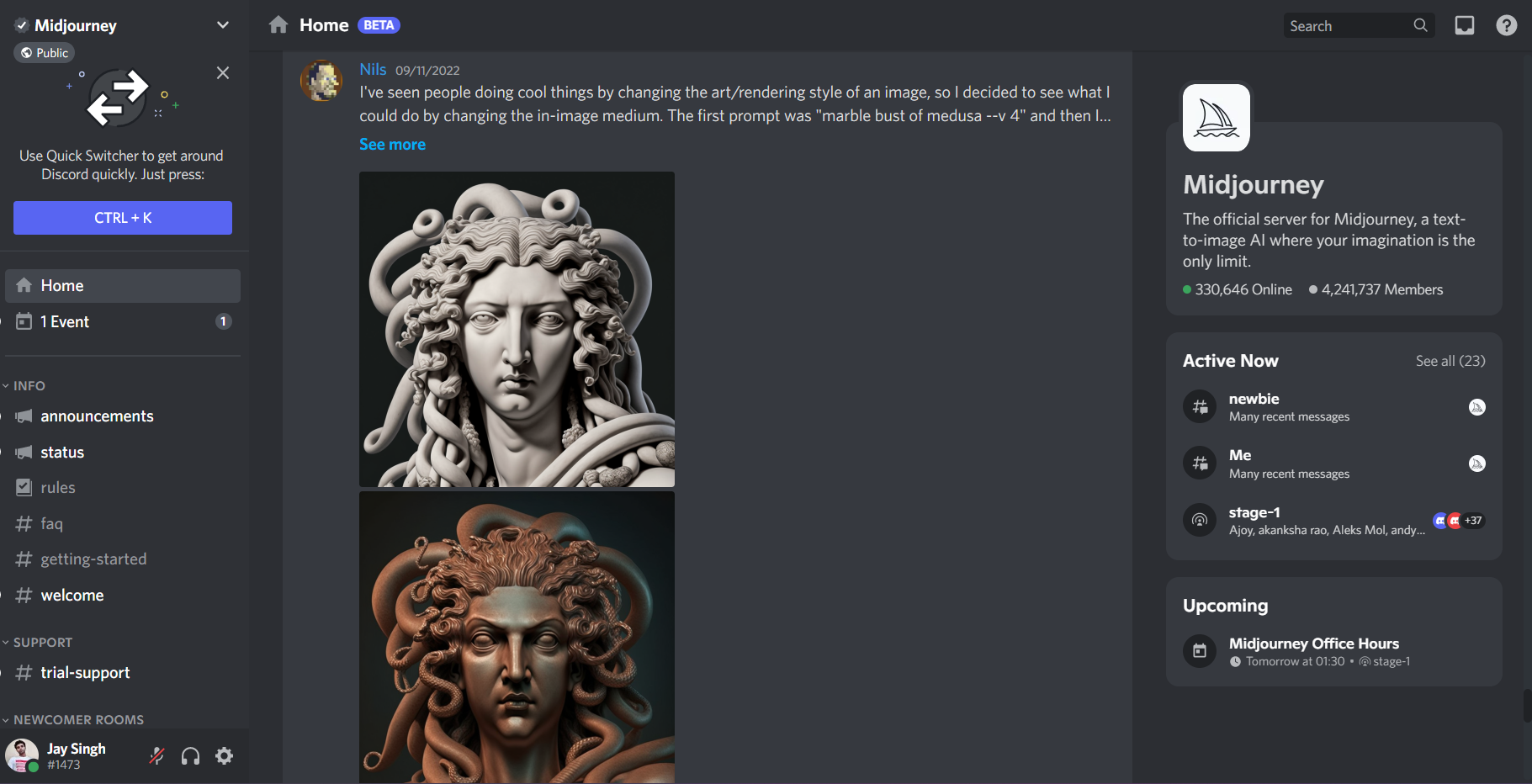 Joining the server and feeding your text prompts with a simple prefix are all you need to do to get going. Your request is placed in a queue after feeding the text, and the AI responds to it quickly.
You will notice the image getting better in front of you as the completed product takes some time. The final photographs are stunningly gorgeous and incredibly realistic.
Pricing
It's free to use for everyone.
NightCafe is another simple AI text-to-art generator that can be found online. It has its own spin on the picture generator that adds variation. When it comes to output, this AI art generator gives you a lot of alternatives.
As a user, you can choose not just the output art style but also the AI algorithm, giving you more influence over your product. So, if you prefer Clip Guided Diffusion over Stable Diffusion, you have a choice.
Anyone can produce and improve photographs with only one click thanks to the user-friendly and appealing internet layout. Additionally, whatever work you produce is kept indefinitely in your account, so there's no need to worry about saving it anywhere else.
On NightCafe, all kinds of photos consistently perform well, however, the quality is an issue.
Fortunately, you can enhance the generated images by including more questions or by scaling them up by purchasing more credits.
Pricing
For a monthly fee of $9.99, it offers 5 credits each day and 100 credits per month.
Another online AI image generator is Craiyon, originally known as DALL-E tiny. The vast amount of publicly accessible data that OpenAI has made available on its model is the single thing that ties Craiyon and Open AI together.
Craiyon was once known as DALL-E mini. In contrast to DALL-E, Craiyon is completely free to use and accessible to everyone through its website.
Craiyon will generate visuals from the interactive online demo in roughly two minutes after receiving a word prompt.
DALL-E and Craiyon differ significantly in another important way since the software is entirely uncensored, enabling the AI generator to respond to any instruction.
Pricing
It's free to use for everyone.
Deep Dream Generator is a well-known AI art generator online. It's simple to use and comes with a variety of AI tools for creating visual content.
Deep Dream's main application is to create artwork since it employs several painting techniques to create pictures that appear to be from different places or eras of time.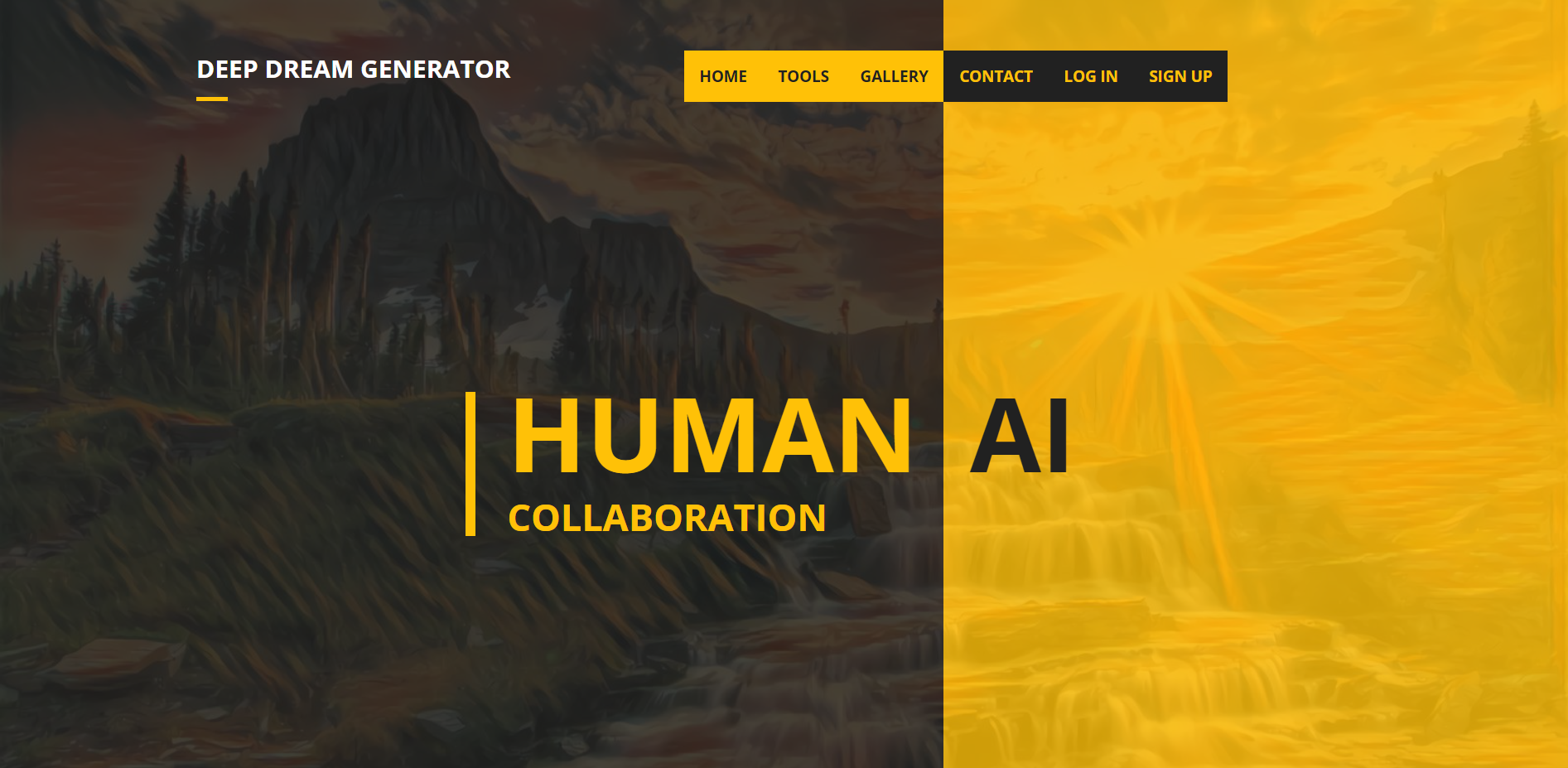 It employs a deep neural network trained on millions of photographs to generate new images based on the original, blend base images with well-known painting styles, and generate lifelike graphics from text prompts.
The platform lets you select a category, such as animals or landscapes, before producing a realistic image based on it.
Deep Dream also gives you the option of selecting one of three styles: Deep Style, Thin Style, or Deep Dream. You can preview the picture after selecting a style.
Pricing
Creating a free account allows you to produce a large number of photographs, while premium accounts cost $19 per month.
StarryAI is an AI image generator that transforms pictures to NFT automatically. Without any human input, it can understand photographs using machine learning approaches.
One of the most appealing features of StarryAI is that it grants you entire ownership of the images you create, which you can use for personal or commercial purposes.
You can be able to try StarryAI for free if you own an iOS or Android device. Of course, you can make art simply by expressing what you want to see.
Like the bulk of other AI art creators, StarryAI gives you ownership of the photos you create. This means you can use the photographs wherever you wish.
Pricing
You are permitted to create up to 5 watermark-free, free artworks per day.
VanceAI Art Generator creates stunning pieces of art from your words. With the help of the open-source Stable Diffusion model, the text-to-image AI can unleash your creativity and transform your words into pieces of art.
Art Generator is now capable of producing beautiful, original artwork rapidly. It enables you to employ a variety of suggestions to define your desires before putting out all the necessary effort to present your ideal artwork.
Use more specific and thorough language if you want the VanceAI Art Generator to generate magnificent works of art.
On its workspace, you have the option of selecting an art form for your photographs, such as oil painting or ink painting. As a result, the artwork will become more creative and vivid.
Pricing
The platform's premium pricing begins at $4.95 for 100 credits.
Hotpot.ai is a full software package for inspiring creativity and producing stunning art and images. It creates visuals from word prompts using OpenAI's DALL-E and DALL-E 2 AI technologies.
It provides a wealth of resources such as picture production, graphic design, templates, copywriters, image improvement, file conversion, and a few more. Hotpot.ai is regarded as one of the top AI picture producers due to its complex character.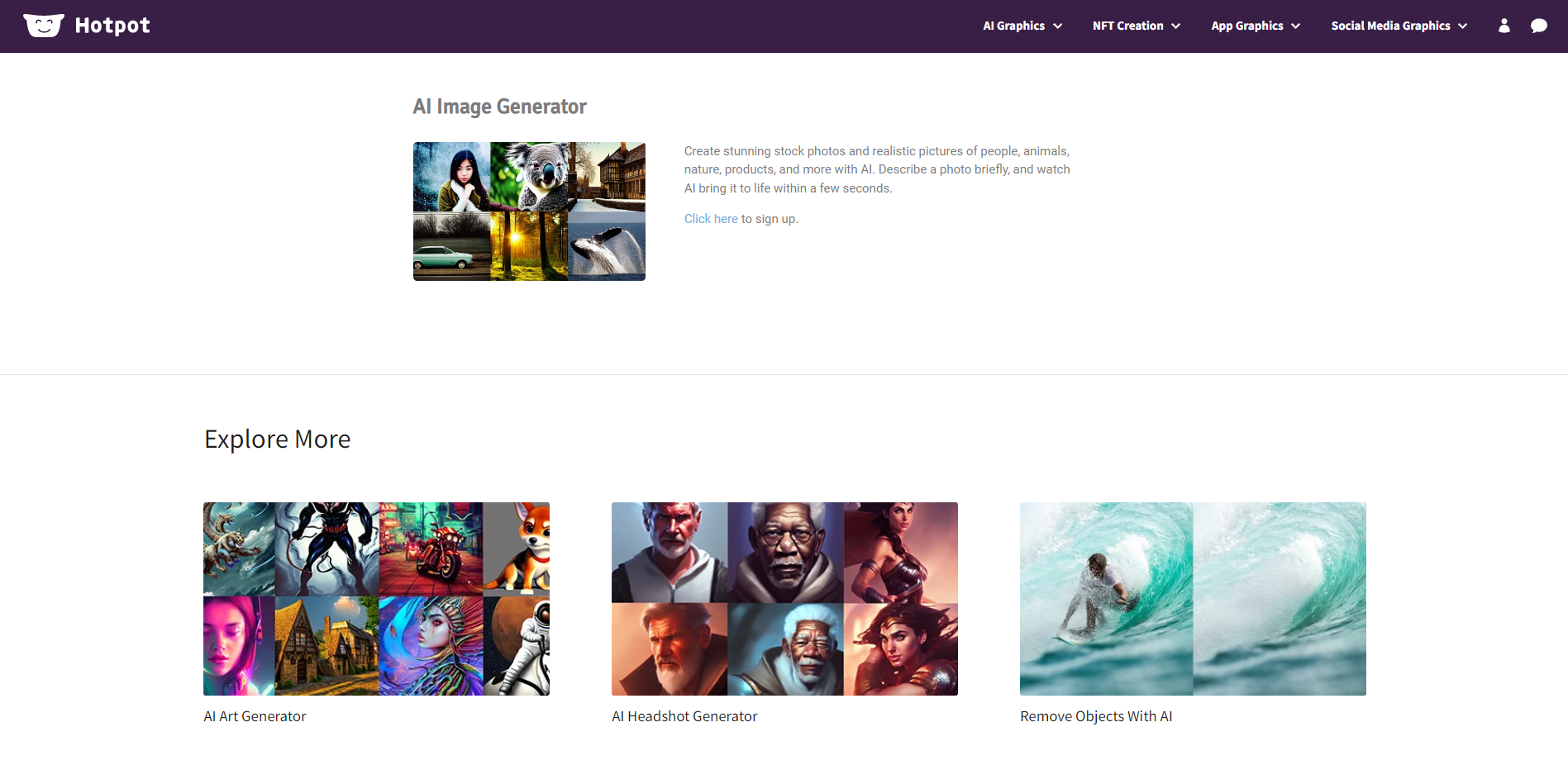 It, too, provides ready-made templates, similar to Canva. If you use Canva, you should certainly test this program.
Instagram posts, Instagram stories, iOS & Android panoramic screenshots, Facebook posts, and so on are among the most popular designs.
Pricing
The platform offers 1000/credits/month for $10/month and it also offers a pay once tier which starts from $12 for 1000 credits.
Artbreeder has garnered the greatest interest among AI art platforms. It employs a handful of AI models based on GAN.
This guarantees that you can produce images by supplying a text prompt or a brief description of the image.
In comparison to VanceAI, which also functions as a picture quality enhancer, Artbreeder can develop unlimited versions of an image using machine learning, allowing you to create landscapes, portraits, anime characters, and much more on a single platform.
It lets you adjust the skin tone, hair color, eyes, and nose on portraits. You can even transform your images into animated creatures.
However, portraits do not always turn out as expected and can appear hazy.
Pricing
You can start using the platform for free and premium pricing starts at $7.49
Deep AI is a fantastic AI picture generator that wants to make open-source image creation available to everyone. Deep AI's Image Generator produces realistic images with great quality.
The wonderful aspect of Deep AI is that you can build an infinite number of pictures, none of which will match. It focuses on giving its users variety and diversity.
Furthermore, you can change the degree of information in each image, including textures and colors. There are no downloads or additional configurations required because the program is hosted online.
DeepAI also includes an API that can be used by developers to link it to other software projects.
Pricing
It's free to use for everyone.
Photosonic is a web-based AI picture-generating application that uses a cutting-edge text-to-image AI model to generate realistic or creative images from any written description.
By modifying the description and rerunning the model, you can manage the quality, diversity, and style of the AI-produced photos. Photosonic offers a wide range of artistic techniques.
As a result, you will almost certainly find the right art style for your tasks. From the deepest recesses of your mind, you can create both photorealistic and comical creations.
It is a flexible artificial intelligence art generator. You have complete control over the output image's quality, style, and variety.
Pricing
You can start using the platform for free and premium pricing starts from $10/month.
Conclusion
There is an AI picture generator available for everyone, whether you're a skilled graphic designer or simply a regular user looking to have some fun creating graphics.
It's simple to pick the solution that best meets your needs when there are so many possibilities available. We hope this list has assisted you in accomplishing that goal.