If you keep up with video marketing trends, you've probably noticed a surge in animated videos with anime-style avatars.
This material was developed by VTubers, and it is revolutionizing content creation. Top VTubers have millions of followers and make millions of dollars every month.
According to observers, this business is on the increase. This may not appear to be a trend at first sight. However, marketers and businesses such as Mattel and KFC are harnessing virtual YouTubing to build genuine engagement.
Let's find out more about VTubing and some of the current best VTuber software for streaming.
What is a VTuber?
A VTuber is a slang term for a "Virtual YouTuber." It's the name given to the sort of online content creator that employs a computer-generated avatar while broadcasting to their audience.
They are mostly found on streaming and video-sharing services like YouTube and Twitch.
Simply said, a VTuber is a combination word for a digital YouTuber or creator who employs a digital avatar of some type to replace a standard camera when going live in front of their fans.
The bulk of VTubers are Japanese and often generate stuff in Japanese.
These influencers, on the other hand, generally have a worldwide following. VTuber avatars are frequently created to resemble characters made in Japanese animation shows (in other words, they resemble "anime" characters).
Because millions of people throughout the world watch anime, the audience for them has grown tremendously outside Japan.
Kizuna AI created the phrase "Virtual YouTuber" in late 2016. She is the world's biggest VTuber and is usually regarded as the first. She presently has over 4 million YouTube subscribers and much more on her other social media platforms.
Thousands of new VTubers have surfaced across multiple platforms since her rise to fame, adding to the genre's recent growth in popularity.
What do they do?
You may have heard of a VTuber if you spend a lot of time on the internet. VTubers are vloggers who appear as anime characters rather than their typical, everyday selves.
They are not artificial intelligence, but rather people with enough understanding to employ software that generates anime characters and features them in YouTube videos.
VTubers often produce the same sorts of content as other YouTubers.
Their online activities include live streaming games, interacting with followers, partaking in viral trends, and partnering with other influencers. Many of them also do voiceover work and create unique material based on their identities.
Building a character is an important part of becoming a VTuber. They develop a distinct personality and manner of communication with their audience.
This usually has an impact on the kind of content they provide as well as their relationships with their audience. VTubers can be both male and female, can take on a variety of extraordinary traits, and can blur the border between fantasy and reality.
Most VTubers make money by collecting fan-funded donations, selling goods, and accepting sponsorships in their videos.
In Japan, they have also been utilized as product endorsers in huge advertising campaigns, with Kizuna Al being a national ambassador for Japan's tourist organization.
5 Best VTuber Software for Streaming
If you want to get into the world of VTubing, you need first to learn about the software they use, and here's the list of the five best ones.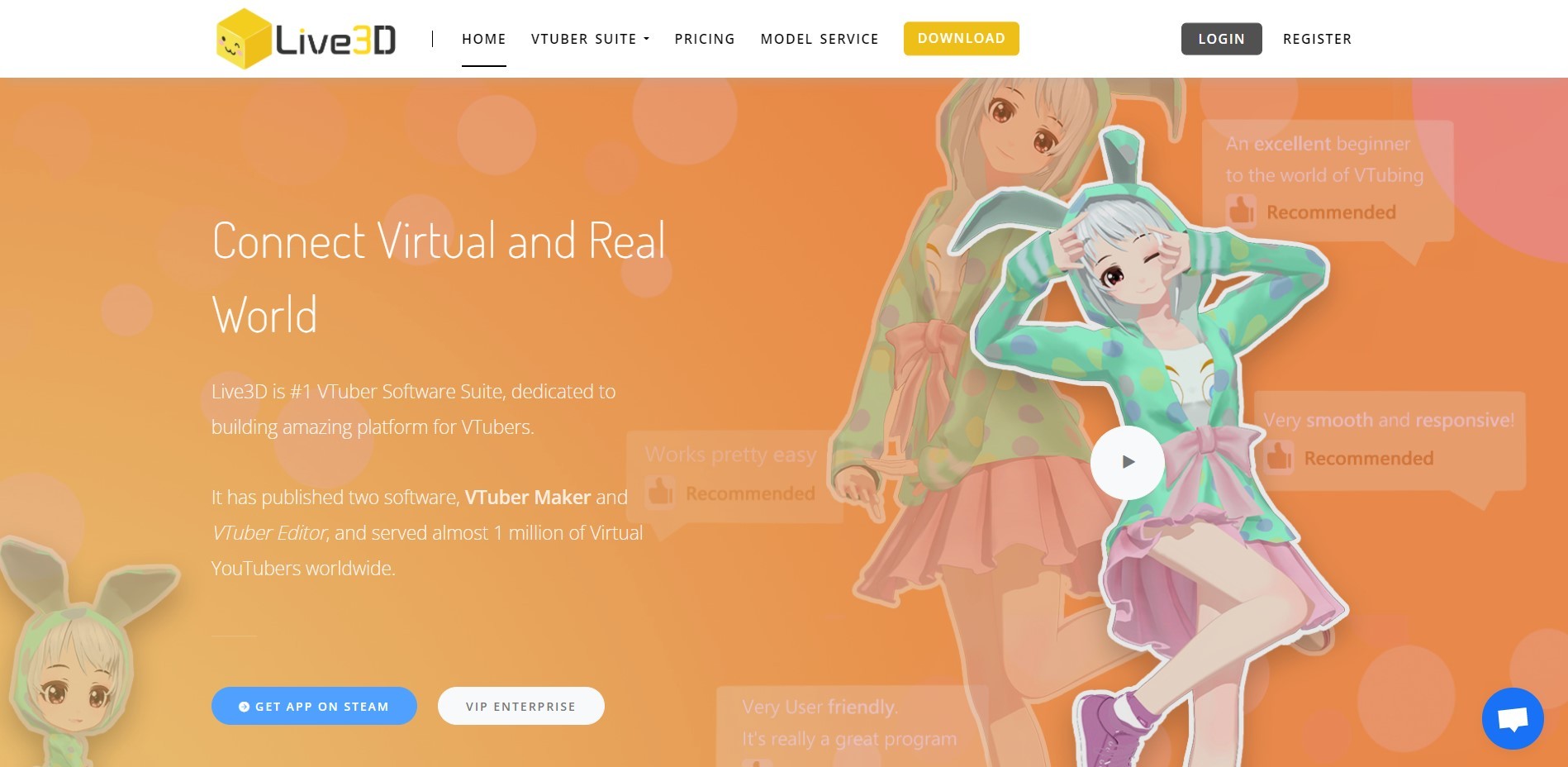 Live3D is available on Steam and has a plethora of intriguing features, such as customization panels to make your anime character appear gorgeous and realistic.
There's no need to expose your face; simply use a camera to empower your life skills while maintaining your anonymity.
More significantly, they provide a large selection of 3D VTuber avatars and 3D elements, as well as customization and painting, to make sure that your virtual live broadcast trip is creative and enjoyable.
When importing materials such as PDF, PPT, images, and videos, you can share your virtual avatar and built-in assets with your meeting or audience.
You can quickly record 3D films or live shows in real-time using your own tailored 3D VTuber avatar, face capture, or Leap motion capture, or use blockly flow to make beautiful and fascinating videos using built-in 3D avatar models and visual effect materials. With strong tools in the VTuber editor, you might quickly become a fantastic creator.
Key Features
Real-time face motion capture, real-time motion capture and leap motion, real-time lip-sync, and real-time video show are available.

High-precision 3D VTuber avatar, models, diversified action, effects, and prop resources, and so on. You can mix them to produce a fantastic VTubing show.

You can utilize the software suite for free for personal virtual makers. The features and resources are all simple for VTubers to utilize, requiring only one computer and a virtual camera.
VTube Studio is a free program for the iPhone/iPad, Android, macOS, and Windows. The program tracks your face with your smartphone or webcam and animates a Live2D Cubism Model appropriately. Three-dimensional models are not supported.
The model is displayed immediately on your phone or PC by streaming the face-tracking data from your phone to your PC/Mac via your local network.
This program has a lot of features that you'll find beneficial in your endeavor to become a virtual YouTuber. This program, however, will not track your eye movements or winks. VTube Studio is a wonderful starting point for a dependable VTuber application for novices.
Key Features
Face tracking is quick and of great quality.

High resolution, high quality, and sharp image rendering of a Live2D model.

Mouse/Pen-tracking option.

Any tracking parameter can be mapped to any Live2D parameter in your model.

Mouth tracking using voice.

iOS/Android app for network face tracking or drawing the model directly (free demo available).

Move the model's location, size, and rotation smoothly with hotkeys.
It is a tool that allows anybody with a camera to inhabit digitally fantastic creatures. It is intended to be an open creative platform, allowing anybody to create their own characters, backdrops, and objects and import them into FaceRig. If you won't be shooting films that reveal your complete body, this is a good option.
This program, as the name suggests, concentrates on your face. It offers a slew of additional capabilities that are ideal for creating YouTube virtual reality videos without using VR headsets.
FaceRig can be used to capture vlogs, online discussions, or to turn your party into a fun, freestyle mimicry show. Facerig for VTubers, on the other hand, features Live2D Cubism 3.0 technology, allowing its customers to generate the greatest movies for their purposes.
FaceRig is available in three variants:
FaceRig Classic, which is the entry-level version of FaceRig, allows for non-commercial use at home and even limited monetization on YouTube/Twitch or comparable platforms as long as the commercial part is minimal. They consider employing it on any avenue (channel) that generates you more than $500 in monthly income to be commercially important. This includes ad money as well as voluntary donations (one-time or recurrent, such as a Patreon). If you are within this limit, you can use Classic; if you are over, you must upgrade to Pro or Studio.
The FaceRig Pro DLC, essentially allows you to monetize videos on YouTube/Twitch without requiring a monthly income. but not for content that is exclusively available via paid/subscription-based services, such as the new YouTube Red (for content that is exclusive to YouTube Red or similar, you will need FaceRig Studio).
Studio Version allows commercial use as well as access to expressive mo-cap data. It is professional software that allows anyone to digitally embody CGI figures by using various motion tracking sensors. The result may be streamed live, saved as a video, or exported as an.fbx animation. It is intended to be an open creative platform, allowing anybody to create their own characters, backdrops, and objects and import them into FaceRig Studio.
Key Features
You can create and share your own bizarre or entertaining personality.
As our cool characters, with their many emotions, webchat on Skype or Google Hangouts.
Tracking the head and facial expressions in an incoming video stream in real-time (also with audio analysis).
Everything is of excellent quality, thanks to physics models, intricate particle effects, and real-time lighting.
Using real-time pre-processing, you can adjust your voice to sound more like the character.
VRoid Studio is a free 3D character creation tool that operates on both Windows and Mac. You can use VRoid Studio to develop avatars that can be used on different VR/AR systems that accept the VRM format.
VRoid Studio 3D models are available for commercial and non-commercial usage on a variety of VR/AR systems. Not only is 3D modeling on VRoid Studio as simple as sketching on paper, but this program also allows you to show your creativity by modifying minor elements down to the smallest detail.
Anyone can use VRoid Studio for free. It's quite simple to set up; all you have to do is download it and you're ready to go. Models created in VRoid Studio are yours to use on a variety of platforms and applications.
You can begin making it immediately after downloading; with several ready-to-use presets, you won't have to start from scratch. All you have to do is choose the things you want and change their settings. So, if you're looking for VTuber software for YouTube virtual reality content, VRoid is one of the most straightforward options.
Key Features
Humanoid 3D models can be created with VRoid Studio.

Face characteristics, body form, and clothes can all be customized in an unlimited number of ways.

Creating 3D hairpieces is practically as simple as sketching them on paper. You can use the inbuilt pen tool to make new hair as they draw using this program; color, length, form, flow direction, bounciness, and many other factors are all adjustable from the parameters area.

With the 3D preview, users can see how their changes affect the model in real time.
This list would be incomplete without mentioning VRChat, which is without a doubt one of the most important tools for interactive YouTubers. VRChat provides a safe space for people to experiment with various topics, such as designing and creating avatars for VTube. This program, which is accessible on Steam, is compatible with a broad range of VR systems, tools, and devices.
VRChat is a social virtual reality application that allows users to build and share virtual worlds. You take on 3D avatar models and are then free to do anything you want with them.
You can either develop your own character models or import them from other franchises to use as your own VRChat avatars. Mini-games such as Capture the Flag, Battle Discs, and Steel n' Gold are also available.
Key Features
Hand gestures emotes, and emoticons help you express yourself.

Lip sync, eye tracking/blinking, and a full range of motion are all features of avatars.

Using the Unity SDK, you can design your own avatars and environments.

With your pals, you can talk, collaborate, sketch, sculpt, and do other things.

You can hear crucial talks better with 3-D spatialized audio.

Discover hundreds of more worlds made by other members of the community.

You never know if the next avatar you meet will become your best buddy.
How to become a VTuber?
If these tools got you interested in becoming a VTuber. Here's a quick step-by-step guide to becoming a VTuber.
Set up your tech

: Ensure that you have a high-quality camera, microphone, and computer to record and edit your movies. You do not have to spend thousands of dollars. If possible, start with what you have and then upgrade your video equipment as you learn more.

Choose an avatar application

: There are plenty of software platforms to choose from, so I recommend trying out a few before choosing one. VRChat, VRoid Studio, and Hypermeet are a few of the more popular platforms to examine. Many of them have free versions, while additional functionality may require payment.

Make your avatar

: Creating your avatar is one of the most exciting aspects of being a VTuber. You can use avatar software to build your avatar from scratch or to modify an existing avatar's skin color, eyes, eyelashes, and so on. Consider the long-term purpose of your VTube material while designing your avatar.

Create your channel

: Where are you going to post your VTube creations? While most VTube material is on YouTube, videos can also be shared on your website, Instagram, TikTok, or other social media sites.

Create a content calendar

: Once you've decided on your avatar and channel, decide on the sort of material you'll produce. While you do not have to upload fresh content every day, you should post regularly.

Make your first video

: here is your moment to shine. Record your first video, then use your avatar program to convert it to your avatar and broadcast it live. Don't anticipate instant success; it takes months to acquire a YouTube following.
Conclusion
VTubers are bringing video marketing to new heights.
Top animators make millions of dollars and have massive fan bases, making them celebrities in their own right. Brands and marketing professionals, on the other hand, can benefit by adding VTube content into their digital marketing initiatives.
If you wish to become a virtual YouTuber, these VTuber software packages and resources can be a great place to start. Which one are you trying?