In today's rapidly evolving information age, technology continues to advance at a rapid pace to fulfill people's increasing consumption demands.
As there are more and more enjoyable forms, video games and animation are serious business these days, all over the world, and they continue to dominate and win a lot of love.
Characters define a game; they are the protagonists and give the game life. 3D modeling for games is a completely different beast. However, 3D characters play an essential part in the film and cartoon industries.
Hollywood, an amazing filmmaking program, has shown the world the enchantment of 3D character animation, producing a plethora of outstanding works.
Animation, art, film, and video games all employ 3D modeling tools to create characters. For example, elaborate monster designs or characters for science fiction movies require this sort of software.
To produce intricate and convincing designs, effective software is needed. Both rendering and 3D printing are other use for it. The ability to obtain 3D models that have been optimized for 3D printing is available with various character design tools.
In this manner, your 3D character might be printed in 3D for either commercial or non-commercial use. It's a fantastic approach to creating miniatures to practice design and detail.
In this post, we'll take a closer look at the finest software for creating 3D characters.
Daz3D is one of the greatest software for creating characters for video games and movies. It offers free aid in creating realistic characters.
It enables users to create unique digital art and animations by utilizing virtual characters like humans, locations, objects, animals, and others. To make gorgeous animations, users just select a topic or settings, organize accessories, and adjust the lighting.
Daz3D combines two distinct technologies: dForce is a hair movement simulation physics technique. When the character moves, the natural fabric stretches and bends.
Then there's Genesis 8, the most recent figure platform that has seen various modifications that have expanded its adaptability.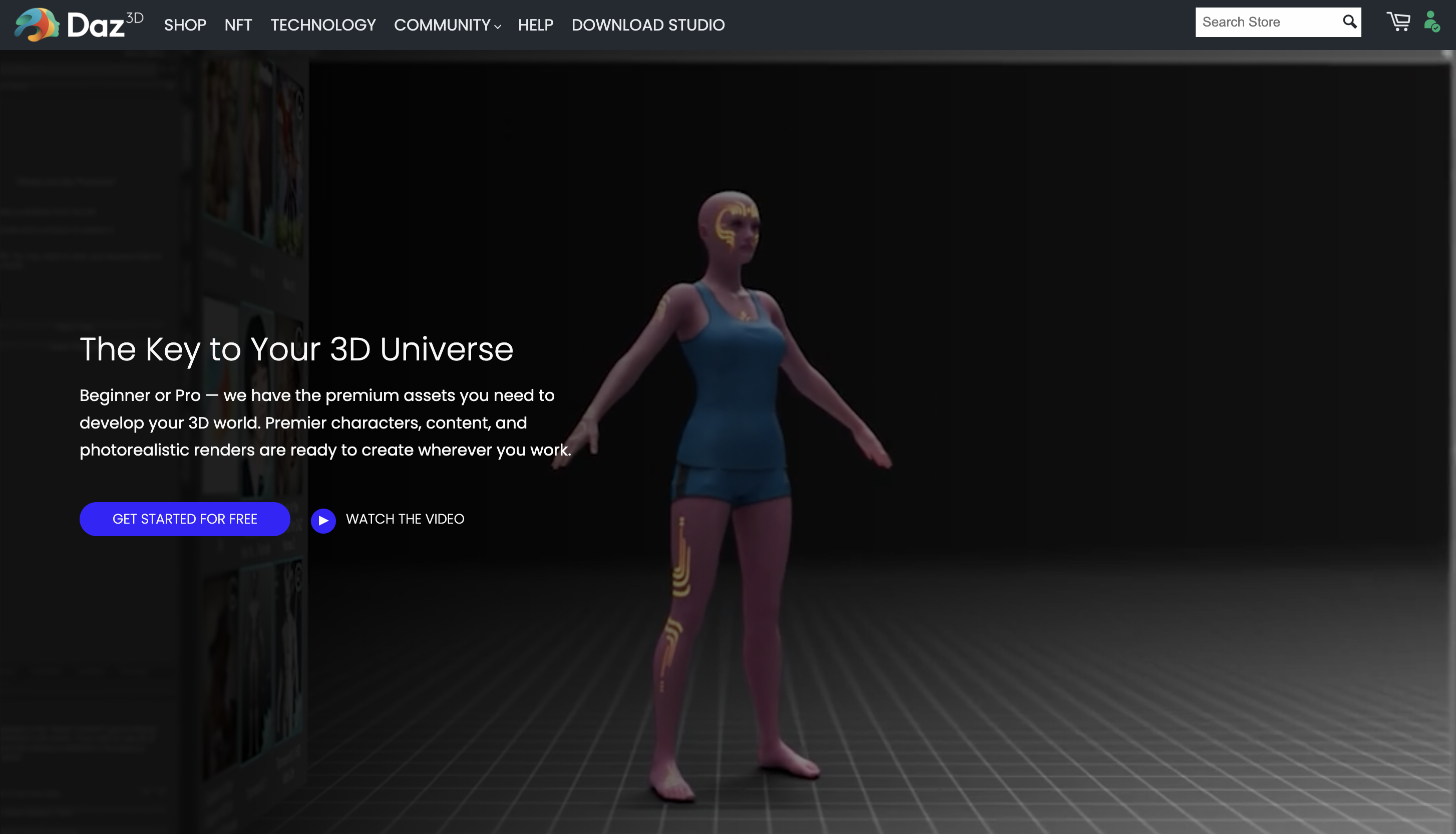 When these technologies are combined with the Nvidia Iray render engine option, you can utilize Daz3D to generate rendered graphics rapidly and with a very realistic feel.
While it appears more refined than its predecessor, it is also easier to operate. They have introduced new video instructions for newcomers.
The current version is fully compatible with prior 3D models and plug-ins, and it includes a number of next-generation figures. Customizations such as body figures, character postures, clothes, and body accessories are all simple to create.
Apparently, the basic edition of Daz 3D is free to use in order to access basic character design tool capabilities. You must purchase the advanced edition to enhance your character creation skills.
Pricing
It is free to use for everyone.
MakeHuman is a 3D modeling program that is free and open source. It can be used to build a 3D character for any purpose, including art and film.
This open-source program is ideal for novices since it features an easy-to-use interface and all of the various options. This design program has 1170 morphings for excellent parametric modeling, enabling you to work on body proportions, faces, and eyes, among other things.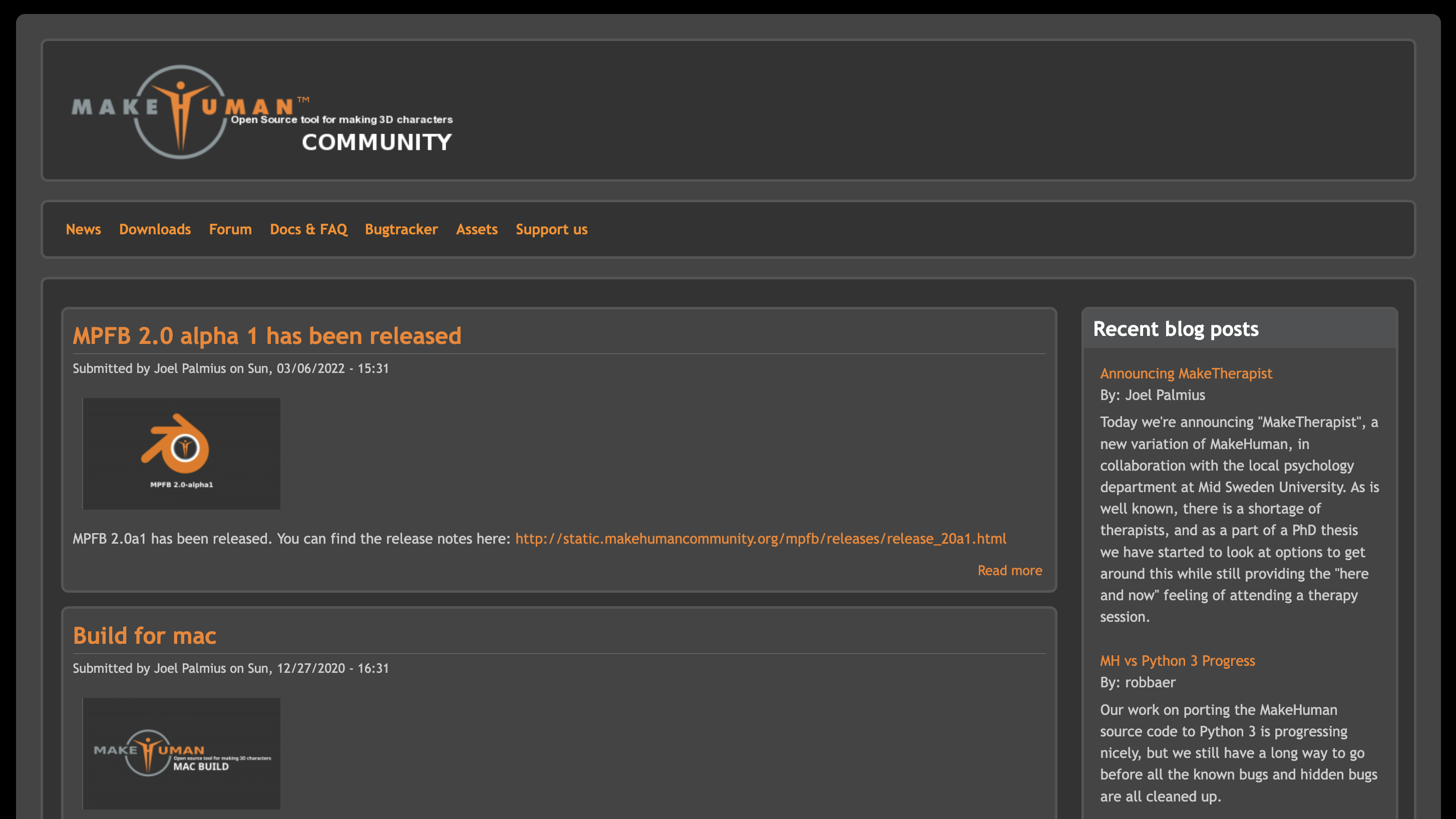 To build original 3D characters, MakeHuman, offers you many combinations of human characteristics. It is available for free and is specifically made to help new users learn how to create prototype photo-realistic human textures.
It has the broadest variety of human character manipulation tools, which provides your 3D character with a crucial characteristic.
By selecting criteria like gender, age, size, etc., one can find a ready-made project if they don't want to spend a lot of time constructing a human model. This strategy is comparable to using a character editor in a video game.
The model can be exported once it has been constructed, rendered, and textured. Several source formats, including STL, MHX, OBJ, and DAE, are supported by the program.
Pricing
It is free to use for everyone.
Adobe's Creative Cloud is a subscription-based service that includes more than 20 mobile and desktop programs for designing, photography, UX, web, video, and other tasks.
Give your ideas wings with Photoshop on your iPad; paint and sketch using Adobe Fresco; and create for AR and 3D.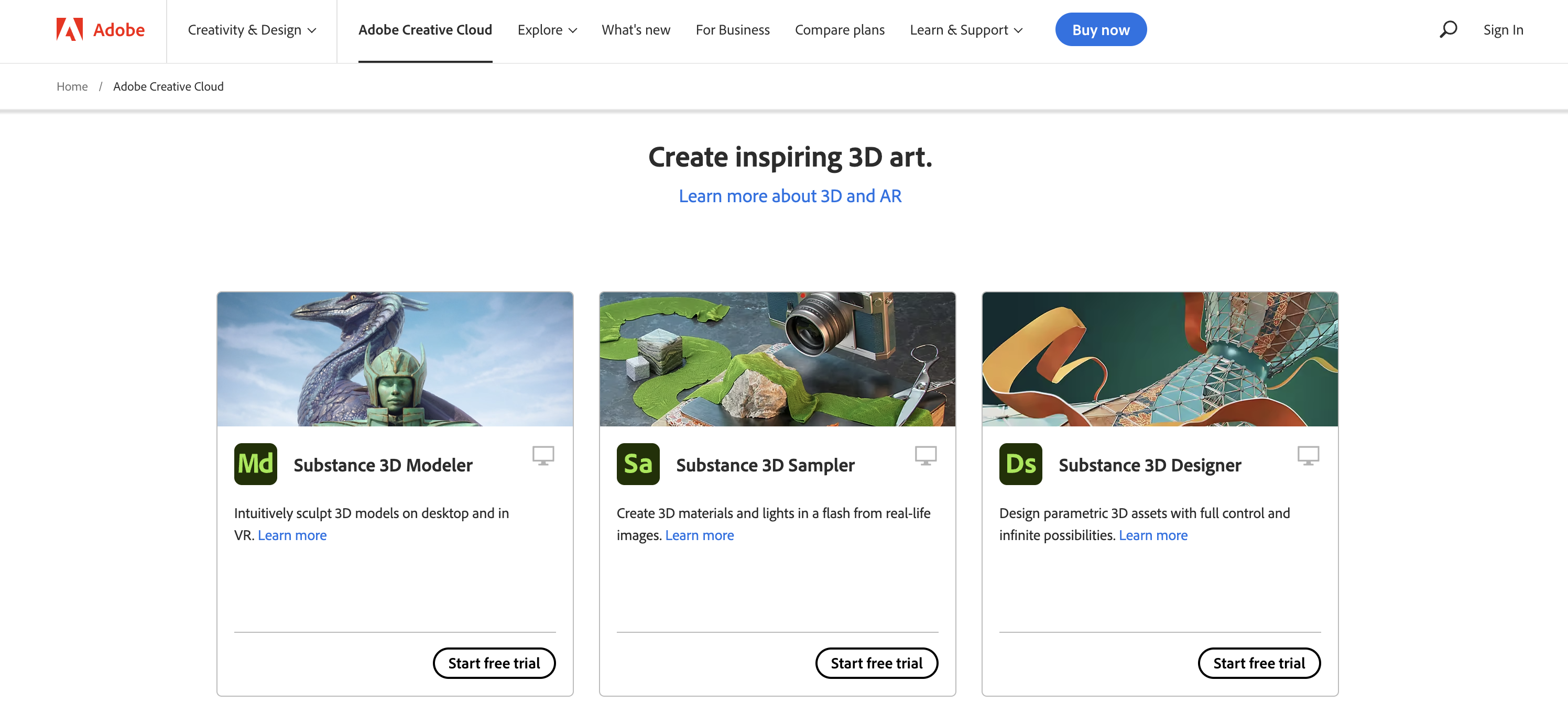 You also get 100 GB of cloud storage, a personalized portfolio website from Adobe Platform, and access to Adobe's extensive typeface library to aid with the development of your artistic operations.
Use collaborative tools to improve your work by evaluating, discussing, and sharing. There is no better platform than Behance, which this program supports if you're searching for a place to display your work.
You will also receive ideas in addition to showcasing your work. With the help of Creative Cloud Libraries, you can manage, arrange, and keep close-at-hand colors, character designs, icons, pictures, videos, and much more.
Pricing
The platform offers a free trial and a premium subscription starting from $39.99/month.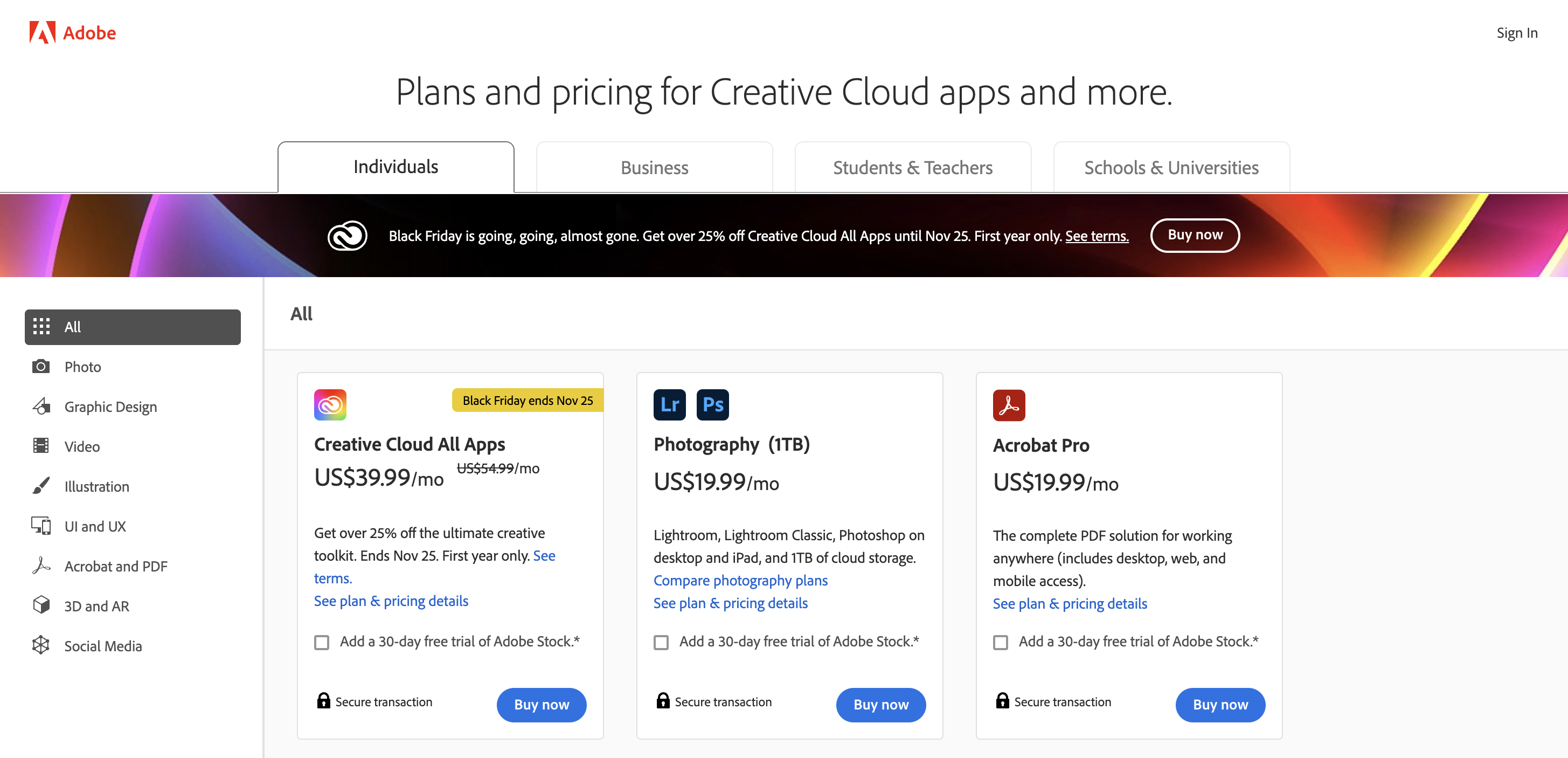 Autodesk's maya is an easy-to-use motion graphics, wearable technologies, and animation software. You can create vast landscapes, breathtaking effects, and intricate characters with its assistance. The tool has a lot of GPU, which helps to accelerate the process.
It is specialized 3D software for developing believable characters and blockbuster-caliber effects. The software has a variety of dynamics and effects, including interactive hair styling, ready-to-use graphs, Bifrost to produce blockbuster-quality effects, and much more.
It includes ocean simulation, soft and rigid body simulations, and other capabilities, as well as Bifrost fluids, which allow for the modeling and rendering of photorealistic liquids.

It also includes 3D rendering and shading features including real-time scene changes, lighting, texturing, and camera with Arnold RenderView. There is also color control, hyper-shading for look generation, and other features.
3D animation includes cached playback, a library plugin for a native library, animation bookmarks, a time editor, performance capture, and other features.
Maya can be used to create MASH nodes, flying logos, branding, title sequences, and other effects.
Pricing
The platform provides a free trial as well as a paid membership beginning at $225 per month.
Blender is yet another fantastic alternative for 3D animation and design. It is software that is free and open-source that can be used to create 3D characters, animated movies, video games, and other things.
Additionally, it supports both automated and manual tracking. Cross-platform software Blender is compatible with Linux, Windows, and Mac. OpenGL was used in the creation of its user interface, guaranteeing flawless operation.
It boasts an advanced rendering engine that is impartial and generates spectacular, ultra-realistic results. It supports real-time viewport preview, GPU and CPU rendering, VR rendering, HDR lighting, and PBR shaders.
It also includes a comprehensive collection of modeling tools that make it simple to design, alter, sculpt, and edit your models.
Additionally, many outcomes that would ordinarily take too much time to update manually can be automated using the modifiers without affecting the basic shape of the item.
Digital sculpting tools provide the power and adaptability required at various phases of the digital production pipeline. By merging the sculpting and polygonal modeling tool sets, the tool streamlines the process of moving from conceptual study to final model construction.
Along with object tracking options including manual, auto, and planar tracking, Blender also includes production-ready cameras. With this software, rigging and animation are simple.
Characters that are motionless can easily be turned into stunning animations. It has functions including bone forms, automated skinning, dope sheets, sound synchronization, and more.
Pricing
It is free to use for everyone.
Maxon created the ZBrush software. To work on modeling, painting, and texturing, it is a special and effective program. Due to the abundance of cutting-edge software tools, it is intended for experienced users and professional designers.
You can create character designs with ZBrush, among other things. Digital paintings and images will be possible for you to create.
It provides digital sculpting with interchangeable brushes that assist mold, adding texture too, and painting digital clay.
Everything is done in a real-time setting that provides instant feedback. The program provides the same tools that are used by movie studios, jewelry designers, illustrators, and artists all around the world.
Pricing
The premium pricing of software to purchase starts from EUR 112 .64 /mo.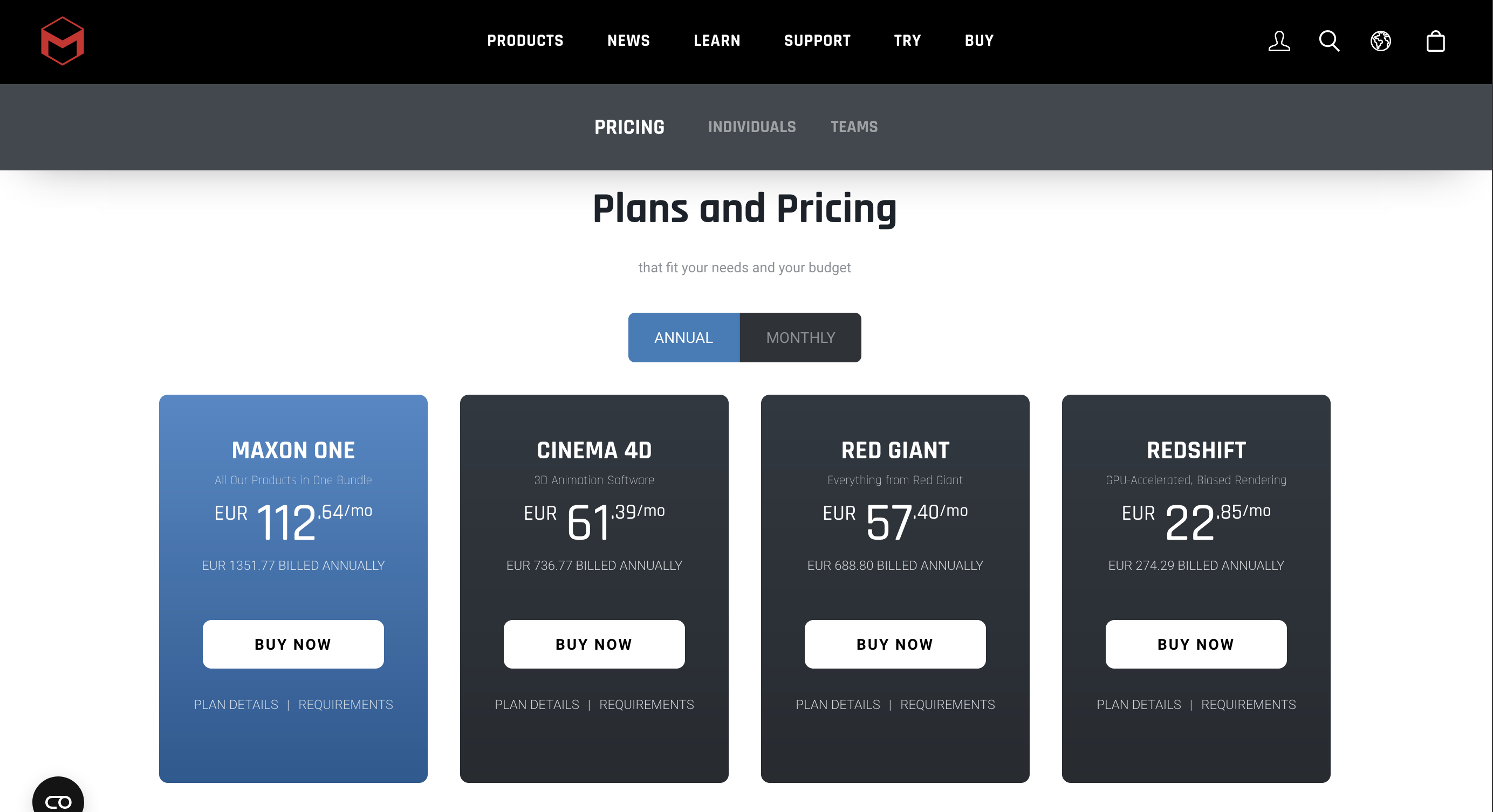 iClone 8 is another excellent 3D design tool. One of the quickest design tools available, it enables you to produce expert animations for films, animation, video games, content development, art, and education.
Additionally, it has a tonne of powerful animation capabilities that make it easier to combine characters, enable dramatic storytelling, and create richer scenes.
It provides sophisticated capabilities for modeling rigid body dynamics, soft fabric behavior, restrictions and collisions, and organic morphs.
You can swiftly animate any figure using straightforward tools for face and body movement, such as lip-sync, facial emotion, and so on.
Along with your enthusiasm, it is beneficial in professional animation. Control production using a multi-camera system, scene and lighting setup, timeline editing, and other features.
Include real-time, beautiful 3D graphics such as Global Illumination, IBL, and PBR to achieve maximum quality and speed of development.
You can export and import rigged movements, characters, objects, scenes, and cameras with iClone 7. It also includes a number of plug-ins to help you expand your creative toolset.
Pricing
The platform offers a free trial and a premium subscription for $249 & $549.
Poser is the industry standard for 3D animation and rendering software. It provides a comprehensive solution for employing 3D characters to create artwork and animation.
The program converts photographs into lifelike visuals and videos that are suitable for use in movies, websites, and prints, whether they feature human shapes, animals, or 3D features.
It provides the ideal means to integrate fully-textured, pre-textured, and animated 3D characters into the production channel.
Users of the more sophisticated version can access a secret method for creating a human figure with realistic features by styling its hair and adorning it in clothes and other accessories.
Additionally, it gives users the ability to construct animated or short film characters that can run, dance, and walk. Also excellent and smooth are the animations.
With this software, a creative expert can produce a wide range of work, including photorealistic illustrations and cartoons.
Pricing
It offers 21 days free trial of the software and premium pricing of the software is $900.
Another all-in-one solution popular among character creators is Modo. It is strong and adaptable when it comes to developing people and other characters.
With its modular tool system, you can easily build any type of character you can think of, from simple to complicated. Modo can be readily integrated into your existing pipeline because it is built on industry-standard technology.
In comparison to Maya and ZBrush, it is quite simple to learn. Modo excels in creating medium-level designs, but working with large projects gets difficult.
Also, the toolset requires some improvement if it is to compete with the industry titans in 3D modeling software. To create projects for 3D printing, use Modo's direct modeling tools. Sculpting and retopology features are integrated into Modo.
If you need to design characters, this software is excellent. You can easily create, edit, manage, and reuse intricate character rigs in Modo thanks to its flexible node-based rigging system.
Pricing
You can try the software for free and premium pricing starts from $462/year.
Akeytsu, highly recognized for its crafts and creativity, is the list 3D design and animation software on our list.
This powerful and user-friendly keyframe and rigging animation software is ideal for generating 3D characters, animals, and bipeds.
It offers a wide range of toolsets to developers who want to make large volumes of 3D animation using simple software. Not only that, but it has cycled animation features that make creating much easier.
Akeytsu includes a Spinner, also known as the transformation hub because it has all the tools required to produce high-quality work.
The direct model integration is also provided, which reduces the amount of time spent moving back and forth when designing. Using its viewport selection method, you can easily change joint controls and skin effects when painting.
You can easily restart your prior procedure with Akeytsu's straightforward user interface if necessary. Auto-Rig is a crucial element that enables the creation of a biped character rig in a short amount of time.
Pricing
The software is free for students to use and is available for a 30-day trial.
Conclusion
Finally, a variety of character software is accessible depending on the traits you're looking for. Realistic figure drawing is a specialty for certain artists, whereas cartoony figure drawing is their area of strength.
Certain character types can be created significantly more effectively by some character generators, such as those used in D&D. The only thing that counts are your own decisions.
Whether you need a robust tool to make 3D cartoons or characters for video games, there is software available to suit your demands.