While video editing may seem like a complex process, various services provide an easy solution to create videos right from your browser.
One such promising service is Offeo, already used by over 500,000 businesses to design unique brand designs for social media.
In the age of social media, many businesses are taking advantage of video marketing to promote their products and services. Currently, 86% of small businesses say they will employ visuals in their marketing strategy.
Let's look into how Offeo can help create effective video ads for your digital marketing campaigns.
Offeo is an online video ad maker for marketers, designers, and freelancers. Having a cloud-based video creation tool makes it possible for anyone to create ads, no matter what type of device you're using. The website provides the user with plenty of video assets including animated graphics, music, stock images and video, and entire templates to use.
Offeo also offers out-of-the-box design templates and uses Artificial Intelligence and marketing expertise to help make your ad pop! They are certified Facebook Business Partners, meaning their templates have been vetted to perform well on Facebook and Instagram.
Offeo is perfect for people who need short video ads for their businesses. If you are any of the following, Offeo may help you:
As a marketing agency, you'll be able to quickly ideate and ship content for your clients using Offeo.
For people running an online business, you can use Offeo to boost your sales with effective promotional material without having to hire.
As a social media manager, Offeo can help create an endless amount of engaging content that fits the brand of your company.
Key Features
Powerful and user-friendly video editor right in your browser.
Layer and timeline management for every project.
One-click animation to animate your project with a single click.
Remove backgrounds in images with a single click.
Built-in brand identity feature to create content that fits your brand.
Provides thousands of templates for any type of social media (square, vertical , and landscape).
Partnered with Shutterstock to provide high-quality stock images and footage.
You can choose from over 5,000 curated soundtracks to partner with your visuals.
Now that you've seen what Offeo can do for you, let's look into how easy it is to make your first video.
Creating Your First Video in Offeo
The Offeo Dashboard will give you a quick overview of all your current projects. Since we've just started, we'll have to make our first video!
On the dashboard, click on the 'Create a new video' button to start the process.
Offeo Design Options
They offer various kinds of design options. You can browse the thousands of Designer Templates they have.
If you set up your brand identity on the My Brand page, you also have access to plenty of templates that match the personality and color scheme of your brand.
If you have a specific product or image you would like to promote, you can use Offeo's Smart Create to let Offeo design a template for you using AI.
Once you select Smart Create, Offeo will ask what kind of content you would like to create. For this example, we'll be testing out their Product Video templates.
Next, we'll have to select the image of our product to use. You may upload your own files, try out some of their sample images, or even upload an image from a provided URL.
It might be difficult to place your own photos because of the background taking up unnecessary space in your ad. Of course, Offeo makes this problem much easier to solve with their remove background tool.
You won't have to use external software such as Adobe Photoshop to take the background out of photos. With Offeo, I can now make a video ad starring my pet dog!
After selecting our image, Offeo will use their AI-powered template generator to provide lots of different options for your product video.
Also, you can customize every template video further in the editor.
Offeo Video Editor
In the editor, you can customize every aspect of the video. The editor may seem familiar to anyone who's had experience with other graphic design services such as Canva.
You can customize elements such as:
Text elements
Custom graphics
Images
Background
Music
Animation
Each element can be given its own animation. With the One Click Animation tool, you can also give every element a similar animation.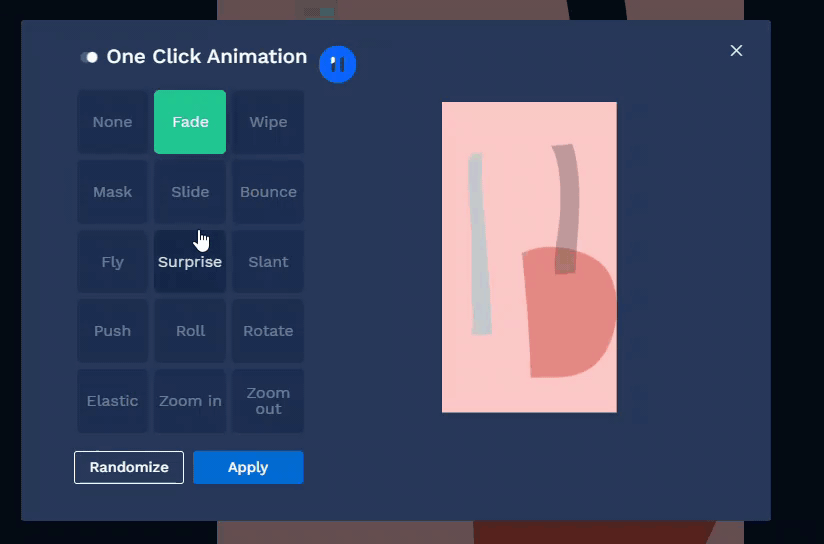 Offeo has an extensive library of music for your ads, across all kinds of genres and moods.
For instance, I can choose music from the "Sci-Fi" genre to promote an ad for HashDork.
Offeo also offers several options for exporting your designs. You may export it as an image (JPG or PNG) or as an MP4 video.
Creating Branded Content in Offeo
Making sure that your marketing materials are cohesive is an important aspect of a successful marketing campaign. Offeo's Branding features provide a quick way to define your brand identity and create template designs that fit your brand.
If you haven't set up your brand yet, but have a web page already, Offeo makes it easy to start.
First, simply type in the URL of your website into the textbox and click 'Create Design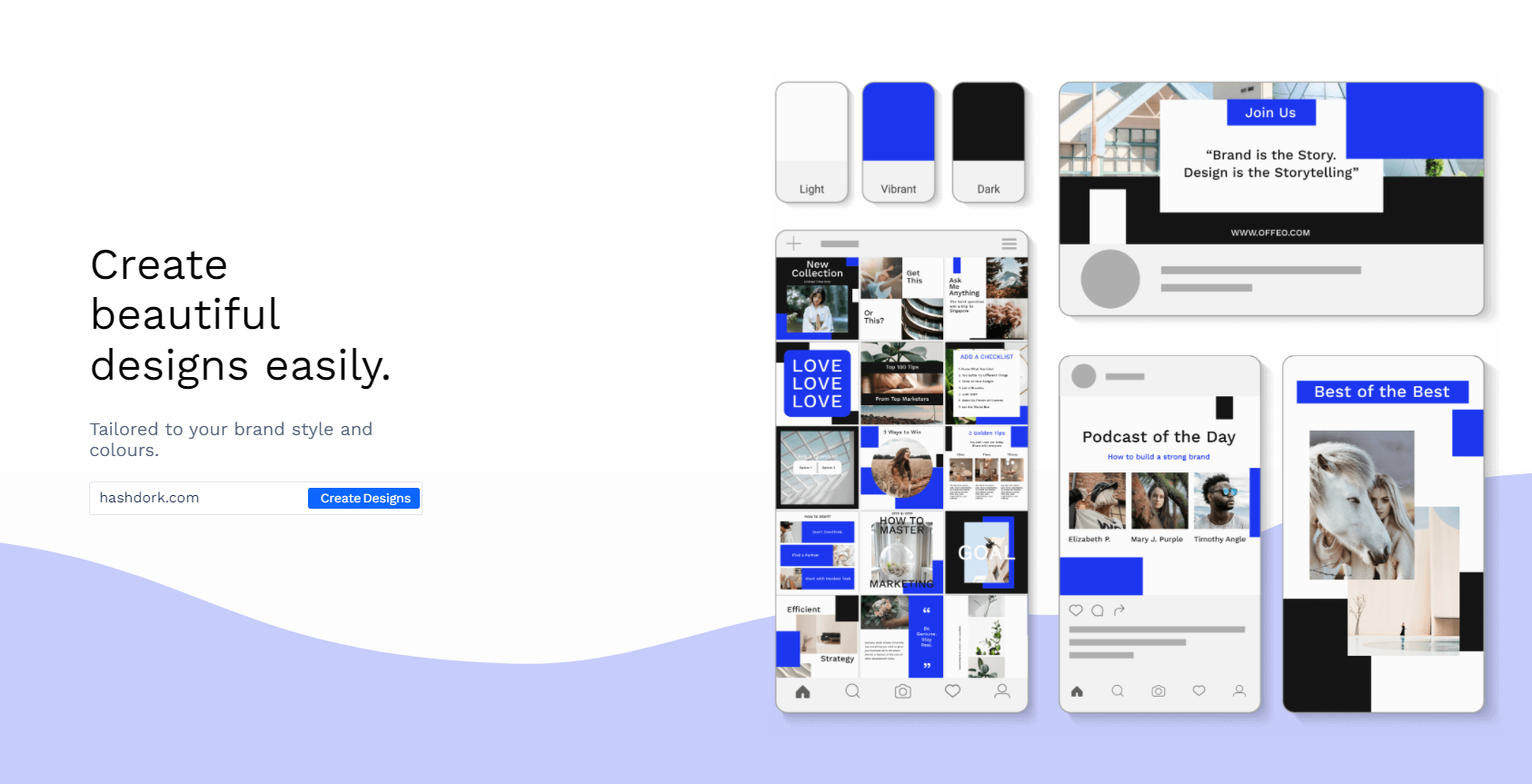 Offeo will automatically determine your brand colors. If the colors need fixing, you can always choose them manually.
Besides brand colors, you have the option to pick several styles that will determine the types of background and graphics seen on your ads.
On the right-hand side, Offeo previews sample content following your branding, allowing you to quickly assess whether the graphics work for your brand.
Before you start creating your video, let me take you through some pros and cons of the platform.
Pros
Fully customizable templates.
Cloud-based services mean it can run on any PC.
No design skills required, drag-and-drop interface.
Huge library of assets for any type of campaign.
Access to royalty-free music, with more added every week.
14-days money-back guarantee.
Cons
Can only make videos up to 3 minutes in length.
Slight learning curve due to the vast amount of features.
Does not offer a trial period.
No mobile app yet.
No voice-over feature.
Offeo Pricing
The regular Premium plan is $19/month or $149/year.
On the other hand, the Lifetime deal costs $98 and includes all the same features as the Premium plan.
Offeo does not have a free trial. However, they do offer a 14-days money back guarantee in case you're not happy with the platform.
Conclusion
Social media marketing is now more important than ever. Businesses rely on online marketing to reach audiences worldwide.
Offeo provides a quick and easy solution to creating eye-catching video marketing content.
In summary, the Offeo video editor is powerful yet user-friendly enough that anyone can pick it up and create professional looking video advertisements.
Hope this guide helps you get a glimpse of all that Offeo has to offer.
And, subscribe to our weekly newsletter for more great articles and guides on AI, ML, and Future Tech.