Music is an integral part of any multimedia project.
With how quick, the content cycle is, you may realize you need more music than you can afford.
If you lack the resources to acquire music for your project, AI-generated music can be a valuable tool.
The AI-powered platform, Mubert claims to have made a decent effort in solving the issue of having to purchase soundtracks and music for personal and professional products.
In this post, we will go over what Mubert has to offer and how you could start creating your own royalty-free music on their platform.
What is Mubert?

Mubert is an online platform that aims to empower creators by providing custom, high-quality royalty-free music.
Mubert achieves this goal through the use of a proprietary AI that generates music that fits your needs.
Users simply need to specify the type of music they need and how long the track should be.
For example, you can ask Mubert to generate a high-energy rock soundtrack for your next promotional video. Or you can generate a calm looping minute-long track to use as background music for a live event.
Mubert uses thousands of different parameters to create the perfect track without you needing to pay licensing fees.
Who is Mubert For?
Mubert is a versatile tool that can be used by a variety of different professionals.
DMCA claims and copyright strikes are often a huge issue for content creators and live streamers. Mubert's royalty-free music can help these creators avoid these issues.
Aspiring filmmakers can use Mubert to generate a fitting soundtrack for their next film. Startups and agencies can use the platform's royalty-free music for marketing materials and live events.
The Mubert Play app is targeted for casual listeners who want to take advantage of the platform's music generation features. Mubert Play users can listen to custom streams for sleep, focus, meditation, workouts, and more.
How Does it Work?
Though Mubert's algorithm remains proprietary, we can still work out how they use AI for music generation.
According to an official blog, Mubert uses a neural network mainly for sound classification, data analysis, and populating their database.
When the music is generated for the user, the program simply puts all these different sounds together. While the music generation process does not require a neural network, the blog states that they use machine learning algorithms to make sure that the sounds match the same mood and fit the specifications set by the user.
Mubert works with a growing database of about 500,000 samples. These samples are then accurately classified. The end result would likely be a massive database of samples, each with its own extensive set of parameters.
For example, a specific sound may have a parameter that indicates genre or instrument. Some sounds may be classified as fitting a certain mood.
According to Mubert, the program is supported by a team of 2000 musicians that help refine the algorithm's results.
User feedback is also collected through the use of the like and dislike feature.
Key Features
In this section, we'll look at some of the key features that Mubert provides for its user base.
Track Types
Users can create four types of output: tracks, loops, mixes, and jingles.
Tracks refer to the normal output that has both a beginning and an end.
Loops are a type of track that can be seamlessly circled into itself. This type of output can be played forever on a loop, as the name implies.
You should opt for jingles if you're generating a track less than a minute-long. These short tracks are perfect for short-form content and follows a fixed and logical structure.
The mix mode creates multiple tracks that follow one after another. Mubert ensures that each track blends harmoniously to the next.
Track Specifications
After selecting the track type, the user can choose from any of three categories: genre, mood, and activity.
If the user selects genre, Mubert offers over 20 genres and over a hundred different sub-genres.
Mubert can also create music that fits over forty moods including 'Inspirational', 'Upbeat', and 'Sentimental' to name a few.
If you're into workouts or jogging with music, you can take advantage of the activities category. Mubert allows you to choose a variety of activities such as Yoga, Cardio, and Running.
Search by Reference
Another useful feature you can try out is the Search by reference option.
Users can provide a link to a specific YouTube video with music, and Mubert will try to generate a track that has a similar style of music.
After trying this feature a few times, I can say that the results are hit-or-miss. It seems that they simply feed their music classification algorithm to the linked video and use the results to suggest pre-made content.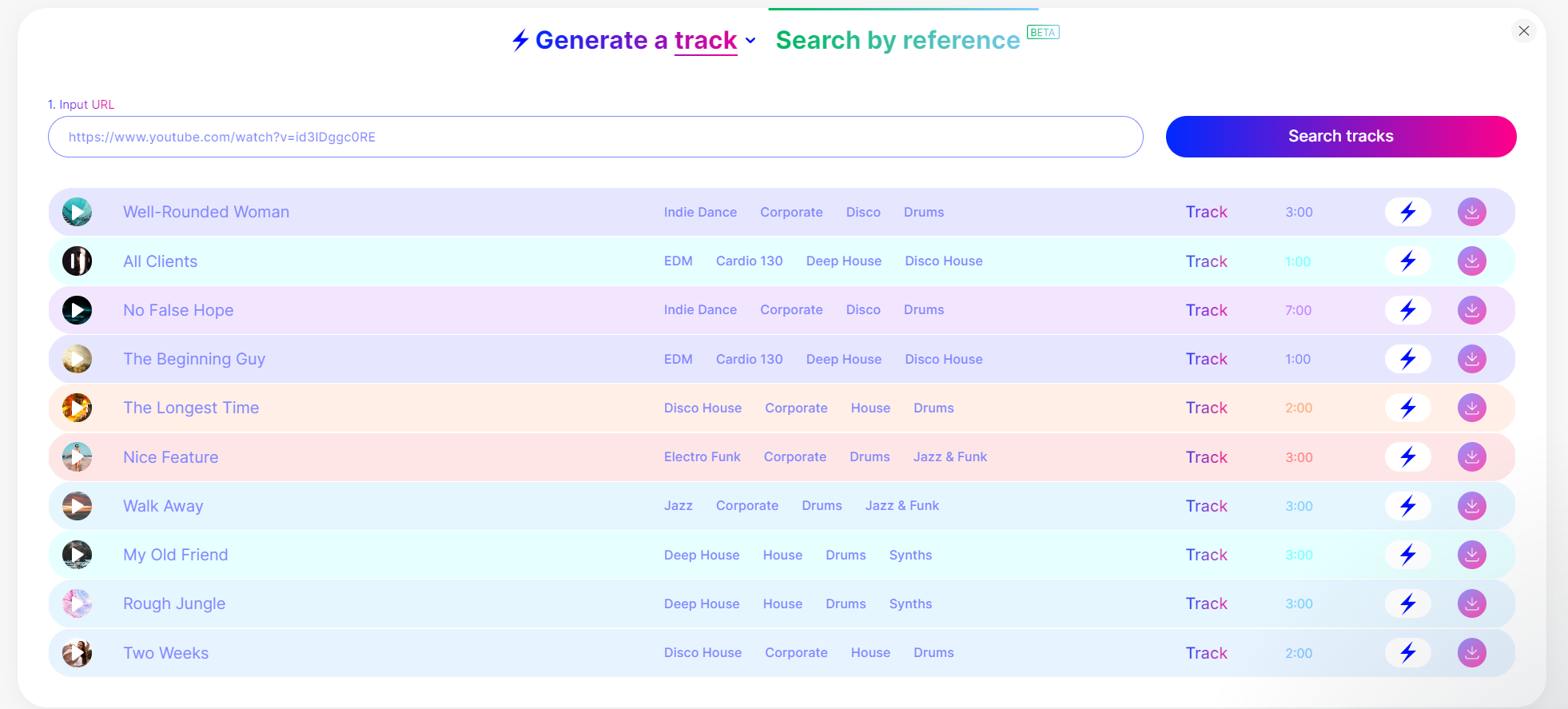 However, the Search by reference feature returns 10 different tracks. The results cover a broad range of music with similar qualities to your target sound. For a beta feature, the output provides a decent enough starting point for generating music with similar elements to the linked video.
Mubert API
Developers can take advantage of Mubert's API to access the platform's music generation features.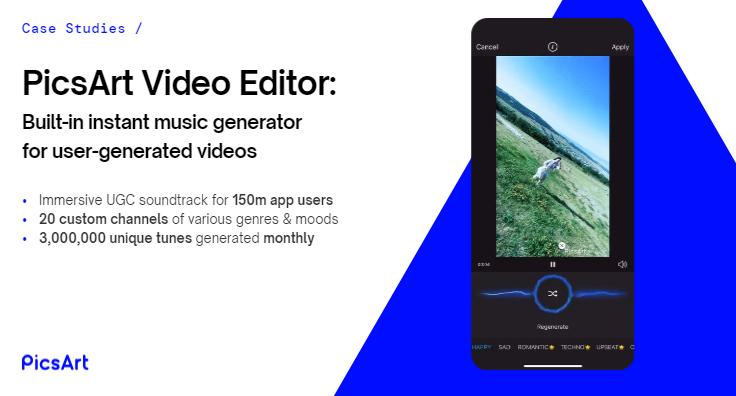 Mubert's team is open to collaborate with developers to provide custom functions, audio branding, and other exclusive features.
Apps such as PicsArt Video Editor and Restream already use Mubert's API to create royalty-free music for their own respective services.
Pros and Cons
Pros
Royalty-free music for your business

easy-to-use interface

Can generate music using different instruments, themes, and moods
Cons
Music quality can still be improved.

Tracks can feel repetitive and stale.
Pricing
Users can already use Mubert's free Ambassador plan to generate 30 minutes of music daily for their personal projects. This plan, however, is limited to up to 25 tracks per month.
Their Creator plan costs $14/month and allows users to download up to 500 tracks per month. This plan also allows users to export .wav files.
The Pro plan costs $39/month and is the best plan for freelancers or employees who need Mubert's music generating services often. Upgrading to this plan removes daily limits and allows the use of tracks for commercial projects.
If you are an agency or company that plans on using Mubert extensively, you may want to consider the Business plan. The plan costs $199/month and allows your company to use Mubert tracks in TV, radio, film, and other client projects.
Create Your First Mubert Track
In this section, we will go over the step-by-step process of creating your first track on Mubert.
First, indicate the type of output you want Mubert to create for you.
Next, select a category you would like the generated music to follow. For example, if you want to generate a particular style of music such as jazz or rock, select the 'Genres' category.
Once you've selected a category, you will have to specify a specific genre, mood, or activity.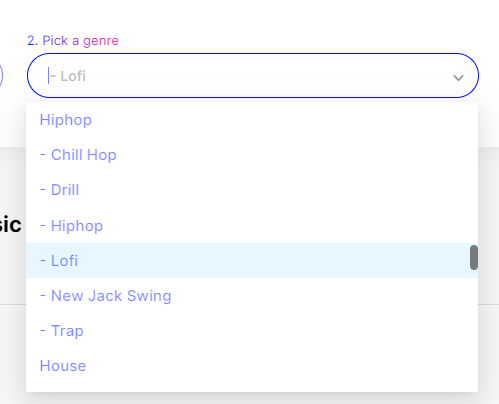 Next, set the duration of your output.
Click on Generate Track. Mubert will now take a few seconds to build your custom track.
Hit the Play button to listen to the track on your browser. You have the option to either download the track, delete the track, or generate a song similar to the current track.
Conclusion
Mubert's ability to create human-like music tracks seems like a promising start for a service aiming to change the way we use and consume music. This goes for both personal and professional use cases.
AI-generated music can help make a video or project more professional and realistic. Mubert's ability to create royalty-free music is also an enticing option for creators without the budget or resources to license a track or hire a musician for a project.
Do you think Mubert's music generation service will disrupt the professional music industry?