One of the major concerns discussed and researched in the vast field of computer networking and communication is that of cyber security. If you are a web-based company or service provider that makes use of any kind of web application that maintains a dataset online or provides a data handling service then you probably don't want your data to fall into the wrong hands.
In this article, we go over the seven best Web Application Firewalls (WAFs) that help secure your web applications from cyberattacks.
Understanding Web Application Firewalls
A Web Application Firewall (WAF) is a network security device. This device can be a cloud-based or hardware protection system that prevents intrusion and includes content delivery networks that protect the integrity of our web application and ensure the availability of our content.
Our WAF acts as a shield, protecting our web application from data breaches, attacks, and malware infections.
Need for the WAF
With the recent growth of more frequent and stronger cyber attacks, WAFs are necessary to ensure the protection of your data. WAFs prevent website hacks and data breaches, they protect your website traffic and your brand reputation.
WAF vs. Firewall
Both firewalls monitor and block traffic, WAF protects websites from suspicious requests to the webserver while network firewalls protect the data flowing between web servers.
The List of Best WAF
Prophaze is a proxy server that runs on the cloud. This service makes use of artificial intelligence to create routines that help refine detection rules, reducing the number of false alarms, and helping provide unrestricted access to genuine site visitors. The Prophaze system operates on Kubernetes containers meaning that the system is both secure and scalable.
Key features
User-friendly Graphical User Interface (GUI)
Machine learning-based threat detection system
Distributed Denial of Service (DDoS) protection and virtual patching
Unlimited free Secure Socket Layer (SSL) certificate
WAF integration time as low as 15 minutes!
Pricing
Prophaze WAF pricing starts at $299.00 per feature, per month and provides a pricing calculator for users to make use of the WAF according to their own needs.
You can check out the free trial here.
This WAF is available in the form of a suite of website protection measures provided by Sucuri. This is a cloud-based service that hosts your website's address on a Sucuri server.
The company maintains a real-time database of attack signatures, meaning your web application benefits from protection strategies learned by Sucuri while defending other websites.
Key features
Layer 7 DDoS Mitigation
Blocks known and Zero-day attacks
Variety of dynamic protection strategies
Free SSL on its firewall servers
Pricing
Sucuri WAF provides four pricing plans starting from $199.99. They also offer a custom plan option.
This is an online service that has recently become very successful in protecting web hosts from DDoS attacks. Their server manages 2.9 million requests every second due to their large user database. The advantage of using this service is that an attack on one customer would be instantly blacklisted for all web servers protected by Cloudflare.
Key features
Monitoring, logs, and reports to improve user experience
Extensive issue tracking system backed by analytics
Application layer control to provide even greater security
Pricing
Cloudflare provides three pricing plans, available on their website.
AppTrana is a fully managed risk-based application and Application Program Interface (API) protection WAF. This WAF uses a risk-based approach to identify and patch vulnerabilities, thus instantly providing tailored protection for your applications and APIs.

Key features
Uncovers and patches vulnerabilities in networks immediately
Patching features scaled for large enterprises
An advanced detection system that also checks for false positives
Provides DDoS protection
Pricing
AppTrana pricing starts at $99.00 per feature, per month. You can check out the free trial here.
Provided by Amazon Web Services (AWS), this WAF is particularly useful in helping protect your web applications or APIs against more common web exploits and bots.
Key features
Agile protection against web attacks
Easy deployment and maintenance
Cost-effective web application protection
Pricing
For this service, you will be charged for each web Access Control List (ACL) and rule created per web ACL.
Details of this pricing system is available here.
Akamai is the leading DDoS mitigation, integrated with full DDoS protection with its WAF in cloud service called Site Defender. This means that you won't have to reroute your traffic between two different companies to get genuine requests at your web server.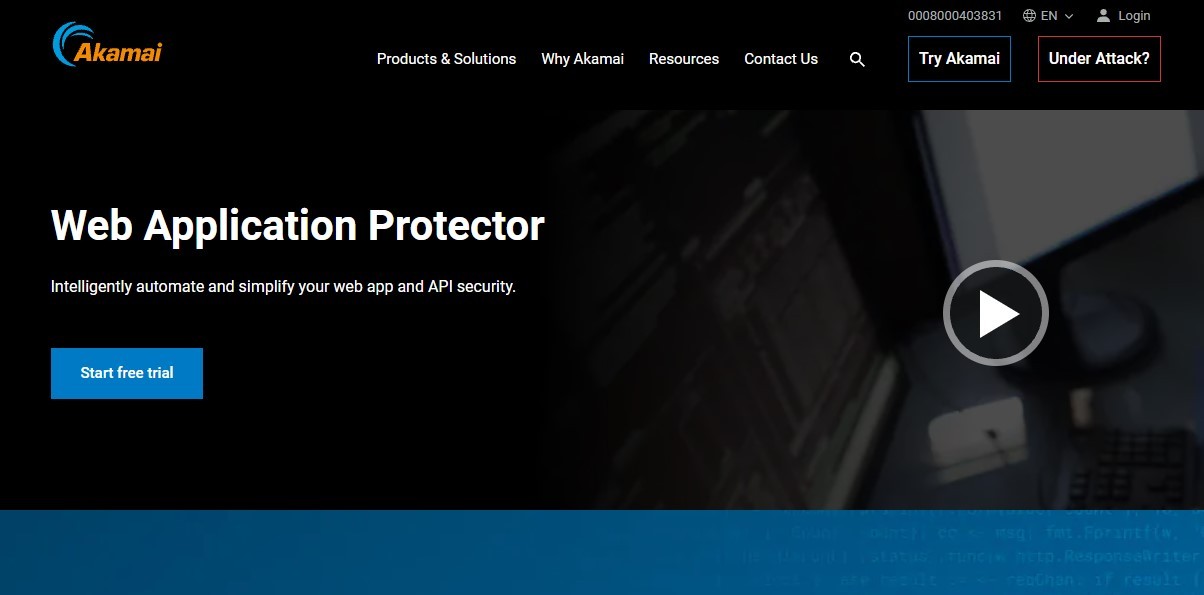 Key features
Customizable and automated protection
Advanced API security, visibility, and reporting
Fully managed security services
Pricing
Akamai WAF provides prices based on quotes. You can also check out the free trial here.
This online WAF acts as a proxy server, catching all incoming traffic and cleaning it up before passing it on to the protected web server. Using Imperva, you can protect active and legacy applications, third-party applications, APIs & Microservices, Cloud applications, containers, VMs, and more.
Key features
Operates as a managed service
PCI compliant
Imperva provides specialists and technicians that run the security software
On-site security service called the Imperva WAF Gateway
Attack detection and extensive reporting
Pricing
Imperva WAF has a number of product plans that include add-ons you can view all plans here. You can go for a free trial.
Conclusion
You should now have a good idea about WAFs, why we need them, and how they are a modern solution to more advanced forms of cyberattacks. All the mentioned platforms are laced with robust features to increase the security of your websites and applications. If you've tried any of these, let us know in the comments how was your experience.