Imagine this scenario: your company is doing well until an incident arises that threatens to wreck everything. It might be anything from a cyber-attack to a system failure.
And, you must respond rapidly to limit the harm. Along comes incident automation, the contemporary incident management hero.
Incident automation is a game-changing strategy. It automates the whole incident management process, from detection to resolution. And, it can identify events in real-time, inform the appropriate stakeholders, and even take action to remedy the issue automatically.
This means spending less time manually researching and resolving issues. And, you will have more time for strategic duties that promote corporate growth.
If you want to revolutionize your incident management procedures and guarantee that your company can handle any problem that arises, incident automation is the way to go.
In this article, we'll look more closely at incident automation, how it works, and why it's quickly becoming a must-have tool for organizations of all kinds.
Identifying Incidents
Buckle up – events happen in all forms and sizes. If you're not prepared, they may wreak havoc on your organization. Incidents may be anything that disrupts your company activities, from network failures to security breaches.
These can be caused by some circumstances. It can be a human mistake, technological failure, and cyber-attacks. Knowing the various sorts of occurrences is critical for good incident management.
Conventional incident management methods are often reactive, with IT staff responding to events as they arise. This may mean manually detecting the problem, engaging with stakeholders, and fixing the problem.
While this method can be useful, it can also be time-consuming and error-prone. Furthermore, it might be difficult to keep track of accidents that occur over time. And, it can lead to reoccurring problems.
Businesses should take a more proactive approach to problem management. And, this can easily be done by employing incident automation. Businesses can notice and respond to issues in real time.
And, it can often be resolved before they affect consumers. Businesses can use this to lessen the impact of problems and improve the overall customer experience.
The Significance of Automation
Traditional incident management procedures are no longer adequate for dealing with complexity. Incidents have gotten more frequent, varied, and sophisticated as technology has advanced.
It is now necessitating faster and more efficient responses. Conventional systems that rely largely on manual intervention cannot keep up with the rate of problems. It leaves firms susceptible to costly downtime and reputation harm.
Here is where automation can help. Businesses can respond to issues more quickly and efficiently by automating incident management procedures.
It is limiting their impact and improving the overall customer experience. Businesses can use automation to notice events/incidents in real-time. It prioritizes them based on severity and effect and even resolves them automatically.
For organizations that wish to remain competitive in today's digital economy, automation is no longer a luxury but a must.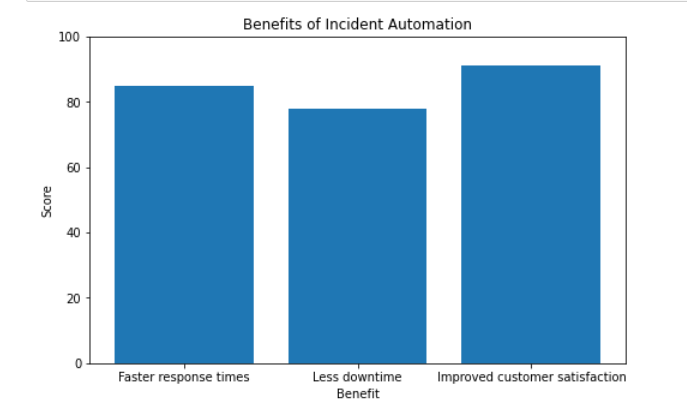 How Incident Automation Works
When it comes to incident automation, the technology behind is what makes it remarkable. Incident automation makes use of AI and analytics to recognize issues in real-time. Here are some of the most important aspects of incident automation:
Incident Detection: Detecting events as they happen is the first step. This may entail keeping an eye on user activity, network traffic, system logs, and other data sources for unusual behavior.
Machine learning algorithms can recognize patterns of behavior that point to probable events. And, it learns from prior occurrences that can improve this detection process.
Alerting: When an issue occurs, incident automation can notify the IT, security teams, and executives. Alerts can be tailored based on the severity and significance of the incident. And, it can contain incident-specific information such as location, scope, and possible impact.
Response: Businesses can use incident automation to automate problem resolution. This might include isolating affected computers, quarantining harmful programs, and recovering data from backups.
Incident automation can also track incident progress. It can ensure incidents are addressed swiftly and efficiently.
Examples of Incident Automation
Companies from a range of sectors are actively using incident automation. And, they get to streamline their problem management procedures and increase customer satisfaction.
Let's check some examples. These are four different firms that use incident automation:
Netflix and Chaos Monkey: Netflix is a popular streaming service that delivers content to millions of consumers over a complicated IT infrastructure. It has created a tool called Chaos Monkey to guarantee that its systems are robust enough to handle unexpected occurrences. So, how does it work?
Chaos Monkey mimics system failures by randomly terminating instances in a production environment. This way, Netflix engineers are able to find and resolve problems before they impact consumers.
Netflix utilizes a variety of solutions to automate issue management, including Chaos Monkey. It has been a major contributor to reducing downtime and improving customer satisfaction
Adobe and ServiceNow: Adobe is a global leader in the development of creative tools, digital marketing solutions, and document management systems.
It uses the ServiceNow platform to manage its issue management operations. ServiceNow is a cloud-based platform for IT service management operations such as incident management.
Adobe can use ServiceNow to automate incident detection, prioritization, and response. Based on previous data, the platform analyzes situations and recommends the best course of action. This enables Adobe to respond to events promptly and minimize the impact on its consumers.
Microsoft and Azure Monitor: Microsoft is a software, services, and solutions provider for organizations and people. Microsoft Azure Monitor is used to monitor its Azure cloud computing platform.
Azure Monitor is a cloud-based monitoring solution for Azure resources that collects and analyzes telemetry data.
Azure Monitor scans Azure resources in real-time. And, it discovers problems before they become catastrophic. The platform uses machine learning to detect trends in telemetry data and notify Microsoft developers of possible problems.
Microsoft is able to reduce downtime and increase the stability of its Azure platform by automating problem detection and response.
4- Uber and PagerDuty: Uber is a global leader in ride-sharing services, operating in over 600 cities. Uber utilizes PagerDuty to manage its issue management operations. PagerDuty is an incident management software that automates problem detection, response, and resolution in the cloud.
To enable real-time issue management, PagerDuty interfaces with Uber's monitoring and alerting capabilities. When an incident is discovered, PagerDuty alerts the appropriate on-call team and gives them the information they need to handle the problem. Uber can decrease downtime and enhance customer happiness by automating issue management.
Incident automation is a strong tool that can assist businesses of all sizes. Companies like Netflix, Adobe, Microsoft, and Uber are able to swiftly identify and address issues before they have a detrimental impact on their consumers by automating incident detection, prioritization, and response.
Incident automation has the potential to help you remain ahead of the competition. And, you can deliver a better experience for your consumers, whether you're a tiny startup or a major corporation.
Choosing the Right Incident Automation Solution
Choosing the right incident automation solution is critical to achieving the desired benefits. While choosing an incident automation system, businesses should take into account several variables, such as:
Integration: To offer a comprehensive perspective of incident management, the solution should be able to adaptable to current systems and tools.
Customization: The solution must be adjustable to particular company requirements and incident management procedures.
Scalability: The solution must be able to manage high incident volumes and expand along with the business.
Security: To safeguard sensitive data and systems, the solution should include strong security measures.
Some popular incident automation solutions in the market today include PagerDuty, Splunk, and Datadog. To choose the best solution for their needs, businesses should consider their needs and budget.
Possible Challenges
The necessity for continuing maintenance and upgrades to ensure the technology stays effective and current is one possible challenge. Businesses may encounter this when deploying incident automation.
When new threats and vulnerabilities develop, incident automation systems must evolve to accommodate these changes, which may need the addition of resources and expertise.
Organizations must also verify that their incident automation systems conform with applicable legislation and standards, which may necessitate changes and alterations over time.