The act of polishing and optimizing recorded audio files for dissemination across numerous platforms is known as music mastering. It is the last stage of the music production process.
It entails improving the audio quality overall, producing harmony and cohesiveness between various components, and making sure the finished mix sounds well in a variety of listening settings.
Music mastering is essential for providing it a clean, coherent, and aesthetically pleasing finish that reflects a professional touch.
Recent developments in AI technology have completely altered the landscape of music creation, including the mastering phase. These days, AI systems are able to analyze audio files, find flaws, and automatically fix them.
With the use of this technology, the mastering process has become more accessible to musicians, producers, and even amateurs who don't have a lot of experience or access to pricey studio equipment.
Artists can conserve time and money by using AI music mastering technologies, and they have more control and flexibility over the final sound than they would with conventional mastering methods.
Additionally, AI technology is always improving and learning from enormous datasets, which results in algorithms that are better able to adapt to various genres, styles, and auditory preferences, further expanding AI's influence on music creation.
We'll examine the top AI music mastering tools and programs in this article. Let's begin.
LANDR is a well-known and esteemed platform for AI-powered mastering. LANDR has emerged as a top option for artists and producers looking for mastering results on par with those achieved by professionals because of its intuitive interface and sophisticated algorithms.
The website makes it simple for you to post their audio recordings, and they quickly obtain properly polished copies.
The uploaded recordings are intelligently analyzed by LANDR's AI technology, which takes into consideration a variety of acoustic factors like dynamics, frequency balance, and stereo imaging.
It then makes the required modifications and improvements to maximize the music's overall impact and sound quality. LANDR can accommodate a variety of genres and styles.
No matter the type of music—pop, rock, techno, or classical—the platform adjusts its algorithms to match the unique traits and needs of each one.
Additionally, LANDR provides customization options that let you modify the mastering parameters in accordance with your personal tastes.
With this degree of control, artists are able to preserve their distinctive artistic vision while gaining the precision and effectiveness of AI mastering.
Additionally, LANDR offers seamless connectivity with well-known DAWs and online music distribution systems, improving the workflow for musicians and the process of publishing their music to the public.
Pricing
You can try LANDR for free and it offers one subscription for all features it provides which costs €11.99/month (billed yearly). It also offers separate pricing plans for other features. You can check it out on your own in the pricing section.
CloudBounce distinguishes itself as an AI-driven mastering solution that meets the demands of both novices and pros in the music business.
You can submit their songs with astonishing ease and in a shockingly short amount of time obtain polished, high-quality results thanks to its user-friendly interface.
The algorithms used by CloudBounce, a cutting-edge AI company, carefully examine audio records, finding areas for development and making the required adjustments to produce a professional sound.
You are empowered to obtain a polished and refined sound without the need for in-depth expertise or mastery thanks to this AI-driven technique, which guarantees consistent and trustworthy outcomes.
In order to fine-tune the mastering process in accordance with their own tastes and creative vision, customers have access to a variety of customization options using CloudBounce.
You have the freedom to customize the output to their tastes by modifying the volume, stereo breadth, and other sound aspects.
Furthermore, CloudBounce offers compatibility with well-known digital audio workstations (DAWs) and internet platforms, making it simple for musicians to integrate the mastering process into their current workflows.
Pricing
It offers a pay-as-you-go plan which is $10.90 per track. And premium pricing starts from $21.90/month.
iZotope Ozone is a robust and adaptable piece of software that effortlessly combines AI technology with cutting-edge audio processing features to provide customers with a full mastering solution.
The AI element dubbed Master Assistant, which is at the core of iZotope Ozone, transforms the mastering process. Master Assistant uses intelligent ideas and recommendations to assist you get the outcomes you want by analyzing the audio content.
This AI-driven function acts as a helpful advisor, guiding you in making knowledgeable judgments about the sonic qualities and overall sound quality of their recordings.
iZotope Ozone offers a broad variety of cutting-edge audio processing tools, including equalizers, compressors, and harmonic exciters, in addition to its AI capabilities.
These technologies provide you the power to precisely and painstakingly sculpt the audio, giving them extensive control over every step of the mastering process.
Additionally, iZotope Ozone smoothly interfaces with well-known Digital Audio Workstations (DAWs), providing musicians and producers with a more efficient workflow.
Pricing
The premium pricing of the software starts from $64.50
EMastered is a superb AI-based mastering software that focuses on giving consumers outcomes that are suitable for radio.
EMastered thoroughly analyses audio tracks using its cutting-edge AI algorithms to pinpoint areas for improvement and provide the appropriate modifications for a polished and expert sound. EMastered stands out for its dedication to personalization.
It provides you with the option to fine-tune the mastering process in accordance with their particular requirements since it recognizes that each artist has a unique set of preferences and aesthetic ideas.
Users have the freedom to mold the output to fit their creative intents by modifying the dynamics, EQ, stereo width, and other characteristics.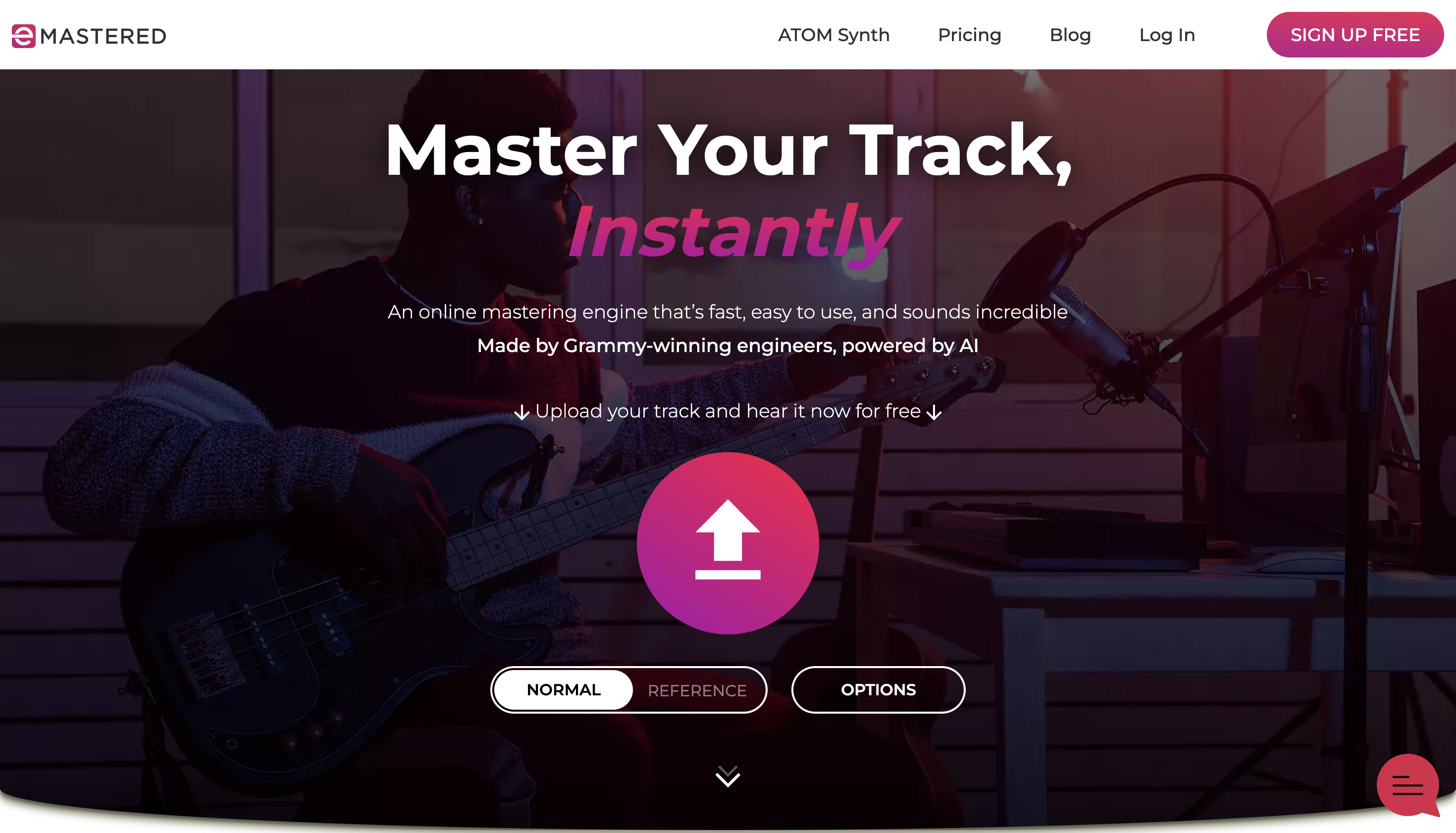 EMastered's intuitive interface makes it a useful tool for artists and producers of all skill levels and guarantees a smooth mastering procedure.
Additionally, EMastered provides a simple uploading procedure that is easy to understand, enabling customers to submit their music for mastering with ease. As a result, artists can focus more on their creative processes and save crucial time.
EMastered has established itself as a reliable resource for musicians looking for expert mastering solutions catered to their unique tastes because of its focus on personalization and specialization in producing radio-ready products.
Pricing
The premium pricing starts from $19/month.
BandLab Mastering is a superb online mastering tool that puts a focus on usability and makes use of artificial intelligence (AI) technology. BandLab Mastering makes it simple for you to improve the caliber of your music because of its user-friendly interface and efficient process.
The platform analyses audio information intelligently using AI algorithms, giving you the ability to easily and precisely produce the desired acoustic result.
BandLab Mastering offers a variety of mastering approaches and customization possibilities, going beyond a one-size-fits-all strategy.
Users are given the ability to customize the mastering process to suit their own preferences, ensuring that their creative vision is completely realized.
BandLab Mastering offers the resources necessary for customers to obtain the desired audio character, whether they are going for a warm, vintage sound or a contemporary, punchy one.
Additionally, the technology offers a seamless connection with BandLab's cloud-based ecosystem for music creation, fostering collaboration and boosting the whole creative process.
Pricing
It is free to use for everyone.
Aria Mastering is a remarkable platform that uses the strength of AI algorithms to provide accurate and effective improvements to audio songs.
Aria guarantees that the results are suited to fit diverse musical genres with its wide range of mastering choices, including genre-specific settings.
You can conveniently obtain high-quality analog masters at any time thanks to the platform's automated service, which runs nonstop around the clock. Aria stands out for using high-end analog mastering-grade equipment during the mastering process.
This dedication to employing high-end equipment guarantees that the audio tracks receive the greatest amount of care and aural fidelity. As a result of garnering the respect and confidence of eminent experts in the field, Aria has established itself as a reliable professional mastering service.
Aria Mastering is a trusted and reputable option for artists and producers looking for outstanding outcomes in their mastering endeavors because of its attention to accuracy, efficiency, and availability of top-tier analog equipment.
Pricing
The premium pricing starts from $9.90/Master.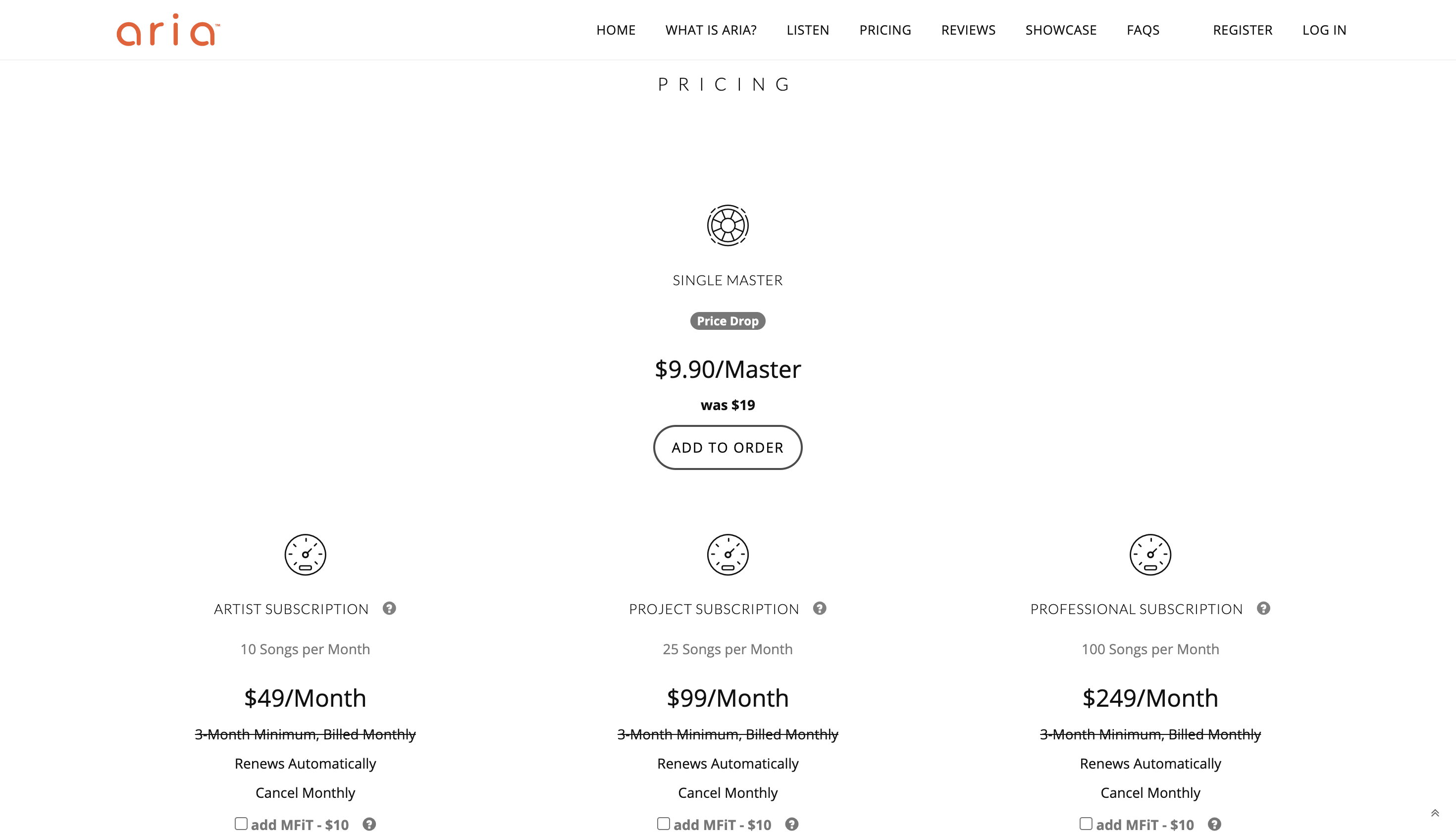 The AI-driven mastering function of Audiomodern Playbeat, which is mostly recognized as a rhythm generator, adds an intriguing twist.
You can now put the finishing touches to their recordings with this extra feature, greatly improving the overall sound quality.
Playbeat has a real A.I. SMART algorithm that allows for the production of many different grooves while preserving the user's inspiration, originality, and forward motion. Playbeat provides a singular and dynamic musical experience since no two patterns will ever be the same.
By enabling you to educate the app to learn their favorite patterns by examining their daily activities, this ground-breaking program offers a substantial advancement in the field of artificial intelligence for music composition.
The program then adjusts to the user's unique style and creates personalized designs that properly suit their creative requirements.
Playbeat develops into a more sophisticated product with prolonged use and development, offering a customized and seamless user experience that consistently meets and surpasses the user's expectations.
A revolutionary tool, Audiomodern Playbeat revolutionizes the way that producers and artists create music by fusing the worlds of AI-driven mastering and rhythm creation.
Pricing
You can try it for free and you can buy the software for $69 for Windows and Mac.
MasterChannel is a cutting-edge online platform that is changing the way music producers and musicians approach mastering.
MasterChannel.ai delivers a comprehensive mastering solution with its cutting-edge AI-driven technology, guaranteeing that every music is given the chance to express its full sonic potential.
MasterChannel's potent AI mastering engine, which analyses the audio material and employs clever algorithms to improve the overall sound quality, is the foundation of the platform.
You can easily submit their songs, change parameters, and examine the mastered versions in real-time on the site because of its user-friendly interface.
This makes it possible for seamless teamwork and rapid iterations to get the desired sound. EPs and albums can be masterfully mixed with Master Channel because of their unique ability to control several tracks at once.
This makes the process easier and ensures consistency across the board for your whole release.
Additionally, Master Channel offers modifications, allowing you to re-upload your mix if any alterations need to be made to your first upload. This ensures that you have total control over the final product of your tunes.
You can listen to the completed result before and after mastering even if you don't establish a user account. This transparency allows you to assess how the master impacts your songs and confidently choose the final product.
Pricing
You can start using the platform for free and premium pricing starts from $25/month.
Music Gateway is an AI-powered online platform that promises to democratize the mastering process by making it available to everyone via their revolutionary online tool.
Users of Music Gateway get full access to all the tools the platform has to offer, as well as limitless free mastering and downloads.
It has a variety of mastering choices to customize its sound. As well as several volume levels ranging from low to high, you can select among warm, balanced, and open styles.
You can post a reference song to the site if you're looking for a certain sound, and the platform's AI technology will try to replicate that sound in your master.
Music Gateway provides a variety of benefits in addition to mastering to help musicians along the path. The ability to distribute their work for free on well-known streaming services like Spotify and Apple Music allows musicians to reach a larger audience and grow their fan base.
Additionally, Music Gateway offers free artist pages to artists, which are an effective marketing tool for showcasing their work and increasing awareness among A&R agents and potential customers.
Pricing
You can use the platform for free and premium pricing starts from $22/month.
AI Mastering is a terrific AI-powered online audio mastering service that offers a convenient and practical approach to increasing the sound quality of your music.
AI Mastering's powerful algorithms swiftly balance the loudness and dynamic range of your recordings and use a state-of-the-art limiter to ensure they are ready for distribution as soon as possible.
The beauty of AI Mastering lies in its efficiency and simplicity. By using this program, you can focus on the music while leaving the technical aspects of mastering in the capable AI's hands.
Songs can be processed by just dragging them into the user interface because that is how it is designed to be used.
In order to meet your unique demands, AI Mastering offers a variety of customization possibilities. To fit your chosen tastes, you can adjust the target loudness.
You can further fine-tune the output in accordance with your artistic vision thanks to the platform's mastering level customization feature.
Additionally, you have the freedom to alter the output format so that it is compatible with the channels you like to use for distribution. AI Mastering simply improves the sound quality of your music thanks to its automated sound enhancement features.
By utilizing AI, the platform increases the audio qualities in an intelligent manner, producing a polished and professional sound without the need for lengthy human modifications.
Pricing
It's free to use for everyone.
Conclusion
In conclusion, AI music mastering tools and software have completely changed how musicians go about finishing their recordings. By balancing volume and dynamic range while offering customization choices to fit individual preferences, these AI-powered systems analyze and improve sound quality.
Platforms with intuitive user interfaces and effective outcomes, such as LANDR, CloudBounce, iZotope Ozone, and others, have grown in popularity.
Future applications of AI in music production have enormous promise. We can anticipate increasingly more complex algorithms and capabilities as AI technology advances, enabling more accurate and nuanced audio processing.