One of the primary criteria for any type of corporate activity is the effective utilization of information. At some point, the volume of data created exceeds the capacity of basic processing.
That is where machine learning algorithms come into play. However, before any of this can occur, the information must be studied and interpreted. In a nutshell, it is what unsupervised machine learning is used for.
In this article, we'll examine in-depth unsupervised machine learning, including its algorithms, use cases, and much more.
What is Unsupervised Machine Learning?
Unsupervised machine learning algorithms identify patterns in a dataset that do not have a known or labeled consequence. Supervised machine learning algorithms have a labeled output.
Knowing this distinction helps you understand why unsupervised machine learning methods cannot be used to solve regression or classification issues, since you don't know what the value/answer for the output data can be. You can't train an algorithm normally if you don't know the value/answer.
Moreover, Unsupervised learning can be used to identify the data's fundamental structure. These algorithms detect hidden patterns or data groupings without the need for human interaction.
Its capacity to detect similarities and contrasts in information makes it a great choice for exploratory data analysis, cross-selling techniques, consumer segmentation, and picture identification.
Consider the following scenario: you're in a grocery shop and see an unidentified fruit that you've never seen before. You can readily distinguish the unknown fruit different from other fruit around based on your observations of its form, size, or color.
Unsupervised Machine Learning Algorithms
Clustering
Clustering is without a doubt the most widely utilized unsupervised learning approach. This approach puts related data items into randomly generated clusters.
By itself, an ML model discovers any patterns, similarities, and/or differences in an uncategorized data structure. A model will be able to discover any natural groupings or classes in data.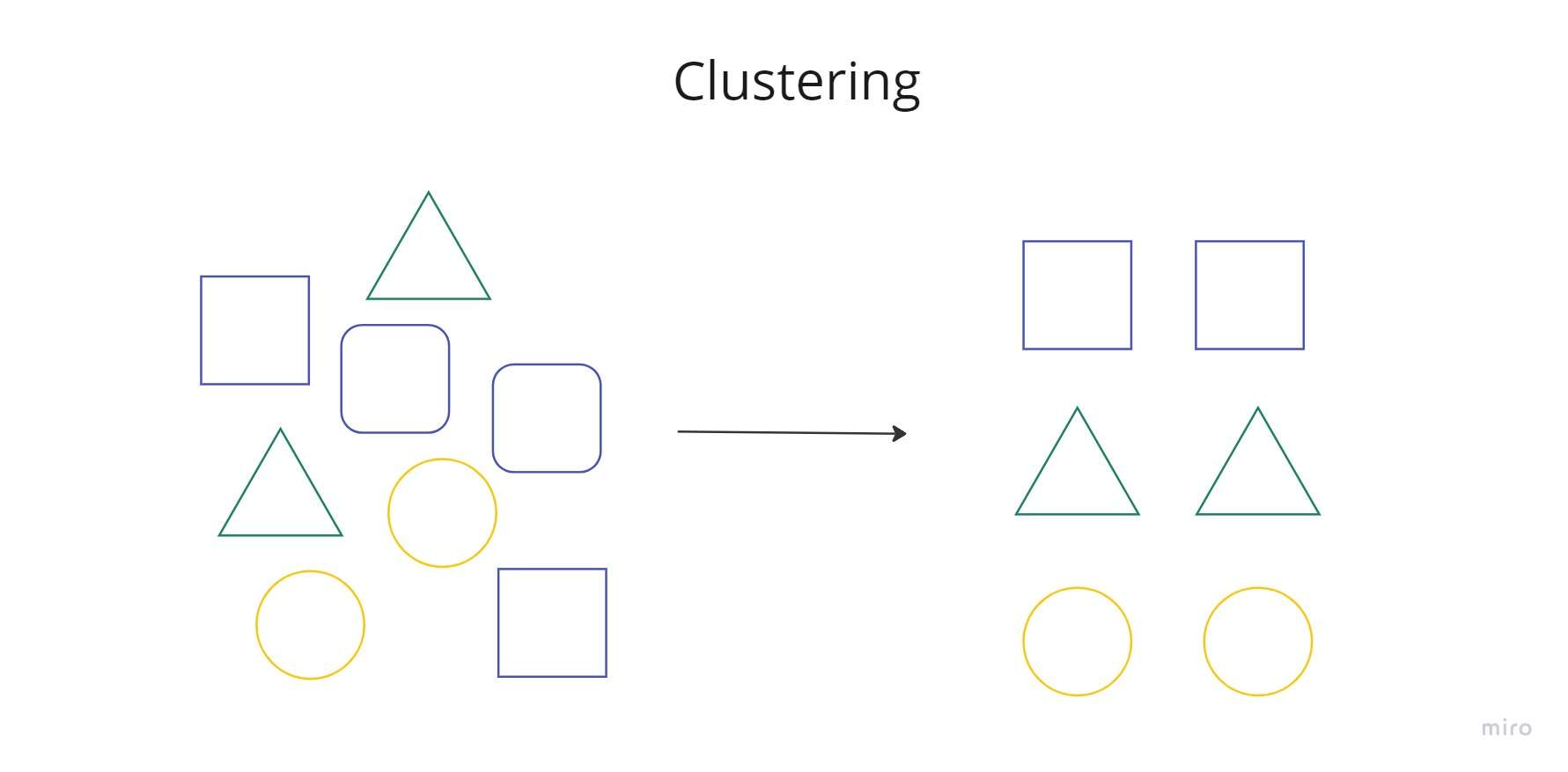 Types
There are several forms of clustering that can be used. Let's look at the most important ones first.
Exclusive clustering, sometimes known as "hard" clustering, is a type of grouping in which a single piece of data belongs to just one cluster.

Overlapping clustering, often known as "soft" clustering, allows data objects to belong to more than one cluster to varying degrees. Furthermore, probabilistic clustering can be used to tackle "soft" clustering or density estimation problems, as well as to assess the probability or likelihood of data points belonging to certain clusters.

Creating a hierarchy of grouped data items is the goal of hierarchical clustering, as the name indicates. Data items are deconstructed or combined based on the hierarchy to generate clusters.
Use cases:
Anomaly Detection:
Any type of outlier in data can be detected using clustering. Companies in transportation and logistics, for example, can utilize anomaly detection to discover logistical impediments or disclose damaged mechanical parts (predictive maintenance).
Financial institutions can use the technology to detect fraudulent transactions and respond quickly, potentially saving a lot of money. Learn more about spotting abnormalities and fraud by watching our video.
Segmentation of customers and markets:
Clustering algorithms can assist in grouping people who have similar characteristics and creating consumer personas for more effective marketing and targeted initiatives.
K-Means
K-means is a clustering method that is also known as partitioning or segmentation. It divides the data points into a predetermined number of clusters known as K.
In the K-means method, K is the input since you tell the computer how many clusters you want to identify in your data. Each data item is subsequently assigned to the closest cluster center, known as a centroid (black dots in the picture).
The latter serve as data storage spaces. The clustering technique can be done numerous times until the clusters are well-defined.
Fuzzy K-means
Fuzzy K-means is an extension of the K-means technique, which is used to do overlapping clustering. Unlike the K-means technique, fuzzy K-means indicate that data points might belong to many clusters with varying degrees of proximity to each.
The distance between data points and the cluster's centroid is used to calculate proximity. As a result, there can be occasions when various clusters overlap.
Gaussian Mixture Models
Gaussian Mixture Models (GMMs) are a method used in probabilistic clustering. Because the mean and variance are unknown, the models assume that there are a fixed number of Gaussian distributions, each representing a distinct cluster.
To determine which cluster a specific data point belongs to, the method is essentially used.
Hierarchical Clustering
The hierarchical clustering strategy can begin with each data point assigned to a different cluster. The two clusters that are closest to one another are then blended into a single cluster. Iterative merging continues until only one cluster remains at the top.
This method is known as bottom-up or agglomerative. If you begin with all data items tied to the same cluster and then conduct splits until each data item is assigned as a separate cluster, the method is known as top-down or divisive hierarchical clustering.
Apriori Algorithm
Market basket analysis popularized apriori algorithms, resulting in various recommendation engines for music platforms and online stores.
They are used in transactional datasets to find frequent itemsets, or groupings of items, in order to predict the likelihood of consuming one product based on the consumption of another.
For example, if I start playing OneRepublic's radio on Spotify with "Counting Stars," one of the other songs on this channel will very certainly be an Imagine Dragon song, such as "Bad Liar."
This is based on my previous listening habits as well as the listening patterns of others. Apriori methods count itemsets using a hash tree, traversing the dataset breadth-first.
Dimensionality Reduction
Dimensionality reduction is a sort of unsupervised learning that use a collection of strategies to minimize the number of features – or dimensions – in a dataset. Allow us to clarify.
It can be tempting to incorporate as much data as possible while creating your dataset for machine learning. Don't get us wrong: this strategy works well since more data usually yields more accurate findings.
Assume that data is stored in N-dimensional space, with each feature representing a different dimension. There might be hundreds of dimensions if there is a lot of data.
Consider Excel spreadsheets, with columns representing characteristics and rows representing data items. When there are too many dimensions, ML algorithms might perform poorly and data visualization can become difficult.
So it makes it logical to limit the characteristics or dimensions, and convey just pertinent information. Dimensionality reduction is just that. It allows for a manageable quantity of data inputs without compromising the dataset's integrity.
Principal Component Analysis (PCA)
The principal component analysis is a dimensionality reduction approach. It is used to minimize the number of features in huge datasets, resulting in greater data simplicity without sacrificing accuracy.
Dataset compression is accomplished by a method known as feature extraction. It indicates that elements from the original set are blended into a new, smaller one. These new traits are known as primary components.
Of course, there are additional algorithms you can use in your unsupervised learning applications. The ones listed above are just the most prevalent, which is why they are discussed in more detail.
Application of Unsupervised learning
Unsupervised learning methods are utilized for visual perception tasks such as object recognition.

Unsupervised machine learning gives critical aspects to medical imaging systems, such as image identification, classification, and segmentation, which are utilized in radiology and pathology to diagnose patients rapidly and reliably.

Unsupervised learning can help identify data trends that can be used to create more effective cross-selling strategies utilizing past data on consumer behavior. During the checkout process, this is used by online businesses to suggest the right add-ons to clients.

Unsupervised learning methods can sift through enormous volumes of data to find outliers. These abnormalities might raise the notice of malfunctioning equipment, human mistake, or security breaches.
Issues with Unsupervised learning
Unsupervised learning is appealing in a variety of ways, from the potential to find important insights into data to the avoidance of costly data labeling operations. However, there are several drawbacks to using this strategy to train machine learning models that you should be aware of. Here are some examples.
As input data lacks labels that serve as response keys, unsupervised learning models' outcomes could be less precise.

Unsupervised learning frequently works with massive datasets, which can increase computational complexity.

The approach necessitates output confirmation by humans, either internal or external specialists in the subject of inquiry.

Algorithms must examine and compute every possible scenario throughout the training phase, which takes some time.
Conclusion
Effective data utilization is the key to establishing a competitive edge in a particular market.
You can segment the data using unsupervised machine learning algorithms to examine the preferences of your target audience or to determine how a certain infection responds to a particular treatment.
There are several practical applications, and data scientists, engineers, and architects can assist you in defining your goals and developing unique ML solutions for your company.