Programming seems like it will always be difficult and complex, but thanks to modern technology, it's now easier than ever.
Learning a new language takes a little practice but is still possible with dedication, motivation, and perseverance.
The programming language is the very foundation of how we build applications and websites in the 21st century. And learning a new programming language is a daunting task that is bound to overwhelm you.
That's why we've done the research and compiled a list of the 15 best programming languages for beginners in 2022 so that you can make an informed decision and choose the one that you can really learn.
1. Python
Python is a popular language used for web development, data sciences, and machine learning. One great feature about Python is that it is easy to learn and easy to pick up once you have learned it. There are even a lot of online resources for learning Python online. Python has a simple design and lots of support for automation. However, Python is not a very powerful programming language.
Python does have built-in variables, loops, conditional statements, functions, and modules that make coding a bit simpler. It also has an open source community that develops many libraries for language use, further improving the language's capabilities. The language has built-in support for dictionaries, lists, tables, tuples, and sets, making developing web apps easier.
We have started a well-structured and easy-to-learn Python crash course for beginners.
Pros of Python
Python is a very user-friendly and easy-to-learn programming language. Its syntax resembles very much the English language we speak and write.
Python is the most productive language. Developers can focus on problem-solving rather than being focused on the complexities and tidbits of the actual programming language.
Python directly executes the code line by line, as it is an interpreted language. In the event of an error, it halts further operation and displays only one error, regardless of the number of actual errors in the code. This facilitates debugging.
Until the code is executed, Python does not know the type of the variable. During execution, the data type is automatically assigned. It makes the programmer less concerned about declaring the data types in Python.
It's an open-source language, which means that you can download the source code and alter it.
The vast Python standard library contains practically all the functions required for your task. Therefore, you are not dependent on outside libraries. A Python package manager (pip) makes it simpler to import additional packages from the Python package index (PyPi). There are more than 200,000 packages in it.
Cons of Python
One of the major caveats of using Python is its speed. As it is an interpreted language, the execution is slow due to line-by-line execution.
Python has to make a small compromise in order to make things simple for the developer. Python is a memory-intensive programming language. When developing apps, this may be a drawback if memory optimization is preferred.
As Python is not memory efficient and is slow to execute, we don't get to see Python on the client-side or mobile applications.
In comparison to well-known technologies like JDBC and ODBC, Python's database access layer is rudimentary and immature.
The data type of a variable may change at any time because Python is a dynamically typed language. Runtime errors may occur if a variable holding an integer number were to change to a string in the future.
2. Java
Java is another popular language that is widely used in a variety of domains. It is known for its Runtime Environment (JRE), which allows you to run Java applications on any platform. It also has a large number of libraries that make development easier.
The fact that it is cross-platform means it is very usable across multiple platforms. The only downside to this language is that it is somewhat more complex than some other languages.
Its major syntax is based on C and C++, making it somewhat similar to C. This means that Java is compiled into JVM bytecode which runs on all the JVM-compatible platforms. Although it has many features, it is best for novices who have a good background in C and C++. Its most popular application domain is web development.
Pros of Java
Java is one of the easiest programming languages to learn and use thanks to its basic and understandable codes. Being a high-level language it also resembles human language. It simplifies the implementation of programs by eliminating all the difficult C and C++ elements like pointers, structures, and unions.
Java's ability to be an object-oriented programming language is one of its key benefits. OOP's concepts assist Java in resolving practical issues. Splitting up enormous code into smaller, labeled chunks also makes maintenance easier.
Java eliminates the use of pointers which restricts memory access and makes it a more secure language over C and C++.
Java is an inexpensive language as it doesn't need many hardware resources to run. It makes developing Java apps economical.
Java is a "Write Once, Run Anywhere" language.
Java allows us to execute several threads simultaneously. To improve the application's effectiveness and performance, they share a single memory. Each thread operates separately from the others. This makes Java a multi-threading language.
Java has excellent support and regular updates are pushed to cater to any bugs in the source code.
Cons of Java
Java needs more computational power to convert its code into machine language. That's why it is a slow language as compared to native languages like C and C++.
Java is considered bad when it comes to GUI. It is unable to create complex GUI and other languages like Python and C# have much better and modern GUI builders.
Java has virtually no functionality for user data backup. It primarily focuses on data storage, however, there is no backup mechanism for such data.
The syntax and verbose of Java are relatively complex as compared to Python. The majority of the programs in Java need more lines of code as compared to C or Python.
In January 2019, Oracle made the announcement that it will start charging for the commercial licensing of Java 11 and later. Java was a free program at the time. Because they had to pay based on the number of systems to receive updates, this worried a lot of programmers. Although the usage of Java for ordinary purposes is still free, there is a cost associated with development and access to all of Java's capabilities.
3. C++
C++ is another programming language that has been around since the early 80s. It was developed to support Microsoft Windows and Unix operating systems. Since then, it has become extremely popular and is often referred to as the "big daddy" of all programming languages.
It is known for its safety and reliability. Despite being powerful, it is relatively easy to use and comprehend. However, if you are looking for a language that will enable you to program in more areas, such as graphics, animation, or video editing, C++ may not be the right language for you.
Pros of C++
C++ is platform-independent and you can easily port your code to any operating system.
One of C++'s greatest strengths is its support for object-oriented programming, which incorporates ideas like classes, inheritance, polymorphism, data abstraction, and encapsulation to enable code reuse and increase program reliability.
C++ is a multi-paradigm language which means it includes the logic, structure, and procedure of the program. The three paradigms of C++ are generic, imperative, and object-oriented.
As it is derived from C, C++ allows low-level data manipulation. This means that many compilers and embedded systems are created with the help of C++.
One of the perks of pointers in C++ is DMA (dynamic memory allocation). It gives memory management control to the programmer.
C++ has arguably the largest user base and community. "C++" is the sixth most used and followed tag on GitHub and Stack Overflow.
C++ boasts high scalability which means that it can work on both small-scale and large-scale data. The resource-intensive applications can also be built on C++.
Cons of C++
The use of pointers in C++ bring in many complexities including security concerns and excessive memory consumption.
Unlike Java, C++ does not have any garbage collector that automatically filters out unnecessary data.
4. C.
C is one of the most popular general-purpose languages. It was created in 1972. It has been used to develop databases, applications and even operating systems. C is considered to be the most fundamental language and it has provided building blocks to create many other programming languages. It also served as a parent language to C++ and boasts some resemblance in the characteristics of the former.
Its use cases are vast. It was used to build the first operating system, the UNIX. Later on, Microsoft Windows was also written in C. The email clients Mozilla Firefox and Thunderbird were also developed using C.
Pros of C
C is a powerful and robust language that offers you a wide range of operation options since it contains a vast number of data types and operators.
The portability of the C language is high, which means it also supports Write One Run Anywhere (WORA).
C language supports 32 keywords with built-in functions. It makes building a program in C easy.
C has the power to extend itself. We can extend the C Standard Library with our own functions.
C is a structured language which means that the complex programs are broken into simpler blocks. It makes testing and maintenance a tad easier.
Cons of C
Despite being a vast language, C does not support the concept of object-oriented programming.
C doesn't check for errors line-by-line instead, all the errors are shown by the compiler after writing the code. It makes checking large codes for errors very complex.
C does not implement the idea of namespaces. A namespace is designed as a sequence of instructions to allow the reuse of names in diverse situations. We are unable to declare two variables with the same name without namespaces.
Being a basic machine language C has minimum data hiding and exclusive visibility.
One of the most crucial aspects of programming languages is exception handling. There may be a number of oddities and issues when building the code. Using exception handling, you can identify the mistake and respond appropriately. C, however, lacks this crucial characteristic.
5. C#
C# is a great language to learn as a first programming language for beginners. The syntax is quite similar to JavaScript, which means if you already have experience with JavaScript, then learning C# will be easy for you. In addition, since Microsoft created this language, they add new features very often. For example, in 2017, they introduced the C# 7.3 language features.
This includes async/await and tuples in return values. Many resources are also available for C#, such as tutorials and books. There are also many job opportunities for programmers using C#. Many big companies like Google, Apple, Netflix, and Amazon use this language. In short, C# is a good programming language to learn.
Pros of C#
C# follows the principles of Object Oriented Programming (OOP) which means you can define the type and structure of data, to apply the set of standard functions to it. OOP organizes data into objects, which makes it simpler to divide the program into smaller, more easily managed, and quicker to join portions.
C# is regarded as a high-level language because of how closely its syntax mimics human language. To put it another way, it is highly abstracted from machine code, which is why we must compile the C# code in order for the hardware to comprehend its instructions.
C# supports an in-built garbage collector.
Cons of C#
C# is itself an easy language to learn but the extra libraries of .NET add another layer of complexity to its structure. That is why it is believed to have a steep learning curve.
Depending on .NET holds C# back and it causes difficulty when using C# on multiple platforms.
Code execution time of C# is not the best and its performance is not considered up to par.
6. SQL
As of 2020, SQL is the most popular relational database management system (RDBMS) for data storage and query in modern computing. RDBMSs provide the foundation for nearly every business and enterprise application today, and SQL provides the query language to access and manipulate those data stores.
A programming language that interfaces with SQL can be used to build database applications. Popular options for learning SQL include Microsoft SQL Server Management Studio or MySQL Workbench. There are also free alternatives, such as pgAdmin III.
There are many variations of SQL, including Object-Relational Mapping (ORM). The SQL language has been in use since the 1960s, but in the modern era, the use of SQL has increased greatly. Some programming languages have integrated SQL as a way to connect with a database. This integration makes it much easier to work with databases. In many cases, databases contain large amounts of data that need to be filtered through SQL queries.
Pros of SQL
SQL is popular for processing a large amount of data in no time. You can manipulate, delete or insert data in no time.
SQL has not a very high skill cap. A person with basic programming knowledge can also work on it as its syntax is simple and only keywords like SELECT, INSERT INTO, UPDATE, etc are used most of the time.
As SQL is the standardized database language, you can easily find support for it.
SQL may be used in software on PCs, servers, and laptops regardless of the platform. Additionally, it may be integrated with other programs depending on the situation.
Cons of SQL
SQL boasts a complex user interface and many users find it challenging to use for the first time.
It's not open source and hence access is limited for some of the versions.
7. PHP
PHP is a general-purpose scripting language and is especially useful for web development. PHP is easy to use and is one of the most popular programming languages on the web. Although it was originally developed for the web, it is not designed for the web.
It is a server-side scripting language that is often used for personal websites. Some websites use only PHP for the front end, while other websites use both PHP and HTML. Many web developers prefer PHP to JavaScript for developing dynamic web pages.
PHP is easier to learn than JavaScript because of its syntax. PHP is usually used with a web server like Apache or Nginx.
Pros of PHP
The fact that PHP is open-source and cost-free is its main attraction.
PHP is platform-independent and can be used on Windows as well as UNIX-based systems.
Applications built with PHP and connected to a database can be loaded quickly. That's why PHP has the upper hand over other programming languages as it does a better job on sluggish internet connections.
PHP has an easy learning curve and anybody familiar with C programming can get hang of it easily.
PHP facilitates the reuse of similar code and eliminates the need to create intricate and long code for web application events.
Cons of PHP
PHP is not that secure due to its open-source, because the ASCII text file is often easily available.
PHP is considered not suitable for large-scale web applications.
Online applications perform poorly when using additional PHP frameworks and tool functionalities.
The core behavior of online applications can't be altered when developing in PHP.
8. Swift
Swift is an advanced programming language developed by Apple. Swift is a fairly recent introduction to programming languages. While Swift has similar syntax and structure to other programming languages, its features provide it with some advantages.
It provides more stability than other programming languages, and it is also optimized for use on iOS devices. Swift is also easier to write and understand, making it perfect for developers who don't want to spend a long time learning a new language.
For example, Swift is very fast and efficient, so it's perfect for mobile applications and games. It uses automatic memory management, which is useful for developers because they don't have to worry about managing it themselves. In addition, it's integrated with Xcode, Apple's IDE, and allows developers to use third-party IDEs.
With Swift's help, you can build your ideas into reality with minimal effort. It supports strong typing and a large library of built-in functions and libraries. In fact, Swift is used for creating frameworks such as Instagram, Uber, and Pinterest. Swift also has a lot of good news in terms of accessibility.
In fact, if you have an Apple keyboard, you can easily type in Swift. However, Swift lacks documentation, so you may find yourself struggling with syntax and other quirks.
Pros of Swift
The creators of Swift understood that making it open source was necessary to make it stand out from the competition. Thus, in the seven years that it has been around, Swift has amassed a sizable user base and a wealth of third-party tools.
Its syntax, which at times may seem severe, pushes you to produce clean and consistent code. Swift has protections that help with readability and error prevention.
Swift's design prioritized performance. Swift lives up to its name: According to Apple, it is up to 2.6 times quicker than Objective-C and 8.4 times faster than Python, in addition to helping you create more quickly with its straightforward syntax and hand-holding.
Swift enables you to expand your team by adding new developers: Due to the codebase's clarity and simplicity, onboarding happens rather quickly.
Swift's syntax is considered to be close to human language thus learning curve is easy.
Swift libraries are integrated into every macOS, iOS, tvOS, and watchOS release. That means any app built on those platforms will be smaller because these libraries are included.
Cons of Swift
Swift is only 7 years old. It seems like a long time but when compared to something like Objective C, which has been around since the 1980s, swift seems rather immature. New features are being added on regular basis but it's a less robust language as compared to its competitors.
Even while the Swift community is expanding quickly, it is still far smaller than that of any other open source language. Only 5.1 per cent of the 83,053 respondents to the most recent Stack Overflow Developer Survey reported using Swift. That makes it an annoying language to work with as you might not find support from other experienced users.
Swift supports all operating systems but it is best optimized for native iOS development which leaves the cross-platform market open to React Native, Xamarin, and Flutter.
9. Objective-C
Objective-C is an excellent choice if you want to learn iOS programming or Mac development. It is similar to Java but with C syntax. It is worth learning if you want to get into mobile development.
Many of Apple's products, such as IOS, use a large community of Objective-C developers. The key feature to learning Objective-C is to understand the differences between C and Objective-C. It is a general rule that when you see "C" you use only the C syntax.
On the other hand, Objective-C uses many features from C++ and Java. Once you understand the difference, you will be able to write readable and concise programs. You will find a lot of tutorials on the web for Objective-C, and most companies offer a free trial to get started.
Pros of Objective-C
Objective-C is reliable and has been used and tested by many developers. There are tons of projects written in Objective-C and there are many great third-party frameworks. You can easily find support if you are working with Objective-C.
Objective-C is a mature language and apps do not need to be ported to newer versions as often which is a common problem with swift.
Objective-C is easier to connect with private APIs.
Products incorporating C or C++ code work well because Objective-C has routes from the C language.
Cons of Objective-C
The syntax of Objective-C is unique compared to other programming languages. Its memory management is more intricate and has the historical background that C and Smalltalk need in order to comprehend it. In short, Objective-C has a much higher skill cap needed for developers.
Finding a qualified Objective-C developer might be difficult. Due to the fact that most new developers are learning Swift, Objective-C users are gradually declining in numbers.
10. Ruby
Ruby is a versatile and fun-to-use programming language. It's known for its Rails web application framework, which makes web development easier. Ruby is also used in a variety of other domains such as scientific computing, artificial intelligence, and more.
Ruby was initially designed for scripting but is increasingly being used as a backend language. It has a number of advantages over Python, such as speed, object-oriented features, and a small memory footprint. Ruby has been growing in popularity, especially within the startup industry, because of its power and efficiency.
However, there is still a significant learning curve, and Ruby's community isn't as large or welcoming as Python's. There are also a few different ways to structure your code, which can lead to confusion. Ruby does offer several different libraries that can make it easier to write apps, however.
Pros of Ruby
Ruby and the Rails framework make it possible to build apps rather rapidly. Ruby is regarded as one of the most time-effective programming languages available.
You can find a tonne of Ruby developers on GitHub. They collectively comprise a sizable community, adding to this programming language's appeal.
RoR is an open-source framework based on databases according to the MVC (Model-View-Controller) pattern. It boasts incredibly helpful tools and libraries that are more than enough to run an application
Cons of Ruby
Application runtimes are often slower than competitors when talking about large-scale applications.
Making web apps is Ruby's natural domain. This technology will perform best there. If the product has certain unusual features, it becomes more difficult to change it, which complicates the situation.
Still considered a specialized language, Ruby. Even though it has advanced much since its creation, back-end programmers still do not generally favor it.
11. Scala
Android developers mostly use Scala. Many consider it to be the fastest-growing programming language because of its powerful features, such as functional programming, actor-based concurrency, immutable data structures, and automatic parallelization. Because of this, it is a good language for developing high-performance mobile apps and computer games.
Pros of Scala
Scala's syntax seems familiar to anyone with experience in object-oriented programming using Java or another language of the same type. Compared to languages like Haskell, this makes it simpler to learn. It is also a lot shorter than Java.
Scala has one of the best lineups of IDEs like IntelliJ IDEA, SCALA IDE, EMACS and ATOM.
'Scala' is an amalgamation of 'scalable' and 'language' so, scalability is one of the biggest advantages. This means we can use it to build highly concurrent, fault-tolerant systems. For this, we can use the multiagent concurrency model like in Language Erlang in Akka.
Scala may be a fantastic choice for data analytics when combined with technologies like Apache Spark. Many large businesses use Scala for their goods and services.
Cons of Scala
It might occasionally be challenging to comprehend type-information since it is a combination of functional and object-oriented.
It doesn't have real tail-recursive optimization, as it uses the JVM to execute.
12. Rust
Rust is a relatively new programming language, making quite a name for itself. First, Rust makes it safe to write concurrent code, which is essential in multi-threaded programming.
With Rust, we have more control over memory, which allows us to prevent crashes. This makes it great for developing large-scale applications, such as computer programs and operating systems. Another thing that Rust is known for is its type of safety, something which allows the compiler to verify that we are not writing code that will cause bugs and crashes.
Rust has been designed by its creator with security in mind. It has safe memory management and predictable execution paths. Because of these features, it is considered a modern secure language. It provides a lot of safety and control. There are many tools, libraries, and resources available for Rust. Rust's most important advantage is that it is easy to learn. This means you don't need to spend much time and energy learning new syntax and patterns.
You can focus on more important skills, such as structuring code and building maintainable applications. The only downside is that you won't be able to develop large applications in Rust without the help of libraries or frameworks. There is a huge library of pre-built functionality, but it is limited to what is built into Rust itself.
Pros of Rust
Rust has the Strong support of generics with Guaranteed Safety, and its Complexity of code makes it more beneficial.
Rust provides Easy Integration of C and many other languages with No Cost Abstraction and has Rich Patterns and Syntax.
Rust allows you to predict the behavior of an application at runtime, which saves time while testing and debugging.
Cons of Rust
The syntax of Rust is complex and has a steep learning curve.
The compilation speed of Rust is not the fastest out there.
13. JavaScript
JavaScript is a high-level programming language that can be used on a wide variety of platforms. It is also very easy to learn and understand because it is based on familiar syntax and concepts that developers already understand. There is also a huge ecosystem around JavaScript with many libraries, frameworks, and tools.
Pros of JavaScript
Since JavaScript is an "interpreted" language, it cuts down on the time needed for compilation in other programming languages like Java.
JavaScript is used practically everywhere since it is supported by every modern browser. JavaScript is a technology used by all well-known businesses, such as Google, Amazon, PayPal, etc.
Because JavaScript seamlessly integrates with other programming languages, many developers like using it to create a variety of apps. Any webpage or the script of another computer language can contain it.
Data validation may be done within the browser itself rather than being forwarded to the server because JavaScript is client-side. The entire website does not need to be refreshed in the event of any disagreement. Only the chosen area of the page is updated by the browser.
Cons of JavaScript
JavaScript is not always statically typed, meaning that it is up to you to ensure that your program doesn't contain errors.
JavaScript can be difficult to compile. Although most modern browsers offer development environments and compilers, some developers find them unintuitive.
14. Assembly
If you're looking for an efficient, compact, and fast language, then assembly might be for you. Assembly is not only the language that made computers possible. The syntax is easy to pick up and easy to understand, and it's great for beginners who want to make their own video games or apps. You'll have full control over your code.
Pros of Assembly
Assembly language has the fastest speed amongst competitors.
It uses memory very efficiently.
Assembly language generates small and compact execution modules.
Assembly language has more control over hardware.
Cons of Assembly
It's important to know that because this is the original language of computers, it's not easy to learn and takes time to become familiar with.
15. Dart
Dart is a cross-platform programming language developed by Google that leverages object-oriented programming concepts (OOP). Dart has a simple syntax and provides features such as asynchronous data streams, reactive programming, and mobile development.
In fact, Dart allows developers to build applications and deploy them across multiple platforms with the same code base. This makes it one of the top programming languages for beginners. To start building with Dart, you need to install the Dart Editor from dartlang.org or search for a plugin for your IDE.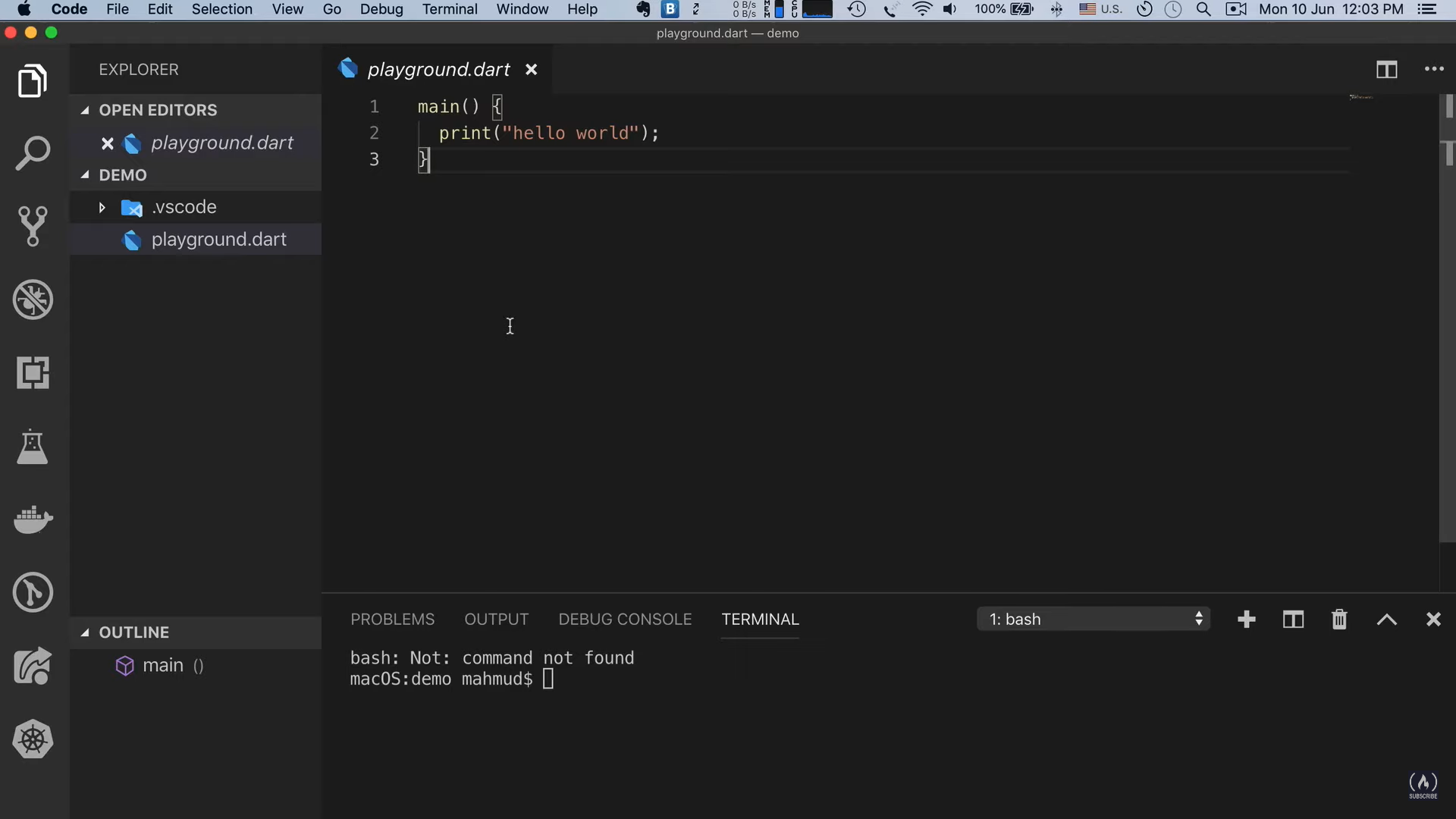 Pros of Dart
Dart allows users to build offline applications, which may be especially useful for mobile developers.
The Dart Programming Language is free and open source, allowing web designers, app developers, and anyone who wants to write programs to use it for free.
Any JavaScript coder can readily pick up Dart programming. They merely need to become acquainted with the fundamental concepts of this programming language to do this.
Dart is quite stable and may be used to create real-time apps of production grade. A programming language that supports inheritance, interfaces, and optional type capabilities, it is object-oriented.
Cons of Dart
Dart's web resources are quite restricted, making it challenging to locate answers to issues. The lack of a more significant and unified development community that will assist you is the cause.
Dart is still in development. Although that's fantastic and there is nothing "wrong" with it, if you begin programming in Dart today, there is a potential that the API may change or that some details won't be completely or accurately documented
These were the most popular programming languages of 2020. We hope this article helped you in finding the best language to begin your coding journey.