With the increasing expansion of software in the technology sector, development teams are always under pressure to satisfy growing consumer expectations for business applications.
With the rise of cloud-based apps, the conventional software development process has evolved. Rather than just generating software for a single demand specified by a client, the current approach is to think of software development as a continuous service.
Product development has shifted from a monolithic to an agile structure, in which developers continuously enhance the software to suit changing client needs.
To adapt to this new strategy, software development businesses have adopted current Software Development Lifecycle (SDLC) approaches such as Agile, Scrum, and Kanban to provide product additions, improvements, and bug fixes.
Two major components that assist firms expedite the development process are DevOps and automation.
In this piece, we'll take a closer look at DevOps automation and the tools that go with it.
What is DevOps automation?
The DevOps practice is based on the principle of "automating everything." Because the majority of the tasks in the DevOps lifecycle are repeated, they're ideal candidates for automation.
Automation in DevOps begins with the generation of code on the developer's local workstation and continues until the code is delivered, as well as throughout the monitoring phase. IT automation, robotic process automation (RPA), AI automation, machine learning, and deep learning are all examples of software development automation methods.
All of these can be used in DevOps procedures. Automation streamlines DevOps processes and makes them faster and more efficient, allowing developers and operations teams to write, test, deploy, and maintain code in less time and with fewer errors than manual methods.
Companies can use automation to create pipelines for continuous integration (CI), continuous delivery (CD), and continuous deployment (CI/CD).
Best tools for DevOps automation
Git is a popular DevOps technology in the software industry. It is the most popular tool among remote teams and contributors to open-source projects.
It is a distributed source code management (SCM) solution that allows developers to maintain track of their development progress by storing several versions of the source code. They can also swiftly revert to a previous version if necessary.
Git is the finest for a variety of reasons because it allows developers to maintain track of all changes and updates to their code so that if something goes wrong, they can easily return to and utilize prior versions of the code.
Using host repositories where DevOps team members can push their work, Git can be readily integrated with the DevOps workflow.
GitHub and Bitbucket are the two greatest online Git repo hosting services at the moment, with GitHub being the more well-known. While Bitbucket offers limitless private repositories for a team of up to five people, GitHub only offers public repositories for free.
Docker is a well-known DevOps tool suite that enables teams to quickly and efficiently create and execute distributed applications. It is based on the idea of process virtualization.
To avoid app conflicts, Docker builds segregated environments for container apps. Isolating apps into their own containers makes them more portable and secure. Docker allows you to manage your images in a variety of ways.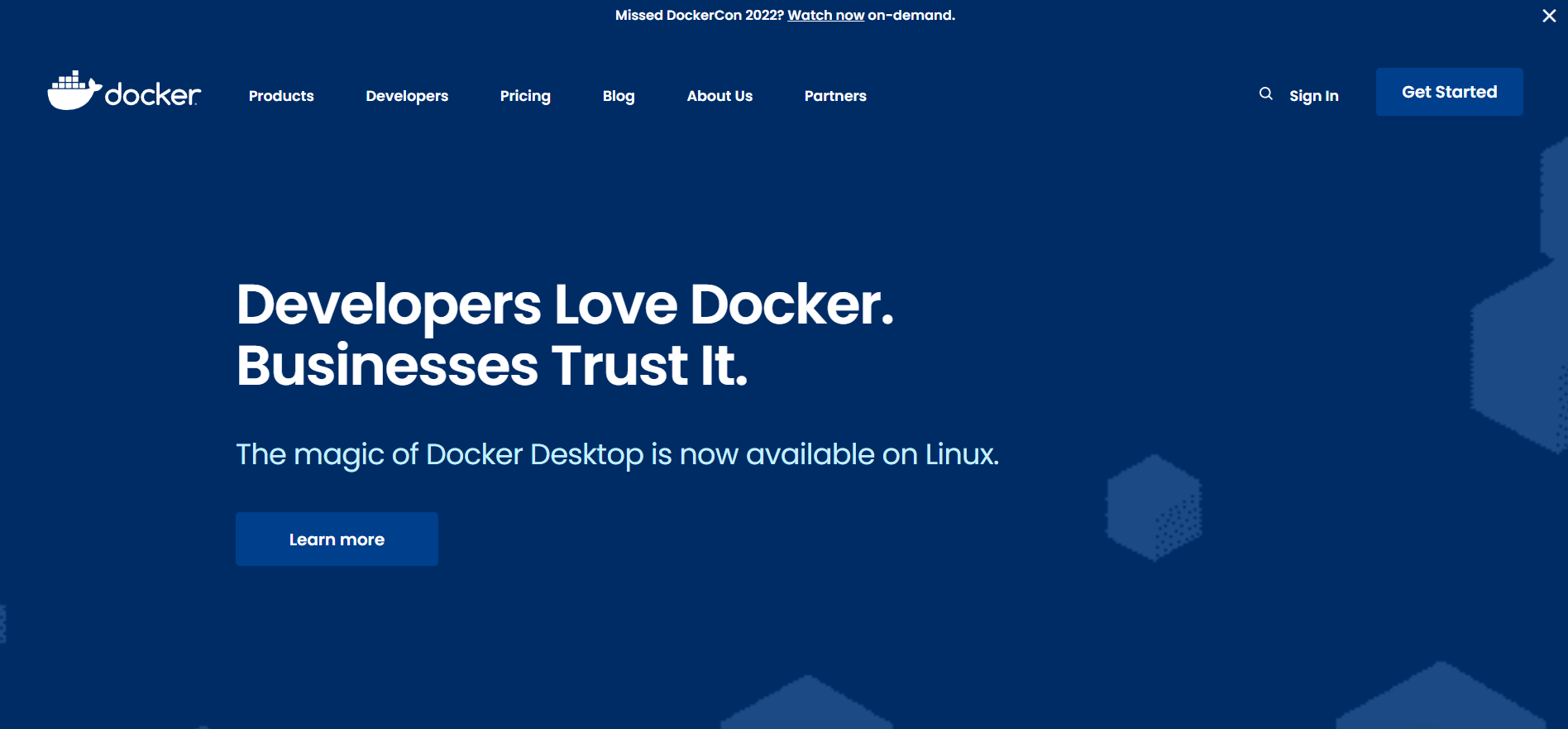 It keeps a private registry where it stores, manages and configures image caches. Docker allows you to create your own images or alter existing ones to meet your specific needs. Docker was the first to popularize containerization in the IT sector.
It allows for speedier deployment, allows remote development, and automates app distribution. Docker apps are OS and platform agnostic and interact well with cloud computing.
Docker is now supported by all major cloud providers, including Google and Amazon Web Services.
Nowadays, everyone is talking about Kubernetes, a Google-founded container orchestration software. It maintains containers at a wide scale and pushes containerization forward. It can be used in conjunction with Docker or any of its clones.
Containers can be organized into logical units using Kubernetes. Kubernetes enables the management of hundreds of containers to be automated. By automating the distribution and scheduling of containers throughout the cluster,
Kubernetes makes it easier to deploy containerized software across a cluster of computers rather than a single server. Kubernetes allows you to upgrade software with no downtime, decreasing development time and optimizing business procedures.
The hierarchy of nodes, clusters, and pods allows DevOps teams to automate the administration of hundreds of containers, and the hierarchy of nodes, clusters, and pods makes application deployment scalable, and if one pod fails, Kubernetes automatically picks another pod.
Jenkins is a continuous integration and delivery (CI/CD) automation solution for tracking the execution of repetitive operations. Because it is open-source and built-in Java, it can operate on any operating system.
It comes with a variety of built-in continuous integration plugins, which is the most crucial aspect of DevOps. The Jenkins Continuous Integration/Continuous Delivery server allows you to automate multiple phases of your delivery process.
It uses a pipeline structure to enable CI/CD for any combination of coding languages and source code repositories. Its Pipeline-as-Code feature turns CI/CD pipelines into full code and ensures that the whole DevOps chain is integrated.
Jenkins also includes thousands of plugins that let you combine all of your DevOps phases effectively. Hundreds of plugins are available to help you design, launch, and automate any application, and you can install only the plugins or functionalities you need.
It works with DevOps technologies like Azure DevOps, Amazon Web Services, and Ansible. Jenkins also integrates with GitHub.
Puppet is the most powerful cross-platform configuration management solution for configuring, deploying and managing servers in order to make them more secure and quicker.
It configures every host in your architecture and maintains the servers by dynamically scaling up and down the machines. Puppet does a continual check to see if the configuration is correct. If not, the host's needed configuration is reverted.
Puppet's architecture is based on a master-slave relationship. Typically, communications are carried out through an SSL-encrypted connection. It automates infrastructure management by treating everything as code.
You can use Puppet to manage many teams and resources. It can also handle calamities intelligently. It features a number of modules that can be used in conjunction with a variety of different tools.
Puppet interacts with technologies like GitHub, GitLab, BitBucket, and Slack and PagerDuty, as well as notification apps like Slack and PagerDuty. Pricing is available upon request. A free trial is also available for the tool.
Ansible is a simple agent-less, easy-to-deploy configuration management solution with a continuous delivery capability that allows for quicker deployments.
It automates operations like application deployment, cloud provisioning, intra-service orchestration, and many more. Ansible does not need any additional security infrastructure. Ansible links the nodes and distributes little programs known as modules.
Then it runs these modules and removes them after the process is finished. Ansible, like Puppet, views infrastructure to be code. It does, however, employ YAML to express the automation jobs as playbooks. Because there are no agents or daemons running in the background, Ansible is a quicker, safer, and lighter option for configuration management automation.
As a result, it aids the DevOps team in increasing productivity. Ansible is an open-source program that is simple to use and does not require any specific coding knowledge.
It has a lot of capabilities and can complete complicated IT operations whilst being simple to use. It's written in PowerShell, Python, and Ruby, and it's compatible with Windows, macOS, and Linux.
Bamboo, like Jenkins, is a continuous integration and delivery (CI/CD) DevOps technology that automates the delivery pipeline from builds to deployment.
It comes with a number of pre-built functions that must be explicitly set in Jenkins. This is why Bamboo only has about 100 plugins, but Jenkins has over 1000.
In truth, Bamboo does not require that many plugins because it contains built-in functions that allow it to accomplish jobs right out of the box. As a result, Bamboo can significantly reduce configuration time.
The primary distinction between a premium program and its free equivalent is as follows.
As a result, the instrument used is determined by the budget and objectives. The tool allows you to run tests in parallel on your build, saving time for your team, as well as configure several branches, develop scripts, and run them.
Bamboo interacts with project management tools like Jira and Bitbucket.
Chef is a DevOps configuration management solution for web-scale IT operations which is built on Ruby. It is in charge of infrastructure management.
Configuration management guarantees that all computers, whether physical, virtual, or cloud-based, as well as the data and software they contain, are appropriately configured and performing as planned. When the infrastructure is minimal, it is also easy to configure manually.
However, when the infrastructure grows, a better alternative approach is required. The chef devises a method for treating infrastructure as code.
Instead of setting everything manually, such as databases, load balancing, and web servers, a Chef recipe describes the basic setup. Cookbooks are used to hold a collection of recipes.
The infrastructure of Cookbooks is written in a domain-specific language. It's a great DevOps tool for automating and speeding up difficult procedures. Chef is used by many large corporations to properly manage their data centers and cloud infrastructures.
Chef's high availability and replication capabilities can adapt and recreate infrastructure as needed if something goes wrong, ensuring minimal downtime and high machine availability with minimal human intervention.
Terraform is a tool for providing cloud infrastructure that uses code to describe the architecture. It constructs a graph of all resources, produces and edits any independent resources in parallel, and keeps track of many versions.
Terraform maintains the status of infrastructure via state files. It develops an execution plan that outlines the steps to achieving the desired state and then executes the plan to construct the infrastructure stated in the plan.
It enables the DevOps team to quickly and safely construct and alter infrastructure with minimal human input. It's compatible with both public and private cloud infrastructure.
Users can define and offer infrastructure definitions, software as service definitions, and platform as a service definition using HashiCorp Configuration Language or JSON.
Terraform's creator, HashiCorp, maintains a list of officially supported providers with whom users can communicate by defining resources. Terraform can then give the entire infrastructure as a code, allowing for more reusability and maintainability.
Vagrant is a DevOps tool that has a strong focus on automation. Vagrant creates a single file for each project, in which the type of machine and software that users wish to install is often stated.
It works seamlessly on multiple operating systems such as Windows, Linux, and macOS. It focuses on continuous integration and delivery (CI/CD) and assists the DevOps team in creating a great development environment.
It reduces setup time and improves production consistency by allowing users to establish virtual machine environments in a single, easy-to-use, and consistent process.
Other popular configuration management systems, such as Puppet, Ansible, and Chef, can be readily integrated with Vagrant via plugins.
CircleCI is one of the most widely used shared CI/CD cloud-based platforms, offering superior control and flexibility when it comes to managing CI/CD pipelines.
The compatibility will never be an issue with this CI/CD automation solution for DevOps because it is supported by big companies like Slack, AWS, and Atlassian.
It also supports Python, JavaScript, Ruby, and C++ programming languages, as well as Windows, Linux, and macOS platforms. With FedRAMP accreditation and SOC 2 Type II compliance, this instrument is guaranteed to deliver the highest level of security. Restricted contexts, audit logs, and other features also provide you with a lot of control over your code.
The CircleCI pipeline is automatically triggered whenever you make a change to the existing code in CircleCI. This trigger will automatically start testing on the specified container or virtual machine, and if any issues are discovered, the responsible team will be alerted instantly and without any manual action. Because each assignment is made up of a single circle.
You can quickly and easily backup a YAML file. This tool's initial setting is easy, but when the file size grows larger, it becomes more difficult. CircleCI also suffers from a severe lack of customization possibilities.
Splunk is a fantastic technology that includes an analytics solution with actionable insights that give DevOps teams operational information. Assume you have a system that continually generates data from websites, applications, and gadgets.
In real-time, you want to search, analyze, and display machine-generated data or logs. You should also examine the machine's current status and pinpoint the point at which the hardware failed. It is an excellent tool for accomplishing this.
You can send the data from the machine to Splunk, which will process it for you. It extracts the necessary data when the processing is completed. As a result, you can quickly identify specific problems as well as their locations.
Splunk is a popular log monitoring and analysis technology in the DevOps field, with both free and premium solutions available. It uses a multi-line technique to gather, store, index, correlate, display, analyze, and report on any sort of machine-generated data, whether organized, unstructured, or complex application logs. Both real-time and historical log data can be searched.
You can also develop custom reports and dashboards to have a deeper understanding of your data and to discover and resolve security concerns more quickly.
The open-source infrastructure monitoring program Nagios is one of the most widely used. It enables DevOps teams to monitor the network and infrastructure, which aids in the detection and resolution of issues.
They can also keep track of occurrences, interruptions, and failures using it. It comes with a network analyzer that aids in the identification of bottlenecks and the optimization of bandwidth use. DevOps teams can also use Nagios to build reports and graphs to track success and failure patterns.
This makes it easier to predict failures and mistakes, as well as identify and anticipate security concerns. Open-source monitoring solutions from Nagios provide DevOp teams with a comprehensive infrastructure monitoring solution.
Nagios Core is a command-line interface for Nagios that offers minimal functionality.
Nagios XI is a web-based graphical user interface. It comes with a monitoring wizard that assists DevOp teams in keeping track of all important infrastructure components such as desktop and server operating systems, services, network protocols, and apps.
The Nagios Log Server makes it easier for developers to search log data by streamlining the procedure. They can also set up warnings for potential security concerns. Developers can use Nagios Fusion to monitor several networks at the same time.
Pulumi is a cloud infrastructure resource management, design, and deployment tool. For all major cloud providers, including Kubernetes, OpenStack, AWS, Google Cloud, and Azure, this open-source solution is compatible with all forms of the hybrid, public, and private clouds.
It can be utilized to achieve fantastic outcomes whether constructing classic infrastructure pieces like databases and virtual machines or designing the latest cloud components like clusters and containers.
When handling the code, you can utilize well-known programming languages like TypeScript, Go,.NET, and Python. It can automate policy compliance, which is a critical duty.
Before developing resources, this tool creates a preview and checks to see if it complies with the requirements. Managing hosting and cloud infrastructure is a piece of the cake.
Despite some useful capabilities, Pulumi falls short of making massive projects easier to structure.
This tool will arrange enormous projects as a single large project or multiple small projects while executing this process. Deserializing stack references while mapping numerous resources becomes extremely difficult in any case.
QuerySurge is a data intelligence and analytics application that delivers smart data testing. It fits seamlessly into the DevOps pipeline for continuous testing and checks massive amounts of data at breakneck speed.
QuerySurge employs the DevOps philosophy to provide a powerful API with a number of calls to automate the entire process of testing Big Data, Data Warehouses, the ETL process, and BI Reports.
It can vastly improve data validation coverage while also validating critical transformation rules across numerous sources and target systems. QuerySurge operates automatically, without the need for human interaction, and executes all of the tests before reporting the findings. I
t also provides detailed information about each data failure. QuerySurge's command-line API can automate CI/CD by continually discovering data errors in the pipeline.
Buddy is a CI/CD solution that builds, tests, and deploys software using incredibly flexible automation pipelines. Buddy is known for decreasing the barrier to DevOps, and Actions are the foundation of Buddy. These acts are the steps that are carried out in a pipeline.
There is no limit to how many layers a pipeline can have. It is also supported by all main programming languages and frameworks. It's simple to interface with AWS, Azure, Google, and a slew of other services.
With repetitively triggered pipelines, it can also monitor the status, performance, and health of applications and services. You can describe every part of your continuous delivery process using it.
The tool allows you to build and test your apps in the development environment, as well as deploy them to the production environment and write custom scripts.
Buddy also enables you to monitor your website and improve your analytics. It supports YAML and GUI setup, as well as continuous deployment via platforms like GitHub, Docker, and Bitbucket.
Maven is a popular DevOps build automation tool created by the Apache Software Foundation. It is well known in the Java environment, but it can also be used to control the build of applications written in Scala, C/C++, and C#.
The build process and dependency management are the two main areas where Maven concentrates.
It utilizes an XML file to define the whole build process, including all essential dependencies, modules, and so on — in other words, everything needed for a successful build.
Maven's goal is to provide a collection of pre-defined targets for executing common activities and to get Java dependencies from public and private artifact providers automatically.
Maven is extensible, so you can use it with other languages besides Java; for example, there is an official C/C++ plugin.
Prometheus is unquestionably one of the greatest infrastructure monitoring tools available.
It has shown to be incredibly effective in monitoring infrastructure because of capabilities such as outstanding metrics visualization, sophisticated queries, accurate alerts, third-party integrations, and dimensional data, among others.
Along with a Linux server, the open-source solution provides Kubernetes monitoring. The Prometheus has an alert manager built in that manages the monitoring metrics' alerting settings.
It uses a time-series database to store real-time measurements, allowing for large dimensionality and flexible searches.
It offers real-time alerting, but it wasn't built for visualization, therefore it's best used alongside dashboarding software like Grafana.
The architecture of Prometheus supports white-box monitoring, encouraging apps to provide metrics so that Prometheus can gather them on a regular basis.
Raygun is an end-user monitoring technology that gives developers insight into how users interact with software applications.
It is intended to identify, diagnose, and repair application issues such as errors, performance difficulties, and crashes at the front end as soon as possible.
It is simple to set up and connects up to 43 tools, including languages such as JavaScript, PHP, Node.js, and Python, as well as platforms such as GitHub, HipChat, Slack, Jira, and others.
It is an excellent application performance management (APM) tool.
It offers a great error monitoring and crashes reporting platform that assists you in discovering performance issues and tracing failures down to the particular line of source code, function, or API call.
Selenium is a popular open-source web application testing framework that works with all major browsers and operating systems, including Linux, Windows, and Mac OS X.
Selenium has a wide range of programming languages and automation test frameworks, including Python, C#, Ruby, Java, JavaScript, PHP, and PERL.
The Selenium IDE (Integrated Development Environment) is used to create and run test cases for exploratory testing as well as to record test playbacks.
Instead of writing test scripts in Selenese, the Selenium client API allows developers to write them directly in multiple computer languages. In order to write test scripts,
Selenium WebDriver has language-specific bindings. Selenium Grid is a clever proxy server that allows different browsers and operating systems to run tests simultaneously.
OverOps is a DevOps tool that assists the team in swiftly determining the underlying cause of a mistake or a server breakdown. It can immediately identify the cause of production code failures and offer the whole source code to correct the problem.
It can also tell you when the problem happened. As a result, the DevOps team can spend more time providing key improvements instead of wasting time looking through logs.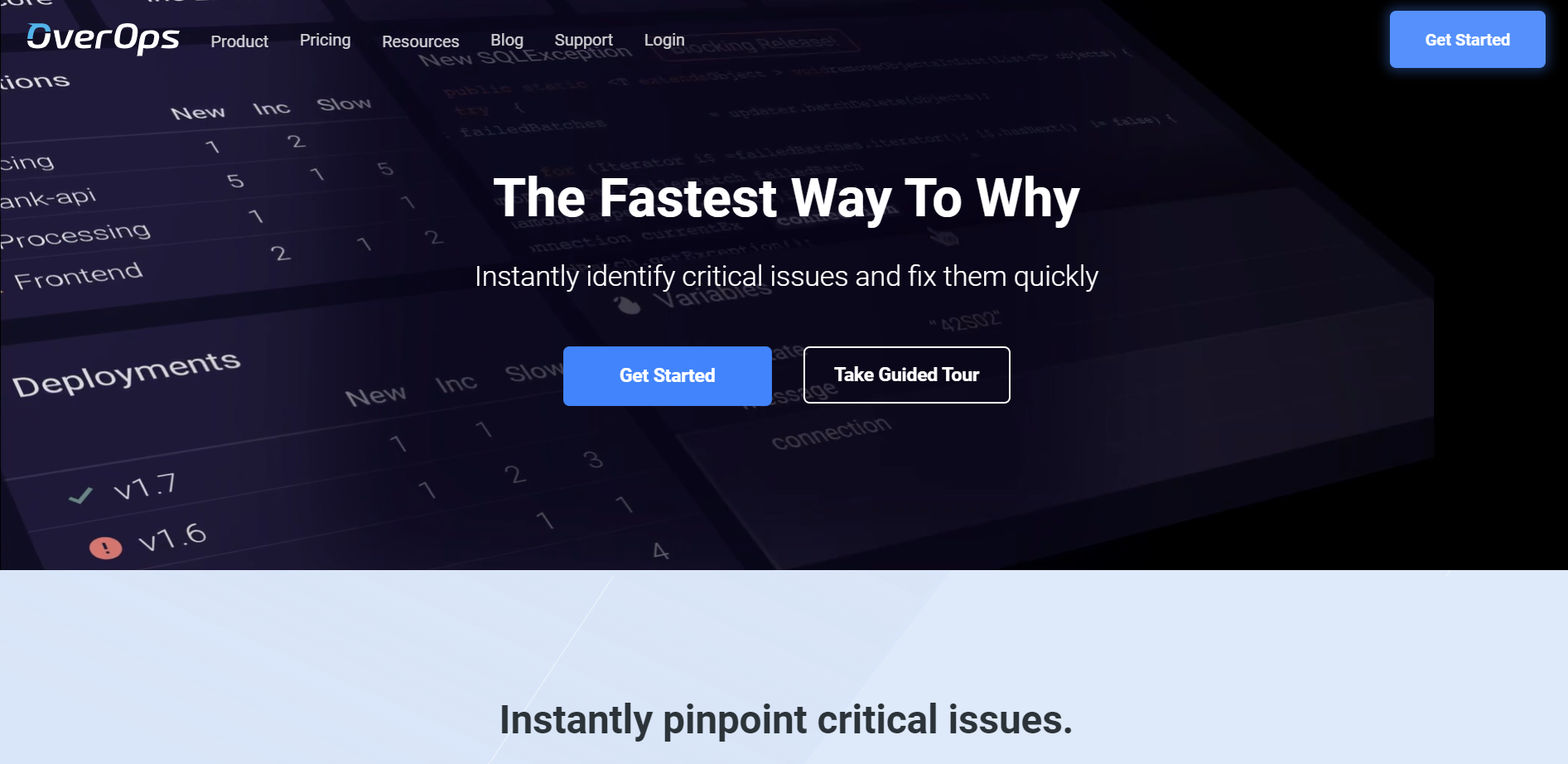 OverOps is primarily responsible for identifying, preventing, and resolving the underlying cause of errors.
It proactively finds and prioritizes major software defects in each code release, as well as identifying any deployment faults (if any). OverOps' quality gates prevent the release from being deployed if it is not trustworthy.
Then, utilizing the precise state of the code and environment at the time of the occurrence, it remedies the issue with continuous reliability.
For an enterprise, Amazon Web Services offers a variety of resources. Managing them by hand, on the other hand, is a huge undertaking.
Amazon's AWS CloudFormation is an infrastructure management solution that makes it simple for businesses to generate and manage AWS resources.
You can use AWS CloudFormation to automate the creation and modeling of your apps. A stack is a collection of Amazon Web Services resources that can be used to generate or update other Amazon Web Services resources.
Furthermore, CloudFormation allows you to manage these resources or the complete infrastructure using a template or text file, making this a very simple operation. The setting of the remote state, which comes out of the box, is the tool's most notable feature.
CloudFormation StackSets allow users to access the same set of AWS resources across many accounts and regions using a single template.
This tool allows you to model files in whatever way you choose, whether you want to use JSON or YAML or design graphically. This application allows you to define cloud environments in popular languages like.NET, Python, and Java.
Gradle is proven to be a very versatile and dependable build tool in the DevOps tool stack. When Google made it the official build tool for Android Studio, it gained even greater traction.
Most major IDEs, such as Eclipse, IntelliJ IDEA, and Netbeans, support Gradle, which allows developers to create code in any popular language, including Python, C++, and Java.
Gradle began utilizing a Groovy-based DSL to define build scripts, while the other dominant automated build tools, such as Maven and Apache Ant, used XML for configuration.
Gradle is a Kotlin-based DSL that was launched in 2016. Gradle provides incremental builds, which save a significant amount of time throughout the compilation process.
It also offers a build-cache feature that reuses task outputs and keeps build information in memory between builds. Gradle's performance is a hundred times quicker than Maven's thanks to these two components. Gradle also comes with a variety of configuration options.
JetBrains' TeamCity is a powerful continuous integration platform for DevOps teams. It's a general-purpose CI/CD DevOps tool that gives you more options for different types of development and workflows.
Everyone loves TeamCity, from developers and DevOps engineers to managers and admins. You can create, deploy, and test a variety of apps, containers, and packages, including multi-cloud, multi-language, and multi-platform.
Hundreds of plugins are available for download for free and can be installed in just a few clicks. Developers can't break source codes in version control systems because of gated commits. Real-time reporting allows for speedier resolution of issues.
Integrated inspections, code coverage, duplicate search, and other services are available. Multiple tests and builds can run on various settings and platforms at the same time using the Build Grid. Platforms supported include Java, Ruby, and.NET.
Accelerate software testing with Tricentis Tosca, an AI-based, scriptless solution that offers a no-code approach to end-to-end test automation.
It brings together several components of testing, including test automation, case design, data production and design, and analytics.
To achieve greater test automation rates with ease of maintenance, Tricentis Tosca uses technologies linked to Risk-based testing and Model-based testing.
Functional testing, load testing, BI/DWH testing, exploratory testing, packaged application testing, test data management, test effect analysis, service virtualization, and distributed execution are just some of the test automation tools available to the DevOps team.
Salesforce, Adobe, Oracle, SAP, Java,.NET, HTML 5, and more are among the 160+ corporate apps and technologies supported.
Conclusion
DevOps is a massive challenge that entails a variety of strategies. Despite the fact that many large enterprises today employ DevOps in some form or another, their business needs for DevOps vary.
As a result, there cannot be a single optimum DevOps automation toolkit. In DevOps, having the correct collection of automation tools is crucial since it directly affects the output.
When it comes to selecting the correct toolset, there are a number of factors to consider, including the budget, current infrastructure, business goals, and the culture of the firm.
Large organizations, for example, can combine Jenkins alongside GitLab to suit their CI/CD needs. From a single platform, they can control their CI/CD workflow. Small and medium-sized businesses, on the other hand, should use CircleCI because of its cost-effectiveness while still giving good functionality.