One of the most often used phrases currently is "automation." Automation is a critical component of practically any company's IT strategy. Essentially, the utilization of automated technology has reached previously unimaginable heights.
If "machine learning" is the start of a dismal dystopian future – picture The Terminator meets The Matrix – then "robotic process automation" must be the phase in which robots rise up to cruelly enslave humanity.
Thankfully, save for maybe enhancing efficiency, robotic process automation (RPA) does not entail anything of the kind. There are no robots in this automation software.
In this article, we'll look at Robotic Process Automation (RPA) and the top 20 RPA tools. Let's begin.
What is Robotics Process Automation?
RPA stands for robotic process automation, and it is a software technology that makes it simple to create, deploy, and manage software robots that mimic human movements while dealing with digital systems and software.
Software robots, like people, can grasp what's on a screen, type the correct keystrokes, traverse systems, locate and retrieve data, and do a variety of pre-defined tasks. Software robots, on the other hand, can do it quicker and more reliably than humans, without having to get up and stretch or take a break for coffee.
Basic activities are mechanized by software or hardware systems that work across a range of applications, much as human employees do. This is known as robotic process automation (RPA).
Speeding up processes and reducing human error, can significantly save labor costs and boost efficiency.
A workflow with several phases and applications can be taught to the software or robot, such as receiving forms, sending a receipt message, checking the form for completeness, filing the form in a folder, and updating a spreadsheet with the name of the form, the date submitted, and so on.
RPA software is meant to relieve employees of a load of doing repeated, uncomplicated activities.
Best Robotic Process Automation Tools
Blue Prism is a software firm that creates robotic process automation (RPA) software for the industry, allowing organizations to automate complex, end-to-end processes.
It developed the Virtual Workforce Platform idea and is developing an enterprise Robotic Process Automation platform that is resilient, highly scalable, secure, and dependable.
Blue Prism's software augments standard IT solutions by utilizing an agile virtual workforce that follows rule-based business processes and interacts with systems in the same way that humans do.
Its RPA software automates operations that people would normally accomplish manually or through major customization of current IT systems, resulting in a higher level of automation with lower investment and faster implementation.
Pros
It has a deployment model that supports several environments.

Credentials for the network and software are protected.

It's compatible with any operating system.

With central management, it enables scalability. As a result, all procedures can be automated as needed and monitored centrally.

The tool is built to perform intelligently without the need for a person to physically watch every move on the screen.

Robots link to systems and respond dynamically to data replies in a variety of settings.

Load balancing, data encryption, and end-to-end auditing are just a few of the services it offers. As a result, every modification is inspected and linked to the individual who made it.
Cons
To use the tool, you'll need some programming skills.
Pricing
The pricing is not offered by the vendor on the website, please contact the sales or get in touch with the team for pricing.
UiPath is a large-scale end-to-end robotic process automation solution. It provides organizations with tools to automate ordinary office processes, allowing for faster business change.
It employs a number of techniques to automate time-consuming procedures. By dragging and dropping related activities onto the graphical workspace, the UiPath user can create visual process stages. They can then turn those process stages into a visible workflow by modifying user interface parameters.
Clients can create web-based or application workflows using the recorder wizard in the UiPath tool. With UiPath Screen Scraping, scraping data from websites and apps is a breeze. The data scraping wizard also aids in the scraping of data with a repeating structure.
Any software, including.Net, Java, Flash, PDF, Legacy, and SAP, can be scraped with ease. With UiPath, you can build super-smart, long-lasting robots.
Everyone in the workplace can utilize these bots thanks to a simple visual canvas. To run the bots, UiPath provides high-security auto-login capabilities and uses a closed screen, allowing automated procedures to execute in total secrecy.
Pros
It has debugging capabilities that work well. It's also capable of handling a variety of AI applications.

A virtual terminal or a cloud can be used for hosting.

UiPath works with a wide range of applications, including desktop and web-based ones.

It consists of a centralized repository that allows users to handle robots at the same time.

It offers a powerful scraping (wizard-driven) capability that allows users to scrape data. You can scrape data from a variety of apps.
Cons
Data in an unstructured or non-electronic format is not recognized by it.

It has minimal coding capabilities.
Pricing
You can start using the platform with its free trial version. And the pricing starts from $420/month.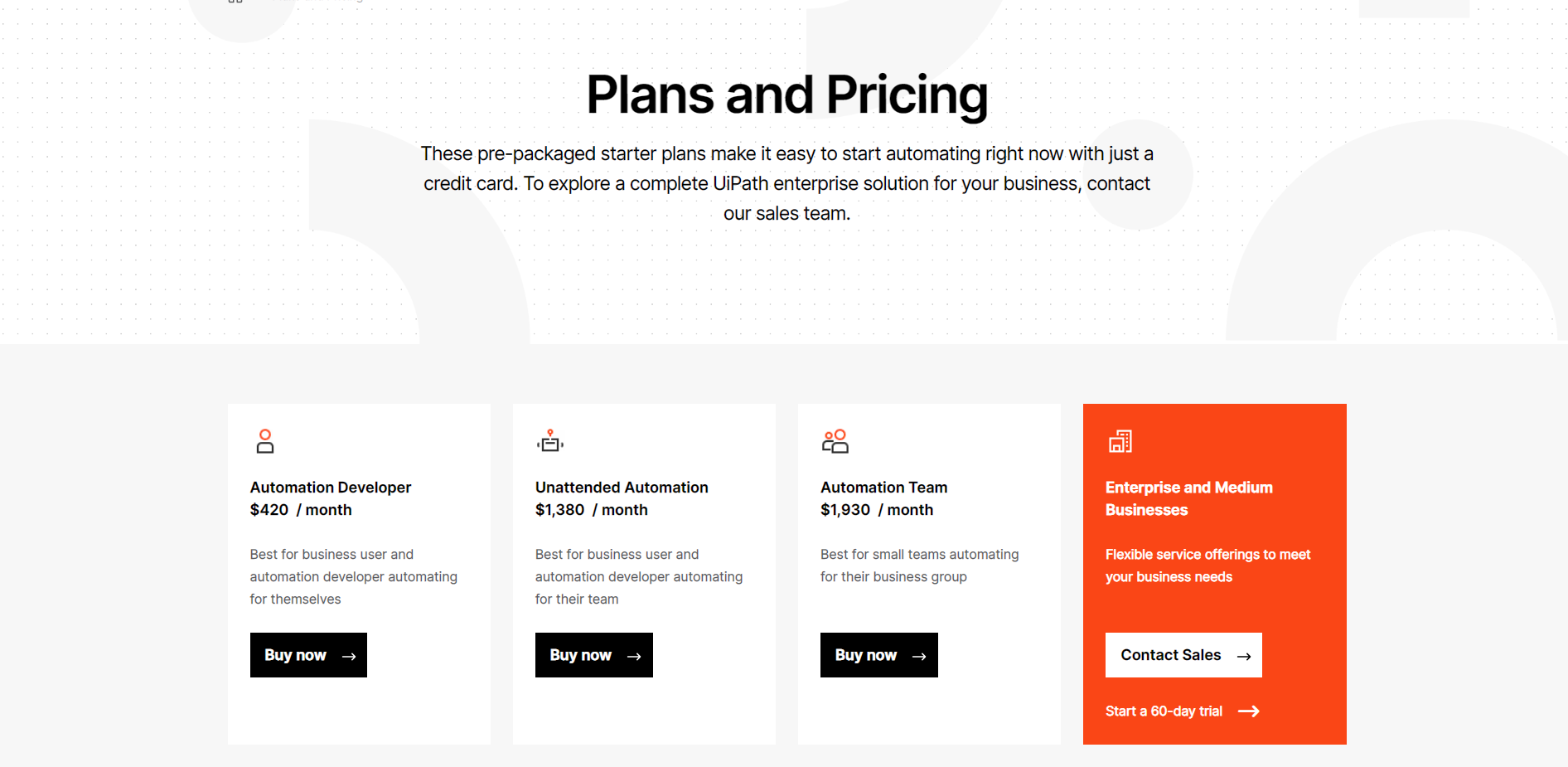 WorkFusion is one of the most dependable providers of intelligent automation. They automate on a vast scale with artificial intelligence and robotic process automation (RPA). WorkFusion automates a wide range of corporate operations by combining techniques such as pre-trained bots, unique artificial intelligence solutions, and sophisticated analytics.
Overall, WorkFusion can assist firms in lowering expenses, increasing productivity, and swiftly scaling. Employees can concentrate on tasks that need human intellect, while software bots can do routine tasks. Self-learning RPA enables enterprises to automate processes at the process level.
With just one platform, you can manage your complete process. WorkFusion makes automation easier for businesses by providing preloaded process templates. For speeding and creating unique workflows, you also have pre-built robotic, cognitive, and exception handling capabilities.

It efficiently connects with legacy programs like SAP, Citrix, and Oracle, allowing it to automate a repetitive business process.
It can also enter and extract structured data from any apps, whether they are on-premise or cloud-based. Organizations can use the built-in Optical Character Recognition (OCR) to transform data from any language and integrate it into any workflow.
Furthermore, it uses machine learning to improve OCR. It can both learn from and teach humans. The Virtual Data Scientist (VDS) feature in WorkFusion can collect and use historical and real-time data to train models for classifying and extracting unstructured data.
Pros
When it comes to recorded HTML items, WorkFusion combines the characteristics of two of the most popular RPA solutions.

The developer likes the way the tool looks.

Demonstrates the advantages of implementing an RPA strategy inside a company.

You can get a full view of your essential business and technical KPIs across bots, people, and processes with the integrated analytics application.
Cons
The cost of OCR licensing is rather significant.

The tool's documentation and training sessions are a little unclear.
Pricing
The vendor does not provide pricing on their website; please contact sales or get in touch with the team for more information.
Automation Anywhere is a software company that creates robotic process automation software that uses software bots to perform business operations and satisfy corporate needs.
It integrates cognitive aspects such as Natural Language Processing (NLP), processing unstructured data, and machine learning skills with classical Robotic Process Automation. It's an RPA tool, a web-based management system that runs automated tasks through a control room.
It can aid in the automation of corporate operations from beginning to end. Businesses can record and deploy robots using Automation Anywhere RPA software, which requires no technical knowledge.
Because it is a scriptless kind of technology, it makes it easier to automate operations. This means that both business and IT people can learn and use it. The technology is dragging, dropping, going, and repeating.
Pros
It included AI, which aids the bots generated with AA in doing duties as closely as feasible to those performed by humans.

It offers a centralized cloud-based, web-based control center for its bots, allowing them to be handled from anywhere at any time.

It includes public and private vital infrastructure, as well as AES encryption, which helps safeguard the bot and the many credentials linked with it, as well as the data and information it contains.

It is the only instrument that combines analytical and cognitive skills. This allows it to more effectively automate operations and cope with unstructured and semi-structured data.
Cons
There is no cloning of objects that are the right size.

It does not come with simple installation instructions; we must install Java, IDEs, and databases in a specific order, which we are unable to accomplish.

It lacks a workflow design, making it difficult to comprehend the procedure.
Pricing
Pricing is not available on the vendor's website; please contact sales or the team for further information.
The Kryon system is a safe, scalable, and cost-effective RPA (robotic process automation) solution that uses powerful IMR and OCR capabilities to record and execute processes on any application.
The solution, which is ideal for businesses of all sizes, seeks to give firms quick deployment, dependability, and rapid reaction to change. You can automate any login procedure without having to code particular credentials into the automation scenario.
When the robot is operational, it can use its own unique credentials to access the target system. It protects records and gives full traceability into operations and robot history, making auditing all mission-critical events and modifications a breeze.
Kryon RPA further guarantees that malicious-intended persons cannot edit or change logs by safeguarding them. The administrators can provide action-specific rights to people or groups inside the Kryon system using roles and permissions.
Furthermore, enterprises can host their RPA solution in the cloud and create distinct, secure teams and environments by deploying the Kryon system.
Pros
It includes a user-friendly visual interface that allows users to swiftly record tasks and drag and drop process activities, eliminating the need for external resources or in-house developers.

You acquire complete visibility where it's most required. The solution delivers actionable insight for all of your organization's processes that are suitable for automation.

It's made to be simple to use. Kryon robots are interactive and simple to deploy and administer for everyone in the business.
Cons
The connection to Hebrew, which uses a right-to-left scheme, is more difficult.
Pricing
The vendor's website does not provide pricing; please contact sales or the team for further information.
Softmotive's WinAutomation is a data entry automation solution for companies of all sizes. It allows users to automate actions on both the desktop and the web. The product is a desktop application that operates on the Windows operating system.
Software Robot Designer is a component of WinAutomation that allows users to construct data processes using drag-and-drop and default functions. Data handling is also included in the solution, allowing users to alter and interpret data fields across all databases.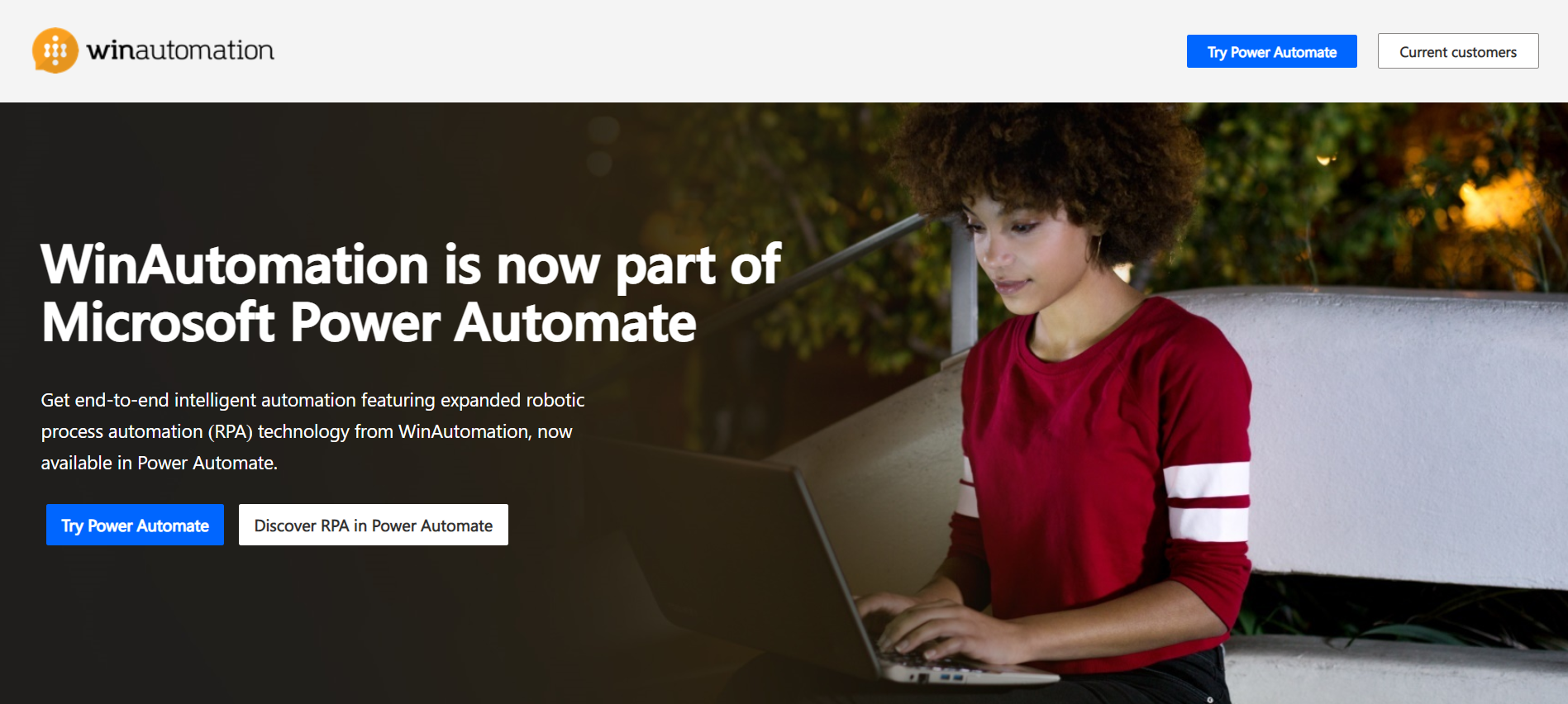 Desktop Automation is another feature of the program, which allows users to manage and extract data via tabs, menus, and windows. It also allows users to automate processes using the graphical user interface.
The macro recorder in WinAutomation allows users to record mouse and keyboard strokes as input. This enables users to automate desktop program click and fill processes.
Customers can get help from Softmotive over the internet. In addition, the company provides consulting and installation services to help users automate procedures.
Pros
It has an easy-to-use layout and features that are well-detailed.

It's simple to connect to SAP, Salesforce, Oracle Financials, PeopleSoft Automation, and other systems.

This tool will assist you throughout the design and manufacturing processes.

Drag-and-drop scripting environment with a lot of flexibility and ease of use that can automate almost any Windows activity.
Cons
It does not provide remote access to the robots through the cloud.

The learning curve is steep.
Pricing
The power automate pricing starts from ₹ 1,080 per user/month.
Pega is a low-code platform that lets companies integrate their operations and customer journeys from beginning to finish. It eliminates one of the most significant roadblocks to modern business: the proliferation of apps and systems.
The Pega Platform allows enterprises to have a single view of a customer, a case, and a workflow, as well as all the accompanying data and intelligence, by establishing a customizable platform that sits above your existing systems.
It is a fantastic BPM application that automates processes and assists organizations in achieving profitability and potency. It comes with a Designer Studio, which functions as an Integrated Development Environment (IDE) for creating apps. Pega Customer Relationship Management (CRM) helps you improve customer satisfaction by reducing handling times, reducing mistakes, and lowering expenses.
It reduces human labor by automating contact center solutions and service operations. Pega Robotic Process Automation (RPA) automates processes and speeds up the delivery of results. It helps staff to provide client outcomes more quickly and accurately.
Pega Robotic Studio aids in the automation of manual tasks by automating events.
Pros
It offers a single Visual Designer Studio that allows you to design without having to code.

Pega BPM is scalable throughout the organization and can be utilized in both managed and private clouds to develop the application's capabilities.

At the enterprise level, it removes coding and automates the process of developing complicated systems.

Its purpose is to shorten the time it takes to make software modifications.

The product is written in Java and includes Java code that can be run at any moment.
Cons
Due to the obvious development, maintenance, and license costs, it would be unsuitable for small businesses. Pega software is a costly tool since it combines all of the solutions onto a single platform.
Pricing
It offers a free trial but the pricing is not offered by the platform. Please contact the vendor for its pricing.
TruBot is a multi-skilled corporate bot designed to boost your company's efficiency. It automates a variety of tasks, both basic and sophisticated.
TruBot allows anybody, including business users with no programming experience, to create bots with the click of a button.
You can now sit back, relax, and take entire control of your RPA program from a central location, whether you've just started your robotic process automation journey or are looking to grow up your automation program.
TruBot also includes TruCap+, an intelligent data capturing technology. It combines artificial intelligence (AI) and fuzzy logic to extract meaningful information from unstructured materials with greater than 99 percent accuracy.
Your digital workforce gains reasoning skills in addition to TruBot Neuro. Integration of cognitive technologies such as artificial intelligence and machine learning allows your bot workforce to perform complicated transactions that would otherwise require human interaction and knowledge.
Pros
It automates a large number of rule-based processes in a short period of time with excellent accuracy, allowing staff to focus on higher-value duties.

RPA for Datamatics The intelligence component of TruBot assists company owners in making informed judgments. It has cognitive capabilities as well as an application programming interface.

It provides analytics, which aids in timely reporting and, as a result, process efficiency.

For prominent private banks, it automates the processing of KYC forms.

If the bot isn't producing the required results, it's simple to figure out what's wrong.
Cons
After auto splitting, the document format for.pdf documents are converted to .tiff, and OCR is not performed on these documents.
Pricing
Pricing is not available on the vendor's website; please contact sales or the team for further information.
Appian is a low-code development platform for all types of organizations. It allows users to create BPM apps (business process management).
Case management, business process management, three-step app development, and application integration are all key aspects. Users can utilize Appian's low-code platform to automate complicated operations and develop unique apps that can be launched on any device.
You can connect with other team members for project discussions using the social collaboration tool. Appian provides pre-built connectors for integrating with other apps without having to write any code.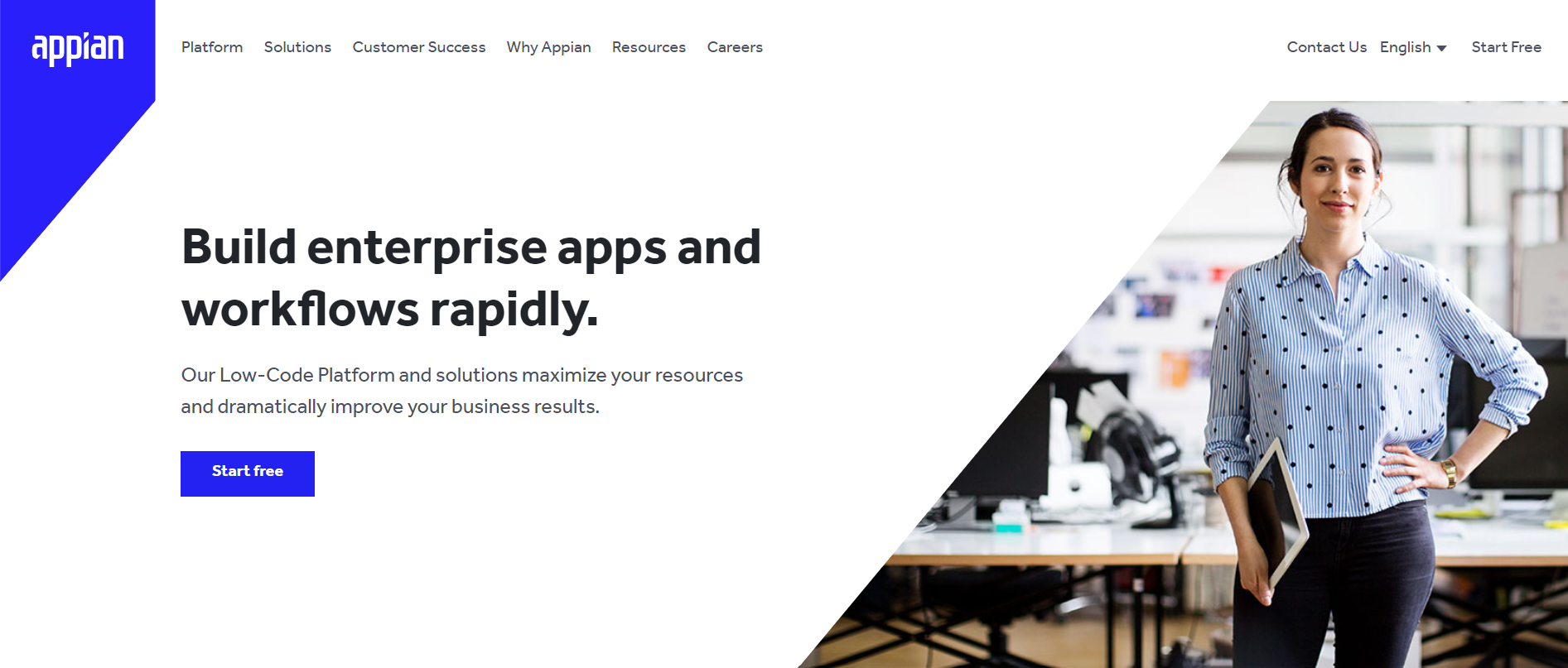 Data and analytics are also available for interactive reporting and document management. Appian RPA is made up of a number of components that are hosted on the Appian Cloud as well as in the client environment.
Developers and administrators can design and configure robotic processes, resources, and other RPA objects using Appian RPA's web-based console. To harness the potential of Appian RPA, you don't need to know how to write; instead, utilize low-code approaches to create workflow operations.
Pros
APIs are used to connect to a range of technology tools.

With Appian applications, the culture of data decentralization in millions of files will come to an end.

Appian technologies make it possible to track company operations.

Business data can be analyzed via interactive reports.

Users, incidents, resources, and other information are all centralized on a web page.

Supports machine learning to improve the efficiency of operations.
Cons
Although the basic cloud database still has a somewhat unpleasant interface, we do use our own databases.
Pricing
You can try the platform for free. But the pricing is not provided by the vendor on the website.
The IBM Robotic Process Automation service enables you to automate more business and IT activities at scale with the ease and speed of conventional RPA.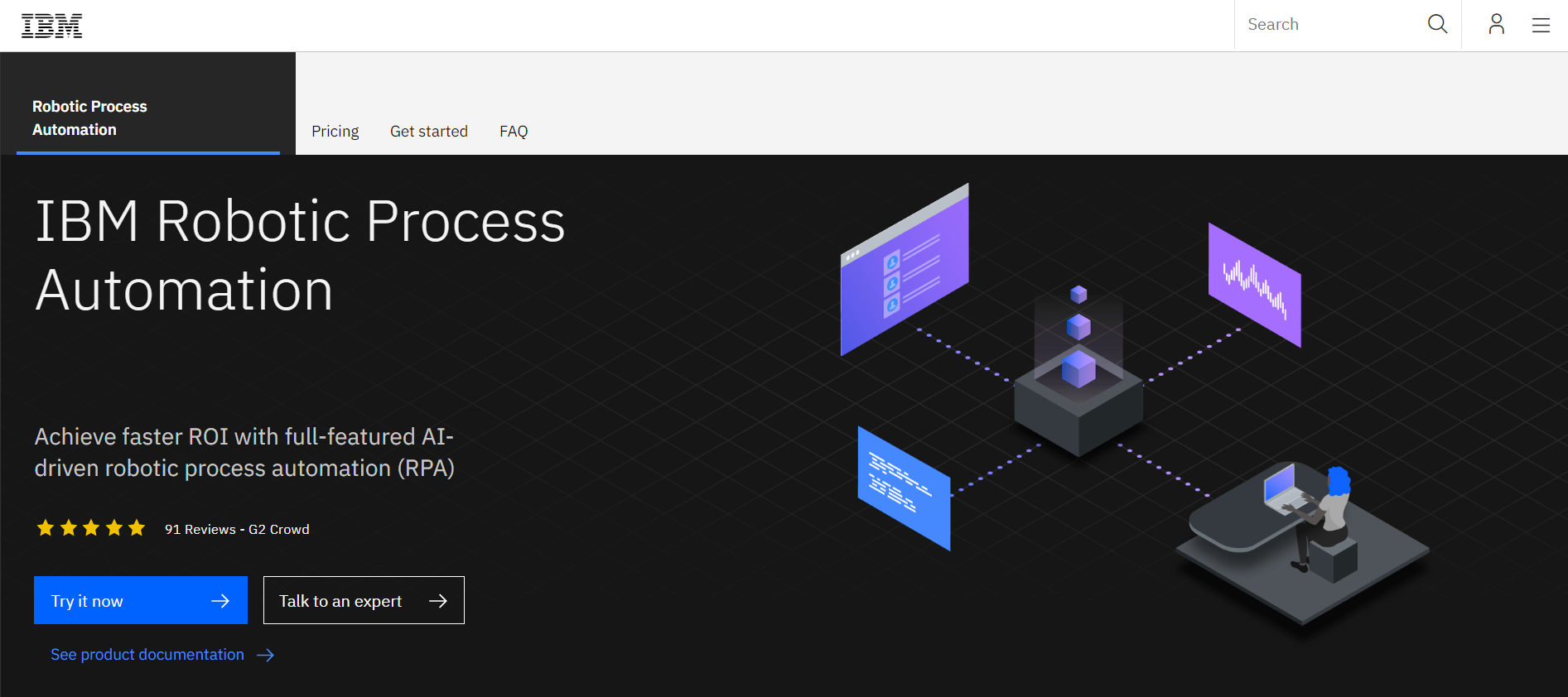 Bots, or software robots, can act on AI insights to accomplish activities with minimal lag time, allowing you to achieve digital transformation. is a technology that involves the employment of intelligent robots in any operation that requires efficiency, consistency, and speed with no danger of error. RPA, in a nutshell, imitates human labor.
Pros
It has practically all of the capabilities and instructions we need to accomplish our work faster and more efficiently, and the speed and precision with which we do tasks are extremely impressive.

It can combine with other technologies thanks to the effective usage of selectors.

The platform is highly pleasant and simple to use; no heavy programming abilities are required. To create fantastic automation ideas, simply drag & drop activities.

IBM RPA is a strong tool for automating a wide range of daily chores; it works well in both supported and unsupervised automation procedures.

Out-of-box IBM's chatbot feature is fantastic. I was able to implement it with very little code.
Cons
Error messages can be opaque, and debugging has a steep learning curve.

The recording tool is not always precise.

Some parts of the installation process, such as SQL database creation, might be automated.
Pricing
It offers a no-cost trial for 30 days. But you have to get in touch with IBM for pricing.
Conclusion
Finally, RPA's adaptability is only now becoming visible. RPA can be used for a variety of activities, including bulk emailing, data extraction from media like PDFs and scanned documents, invoice creation and sending, personnel history verification, and payroll automation.
Because the entire objective of a business is to produce money, RPA can aid with quote-to-cash by automating sales procedures, allowing transactions to be completed not just faster but also more accurately.
RPA can take over a wide range of sales-related operational operations, resulting in increased customer satisfaction.
Above are the best tools and software to use, based on your requirements.