With the development of low-code or no-code platforms, creating apps has become easier than ever.
Thanks to these technologies, it is now possible to design even more complicated programs without paying a lot of money, waiting for days or months, or hiring many engineers.
And you are well aware of how significant apps are in our modern lives, whether for personal or corporate usage. On top of that, you don't have to be a coding expert to create outstanding applications.
Modern low-code or no-code platforms make sure that you write little to no code while still creating applications that explain innovation and drive your business.
No code platforms, in addition to developing apps, enable simple workflow automation, help improve business processes, and give additional features to contribute to your operations and help you grow.
In this post, we'll look at some of the greatest Retool options to boost your productivity.
With Retool, creating apps and internal tools becomes incredibly rapid. It spares you from having to deal with user interface libraries, access restrictions, and merging data sources.
Instead, design applications quickly and easily to help your business grow. Retool gives you strong building blocks for constructing internal tools like tables, charts, lists, maps, wizards, forms, and more.
As a consequence, you'll be able to work on your UI and deliver it more quickly without having to seek out libraries.
With the aid of the drag-and-drop functionality, you can construct your apps in only 30 seconds from their pre-built components.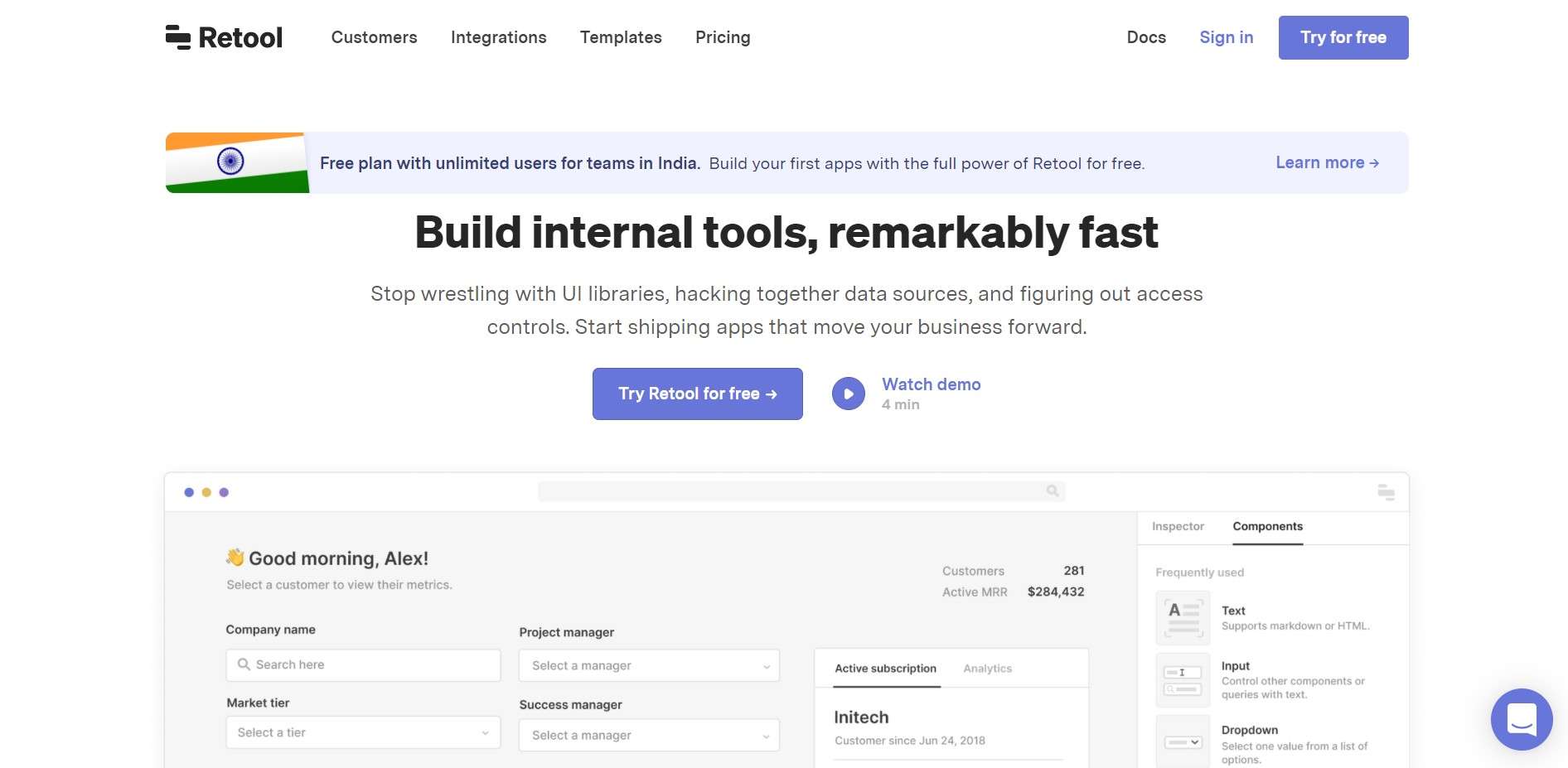 You can also use a REST, gRPC, or GraphQL API to connect to major databases. You don't have to worry about managing errors or saving anything in Redux when you use Retool.
Instead, the tool can handle the hard lifting, such as receiving data from MongoDB, SQL-joining the data in Postgres, and POSTing the result to the Stripe API.
This utility has built-in permissions, as well as stability and security. You can install Retool using Kubernetes or Docker and host it on your cloud server, behind your VPN, or on-premises. You can also sync programs to a Git repository and deploy a specific version.
Advantages
A drag-and-drop construction method.
You can use pre-made templates for free.
There are pre-built building blocks (Tables, Lists, Charts, and so on) accessible.
Possesses the capacity to write data using queries (no need to worry about handling errors from the backend).
Most databases and anything having a REST, GraphQL, or gRPC API are accessible.
There are several integrations available (PostgreSQL, MongoDB, Firebase, etc.).
If necessary, the possibility to add custom Javascript code.
Disadvantages
To get the most out of Retool, you'll need to learn Javascript.
The responsive design of a website leaves a lot to be desired.
Only Docker or Kubernetes can be used for deployment, and you can't host an app on your own domain.
Pricing
Platform pricing is listed below:
Self Host:
Free: It's free for everyone to use.
Starter: $10/user/month.
Enterprise: You have to contact the vendor for pricing.
Cloud:
Team: $10/user/month.
Business: $50/user/month.
Enterprise: You have to contact the vendor for pricing.
For all of these reasons, seeking the finest alternatives to Retool can be a wise decision.
List of Retool alternatives
Here is a list of retooling alternatives that we will discuss:
Zoho Creator
Out Systems
Jet Admin
Mendix
Caspio
Airtable
Quickbase
Softr
Fliplet
UI Bakery
Zoho Creator is one of the most capable low-code platforms, allowing you to design apps quickly and effortlessly extend and combine their capabilities.
It makes everything quick, easy, and safe, regardless of your degree of coding skill or the complexity of your coding requirements.
You can create multi-platform apps that range from simple call logs to comprehensive ERPs that integrate with your existing processes.
With their rich, intuitive code editors, visual builders, pre-built templates, and more, you can speed up your app development process.
In addition, using simple iterations and phases, you can quickly set up and automate workflows in your apps.
Furthermore, you can move and scale data dynamically. Simply import your Google Sheets or Excel data into a dedicated application.
Zoho Creator also supports FileMaker, MS Access, and other databases.
Pros
The user interface is fantastic.
We are able to use our app on all of our devices.
Extremely adaptable to any situation
Both public and private reports provide excellent alternatives.
To design a sophisticated procedure, you'll require low-code expertise.
Large databases can be easily imported and exported.
Create a live-updating dashboard with graphs and charts.
Cons
Integrations with third-party apps are a little more difficult.
It's not always easy to pinpoint the source of a problem.
The layout customization choices are pretty limited.
When the Android app is unable to show email, it will continue to load.
Pricing
It provides a 15-day free trial and no credit card is required. Pricing is listed below:
Professional: Rs 1500/user/month (billed monthly) or Rs 1000/user/month ( billed annually)
Ultimate: Rs 16000 (billed annually)
OutSystems is revolutionizing software development by enabling you to quickly design and deploy sophisticated programs that can grow with you.
Using the cloud, DevOps, and AI, you can achieve extraordinarily quick, model-driven development.
It's simple to manage app backlogs, keep up with changing company demands, and deliver cloud apps that fuel innovation with OutSystems.
They also provide a variety of automated services and integrated tools to help developers create safe, scalable, manageable, and resilient programs.
OutSystems speeds and simplifies app lifecycle optimization provides the most up-to-date cloud technologies, and introduces new features and capabilities regularly.
A drag-and-drop UI, data models for full-stack design, and cross-platform apps are also included.
Pros
API integration is simple.
By providing ready-to-use solutions, database connectors help users speed up development processes.
Deployments between development and test, as well as testing to production, are quick and prevent many of the potential deployment mistakes that can occur when humans are involved.
It has a very simple and user-friendly flow editor.
The handling of errors is superb. While you're programming, it displays mistakes in real-time.
Cons
It takes a long time to upgrade to the next version of the product.
Complex applications take longer to develop than hybrid ones.
There is no existing and reliable content management system for developing CMS-enabled websites.
In an escalation, support does not communicate adequately.
Pricing
You can start using the platform with its free version. It also provides the premium plans which are listed below:
Standard: $1500/month (billed annually).
Enterprise: Contact the vendor for its pricing.
Jet Admin is a corporate app builder that doesn't need any coding and allows teams to develop internal tools and client portals. It enables you to quickly build anything from a simple CRM to a complex Support tool.
Using a simple drag-and-drop interface, you can combine building blocks and construct custom-tailored but powerful applications.
Jet Admin, which places a major focus on managing all of your data from many sources in one place, offers a variety of data connection options, including PostgreSQL, MySQL, FireBase, Google Sheets, Sendgrid, Slack and Intercom, and Hubspot, depending on your needs.
They also can help you automate your procedure by sending an email to a user when the status of their order changes or payment is received.
Pros
A drag-and-drop user interface builder with over 50 pre-made user interface components.
HTML/CSS, Javascript, React, Angular, and Vue can all be used to construct bespoke UI components.
Task collaboration and approval protocols are built-in.
SQL or HTTP queries that are unique to you.
Databases, business services, and third-party APIs can all be connected (PostgreSQL, Firebase, etc.).
Deployment of apps is automated.
Cons
Only the Pro and above plans provide a custom domain.
Customer service isn't always kind, and problem fixes are delayed.
Custom components are only accessible in the Pro and above plans.
App branding is only accessible on the Pro and above plans.
Pricing
You can begin using the platform with the community edition, which is available for free indefinitely. Commercial Edition and Enterprise Edition pricing are not yet accessible on the platform, but they will be available in early 2022.
With the aid of Mendix, you can create apps that range from basic time-saving utilities to enterprise-grade apps that help organizations function efficiently.
It's a low-code platform that anybody can use to boost their business by providing high-quality apps without having to deal with complicated coding.
This app development platform enables you to create impactful apps that you can launch and succeed with more quickly.
You can build apps for SAP supply chain operations, high-value asset field service, digital insurance solutions, plant equipment maintenance, delivery management, analytics and reporting, logistics monitoring, AI, smart banking and facial recognition, and many more sectors.
Pros
For corporate users and experienced developers, there are two separate IDEs.
Deployment in a single click.
High-level security for businesses.
Over 400 construction blocks in a rich reusable component collection.
For mobile app development, there's a built-in React native framework.
For effective feedback and change management, there's a built-in collaboration tool.
A variety of APIs, including Oracle, Salesforce, SAP, and others, are available for out-of-the-box connectivity.
Cons
There are very few ready-made app templates available.
The premium plans have exorbitant pricing.
Mendix Studio Pro is only available as a desktop application.
The tool is quite inflexible; it should be more flexible by offering the developer greater control.
Pricing
You can start using the platform with its free version. It also provides premium plans which are listed below:
Basic: €50/month
Standard: €800/month
Premium: Please contact the vendor for its pricing.
Caspio is another great tool for creating cloud applications without having to code. This well-known, low-code app development platform is ideal for creating online database apps that are scalable, dependable, and secure.
Government organizations, big enterprises, small businesses, colleges, and charities are among the platforms 15k+ clients from 150+ countries.
Caspio can help you with database architecture, user permissions, processes, and other tasks. Use their easy-to-use visual programming tools to quickly create comprehensive cloud apps with forms, dashboards, and reports.
With their easy-to-use point-and-click tools, you can design, build, and manage your apps. After that, you can seamlessly integrate your apps on any portal, site, intranet, or CMS.
Pros
It's simple to use.
When assistance is required, it is excellent.
It's fantastic for creating online forms and reports.
As a database platform, it is possible to develop online tables and forms that connect numerous tables and views.
It's a database platform that's accessible online. It lets you build and save many tables and views on the web.
Cons
It's not easy, and it's certainly not in real-time, to monitor your data transfer allowance or other account allowances.
Getting something done might often involve a lot of steps.
The interface is modest, and it could easily be modified to display more fields at a glance, removing the need for endless scrolling.
Pricing
You can start using the platform with its free version. It also provides premium plans which are listed below:
Explore: Rs 9000/month.
Build: Rs 18000/month.
Grow: Rs 36000/month.
Corporate: You have to contact the vendor for pricing.
You can develop amazing apps by combining your creativity with the power of Airtable. It combines the power of a fantastic database with the familiarity of spreadsheets to help you in getting up and running quickly.
It helps you to develop more powerful and advanced solutions. You'll also get a lot of useful templates for things like product planning, cataloging, bug tracking, product tracking, and product launch.
Custom notifications and the automation of redundant tasks can help your team be more efficient.
To increase your productivity, integrate your apps with services like Slack, Gmail, Facebook, Twitter, Teams, Google Sheets, and more. Airtable allows you to collaborate with anyone, anywhere, and at any time.
Pros
It's quite simple to use and put into action.
Excellent project management organizing tool.
Especially on mobile, it's quite user-friendly.
It comes with fantastic templates that will assist you in getting up and running quickly.
Imported databases from services like Excel can be of any size.
The mobile app allows you to work on the move, and all changes are synchronized across all team members devices, so everyone is always up to speed.
Cons
The free version has a restricted number of settings.
The user interface is still a little confusing, and I had a hard time finding instructions on related fields.
Many of the more interesting features are not available on mobile devices.
Pricing
You can start using the platform with its free version. It also provides premium plans which are listed below:
Plus: $12/seat/month (billed monthly) or $10/seat/month ( billed annually).
Pro: $24/seat/month (billed monthly) or $20/seat/month ( billed annually).
Enterprise: You have to contact the vendor for pricing.
By implementing Quickbase into your company, you can unlock the full potential of your business processes and create high-quality, result-driven apps that can link ideas, information, and people everywhere.
This app development platform enables you to bring together your business, IT, and development teams so that they can innovate and construct safe, durable, and secure apps.
It also aids in the acceleration of your business operations, allowing you to produce high-quality apps on time.
Quickbase liberates you from legacy systems and gives you a set of integrated tools designed to collaborate and enhance your apps without incurring the high costs of traditional development, deployment, and maintenance.
Pros
It features a pleasant user interface that continues to improve.

Pipelines aids process automation.

Relational database tables can be easily created.

For builders, there is a lot of information available.
The quick foundation makes producing very valuable reports a breeze.
It enables numerous people at work to view data at the same time without destroying anything important.
Cons
Some reporting appears to be overly complicated and difficult to personalize.
It's difficult to keep track of summary reports.
Quickbase Mobile isn't the most user-friendly interface available right now.
If you need to, it's difficult to log out of each session.
Pricing
It provides a free trial for the Team plan and it offers premium plans which are listed below:
Team: $600/month ( billed annually ).
Business: $2000/month ( billed annually).
Enterprise: Please contact the vendor for its pricing.
Softr is a fantastic web development tool that allows users to create code-free websites, portals, and web apps in under 10 minutes.
This program allows users with little design or coding experience to create beautiful and dynamic web apps. Softr has more than 60 pre-designed responsive building blocks to assist users to get started with their application development.
By structuring their data in Airtable and linking it to building blocks, website builders can include gorgeous visualizations into their developed applications or websites.
Softr allows developers to search, display, and filter data from their applications. Using Zapier, they can integrate application logic with external services or interconnect multiple sites.
It is also a versatile solution that facilitates outstanding business because of its seamless connection capabilities with other platforms like Stripe, Intercom, and Mailchimp, as well as out-of-the-box pre-built functionality.
Pros
There are more than 70 pre-built blocks available.
Design that is automatically responsive.
App pages that are SEO-friendly.
Even with a free service, you can have a custom domain.
Custom portals, markets, websites, and internal tools are all possible.
Any subscription allows you to create an infinite number of applications.
Cons
Custom code is only available to premium members.
There is no live chat support for free users.
There are only 200 records available free per table.
Pricing
You can start using the platform with its free version and it also provides the premium features which are listed below:
Starter: $29/month (billed monthly) or $24/month (billed annually).
Professional: $79/month (billed monthly) or $65/month (billed annually).
Business: $119/month (billed monthly) or $165/month (billed annually).
Fliplet is a platform that allows you to create corporate apps without having to write any code. Users of various skill levels can use it to obtain resources tailored to their app development expertise.
Advanced users can also use cutting-edge tools like HTML and CSS editors to improve the apps they're working on. In case of big changes, businesses can expect quick updates using Fliplet.
This is because the program does not require you to download new versions regularly. Instead, it updates the app automatically to reflect the most current changes.
Fliplet also allows your developers to integrate the solution with third-party applications.
Pros
A user interface builder with drag-and-drop functionality.
By default, the design is responsive.
Integration of APIs and data connectivity
The ability to create custom features by adding JS, HTML, or CSS code.
A collection of ready-to-use templates and prefab UI components.
Data encryption and enterprise-grade security are guaranteed.
Cons
Only premium subscriptions have access to advanced app design assistance.
A free package does not contain custom branding.
There aren't many instructional materials available.
Pricing
You can start using the platform with its free plan and it also offers premium plans which are listed below:
Public: $9.90/month
Private: $19.90/month
Private Plus: $29.90/month
UI Bakery is a user interface builder that allows you to develop internal tools and business apps in a simple and straightforward manner.
It comes with a set of ready-to-use templates, pre-defined widgets, and other UI elements that you can use to develop your program.
You can attach the frontend you design in UI Bakery to your databases, APIs, and third-party services now that data connection and API integration have been established.
You also don't have to bother about UI libraries, access control setup, or NPM module upgrades because UI Bakery takes care of everything.
Pros
Under the hood, there's a customizable Open Source UI framework.
Dashboards and layouts are available for free.
Tables, Charts, Forms, Buttons, and more are among the 25+ ready-to-use UI components.
You can have an unlimited number of developers and users on your account.
MySQL, Google Sheets, PostgreSQL, HubSpot, Salesforce, and other databases, APIs, and third-party systems are all supported.
Cons
Pricing
Pricing
You can start using its free plan and it also provides premium plans which are listed below:
Essential: $10/user/month.
Business: $30/user/month.
Enterprise: Contact the vendor for its pricing.
Conclusion
Explore and embrace the low-code and no-code platforms that are available.
They're not designed to take on the role of web developers or designers; instead, they're meant to help you save time while designing basic apps and focusing on the most important aspects of your business.
We discuss the finest retooling alternatives and determine what works best for you and your organization.