Smartphones today employ a variety of operating systems, allowing consumers to select the platform that best meets their requirements and interests.
To sell competitive programs and reach the widest possible audience, you must consider the capabilities and needs of all major operating systems, including Android, iOS, and Windows.
Is this to say that you must produce many versions of the same program, wasting a lot of time, money, and effort that might be spent on other projects?
Cross-platform app development tools alleviate this effort by offering the functionality required to construct and maintain a single global codebase.
But, what about native app development platform? Do they fall short in front of a cross-platform development platform?
Let's explore cross-platform frameworks compare React Native (a cross-development platform), Swift (for iOS development), and Android development to find an answer.
Cross-Platform Frameworks
Developers use cross-platform frameworks to create programs that run on many platforms. Such programs, for example, can run on both Android and iOS.
Once the app code has been written, it can be distributed across numerous operating systems. This functionality enables developers to work more quickly, efficiently, and reliably.
The purpose of cross-platform development is to produce mobile apps that are compatible with several platforms.
As a result, it behaves consistently across all devices. It is critical to distinguish between cross-platform and hybrid programs. In cross-platform mobile development, native components are used to boost performance, notably in user interfaces.
There are two types of cross-platform development: one that can be run immediately on a range of systems, and one that requires each platform to be constructed individually. The programming language and tools used to construct an app define the sort of app that is produced.
Some of the advantages of cross-platform development are as follows.
Code reusability: Developers can construct a single code base and use it to build programs for many operating systems and other applications. This functionality simplifies the maintenance of developers' codebases.
Reduce time to market: It enables developers to design and deploy apps more quickly than ever before. It essentially shortens the time to market.
Reduces development expenses: Cross-platform frameworks lower app development costs by simplifying development processes and shortening the overall project duration.
Performance and experience comparable to native applications: The appearance and performance of hybrid apps are similar to those of native apps. As a result, developers can design apps more quickly without losing speed or user experience.
React Native is a cross-platform JavaScript development framework for creating native-looking Android and iOS apps. It has been one of the most popular frameworks for building cross-platform apps throughout the years.
React Native provides more detailed documentation and better support than Swift. Its code can also be reused for online and desktop apps.
Facebook's founder previously said that the social media firm made a huge error by choosing an HTML-5 app over a native one. He then guaranteed their social networking platform users a better mobile experience.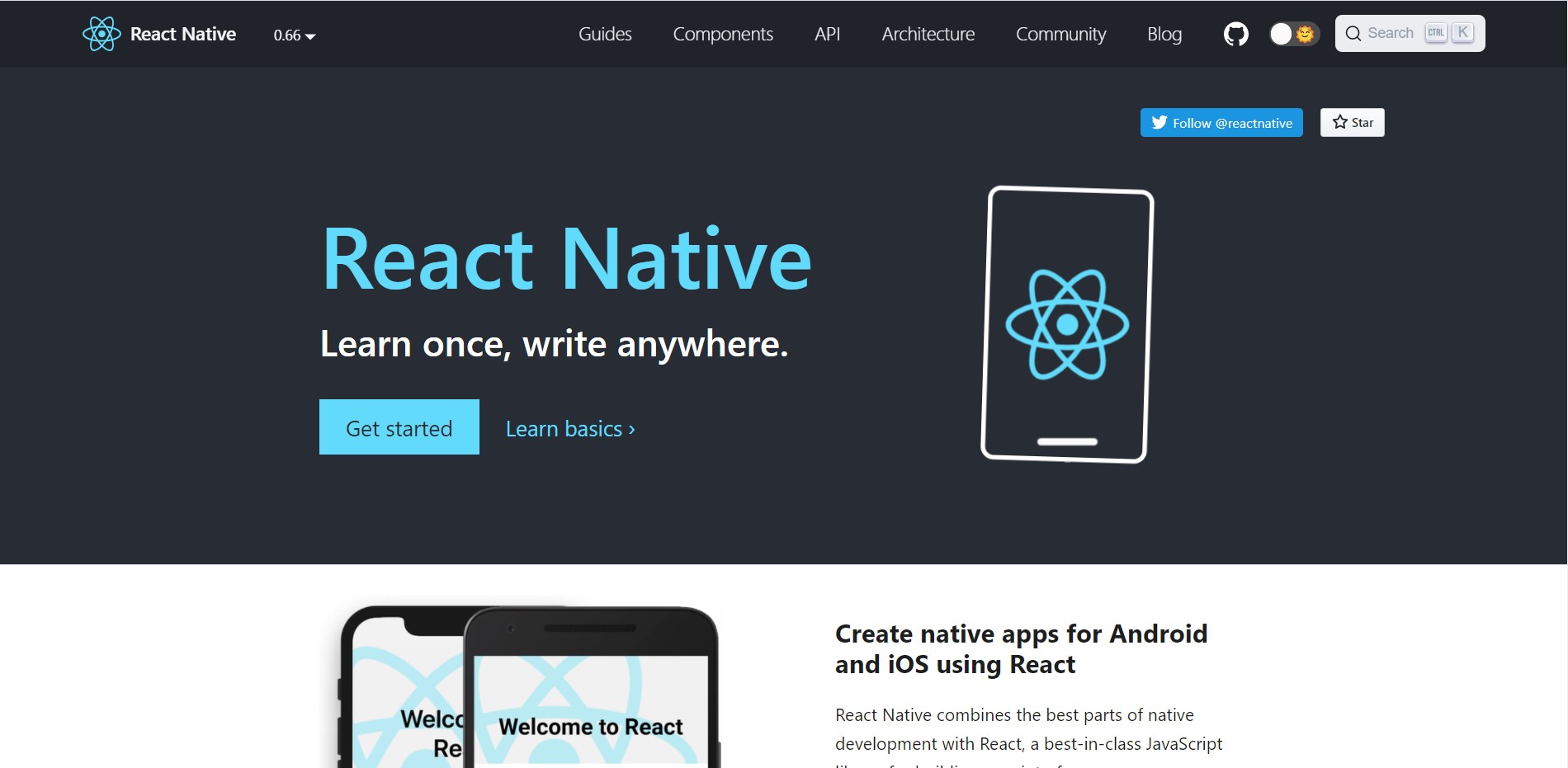 Following that, Jordan Walke, a Facebook engineer, invented a method for creating UI components for mobile platforms using background JavaScript threads. After that, Facebook hosted a Hackathon to enhance prototypes for native app development.
This chain of events resulted in the release of the first version of React Native in 2015. By that point, Facebook had begun to use React Native in production apps.
React Native functions similarly to ReactJs, with the exception that it does not need a Virtual Dom to control the DOM. It operates discreetly in the background process of client devices, making JavaScript a possible language for developers.
It can also establish asynchronous communication with native devices using the batch bridge and serialization. React Native developers build code in JavaScript and JSX syntax.
React Native Benefits
High Performance: React Native has a reputation for creating apps that run exceptionally well by using modules and native controllers. RN connects to an operating system's native components and produces code using Native APIs. The high speed of React Native is due to its ability to establish threads that are separate from the UIs and Native APIs. Although React Native can use WebView, the app's speed suffers as a result.
Fast Reloading: With this capability, React Native developers can see changes to an app's code in a preview window quickly. Changing the UI from your code does not require rebuilding your application. This also contributes to speedier development and issue corrections.
Modules: The modular architecture of React Native splits program functionality into movable free parts known as modules. The versatility, greater synchronization, and seamless updating of this technique are all advantages. Developers can use this functionality to offer on-the-fly app updates. Furthermore, the modules are reusable, such as reusable scripts and Web APIs.
Feature Expansion at a Low-Cost: React Native makes it simple to add new features to existing apps at a low cost. It's as simple as injecting the UI components into an existing program rather than completely redesigning it. When you want to add new features to an app without totally rebuilding it, this functionality comes in useful.
Quick App Updates: React Native has simplified the process of upgrading applications, removing the requirement for each app to have its own build process. Over-the-air updates (OTA) are a faster, simpler, and more comfortable way for React Native developers and app consumers to update their apps. Even if the program is running, this way, it can deliver updates. The update features, on the other hand, are available the next time the app is launched. To put it simply, app users no longer need to update their apps via the app store.
React Native Limitations
Still in its development phase: As a consequence, it still has a long way to go regarding bug fixes, native component porting, and performance enhancements. While React Native's lack of maturity isn't a deal breaker, it does restrict its potential. Keep in mind that the platform is constantly being improved, so you must update React Native regularly. As a result, it cannot be the ideal long-term solution for app maintenance.
Depends on native language: To build functionalities that aren't available in React Native, developers must still write native modules. The native modules operate as a bridge between the native code and the React Native code. As a result, when developing an app in React Native, you must still learn native coding. Otherwise, you'll need the assistance of a native developer.
Loosely typed language: While React Native's usage of the popular JavaScript is advantageous, it does have a disadvantage. JavaScript, being a lovely typed language, does not need the usage of explicit variables and arguments in functions. A variable can, in principle, hold anything. This is a security hazard.
Long-term commitment concerns: Concerns about the platform's long-term support pose a danger. React Native is not a ready-to-use solution or framework; it requires ongoing modification to be helpful for app development. Apps operating on the platform will become stagnant if Facebook stops supporting React Native.
Popular React Native Applications
Facebook
Walmart
Bloomberg
Instagram
Skype
UberEats
Airbnb
Microsoft OneDrive
Pinterest
Discord
Swift is a contemporary, general-purpose, and multi-paradigm programming language developed by Apple for use in developing iOS-powered devices and the ecosystem that surrounds them.
It is a fantastic programming language for creating apps for iOS, watchOS, Mac, tvOS, and many more platforms. It is simple to learn. Swift's programming interface is interactive and simple because it employs expressive and compact syntaxes.
It is constantly adding cutting-edge features to help developers in creating contemporary apps. Swift codes are well-known for their security, and their programs are extremely speedy.
Swift Benefits
High safety/performance: Swift's architecture emphasizes performance improvement since it was developed to compete with Objective-C-. It was said to have a 40% greater performance at the time of its official introduction. Several studies back up this claim.
Scalability: Swift provides you with assurance that you can always add new features and grow your project easily when the need arises.
Rapid development: Swift development is swift since it is an expressive language with simple syntax. When compared to Objective-C, you can write less code to accomplish the same goals. The Automatic Reference Counting (ARC) functionality manages and tracks program memory use. Because memory monitoring and management is no longer an issue, this saves a significant amount of development time. As a result, Swift developers can create apps more quickly.
Automated memory management (ARC): The garbage collection function was added to the platform with the automatic memory counting (ARC) feature in the most current version of Swift. To remove superfluous class instances from memory, this functionality was implemented in Java, C#, and Go. While the ARC function accomplished its goals, it added around 20% to the CPU load. iOS, on the other hand, integrated the ARC capability without jeopardizing memory or CPU speed.
Error handling: Swift's superb error-handling and robust type system are critical elements in reducing crashes in commercial projects. Because of its short feedback loop, developers find it easier to identify and fix code mistakes. All of these elements contribute to the safety of Swift apps.
Cross platform support and full-stack capabilities: Swift has successfully moved to a cloud platform, with full stack capabilities and cross-device support. Swift has gotten increasingly powerful because of characteristics like code sharing and reusability, which allow developers to use it for both front-end and back-end development. Developers can create apps more quickly and efficiently.
Minimal memory footprint: Swift's dynamic libraries have a small memory footprint since they were included from the start. Because the libraries are independent from the code, they are only used when necessary. As a result, the libraries are not present in all of the files in the app project.
Easy to learn and open-source: Swift has a robust open-source community that promotes the platform and makes it simple to learn. Despite its newness, developers can find a wealth of materials online.
Swift Limitations
Small community: Despite its rapid growth, the Swift open-source community is neither as large nor as robust as that of Objective-C. As a result, experienced Swift developers' resources are still restricted. This aspect presents a barrier to new developers who require assistance.
Relatively new language: Despite being 6 years old at the time of writing, Swift is still a young programming language when compared to Objective-C, which debuted in the 1980s. Because Swift is still in its early stages, there will be bottlenecks along the road. More tools, libraries, and other resources for overcoming app development difficulties are available on well-established platforms.
Limited developers: Despite Swift's rapid growth, it still has a small number of talented programmers when compared to other programming languages. It might be difficult to locate a Swift developer.
Compatibility issues: The fact that Swift is not backward compatible poses a significant issue. The newest Swift version does not function with the older ones. A project developed with a previous version of the programming language cannot be modified with a later one. Swift, on the other hand, claimed to have overcome this problem with Swift version 5.
Popular Swift Applications
Uber
Slack
Whatsapp
LinkedIn
VSCO
Twitter
Bitmoji
Among numerous mobile platforms worldwide, the Android operating system has the most installed base. In more than 190 countries around the world, Android powers hundreds of millions of mobile devices.
For the first time, the Alliance created Android, which is built on a modified version of the Linux kernel and other open-source software.
Google initially funded the initiative; then in 2005, it purchased the entire enterprise. The first Android-powered gadget hit the market in September 2008.
Because of its extensive feature set, Android leads the mobile operating system business.
It's more user-friendly, has a significant community following, allows for greater customization, and a vast number of businesses manufacture Android-compatible devices.
As a result, the market is seeing a significant increase in demand for developing Android mobile applications, and businesses are in need of smart developers with the necessary skill set. Initially, Android was conceived as a mobile operating system.
However, with the expansion of code libraries and its appeal among diverse domain developers, Android has evolved into an absolute set of software for all devices such as tablets, wearables, set-top boxes, smart TVs, laptops, and so on.
Android Development Benefits
Faster deployment: Android apps for enterprises have a short development process that lasts only a few hours. It gives enterprises who wish to bring a new concept to market quickly a competitive advantage. Reduced Time-to-Market (TTM) is one of the major benefits of Android development.
High ROI at low costs: One of the primary benefits of Android app development is the simple availability of the Android SDK. Development teams can create interactive apps using the material design from these SDKs. However, it involves a one-time registration cost for application distribution. Following that, customers can use any computer device to design and test the product on their smartphones, assuring a cheap investment and improved user involvement. As a result, end users benefit from an engaging app, and the organization obtains a larger return on investment.
Customization: Android is an open-source platform that allows developer teams to customize it to their liking. It is for this reason that Android applications are so popular. Furthermore, the operating system enables the development of various Android apps that can be readily linked into multimedia tools and data management elements of your existing business processes. As a result, by adapting to changing business requirements, firms can gain from accessing a larger consumer base.
Easy customization: Android is a flexible platform with a high degree of flexibility and simple customization choices. All you get is an innovative and fascinating corporate app with a variety of functions. Android is a powerful operating system that can accommodate customizations ranging from simple to complicated. This platform can efficiently fulfill your company needs.
Everything Google: While many Google services are available on iOS, real integration is still lacking. With a customized Android app for your company, you can provide your app users with the benefits of Google's applications and services. Furthermore, if Google launches a new service or app, it will operate flawlessly on your Android app.
Android Development Limitations
Fragmentation: There are several devices to manage, each with a distinct resolution and screen size. This makes app design and UI development considerably more difficult. Android development teams should consider this if they want to offer a responsive app design that works flawlessly across several devices, as well as examine the effect of introducing new features, because a device failure can prohibit customers from operating the app as expected. This is why there are so many low-quality applications in the Play Store.
Cost: It can be more expensive to build with this platform due to fragmentation and a large amount of testing necessary. However, it is dependent on the app's complexity.
Testing: Due to the obvious variety of Android devices and versions, QA professionals must devote extra time to adequately testing apps on all models.
Concerns about security: Although the open-source aspect of Android is a boon for developers, it can also be a pain. While viruses and attacks threaten millions of Android users practically weekly, Google delivers security upgrades on time. Unfortunately, most individuals do not update their phones regularly. This implies that app developers must often take care of user data themselves, whether through complicated encryption, the inclusion of additional security mechanisms, or the avoidance of personal data input entirely.
Conclusion
React Native, Swift and Android are fantastic for developing mobile apps. However, depending on the nature of your project, you may prefer one over the other.
React Native is preferable for:
A small team and a restricted budget for developing an Android and iOS app.
An app that must appear the same on all platforms.
For fast development, the hot reloading functionality should be used.
Swift is more appropriate for the following scenarios:
An iOS-only app development project.
Consideration for long-term app maintenance.
An app project that calls for a significant quantity of platform-specific code.
Apps for specialized purposes, such as memory footprint management.
If you like independence, openness, and more liberty, Android is also a better option, at least in the beginning.
If everything else fails, try a cross-platform approach.