Table of Contents

[Hide]

[Show]
If you are an entrepreneur, startup manager, or business owner, you probably came across the idea to develop a mobile or web application for your company at some point. You are probably also familiar with how expensive, time-consuming and tedious this process can be, especially if you are the one developing it.
What if I told you that there's an easy, free of cost, and automated solution to this problem?
It's called Budibase!
In this article, we will be covering how to use this platform extensively.
Understanding Budibase
Budibase is an open-source platform used to build and deploy applications using little to no code! The modern platform allows developers to design, build, and deploy business apps up to fifty times faster than usual. It also provides a simple to use and intuitive interface that accommodates non-programmers as well.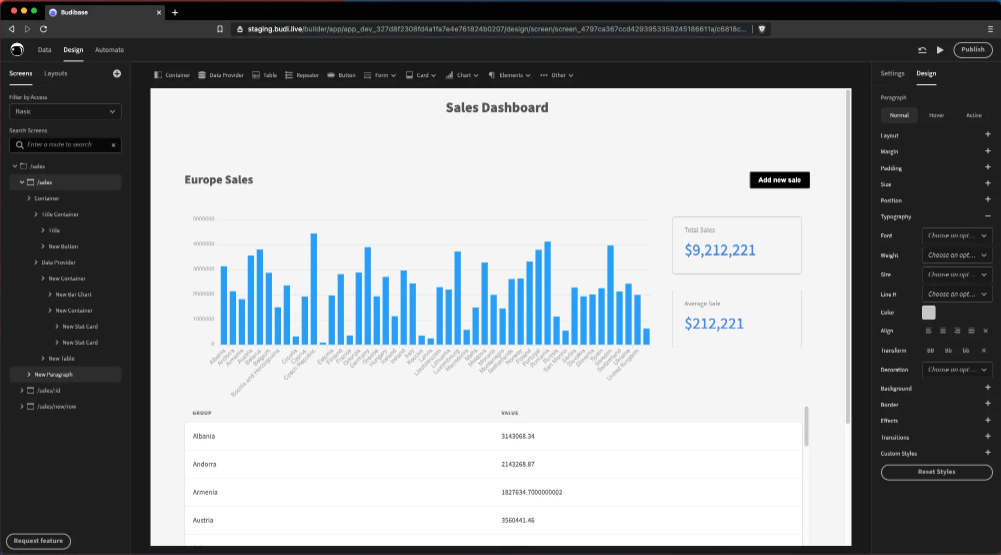 In terms of data, the platform allows users to attach an external data source, import data, or make use of Budibase's built-in datasets. Budibase proceedings are automated and allow for eased management by providing automated email onboarding, global user management, granular permissions, and much more.
It has a Github community that works diligently to improve the open-source platform and the platform's documentation is readily available online.
Getting Started
Follow the simple steps below to download and install the open-source platform.
Step 1: Gathering Prerequisites
Before installing Budibase we need to acquire node.js and node package manager (npm). It is worth mentioning that node.js automatically comes with npm. Click here to visit the official node.js downloads page and select the download according to your operating system.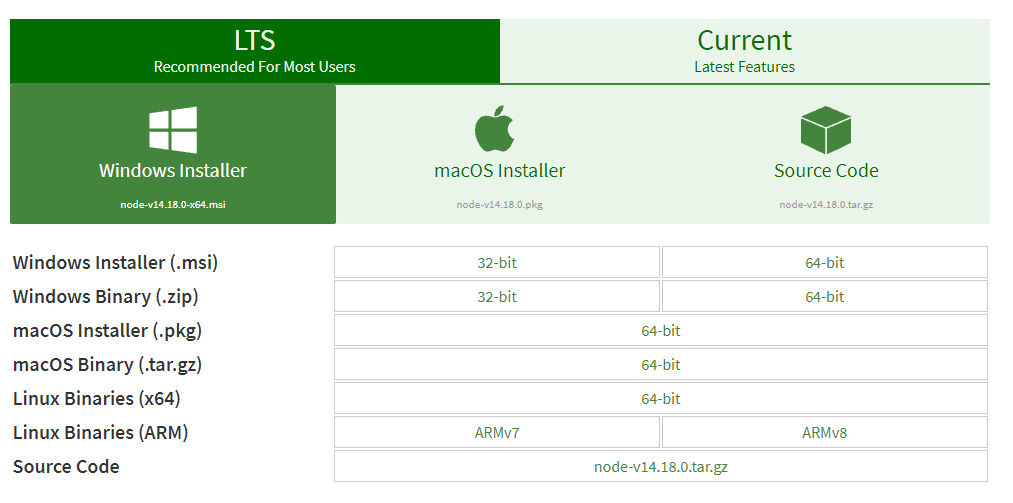 Clicking the downloaded file will start the installation wizard. The installation is fairly simple and the installation wizard will walk you through this process with ease.
In case of any difficulty with the installation, view the official documentation for installing node.js here.
Step 2: Install Budibase Command Line Interface
Budibase can be installed on a local development machine or a server machine by entering the following command on your Integrated development environment (IDE) compatible with node.js.
npm i -g @budibase/cli
Step 3: Initialize and Run Budibase
Next, initialize an empty directory to host your Budibase system by entering the following command on your IDE.
budi hosting --init
Finally, run the Budibase system with the following command.
budi hosting --start
Your Budibase installation should now be up and running, go to the URL of your new installation to start using the platform.
Step 4: Setting up your Admin User
Every Budibase installing is required to have an admin user account. This user has total control over the given installation. Simply add a username and password for your admin user to the login page of your Budibase installation URL.
After completing this step you will gain access to the Budibase portal. The portal contains a number of sections to work with our application, mainly the data, design, and deploy sections.
Using Budibase Data Section
This section of the portal is used to add and manage your data. Apps rely heavily on data and so it is important to create a data structure before designing your application. The building blocks of our structure involve tables, rows, columns, and views.
As mentioned previously, when adding a data source you can either create native sources or connect to external ones. To add a source, simply use the "+" button in the top right as shown below.
You will now be shown a number of different usable source types to select from.
You can also create a table to structure your data, to do so simply navigate to the "Components" tab inside the "Design" tab and click on "Table". Read more about adding data tables here.
Designing Your First App
Once you have completed structuring the data, you can focus on the app development aspect of Budibase. To build your first application simply follow the prompt that appears after clicking on the "Apps" section of Budibase.
Budibase contains panel sections that provide all the necessary tools to help you with your application development process. The panel on the left contains our screens, layouts, and components.
In Budibase, a screen refers to a single page. Screens can be auto-generated by creating an internal table or importing a CSV file. They can also be created manually by clicking the "+" button in the corner, next to the "Screens" title.
The layout is the master template for your content.
Components help build the actual user interface and Budibase uses a Spectrum Design System created by Adobe. The components can be found along the top of the preview window in the design section.

After adding a component you can tweak it using the hovering toolbar that appears after selecting it in the preview window.
There are a number of components available on the platform, including Table, Card, Text, Button, Icon, Image, Embed, etc. You can view the Budibase documentation to learn more about the automated process to build apps.
Deploying Your App
After successfully building your application, you can move towards deploying it. Simply navigate to the Budibase Hosting Portal, select your preferred OS, and copy the provided API Key.
Now open the settings modal window by clicking on the "Settings" icon and paste the key in the appearing prompt and click the "Deploy" button.

And that's it! You should now be able to create and deploy apps with ease.
Conclusion
Budibase as a low-cost open-source platform is not just easy to use but well equipped with features and services to help you build applications without complicated coding. I hope this guide gives you the kickstart to create and deploy your own applications using the platform. Let us know in the comments if the article was helpful and how was your experience with the platform.