Setting up a website takes a lot of effort. Teams who don't know the scope of their project end up getting lost in execution.
This is why sitemap builders are a great way to keep track of the structure and purpose of your website.
A sitemap is pretty much a list of pages that are part of your website. Many sites have user-visible sitemaps which typically show a hierarchical view of the website.
For example, a website for a company may have an About Us page, a Products page, and a Contact page, to name a few.
Throughout the years, many companies have started to offer sitemap tools that can help you plan the structure of your website.
In this article, we'll go over the advantages of using sitemap builders and look into nine of the best sitemap tools on the market today.
Why do you need a sitemap builder?
There are two main types of sitemaps. Visual sitemaps are usually used by teams to communicate how the content of a website is organized. They can be in the form of interactive diagrams or content planners that can connect to a CMS.
We also have XML sitemaps. These are essentially XML files that list all the relevant URLs that belong to your domain or website.
XML sitemap builders are useful because they can be used to help search engines easily crawl and index all the pages of your website. This can help make it easier for users to find your site through search.
Visual sitemap builders are important during the development of a website. This is especially true during the initial planning stages.
A visual sitemap gives everyone a good picture of the website's scope. They provide a high-level understanding of the hierarchical structure of the web project.
Advantages of a sitemap builder
Sitemap builders help with website planning.
They can inform search engines of what pages are relevant or irrelevant.
Sitemaps allow website owners to categorize the pages on their website.
You can set your important website to be high priority.
Visual sitemap builders help sketch out the user flow of your website.
They help organize the information you'd like to include on your site.
Let's look at nine of the best free and premium visual sitemap builders you can try out.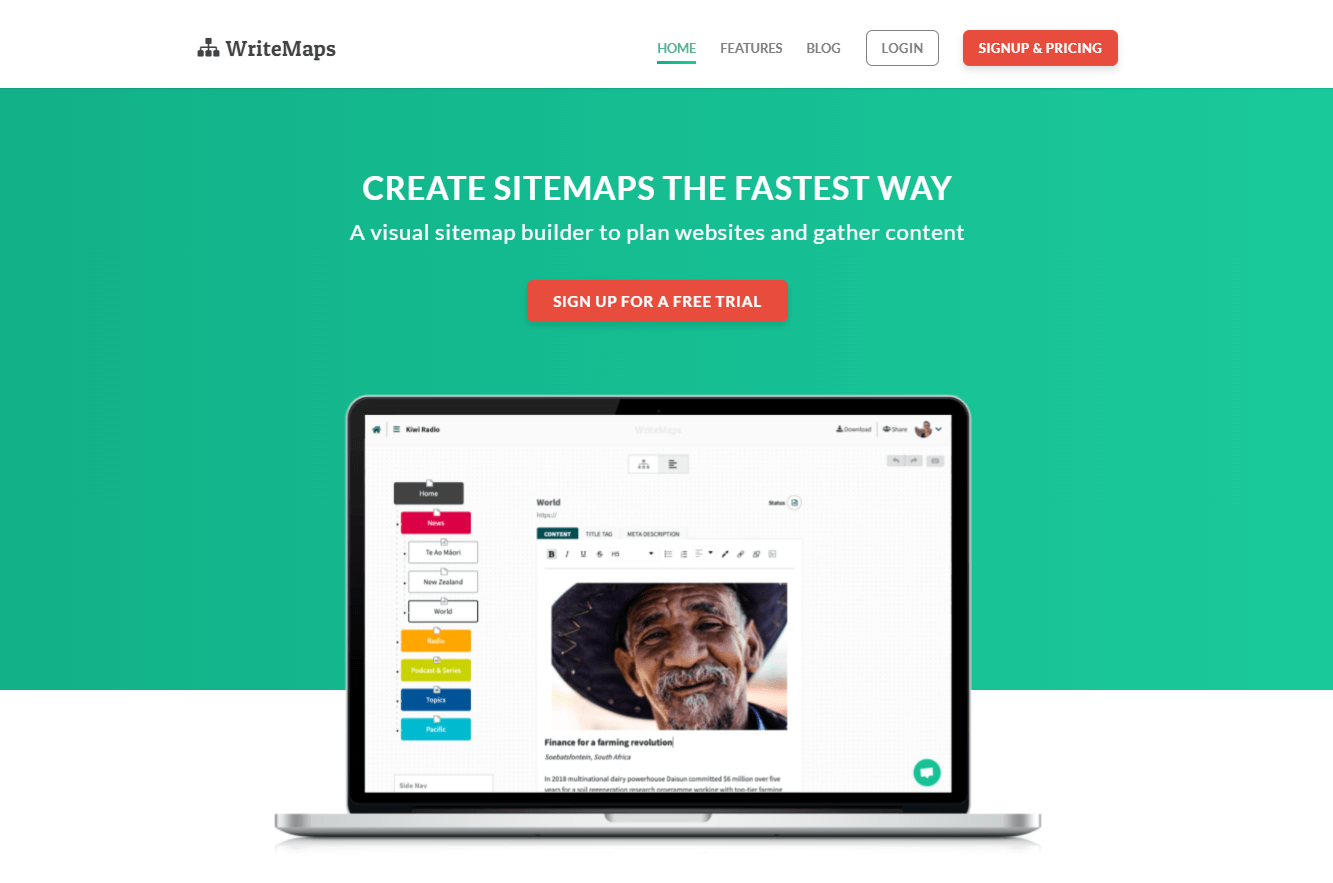 WriteMaps is a web-based platform that allows you to create, edit, and share sitemaps online for free.
Your team can build your sitemaps from anywhere without having to stick to static files or proprietary desktop applications. You can also add sections to separate groups of pages for better organization.
WriteMaps offers an easy way to collaborate. It can share sitemaps publicly with the rest of your team or with a client. It can also help you gather content for your sitemap by providing an intuitive editor that your clients can navigate quickly.
Features
Dedicated sitemap builder
Export your visual sitemap to PDF
Share your sitemap via unique URL
Create sitemap plans with just a few clicks
Create groups of pages separate from your sitemap
Pricing
WriteMaps offers a Free plan with up to 50 sitemap pages.
You can also avail the Professional plan for $14.99 a month to gain access to build up to 10 active sitemaps.
Finally, the Premium plan, which comes with unlimited active sitemaps, is $29.99 a month.

Lucidchart is a visual workspace which makes diagramming easy. It's designed to be used by teams and even offers real time collaboration on a cloud-based platform. It has dozens of available templates and tools, including their very own sitemap generator.
Their sitemap generator allows you to easily start a new sitemap diagram. They have their own sitemap shape library which you can use to build your sitemap. You can choose to build from scratch or simply choose from a variety of templates.
Lucidchart's various features, like hotspots and layers, further help users understand the structure of their website.
In addition, Lucidchart is a great choice if you're working with a team. Team members can comment and chat about any part of the sitemap to identify gaps and suggest improvements.
Features
Create diagrams from a text outline
Keyboard shortcuts
Links and layers
Real-time collaboration
In-editor chat
Cloud-based platform that works on any device
Integration with popular apps such as Atlassian, Asana, and Slack
Pricing
Lucidchart comes with three paid plans:
Individual Plan starts at $7.95/month.
Team plan starts at $9.00 per user.
Enterprise plans are not stated, but you can contact them for a quote.
Otherwise, Lucidchart can be used for free for up to 3 editable documents and access to 100 professional templates.
Octopus.do is a visual sitemap builder that allows you to build your website structure in real-time, at a super fast speed. You can start a sitemap from scratch or use their free sitemap generator to create a diagram from any XML sitemap.
Their unique content brick method gives teams a simple but effective way of creating website structure. This method visualizes each page in a website as a series of blocks.
Each block is represented by low-fidelity wireframes, which are a minimalist visual representation of a future web page.
Their clean minimalist interface gives Octopus.do an edge over its competitors in terms of aesthetics.
Features
Drag-and-drop site map builder
Page content blocks
Low fidelity wireframes
Organize page content with different colors
Export your sitemaps to PDF, PNG, XML, and more
Real-time collaboration
Pro feature includes simple project management dashboards
Pricing
Octopus.do offers 3 paid plans: Pro, Team, and Agency.
Pro plan allows you to build up to 8 projects for $8/mo
Team plan allows you to build up to 32 projects for $34/mo
Agency plan offers full control for businesses sized 10+ for $100/mo

FlowMapp is a suite of powerful UX tools that can help you create your next website. It can help you with both content planning and designing the look and feel of your user experience.
It allows you to create interactive and visual sitemaps using its simple drag-and-drop builder. With FlowMapp, you can manage big client projects, and give developers a view of the full product requirements hassle-free.
Besides sitemaps, FlowMapp also offers other useful diagramming options such as customer journey maps, personas, and user flow diagrams. If your project needs to integrate their sitemap with these other diagrams, then FlowMapp is the perfect tool for your team.
Features
Drag-and-drop pages
Library of cover templates
Add labels to your workflow
User flow diagrams
Visualize the customer journey map
Pricing
There are three paid plans: Pro, Team, and Agency.
Pro plan is $99 a year and comes with 7 active projects.
Team plan is $323 a year with unlimited projects and up to 5 members.
Agency plan is $1,313 a year with unlimited projects and members.
FlowMapp offers a free 14-day trial and special discounts for students and educational organizations.
DYNO Mapper ® is a sitemap builder solution that can help you create interactive visual sitemaps of your website with just a few clicks.
It lets you organize website projects using visual sitemaps, content audits, content planning, content inventory, daily keyword tracking, and more.
They offer advanced crawling options that can be tailored to your own website. The premium option can go up to 200,000 pages per crawl. You may also specify a particular subdirectory or subdomain of your website.
After generating your sitemap, you can use their platform to reorganize, categorize, or prioritize each of your pages. They also offer accessibility testing to assess whether your website is accessible to users with disabilities.
Features
Choose from 5 interactive sitemap styles
Google Analytics integration
Content planning and categorization
Inventory of your website's content
Content audit monitoring
website accessibility testing
Pricing
DYNO Mapper has three paid plans that can be paid either monthly or annually.
Starter Plan is $64/mo or $49/mo billed annually
Standard Plan is $129/mo or $99/mo billed annually
Organization Plan is $399/mo or $360/mo billed annually

GlooMaps is a free visual sitemap tool that makes it easy to create your own sitemaps easily and efficiently. You can move boxes around using a drag-and-drop interface.
You can export your sitemap to PDF, PNG, and XML. There is also an option to export your sitemap to HotGloo, which is their counterpart UX wireframe and prototyping tool.
Overall, GlooMaps is perfect for making a very quick visual sitemap. It may not be as feature-rich as other tools, but the fact that it is free makes it accessible to anyone who wants to start their first sitemap.
If you're working with teams, it may be best to find other options since GlooMaps lacks collaboration features.
Features
Three different sitemap views
Extensive keyboard shortcuts
Shareable URL
Available for 14 days unless revisited
Export options
Pricing
GlooMaps is free to use, no account needed.
VisualSitemaps allows you to generate beautiful visual sitemaps and screenshots of any website. You can enter any URL and get a visual architecture of the entire site.
You can select the maximum number of pages to crawl and how many levels you want the crawler to search through. On top of this, you can even create automated scheduled crawls to make sure that your sitemaps are up-to-date.
VisualSitemaps's screenshot feature can also give you a good overview of how your competitors structure their websites. After crawling, the powerful sitemap editor allows you to plan the structure of your own products.
You can search through pages and add custom tags to categorize each element in your sitemap.
Features
Cloud-based automated crawling
Drag-and-drop sitemap editing
Annotate screenshots and ask feedback from your teammates
Crawl password-protected sites
Google Analytics data integration
Pricing
Besides the Free Plan, VisualSiteMaps offers three plans:
Mini Plan is $19/month
Freelance Plan is $59/month
Team Plan is $299/month
Slickplan is a collaborative website planning suite that can help you automate website planning tasks.
It boasts a powerful sitemap generator that allows you to build your own diagrams and user journey paths. You can present and test a variety of site architecture scenarios to make sure your website offers the best user experience.
A Slickplan membership also offers additional tools which your team may find useful, such as user flow diagrams, and a dedicated website content planner.
Features
Sitemap builder with a drag-and-drop interface
Site crawler and XML imports
Content planner to organize all your site's content in one centralized workspace
Diagram maker
Design mockups
CMS plugin integration
Integration with apps such as Slack, Basecamp, and Google Analytics
Pricing
There are 4 plans: Basic, Pro, Team, and Agency.
Basic – 8.99/month
Pro – 26.99/month
Team – 53.99/month
Agency – 89.99/month
They also offer a free 14-day trial with no credit card required.
Rarchy is a visual sitemap tool that allows you to automatically crawl through any domain and generate a sitemap. Their service takes autocaptured page screenshots during the crawl and includes them in the product.
Having a visual up-to-date sitemap is a better view than looking at a website's XML sitemap, which may be out of date. They also offer a powerful sitemap editor where you can further edit the sitemap to your preference or design a sitemap from scratch.
Rarchy also offers user flow diagrams. These diagrams can help you gain a better understanding of how your users experience your product. Each symbol or page can have a relationship with up to 12 other pages, allowing you to create truly complex diagrams.
All of these features are available fully in the browser.
Features
Drag-and-drop sitemap editor.
Collaboration with permission levels
Autocaptured page screenshots
Over 200 page wireframe templates
Page search
Custom page covers have multi-device support
Pricing
Though the visual sitemap generator is free for up to 50 pages, it may not be enough for your needs.
Luckily, Rarchy comes with three pricing plans:
Pro for $12 a month with just 1 user account and 5 active sitemaps.
Team for $49 a month with up to 10 team accounts and unlimited sitemaps.
Agency for $119 a month with unlimited team accounts and sitemaps.
Conclusion
Sitemap builders are essentially a way to communicate with your teammates and with your eventual users.
Visual sitemap tools and XML sitemap generators are both great aids in optimizing websites.
Whether you are a developer, project manager, freelancer, or UX designer, you will surely find it easier to work with websites when there is an established sitemap available.
Sitemap tools vary in features, but they excel in providing a sense of structure to your website or product. This is true even if nothing has been coded yet!
Let us know which sitemap builder from our list are you picking?