A website builder is a program or application that allows you to design and construct websites without editing any code. And, without the assistance of a designer or developer.
An online website builder will not require any program downloads and will operate entirely within your internet browser.
These site builders help you set up your internet real estate so you can start establishing your online presence, which includes a unique domain name with your brand's own elements, content, and offerings tailored to your individual corporate goals.
Website builders often include drag-and-drop software that allows you to edit page components using layouts selected from a few (and occasionally hundreds) of accessible web page templates.
In this post, we'll talk about the website builder PageCloud, its capabilities, and, most significantly, how you can create a website in only four steps. Isn't it incredible?
Let's dive in.
PageCloud is a drag-and-drop website builder and software as a service (SaaS) web development platform. It makes creating attractive, high-performing websites and online marketplaces simple for individuals and companies.
Whether you're looking for a way to express yourself, fulfill your passion, or expand your business, our platform can help you get there faster and with more creativity.
You will receive a quick preview of the arrangement of your pieces using this visual method for website construction. You can also save time managing the graphic components of your website because of this.
When you start using the tool, you will realize its simplicity and power. Furthermore, it grants sophisticated users access to the back-end and the ability to update the code.
Of course, all PageCloud-built end products will be mobile-ready, running easily across all platforms and offering first-rate performance. Business, personal, or any other site you want to build is just around the corner.
Who can use PageCloud?
PageCloud naturally attracts artists and is great for portfolio websites due to its focus on infinitely configurable aesthetics and design flexibility.
PageCloud enables anybody with a browser and an internet connection to develop and maintain their own attractive websites effortlessly, from company owners to designers and everyone in between. Some of them are listed below:
Hairstyles
Musicians
Clothing store
Spa
Yoga studio
Chocolatiers
Spinning Club
Wedding photographers
Travel agency
Authors
Advantages of Building Websites Using PageCloud
Create unique domains for websites and optimize them for search engines using the SEO management tool, which offers automatic SEO to support websites in being discovered quickly online. Integration with Google Analytics offers insight into performance.
Its image optimization allows you to layer, resize, rotate, and stretch material like photographs and videos without compromising quality. Users can also use the mobile design tool to guarantee that their content is mobile-friendly.
Use one of its numerous pre-built themes and personalize it to meet your company's needs by adding unique features. You can also create a webpage from scratch and save it as a template to reuse in the future.
When creating a website, just copy and paste fonts and typography from a collection of over 2000 fonts and typography into the editor, and customize fonts from Google Fonts and Adobe Typekit.
Integration with over 70 different third-party applications to easily add social media, videos, pictures, maps, events, analytics, e-commerce, chat, and more. Instagram, MailChimp, YouTube, Google Analytics, Shopify, and other companies are among the partners.
Key Features
PageCloud tackles things in a unique way. Here are a handful of the characteristics we wanted to highlight:
1. Drag & Drop
It allows you to not only freely move components around on your pages, but also to copy and paste anything from your computer or the internet directly onto your site.
You'll save a lot of time since you won't need to use an upload button to add content to your site.
2. Apps Integration
It provides 14 distinct categories to help you develop a working website: photos, videos, socials, music, podcasts, events, analytics, chat, e-commerce, contributions, forms & documents, maps & weather, animations, and fonts.
The bulk of the integrations are as simple as copying and pasting the URL or embedding code onto a page. This demonstrates its friendliness when interacting with other technologies.
3. Automatic Image Enhancement
If you're concerned about your web presence, you're aware that sluggish images can really harm your SEO and user experience.
All photos submitted to this platform automatically scale to make sure that they load as quickly as possible and at the optimal resolution for every device, including retina screens.
PageCloud photographs are a joy to work with. Cropping them and applying filters and colors till they seem just perfect is an option.
4. E-commerce
PageCloud e-commerce allows you to market and sell your products and services.
Creating an e-commerce website with PageCloud requires third-party functionality. You can also link to a PayPal interface to make payments.
You can display your items beautifully and manage your inventory from your dashboard.
5. Drawings
It has 24 pre-made designs. It becomes appropriate to think of them as variations on the realization of publishing potential, encompassing diverse element combinations and designs. These are rough sketches that should not be taken as the final design of a website.
Yes, they look wonderful, but here's pro advice for designers: look at the elements suggested by the templates, be inspired by the concepts, configure the editor's choices, and begin your own design creations.
You do not need to consider the location of the pieces; simply participate in the creative flow and begin creating a harmonious and functioning website.
How to Build A Website in 4 Easy Steps?
Take some time before you begin constructing your company website to layout its general appearance. Decide how you want it to appear and what features it will require to suit your company goals, for example.
Once you're ready, follow these steps:
Step 1: Select A Website Template
It provides a plethora of template possibilities and styles with themes according to your requirements (for example, "Business," "Fashion & Beauty," "Art & Design," "Photography," "Product," and more).
Start with a preset template and alter it afterward for the best results. Examine different templates using the "Preview" option to make sure you select the one that is most suited to your small business.
Once you've found your favorite template, click the "Select" button to proceed to the next page.
After you've chosen your template, the PageCloud website builder will prompt you to name your website.
Select "Continue" to move to your website's "Editing" dashboard and provide a name that corresponds to your branding.
Step 2: Customize Your Website Design
Your browser will immediately redirect you to PageCloud's "Editing" dashboard once you've decided on a name for your website.
You can fine-tune various aspects of your website as needed to meet your requirements.
Start by deciding on a layout for your material. Your content will adjust to fit on all devices if you select the "Auto" option.
You can arrange objects wherever in a column with the "Manual" option, but visual changes can occur if your online visitors' devices don't support full width or height portions.
You can also change the column background and corners, as well as the section name, background, border, and padding, as well as the number of columns in the layout, as well as their height and width, using the menu box on the right side.
You'll see two icons at the top of the dashboard that allow you to customize your website's look for mobile and desktop devices.
Step 3: Add Functionality to The Website
To start creating an online store, navigate to the "Main" dashboard and choose the "E-commerce" button.
Then click on the "Create a store" button. This will open a menu on the left side of the screen with a lot of options to help you in creating and managing your digital store.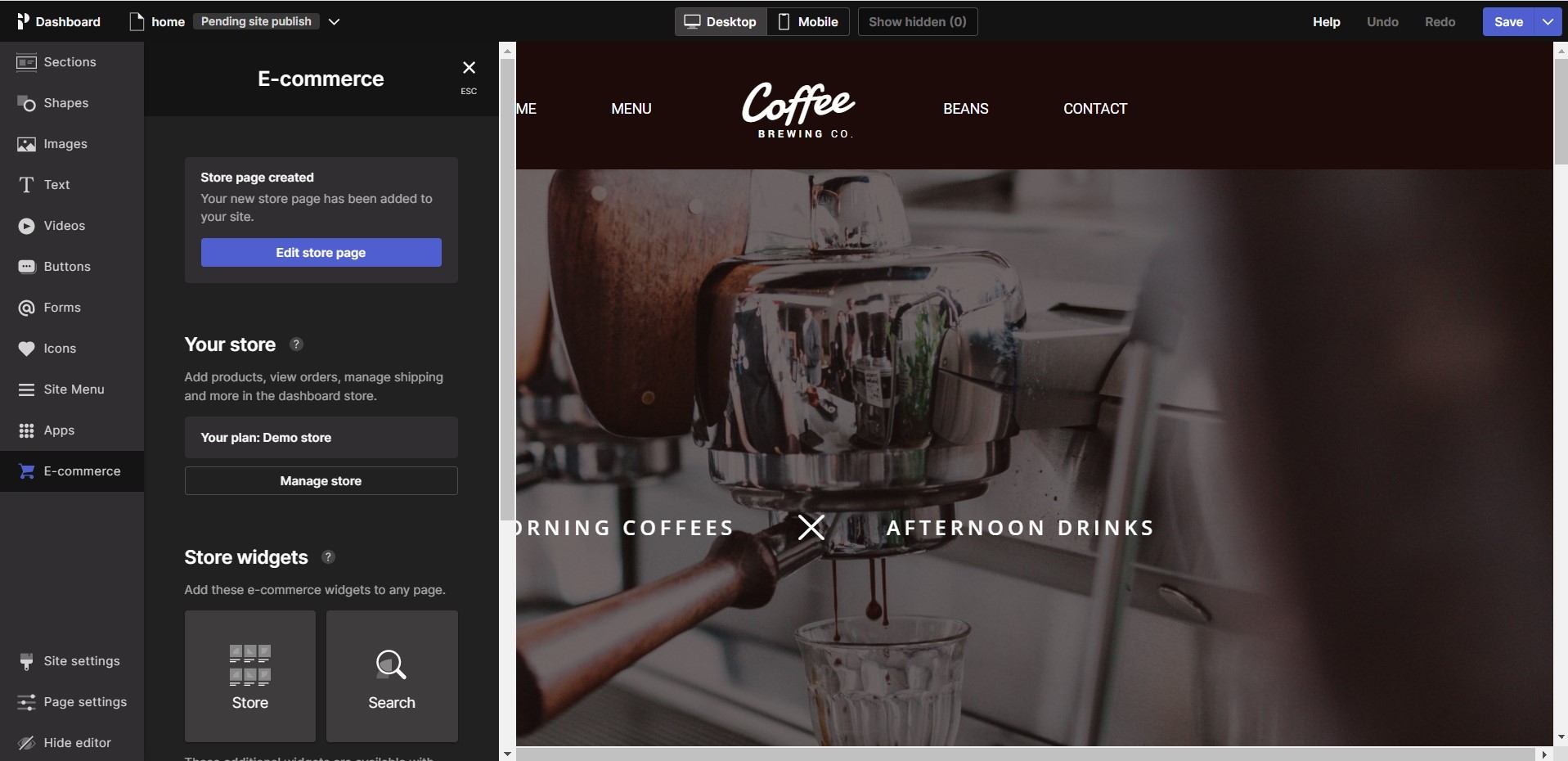 It is one of the most appealing solutions for business owners who want to accept electronic payments on their websites. Successful companies understand how to use many sales channels.
The "Sales Channels" section of the e-commerce menu provides the following options to help you make the most of your e-commerce site.
Step 4: Publish Your Website
While it offers a free trial that allows you to build your website without paying any money, you'll need to upgrade to a premium plan to publish it.
Each of these premium plans has its own set of features and is tailored to a certain user demographic.
After you've purchased a package, you'll be able to select a domain name using the website builder. You will be notified if the domain name you have chosen is not available. It's now only a matter of going live.
Click the "Publish Site" button in the upper-right corner of the "Main" dashboard to publish your website.
Your website, as well as all of your offered products and/or services, is now visible to the whole globe. Now it's time to get down to business!
Pros
Google G-Suite is completely free (including branded email).
It is the one the best drag-and-drop plus WYSIWYG editor available.
Text editing in real-time.
Individuals and corporations can simply construct and maintain websites using the platform.
Website templates with unlimited pages, storage and 100+ integrations.
Even during the trial, you get incredible customer support.
Cons
Inadequate features for some use cases.
There is just one cost option, regardless of the size of the website.
Pricing
No credit card is required for new users to receive a 14-day free trial to construct their website. Pricing is available in two sections – Website Plans & E-commerce Plans.
Website Plans
It offers two premium tiers which are listed below.
Small Business: $19/month (billed annually) or $24/month (billed monthly).
Business: $29/month (billed annually) or $39/month (billed monthly).
E-commerce Plans
It offers three premium tiers which are listed below.
Starter: $29/month (billed annually) or $39/month (billed monthly).
Advanced: $49/month (billed annually) or $69/month (billed monthly).
Unlimited: $89/month (billed annually) or $99/month (billed monthly).
Get Started with PageCloud for Free
Conclusion
You can create a high-quality, high-performance website with an effective and integrated digital storefront with the PageCloud website builder.
Furthermore, you can complete all of this in less time and at a fraction of the cost of a professional designer.
Try PageCloud and let us know how was your experience with it.