In an era where the demand for software vastly outnumbers the supply of programmers, no-code development solutions are helping a growing number of organizations in avoiding a software developer skills shortage.
Building sophisticated apps no longer require exorbitant expenses, several developers, or lengthy wait times.
No-code tools enable individuals all over the world to develop websites or apps without having to write a single line of code. These tools can help ease the workload of developers, make them more productive, and turn their focus on other critical aspects of software development.
Let's find out some of the best no-code tools available for developers.
What is no-code?
"No-code" solutions are software development platforms that enable even non-technical staff to create and deploy apps without writing a single line of code.
These tools often include a simple user interface with drag-and-drop capabilities, allowing you to see the development process and specify the underlying business logic with ease.
If you're a small business without the resources to hire a software developer or outsource to a software development firm, no-code platforms put the power of innovation in your entire organization's hands.
As an example, consider the digital transformation of your data input procedures. Data input can be a headache for any organization. After all, humans make mistakes – we're just humans, and tools like Excel can be fussy and overly complex, leading to more blunders.
You can easily create a new cloud-based application to store and use your data using a no-code platform.
No-code solutions are also a practical approach to preventing human and legacy system errors, as long as your needs are basic and fall within the capabilities of the vendor you pick.
Today, there are a plethora of no-code options accessible. As a result, selecting the best ones might be difficult.
Here's our best picks for you.
Hashnode allows developers to build a free blog linked to their own domain. So, you just need to worry about producing content on your blog while Hashnode handles everything else – customization, readership, exposure, web monetization, and so much more.
Blogging allows you to share your technical expertise and experience with the development community as a developer. It also allows you to strengthen your knowledge on every topic you write about.
Over the years, I've seen several developers create blogs from the ground up, only to map them to their personal domain and give them a unique appearance and feel. All of this is possible with this no-code tool.
You don't have to bother about maintaining or continually updating your blog because Hashnode takes care of everything. You can also modify your blog to match your specific needs, among other things.
Pricing
Developers can use Hashnode for free indefinitely. However, they can introduce a premium tier for businesses in future.
As we all know, producing really amazing, high-quality websites take a significant amount of time.
In the past, you can have needed to gain technical abilities to create superior responsive sites for yourself – or, if you're like me, you buy a WordPress theme, then you're dissatisfied with a few things, try to tweak some CSS, and wind up just ruining the theme completely.
Webflow allows you to develop, test, and deploy websites without writing any code (or simple HTML scripts if you choose to). This powerful solution makes it simple to develop responsive and visually appealing websites.
You are free to create anything that comes to mind. Rather than sketching/designing your ideas and then coding them into a finished product, you take a different approach using Webflow.
Amazon Cloudfront powers websites produced using Webflow hosted on Fastly, and do not require any extra plugins.
Pricing
Webflow features a free tier as well as 4 higher premium levels, which are shown below:
Basic: $12 per month (paid yearly) or $15 per month (paid monthly).

CMS: It charges $16 per month (paid annually) or $20 per month (paid monthly).

Business: $36 per month (payable yearly) or $45 per month (paid monthly).

Enterprise: Price on request.
Bubble makes it easy for you to design fantastic applications without having to deal with any hassles. It enables you to design your app without understanding any coding languages or learning to code at all.
You can construct dynamic, multi-user apps for desktop and mobile web browsers, complete with all the capabilities required to develop a site similar to Facebook or Airbnb.
The "drag-and-drop" user interface allows you to get in right away and not only see quick results but also have the same feeling as other drag-and-drop landing pages and website builders (though it's more complex).
You can design mobile-friendly layouts and dynamic content to build a polished product that you'll be glad to show off to prospects, customers, or investors.
Bubble also allows you to create responsive web apps as well as hybrid mobile apps. You can connect your app to external services and devices through APIs.
Pricing
Bubble features a free tier as well as three further premium tiers. The following are the paid tiers:
Personal: $25 per month if paid annually, or $29 per month if paid monthly.

Professional: $115 per month if paid annually, or $129 per month if paid monthly.

Production: $475 per month (paid yearly) or $529 per month if paid monthly.
Glide can help you in creating a mobile application in less than 5 minutes. It's made mostly with Google Sheets and is completely free (until you need more advanced features). And, you don't need any coding experience.
Glide is intended to make each app appear sleek and familiar. You can simply customize your app with a library of pre-built components that you can drag, drop, and link to data.
So, if your company or a firm you know needs an app, you can quickly make one using the tutorials available on their site.
You can also distribute programs by scanning the QR code with the camera on your phone. You only need a spreadsheet.
With a few clicks, you can link between sheets, search for data, compute, and write conditional statements, all without writing a single word of code.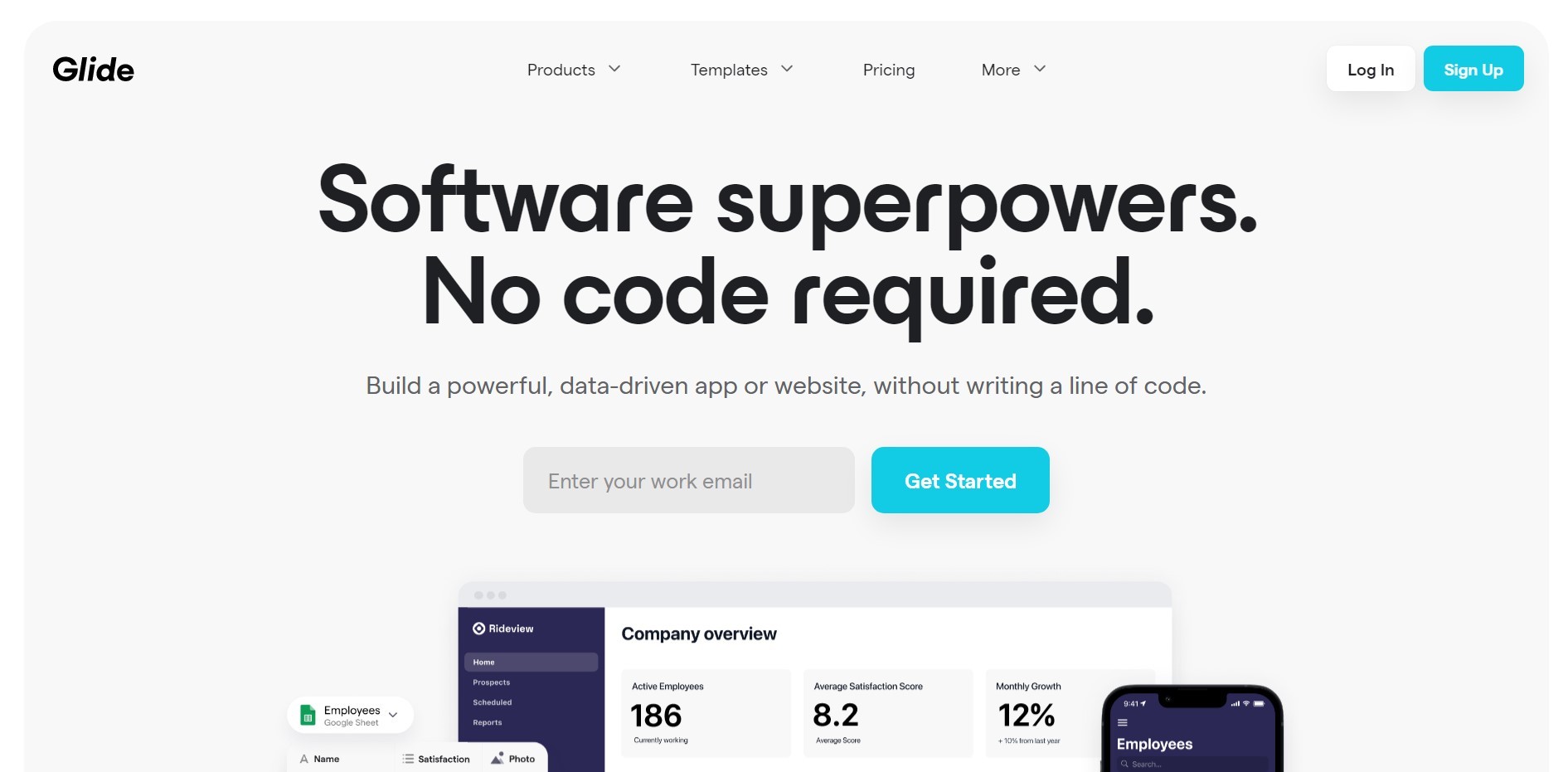 Pricing
You can start using Glide right away with the free version. It also provides three paid versions, too.
Pro App: $32/month.

Private App: $40/month with $2 per extra user.

Enterprise Apps: You need to contact them for more information.
You could consider Voiceflow if you want to have voice apps for your application. Regarding building voice or chatbots, this no-code technology is a game-changer.
Voiceflow enables you to create speech apps for Amazon Alexa and Google Assistant, which are later made available to the public. This tool offers everything you need to develop, prototype, and launch voice and chatbots without writing a single line of code.
The solution offers a simple interface that allows you to just drag-and-drop boxes to construct voice apps fast and affordably – no sophisticated code necessary.
With bespoke analytics, you can track and analyze the performance of your voice apps. You receive context-first designs that allow you to easily construct interesting contextually layered voice apps and chats.
Pricing
You can begin using Voiceflow with a free tier and two further premium levels:
Pro: $40 per month if paid annually, or $50 per month if paid monthly.

Enterprise: Contact sales to learn more.
Notion is an excellent tool for organizing your notes, papers, and projects if you're having difficulties managing your documents and tasks. But, it can do more.
You can also build a no-code website using Notion, without the assistance of any developer. You can even extend your current website or create a company website, blog, personal resume, and portfolio.
It offers a lot of embeds and tools to create a visually rich website, saving you the complications of content management systems. You will also find ready-made templates to help you build your web pages quickly. You can customize your pages with its extensive menu of visual elements.
Notion allows you to make your page public and searchable in just a few clicks.
Pricing
You can begin using Notion with the free tier, and the three other premium tiers are listed below.
Personal Pro: $4 per month if paid annually or $5 per month if paid monthly.

Team: $8/user per month if paid annually or $10 per month if paid monthly.

Enterprise: To obtain this information, contact the sales team.
It is far preferable to have your own website so that you can display as many of your non-physical things as possible. And that's where Gumroad comes in.
It's a platform that allows you to create your own website or landing page and then showcase your work. Gumroad enables developers to sell their digital goods in a matter of seconds. It also provides you with a comprehensive set of tools to help you in engaging with an audience that is interested in you and your work.
You can design your landing page to your heart's content, incorporate a follow-form, create an amazing checkout and consuming experience, and receive access to rich analytics depending on your product's usage.
It's as if you're sending your own online brochure to a customer when you use Gumroad.
It does not charge you exorbitant fees, and it provides excellent analytics to help you to understand how your consumers' act, which of your services are in high demand, and much more.
Pricing
Gumroad profits when the creator profits. As a result, the platform is free until you have over 1000 clients.
Then you'll begin paying $10 each month, or $108 per year.
Most of you have probably heard about Zapier. Thanks to Zapier, you can automate a lot of the work you do every day. If you're searching for a program to automate your job functions without requiring sophisticated code. Zapier is a terrific option.
It enables you to link your apps and automatically transfer data across them. This allows you to focus on your most essential duties rather than conducting repeated ones.
Zapier, for example, can automatically send out a personalized tweet once you've published an article. The custom element means that you can choose how and what these automated tweets will look like.
However, with over 2000+ destinations other than Twitter, Zapier can handle a wide range of automated activities for various platforms or destinations.
Pricing
Zapier offers a free tier as well as four different premium levels, which are listed below.
Starter: $19.99 per month if paid annually or $29.99 per month if paid monthly.

Professional: $49 per month if paid annually or $73.50 per month if paid monthly.

Team: $299 per month if paid annually or $448.50 per month if paid monthly.

Company: $599 per month if paid annually or $898.50 per month if paid monthly.
Coda is an all-in-one document that combines all of your words and data onto a single, pliable surface.
Coda removes the need for a disjointed network of papers, spreadsheets, databases, and specialist workflow programs to get things done, everything is consolidated and brought into one spot.
Coda includes building pieces – such as tables and buttons – as well as time-saving templates, allowing your documentation to expand and adapt in tandem with the demands of your team.
You can manage data from elsewhere in a customized way for that instance. Data can be swiftly edited, contextualized, or "massaged."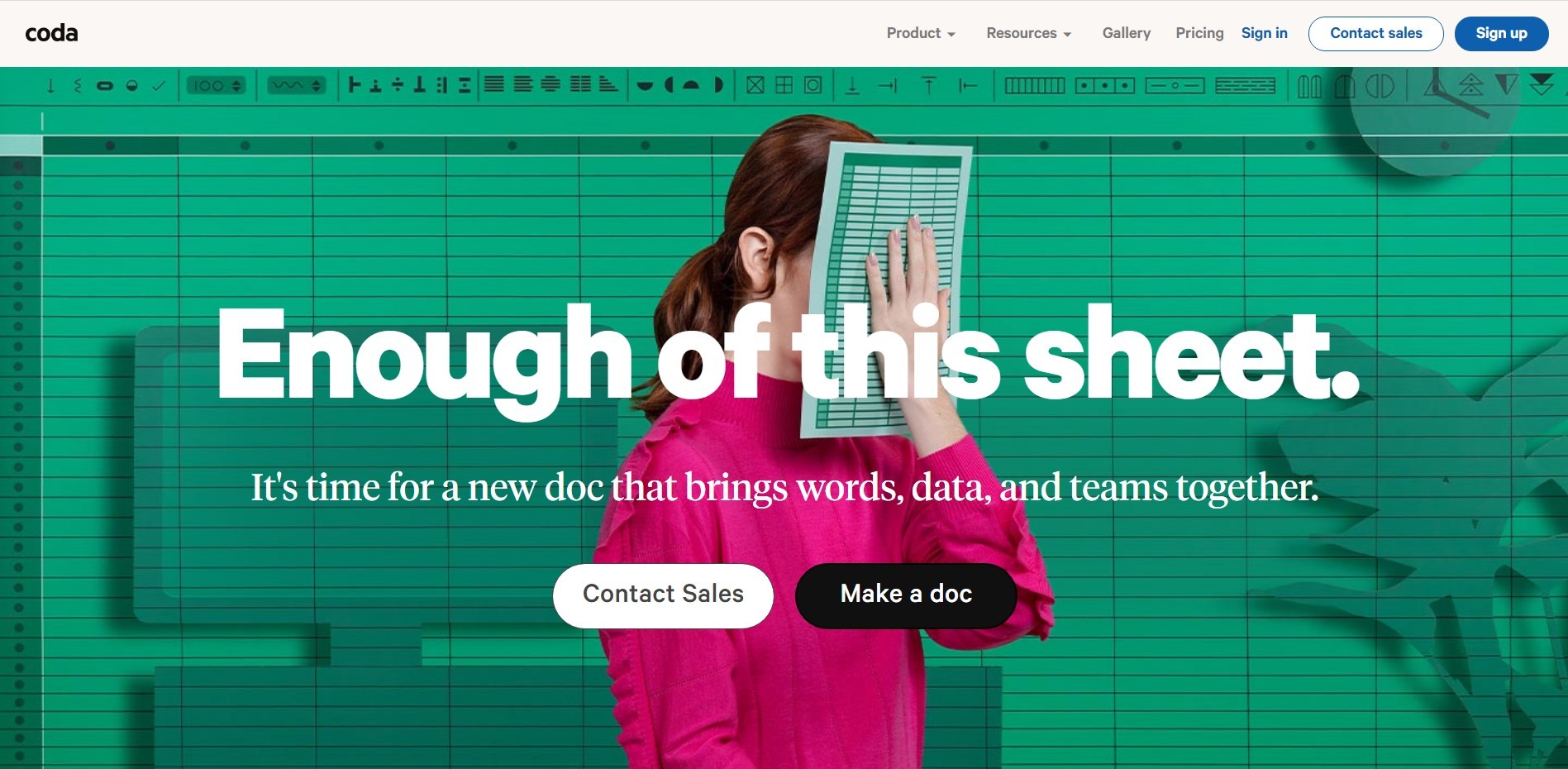 Pricing
Coda has a free tier as well as three more premium tiers, which are mentioned below:
Pro: $10/month per document creator (paid yearly) or $12/month (paid monthly)

Team: $30 per month per document creator (paid yearly) or $36 per month (paid monthly)

Enterprise: To obtain this information, you must contact the sales staff.
Shopify is a simple program for online merchants that also includes a Point Of Sale (POS) tool for accepting payments in physical locations. It enables retailers to develop a multichannel experience that promotes the brand.
Shopify helps you in taking your business online by allowing you to construct e-commerce websites that are supported by strong tools that help you locate consumers, drive sales, and manage your day-to-day operations.
You can easily construct a website and use their shopping cart solution to sell, ship, and manage your items using their subscription-based platform.
Its extensive set of features requires little to no coding skills to create a fully-functional website. Features include content management system features, payments, product additions, inventory management, customer relationship management, and more.
Pricing
You can try Shopify for 14 days for free, no credit card is required, and the three premium tiers are listed below.
Basic Shopify: $29 monthly

Shopify: $79 monthly

Advanced Shopify: $299 monthly
AppSheet reinvents the no-code industry with a simple and intuitive platform that allows you to design your own tools.
It is a no-code development platform that allows anybody with no coding skills to create mobile and web applications. AppSheet apps can be created from data sources such as Google Sheets, Excel, Cloud SQL, Salesforce, and others.
Apps are dynamic and can be used on mobile devices as well as browsers. You can use UX templates to develop maps, calendars, dashboards, and other interfaces for apps.
Apps can also use automated processes to perform things like sending notifications, generating emails, creating custom reports, and editing data from any linked source.
Pricing
Start designing and testing applications with up to ten users for free, using any plan's capabilities.
Starter: $5/user/month.

Core: $10/user/month.

To obtain the information about Enterprise Standard & Enterprise Plus, you have to contact the team.
Typeform is an attractive online survey software program that helps small company owners in creating and distributing surveys to target audiences. Within a single suite, it provides survey design, setup, dissemination, and analytics.
This survey software tool is one of the finest at combining design principles with question-building methods, allowing you to get the most out of each survey.
Typeform includes survey design, allowing users to create customized surveys using a drag-and-drop interface. There are several sorts of questions in the templates, such as short-text responses, multiple-choice questions, long-text answers, picture options, and drop-down menus. For each question, users can also upload photographs and videos.
You can distribute surveys via on-site pop-ups and push notifications. Typeform also provides analytics and dashboards, allowing customers to track performance indicators such as unique visitors, answers, and survey completion statistics.
Pricing
Typeform has a free tier as well as three premium tiers, which are mentioned below.
Basic: $25 per month if paid annually or $29 per month if paid monthly.

Plus: $50 per month if paid annually or $59 per month if paid monthly.

Enterprise: $83 per month if paid annually or $99 per month if paid monthly.
Budibase is a low-code development platform that allows you to quickly create a commercial software app. Budibase applications work flawlessly on all devices, including mobile, tablet, and desktop.
You can connect to or import data from an external database (MongoDB, CouchDB, PostgreSQL, MySQL, Airtable, Google Sheets, S3, DyanmoDB, or a REST API). You can also manipulate data within the Budibase GUI.
Budibase is a development platform built for speed and efficiency. It crosses out duplication, long development cycles, and irritation for developers. Instead, developers are more productive and happier, and they can create apps that they are proud of in minutes.
Pricing
Budibase offers three plans which are listed below.
Cloud (Beta)

which is hosted by Budibase and

Open-Source,

which is self-hosted. Both are free forever.

To get the information about the Enterprise plan

, you need to contact the sales team.
Conclusion
No-code tools are definitely the future of coding.
On the one hand, non-developers can use these to build websites, apps, and other digital solutions. On the other hand, no-code tools allow developers to be more productive and use their skills to innovate.
I hope this list gives you a glimpse into what's possible with these tools. Many of them are free to use and others come with a free trial.
Tell us in the comments which one are you trying your hands on.