Table of Contents

[Hide]

[Show]
AppSheet is revolutionizing the No-Code market with a simple and intuitive platform that allows you to create your own tools.
AppSheet is Google's new No-Code technology platform through which you can create mobile and browser apps from a spreadsheet without any prior programming knowledge as not a single line of code is used.
Impossible?
Not at all. Simply one more step in Google's commitment to democratizing technology so that everyone has access to creating anything they can think of without the need to have previously studied computer science or programming. Your creativity will no longer be limited by your knowledge.
Why use AppSheet?
There are several reasons you would want to learn how to use this tool. Let's take a look at some of them:
Empower your employees: if you are a company that wants to train your employees to achieve maximum efficiency and productivity.
Improve your company's productivity: if you work for a company and you want to implement new technologies to digitize and automate your tasks and be more efficient in your work, AppSheet can help you in many processes.
To generate an MVP (Minimum Viable Product): if you need a tool to manage your business and you want to validate an approximate idea before making a large investment in creating a custom tool, AppSheet will allow you to validate this MVP. And maybe you will end up staying directly with AppSheet, who knows?
To start a business: if you want to start a business and generate income by creating and selling applications created by you for other businesses.
To digitally manage your business: if you already have a business and you want to create your own tools to manage it in the best way possible, without it costing you too much.
To work in a team: if you manage a team and want to create a collaborative environment that can be used both on mobile and PC, AppSheet is definitely going to be your tool.
To increase your curriculum and knowledge: if you are a student and want to be an expert in the latest generation tools, start with the most relevant No-Code tool on the market.
Improve employability: if you are unemployed and want to improve your employability by using tools that are useful in several business sectors. AppSheet can tip the balance in an interview.

How does it work?
Let's think about a simple example, a real estate agency that wants to fill in forms where they collect data about the properties they are going to market and the details of their clients. In the past, this was done with pen and paper.
Then the filled-in forms were taken to the office, and in the best case, another person was in charge of entering these reports into a database or Excel.
Creating an App in AppSheet with a form for clients and another for properties and having it downloaded to your mobile phone so that each salesperson simply has to fill in the fields would take less than an hour and the advantages are incredible.
The salesperson would fill in the data from their mobile phone, they would have the option to fill in the fields themselves or with drop-down lists, which would speed up the salesperson's work a lot, and once the data collection is finished, this record would be synchronized so that in less than 10 seconds all the employees could access the information collected by the salesperson both by mobile phone and by computer and it would be completely digitalized. AppSheet in this simple case would have:
Saved the salesperson time per customer.
Increased their productivity, being able to visit more customers in less time.
Saved the company the salary of a person who had to enter the data from the reports into the computer.
Made the data accessible to the entire company in a matter of seconds.
But we can also imagine a more complex case. What if I wanted AppSheet to become my ERP and manage all my real estate processes?
Manage employee registrations
Get a dashboard that allows me to see all the information about my company on the same screen
Measure all sales, and actions performed by the company
Relate each employee to the tasks performed
Create a role system so that each person can see certain information depending on their position in the company.
Keep quantitative accounting
Have a CRM to manage all interactions with customers.
Generate reports
Email automation
In this case, creating the AppSheet app could take a couple of weeks. Much less than the time it would take an external company and for a cost that would be a minuscule part of the traditional process.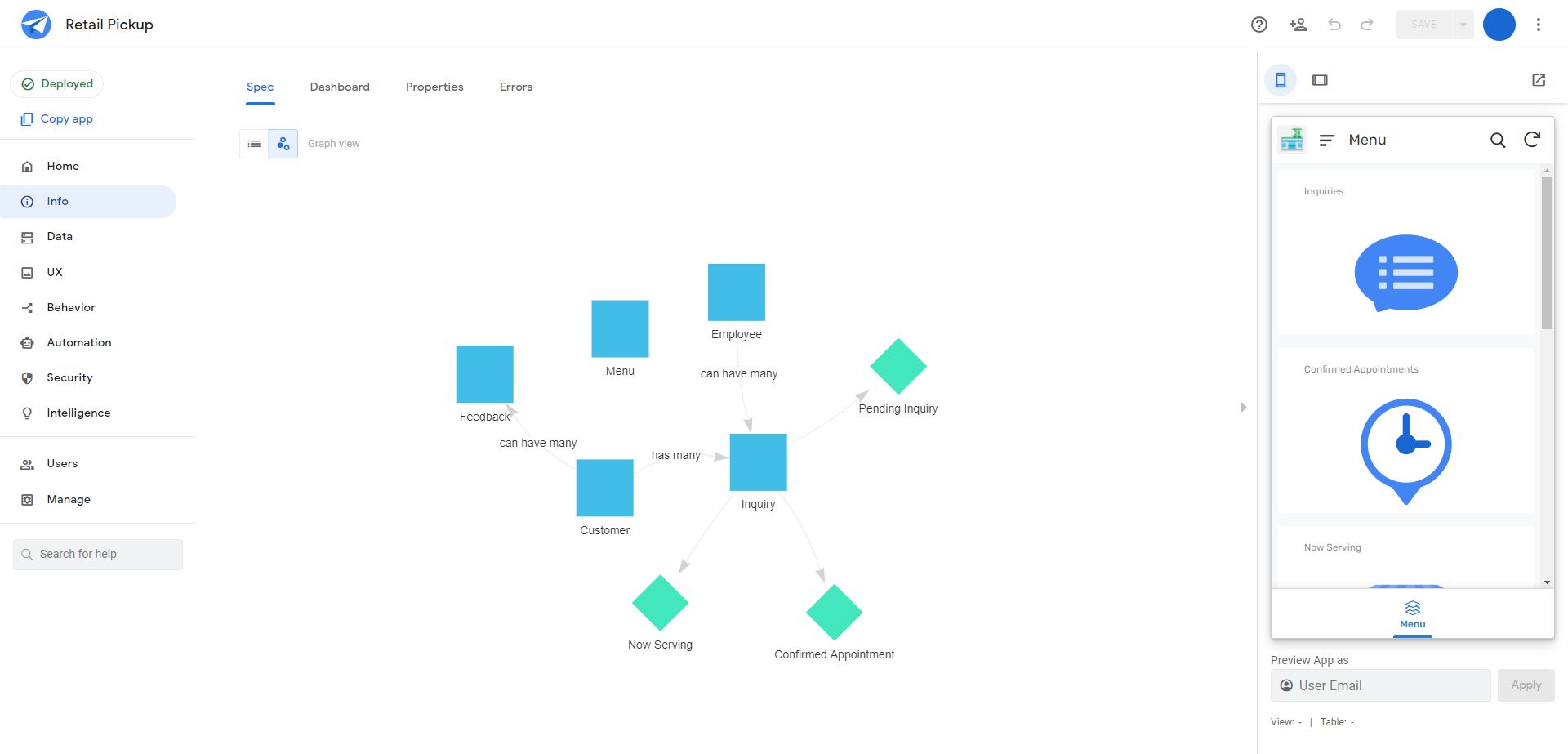 Multi-platform apps
AppSheet is a platform that allows you to create apps for both desktop and mobile (for Android and iOS). And that is one of the great qualities that AppSheet has because it is useful both for fieldwork (out of the office) and for working in the company in a fixed place with your computer.
In fact, one of the views that can provide the most information is the dashboards, which are optimized for desktop viewing. These dashboards can display a lot of information on one screen and make it simple to analyze.
Being fully accessible from anywhere makes it a very versatile tool. In a world where we want to be able to work from anywhere and consult work information at any time, the fact that it is multi-device and all information is always synchronized is a key aspect.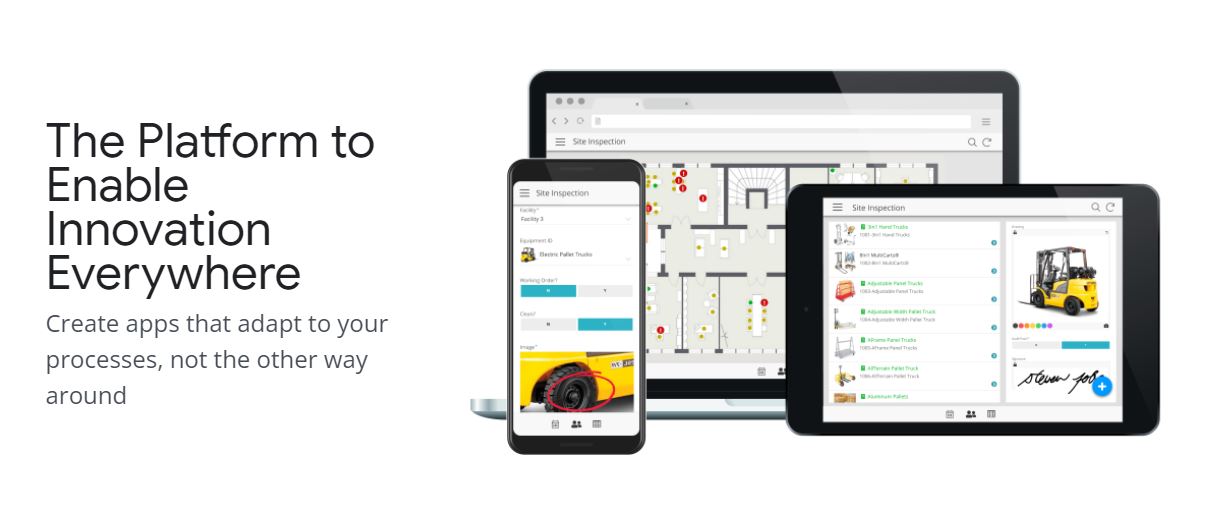 Can you publish AppSheet apps?
Absolutely! If you detect a need that can be useful for other companies or freelancers, you will have a great opportunity to publish your app in the Apple or Google shops, to gain notoriety, or to sell your AppSheet apps. However, this process cannot be done automatically from the AppSheet platform. You will have to follow the normal processes for publishing apps in the Stores. That is, create a developer account and upload it on your own.
Pricing
AppSheet allows you to create applications with practically all the functionalities completely free of charge. And not only that, it also allows up to 10 users to have that app on their mobiles, so if the processes you want to set up are like the simple example of the real estate mentioned above, you can have your team working with this tool without having to spend absolutely nothing.
For the complex case, a PREMIUM or PRO plan would be needed, which have a monthly cost of 5 or 10 dollars, respectively. The cost of these plans will vary depending on the functionalities and automation required. You also have a plan to pay per application instead of paying per user. In this case of pay per application, the cost will be $50 per App, with unlimited users.
Finally, if the application requires integration with SQL databases or similar, there are BUSINESS or ENTERPRISE plans which the AppSheet sales service has to quote directly based on the requirements.
Conclusion
Platforms like AppSheet make it easy for non-technical users to develop an app for their business, all according to their needs.
This is an important development in making technology ever more accessible to everyone and providing the benefits of multi-platform app solutions to all businesses with low effort (and low cost).