Linux isn't precisely the operating system most people think of when they think of gaming.
Windows continues to be the platform of choice for the great majority of consumers, and here is where most games are played. Games from the past never become stale.
Despite the popularity of contemporary computer games, many people are still drawn to the nostalgic appeal of classic games that evoke happy memories of playing in arcades as a kid.
Even today's younger players appreciate the classic feel of retro games, which gives them a break from today's graphically demanding games.
We will examine features, benefits and downsides, and much more in this post as we compare Batocera, Retropie, and Recalbox in-depth, also the other important aspects. Let's begin.
Batocera. Linux is an operating system made especially for old-school video games.
This specific Linux distro was developed to enable us to build our own retro computer. It is usable by desktop computers, laptops, and other nano computers like the Raspberry Pi and Odroids.
It is bootable without replacing your present hard disk and is available on a USB key for PCs. Unlike other comparable systems we can find, the Batocera system doesn't require configuration.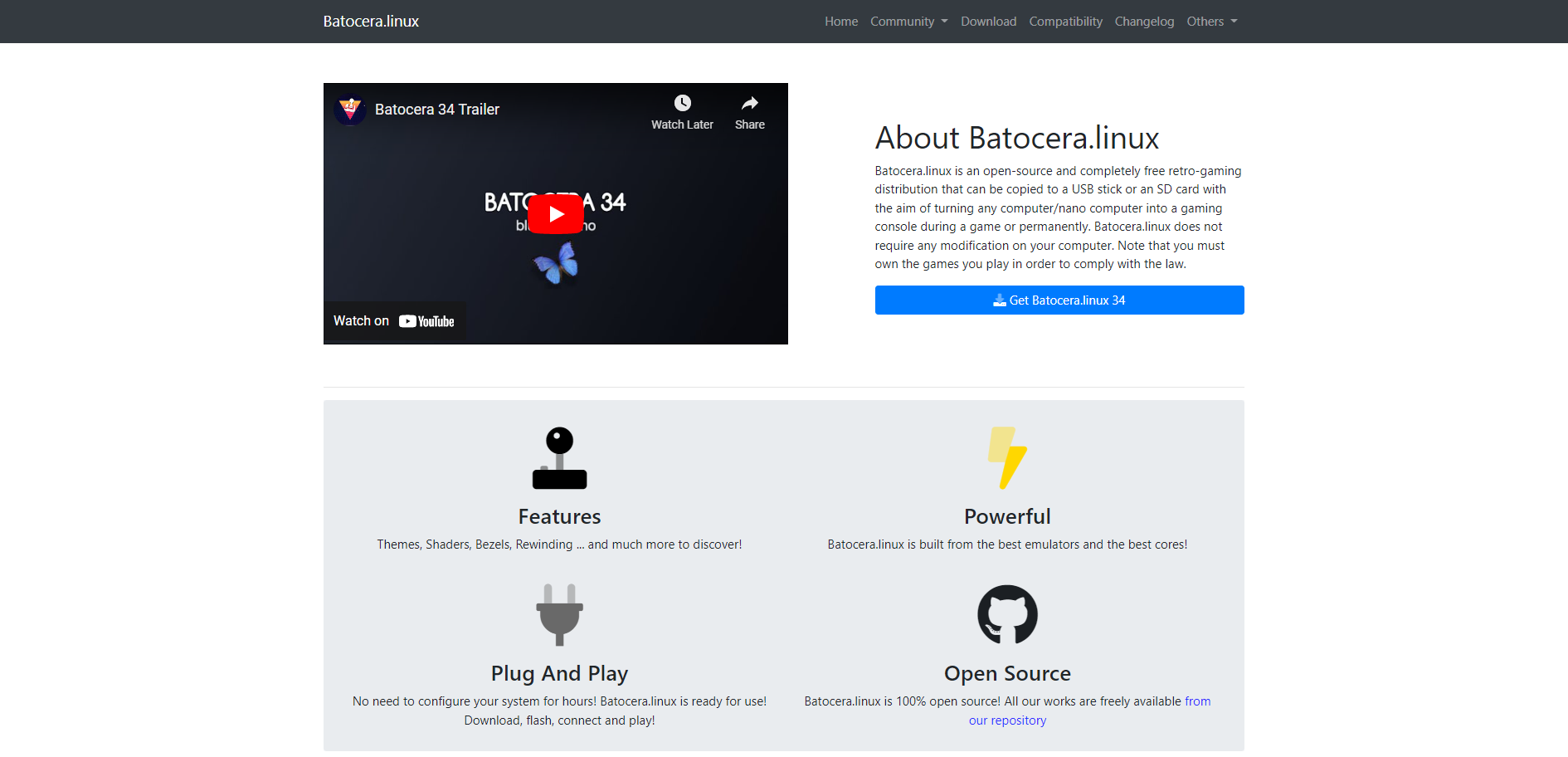 The distribution is sent in a usable state. To start playing, all we need to do is turn on the computer, install it, or save it to a USB stick.
This distribution is entirely free, and all of its development—both for the system as a whole and for any individual components—is carried out in an open manner with the source code being made accessible on GitHub.
The hardware of our PC or the device on which we load it will determine which consoles we can emulate, but if the device or PC is reasonably powerful, we will almost certainly be able to switch to the PS2.
The Linux distribution you should use if you want to play any classic game that is available is batocera.linux.
Features
Anyone can use it because it is entirely open source.

ability to operate on a Raspberry Pi or any small PC

The top game emulators and kernels are included in this comprehensive package of gaming software.

It is extremely aesthetically pleasing, with appealing themes and visual effects.

friendly to old-school gaming (more than 50 consoles, including Dreamcast. Wii, PS2)

You don't need to stop and properly turn it off because it operates like an actual console.

Can be used and played: Doesn't require a big or complicated setup.

It is practically ready to download, run, and play.
Pros
Plug and play, free

With Batocera, wireless controller pairing is really simple. Easily accessible in the ES menu as well.

It occupies far less room and places far less demand on hardware.

Every feature is readily available in the EmulationStation menu and can be modified with the simple click of a button. No messed-up permissions, no deformed configuration files scattered around.

If you update your Batocera software and discover that the current version has several faults and other technical problems, you can simply roll back to an earlier version to resume playing without any interruptions.

The OS is constantly being developed, and there is a good community on Github. You can see the true spirit of open-source in action.
Cons
It's possible to tamper with the underlying code and software, although it's not really accessible.

It can be glitchy; occasionally, Batocera prevents you from formatting your disk in any format.

Batocera's standard user interface is quite uninteresting.

The website for Batocera is not nearly as well-organized as the one for Recalbox since it lacks a web manager.
RetroPie is a retro game emulation system and management program designed particularly for the Raspberry Pi, hence the "Pie" in the name.
On RetroPie, you can play a huge choice of retro games from a number of vintage systems.
Even though it was created for the Raspberry Pi, it can also be used on devices like the ODroid C1/C2 or any PC running Debian. RetroPie bundles EmulationStation with RetroArch.
RetroArch is an emulator front-end that enables you to play classic games on gaming platforms including PCs, game consoles, and SBCs, while EmulationStation is RetroPie's graphical front-end that is largely in charge of how the RetroPie interface and appearance.
Your gaming controller's setup, theme selection, and any other settings on RetroPie are all handled by EmulationStation.
RetroPie is a free download from the RetroPie website and is brimming with amazing features.
Features
You can view movies or play your favorite music on Kodi to take a break from playing video games. You already have all the Kodi libraries you require on RetroPie.

You can already view your favorite games after installing the ROMs, but the screen undoubtedly appears dull and repetitive.

You can also upgrade the installed themes using RetroPie for better visual appeal.

RetroPie is aware that some ROMs might not function as intended with certain emulators. It provides a selection of emulators for various gaming systems as a result, allowing you to select the best emulator for your ROMs for a more enjoyable gaming experience.

RetroPie automatically calibrates the gaming controller once you plug it in, saving you the trouble of manually mapping each button to its appropriate purpose.

Shaders and Overlays are comparable to the filters you apply to your images to change their appearance to match your aesthetic.
Pros
There are several emulators to download from Retropie.

You can add unsupported software, unsupported controllers, and more.

You can run or integrate any program because you have a complete distro at your disposal.

You can install Retropie on top of a basic Debian testing installation.

It is built on top of a complete Linux distribution, making it simple to change, upgrade, and personalize anything.
Cons
The Retropie menu can be used to configure most things, however, Linux expertise is required for more complex settings.

To avoid messing up your build, it is best to make a backup before making any configuration changes.
Recalbox is a Linux operating system (OS) designed for multimedia and gaming applications.
It is based on Debian and utilizes the EmulationStation frontend. It resembles RetroPie, another Debian-based retro game operating system.
Recalbox offers you an easy front-end interface in which to store and launch all of your ROMs from a broad variety of various emulators, saving you the trouble of having to install and open separate emulators for each system before finding and running their corresponding ROMs.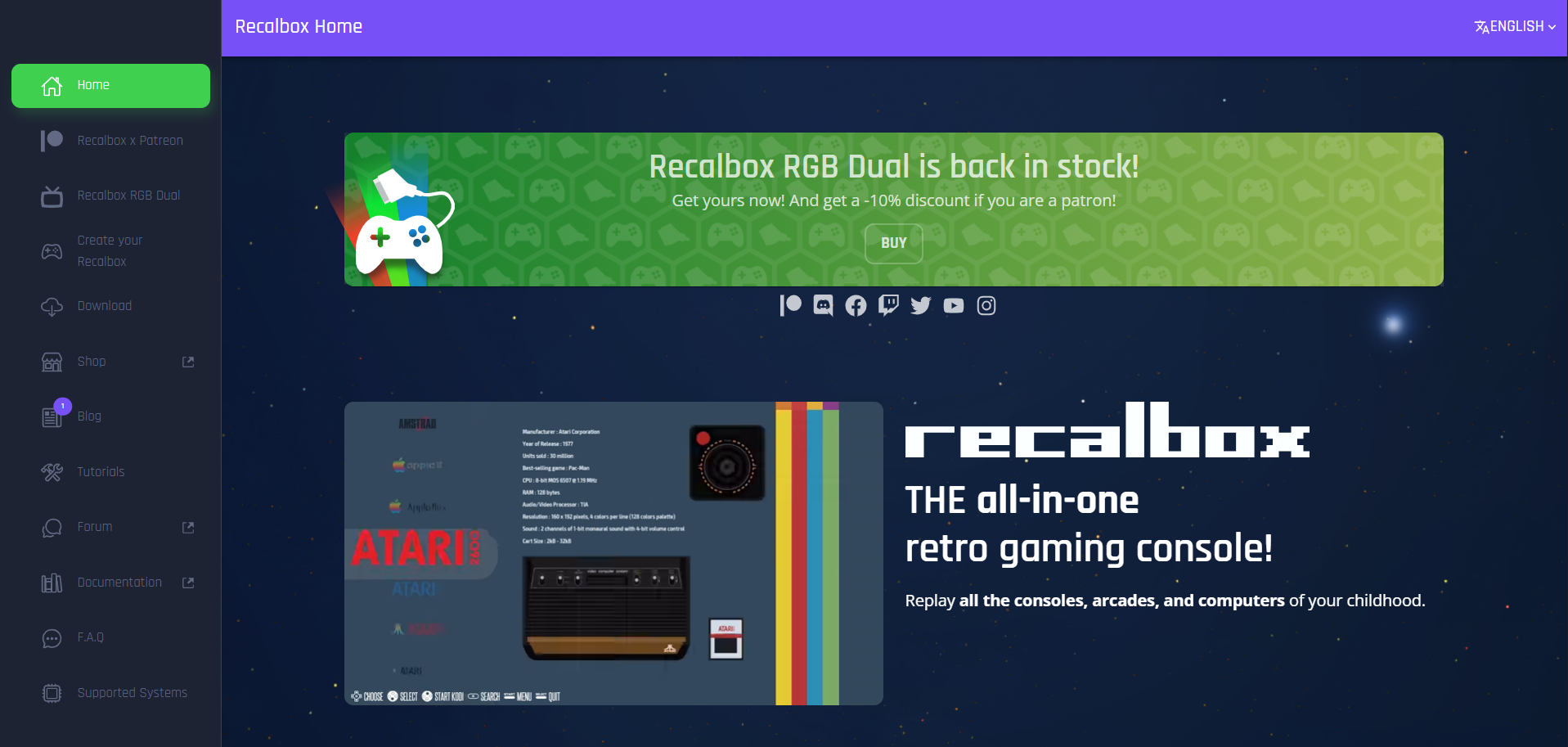 While the majority of the Recalbox program is devoted to organizing and displaying all of your retro games, it operates on top of RetroArch, which takes care of starting up emulators and playing ROMs.
Recalbox can be used as a media center in addition to being primarily a front-end management tool for retro gaming.
You can stream videos and other media files from any storage device on your network or the internet with Recalbox, which includes Kodi.
It also works well as a convenient media file management system, making it simple to navigate hundreds of movies and TV episodes.
Recalbox is compatible with both 32-bit and 64-bit PCs from a platform standpoint, but it works especially well with single board computers (SBCs) like the Raspberry Pi (all versions), and the Odroid XU4, and the Odroid C2.
Features
You can make bespoke lists of your preferred vintage games, or if this list gets too long, lists of your preferred games in a certain genre, and so on.

By adding, mixing, and/or smoothing particular aspects on the screen, shaders change how the ROM you are playing looks.

You can go back in time after dying to fix your mistakes and complete the level in one quick go.

You can also store your game's current state at any time with Recalbox.

You can share your greatness with the vintage gaming community by quickly and conveniently taking screenshots of your gaming accomplishments.

Recalbox offers the option to modify the app's appearance and feel. To get the precise look you like, select from among the many hundreds of themes available.

The expansion of Recalbox is fueled by the work of hundreds of developers, and it is continually being altered and enhanced.
Pros
It features an intuitive user interface.

It could be readily available and portable.

The majority of configuring is done through a user interface.

The system is built on top of buildroot and contains only the essential services.

EmulationStation has been modified to accommodate Recalbox capabilities, greatly simplifying the setting.

NetPlay is one of the greatest features offered by Recalbox. You can play your favorite old-school games offline or online with other players.
Cons
The system cannot be set up to dual-boot with another OS on a single hard drive.

Recalbox has a somewhat small selection of emulators, and you can't add more unless you do it yourself and compile it from the source code.
The Core difference between Batocera, RetroPie, and Racalbox
Two branches of the same program are called Recalbox and Batocera.
Both have excellent standalone functionality, but there isn't much room for personalization. Batocera is more durable whereas Recalbox is more flexible.
Both the Recalbox and the RetroPie retro gaming software can run any kind of game, but there are several key differences between the two programs.
Recalbox has a more challenging user interface than Batocera, which has a superior graphical user experience. Additionally, it has a media center with built-in titles. Different user bases are served by each software.
Although Batocera and Recalbox are preferable for beginners Similar to RetroPie, the Batocera is a Linux-based computer.
It supports all vintage gaming genres and has a sufficient number of libraries to play a wide range of games.
Additionally, Batocera accommodates a wide range of dischargeable designs. You can use the Batocera to play any of these games if you don't have any of them.
RetroArch can be downloaded and installed on the Batocera without the need to install the RetroPie program on your computer.
Batocera is less reliable than Recalbox, which also supports the N64 whereas the former does not. Also, more hardware and graphics cards are supported by newer Linux kernels than by Batocera.
You can pick either one if you want to play games on your Mac. Recalbox, however, is a better option if you're on a tight budget.
RetroPie is less reliable than Recalbox, however, Recalbox has certain limitations.
Retropie features a longer list of compatible devices and is easier to use. Recalbox has a long-term goal, whereas RetroPie only supports a small number of devices.
And while RecalBox is superior, sophisticated users will benefit more from RetroPie. RetroPie is superior if you're a power user.
Conclusion
In conclusion, Batocera is now the greatest operating system for newcomers to retro gaming.
Performance and visuals should be your primary concerns for your vintage gaming system, therefore the Batocera is the right choice for you.
Superior performance is provided by the Batocera, and the visuals are of excellent quality and have lovely colors.
Recalbox is the way to go if you want vintage gaming software with a strong community and a wealth of information. If you intend to compete online against friends or strangers, Recalbox is a need.
It's straightforward to determine that all software will be wise investments.
They all provide more vintage gaming consoles than you could possibly desire to play, as well as more retro video games than you could possibly imagine.
Which one is better will depend on which elements are most significant to you.