Meetings are what bind any organization together. Seminars, conferences, and whatever other title you choose to describe it all have the same purpose.
And that is to make sure that everyone is kept up to speed on decisions, updates, and brainstorming sessions, which is critical in any organization or corporation, large or small.
Video conferencing is an integral aspect of today's workplace culture.
With more employees opting for Work From Home (WFH), video solutions have become critical inside firms to guarantee that all employees, workers, and staff are aligned with the company's mission.
From schools and universities to mining zones, these platforms have received widespread support. As of now, video conferencing software is incredibly beneficial in all types of businesses.
It is beneficial in that it reduces travel costs, saves time, and facilitates business meetings. These tools let you hold face-to-face meetings in the comfort of their own homes or offices, for business, schools, and even family meetings.
With video conferencing software, you can expand your knowledge through webinars, keep track of your business' progress, and do a lot more. These instruments are crucial, especially during quarantine periods.
We'll go through the best 10 open-source video conferencing platforms for webinars and meetings in this article.
What is Video Conferencing Platform?
A new standard of online communication is video conferencing. It has improved user-to-organization accessibility, allowing firms to operate more quickly and effectively than before.
Video conferencing is a real-time visual communication session between two or more people, regardless of where they are in the world. Video conferencing software, in its broadest sense, is a tool that enables two or more people to communicate and see each other at a distance.
You could only make video calls or have group video conferences using video conferencing software at first. As technology progressed, video conferencing software gained a plethora of useful tools and capabilities for distance communication and learning.
Today, video conferencing is mostly used as part of video collaboration and unified communications systems, which also include capabilities like screen sharing, slideshows, recording, instant messaging, project management tools, and telephony integration.
It is rapidly becoming the new normal, altering the way we connect, learn, and work as an increasing number of firms shift to remote employment.
Let's dive into the best open-source video conferencing platforms.
Jitsi is an open-source meeting software that is free to use.
It is self-hosted and offers the highest level of encryption. This program is WebRTC compliant, allowing you to share their screens.
You can also invite your friends to the conference by simply giving them the stream's URL. Jitsi Meet now supports Etherpad, allowing you and your friends to collaborate on shared worksheets.
Furthermore, this free program allows you to record video conferences.
There is much documentation on development and deployment accessible. It is, however, developed in JavaScript, and the entire source code is accessible on Github.
Pros
It is easy to use.

It is a secure meeting room

Screen sharing available.

You can have business calls & personal calls.
Cons
The amount of time spent on screens fluctuates, which could be better.

Even when text sharing through screen sharing, takes up a lot of bandwidth.

For video calls, video quality can be enhanced.
Pricing
It is free to use for everyone.
Livestorm is a well-known open-source video conferencing software that enables teams to collaborate effectively through webinars and video meetings.
The platform provides a variety of communication options, making it suited for any business, whether it is a startup or a well-established company.
Livestorm is an outstanding open-source video conferencing software because of its simplicity, simple design, and lack of downloads/plugins/add-ons.
Pros
It's simple to add new sessions to an existing webinar.

It's simple to duplicate an existing webinar.

The signup pages are simple and straightforward.

The option to invite a non-subscriber as a co-host

The ability to send emails automatically before and after the webinar.
Cons
The ability to change which screen you're sharing without having to stop it.
Pricing
It is open-source and the starter plan is ready to use for everyone, but it also offers premium plans which are mentioned below:
Premium – $109/month (billed monthly) or $76 (billed annually).

Enterprise – For the price, please contact the vendor.
Another free video collaboration tool is BigBlueButton. It's extremely extendable and integrates well with major systems like WordPress, Drupal, Redmine, Canvas, and others.
Furthermore, this web conferencing system is scalable and has a dynamic experience that is compatible with all major browsers.
Students and professors also use this learning management system to organize online learning webinars.
There is much documentation on development and deployment accessible. BigBlueButton, on the other hand, is developed in JavaScript, and the source code is available on Github.
Pros
A robust open-source video conferencing software. It has all of the functionality found in premium software.

They transitioned from a flash player to HTML5 with amazing sound, video, and presentational elements (provided you have a stable internet connection)

It is incredibly simple to set up, implement, and use, and it has a very basic interface that allows anybody to administer it. It also has a significant community and development process.
Cons
You can't have more than 100 people in your house. If 100 or fewer people keep typing on chat incessantly, the meeting will slow significantly.

The recording began to malfunction, and the conferences were occasionally incorrect.
Pricing
It's free to use for everyone.
Sending emails, hosting video calls, accessing chat boxes, transcribing messages, picking up phone calls, and sending text messages are all things that digital employees do nowadays.
Tox promises to be a decentralized, open-source peer-to-peer chat application.
It has corporate capabilities including phone calls, file sharing, file transfer, and screen sharing, and is fully secured.
It has desktop clients for every platform, including Mac, Linux, and Windows, as well as other features. There is an open-source iOS client as well as an open-source Android version.
Pros
It's entirely decentralized.

The lists of members are dispersed and exchanged throughout the network.

The Tox protocol is completely open-source, allowing developers to expand on it in any way they see fit.
Cons
Since there is no central repository, finding a member on the network might take a long time.
Pricing
It's free to use for everyone.
OpenVidu is an open-source video conferencing program that uses WebRTC and allows for session setup.
It's open-source and free, with plenty of cool features including screen sharing, intelligent layout, video recorders, audio/video filters, and an IP camera.
It is very adaptable and can simultaneously accept video streams from several cameras.
Docker can be used to deploy it on-premises. Furthermore, the OpenVidu browser and the OpenVidu server form the foundation of this open video conferencing system.
A layered design underpins this free software.
OpenVidu is written in Java, TypeScript, and JavaScript, among other languages.
Furthermore, all of its source code is available on Github, along with the entire development and development documentation.
Pros
It allows you to share your screen.

Allows you to record limitless video calls using predetermined layouts.

There are various video conferencing options available, including one-to-one, one-to-many, and many-to-many.
Cons
Dynamic migration of OpenVidu Sessions between Media Nodes is not supported by current scalability features.

It is still not feasible to spread a single OpenVidu Session over many Media Nodes in the present state of OpenVidu Pro.
Pricing
The free version is free to use for everyone. It also has premium features which are listed below:
OpenVidu(Pros) – $0.0006 core/minute.

OpenVidu(Enterprise) – Please contact the vendor for the pricing.
OpenMeetings, the open-source web conferencing system, is the finest for online training, presentation, web conferencing, document editing, desktop sharing, and collaborative whiteboard drawing.
It supports four audio/video functions: audio + video, audio-only, video-only, and picture-only.
It allows you to record meeting sessions and download them as AVI/FLV files.
It also has a screen-sharing feature. The advanced file explorer and the moderating system make it easier to conduct meetings in all meeting rooms.
Pros
It's presentation software, as well as web conferencing, collaborative whiteboard drawing and document editing, and desktop sharing.
Cons
Since it is an open-source web conferencing program, it may be abused at any time. Upgrade the software's functionality to make it more efficient and friendly.
Pricing
It is free to use for everyone.
Nextcloud Talk is a free and open-source video conferencing software that allows you to have online meetings, web conferencing, and share your screen.
Because it is self-hosted, no metadata is leaked, and video calls are secured as well.
To identify a caller, you can also employ video verification.
Nextcloud Whiteboard is available as part of Nextcloud Talk and can be used to make presentations, discuss ideas, take notes, upload photographs, and more.
All whiteboard files are preserved with your regular files, making them simple to share with others.
Pros
With the correct tools, it's possible to collaborate remotely.

Accessibility from any device, at any time.

Templates that allow development teams to work together without being distracted.
Cons
Video conferencing software consumes a lot of resources.

The Sync app might become stuck at times (probably due to a number of files).
Pricing
It is free to use for everyone, but for an enterprise plan, you just have to contact sales.
Element is yet another free video conferencing system based on the Matrix Network. It is very secure and can be configured to work with a variety of chat programs, including Slack.
Above all, it supports encrypted video/audio communications as well as cross-signed device verification.
Furthermore, this is one of the Zoom alternatives with self-hosted features, allowing customers to host the program on their own servers.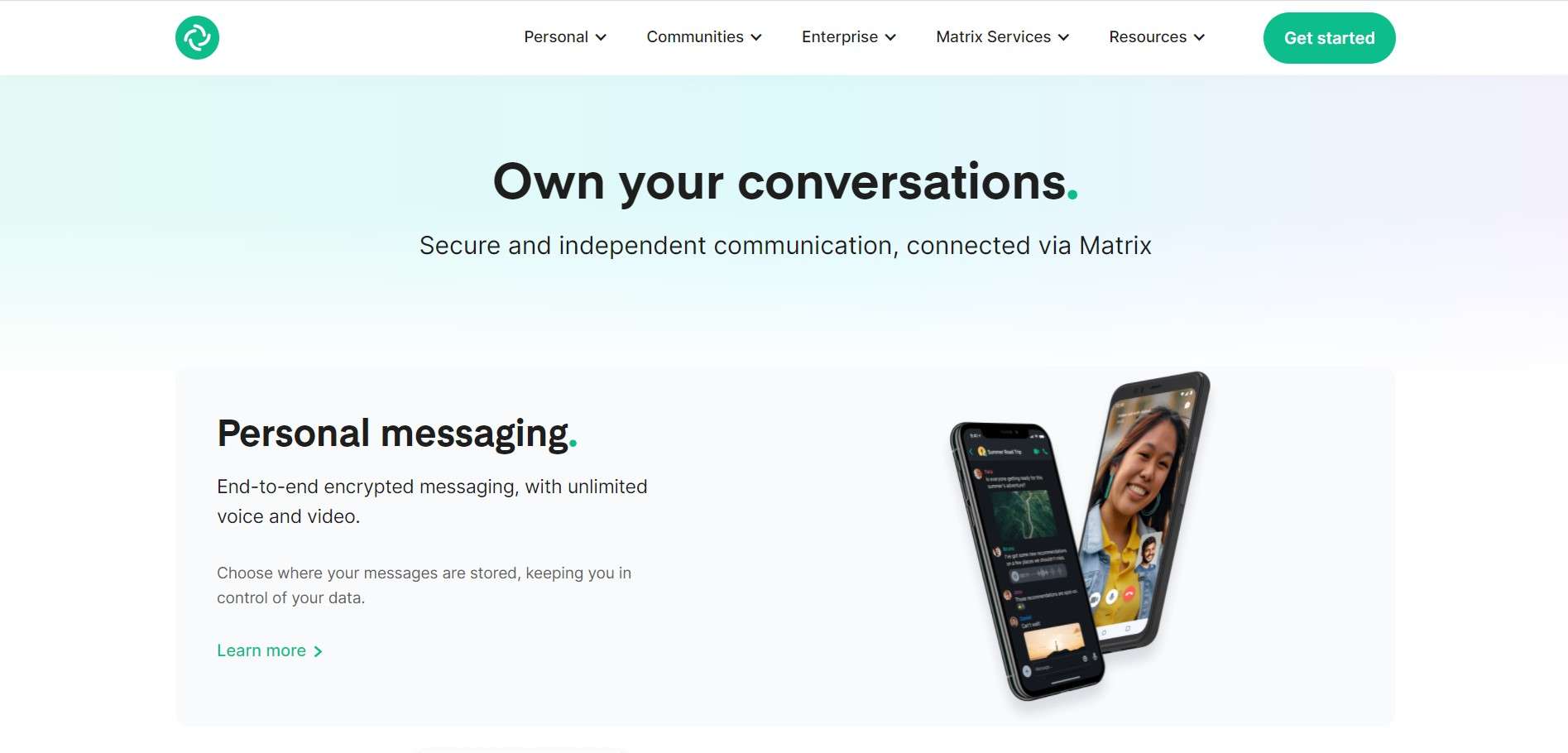 This cross-platform open-source video conferencing program allows you to manage textual conversations.
Element, on the other hand, is developed in HTML, JavaScript, TypeScript, Python, and Perl, and its documentation and source code are available on Github.
Pros
It's a fantastic communication and collaboration platform for small and large organizations alike. It is used for communication, management, and simply as a corporate or team group.

This is, I suppose, the most secure messenger ever. It's open-source and comes with a free personal plan.
Cons
The key verification process is a little tedious, and there are a lot of hoops to jump through to have everything set up.
Pricing
You can start using the software through the community plan.
Jami is a free video-conferencing program that lets you join a conference call and start communicating in less than a minute.
On one platform, you can make voice calls, screen sharing, send files, and group chat. Jami is a one-of-a-kind video communication tool that is entirely decentralized, meaning no servers are used to store chats or your data.
End-to-end encryption, distributed architecture, X.509-compliant user authentication, and the ability to use it offline are all features.
Jami has no limitations in terms of functionality, storage, bandwidth, account numbers, or members. It operates on Linux, Android, Windows, macOS, and iOS and is ad-free, reliable, and quick.
Pros
Jami is a peer-to-peer system that does not rely on a server to transport data between members.

You can communicate with anyone even if they are not connected to the Internet if you are on the same local network.
Cons
It doesn't have any drawbacks.
Pricing
It is free to use for everyone.
The wire is another excellent video collaboration tool. It has a lot of security features and is versatile.
Furthermore, for text messaging and photo exchange, this free video conferencing solution employs the Proteus protocol.
You can simply browse using a logical interface. However, for key negotiation and authentication, it employs DTLS, and for encrypted media transport, it employs SRTP.
After that, TypeScript, Javascript, CSS, and HTML are used to create the wire. Its source code, as well as for instructions for development and deployment, is accessible on Github.
Pros
Excellent audio and visual quality. Architecture that is extremely secure.

As a result, through live streaming and video conferencing, this program gives the ideal platform for collaborating with clients.
Cons
Sometimes, there is a problem with echoing from time to time. Include a feature to verify if a message has been delivered and received.
Pricing
You can start using it with the free version and it also provides premium features for enterprises and the government.
Conclusion
Video conferencing software is extremely vital in today's culture. A vast network of advantages for businesses, instructors, and students, as well as other target markets.
We've already covered the best ten open-source video conferencing software options for online meetings. It's up to you now to choose which one to use.
All of the software on this list is the best of the best among all video conferencing options.