People can live longer, more wholesome lives because of technological and medical advancements. But this raises issues and worries about overpopulation and congestion.
The necessity for residential space rises along with the population. Forests and other ecosystems are frequently destroyed as the number of houses and neighborhoods rises.
This restricts our access to natural resources, puts species at risk, and poses a threat to our environment. This issue cannot be disregarded.
Otherwise, the planet and all of its people will inevitably perish.
The human population is growing quickly. A critical mass will be reached eventually if nothing is done.
In other words, the ecosystem won't be able to sustain humans.
How can I live a more ecologically friendly lifestyle? maybe on your mind. As a potential remedy for this escalating and inescapable issue, people are beginning to consider vertical cities.
The Line, which is now being built in Saudi Arabia, will be the first vertical city ever. It fits into the Saudi Arabian government's NEOM plan for a more sustainable future. Let's continue to examine this.
So, what is this Vertical city – The Line?
Mohammed bin Salman bin Abdulaziz, the Crown Prince of Saudi Arabia, has unveiled a plan for a 100-mile-long, 200-meter-wide (656-foot) by 500-meter-tall (1640-foot) mirrored structure that would be called The Line.
According to reports, it will be a vertical metropolis and an urban utopia that can house 9 million people.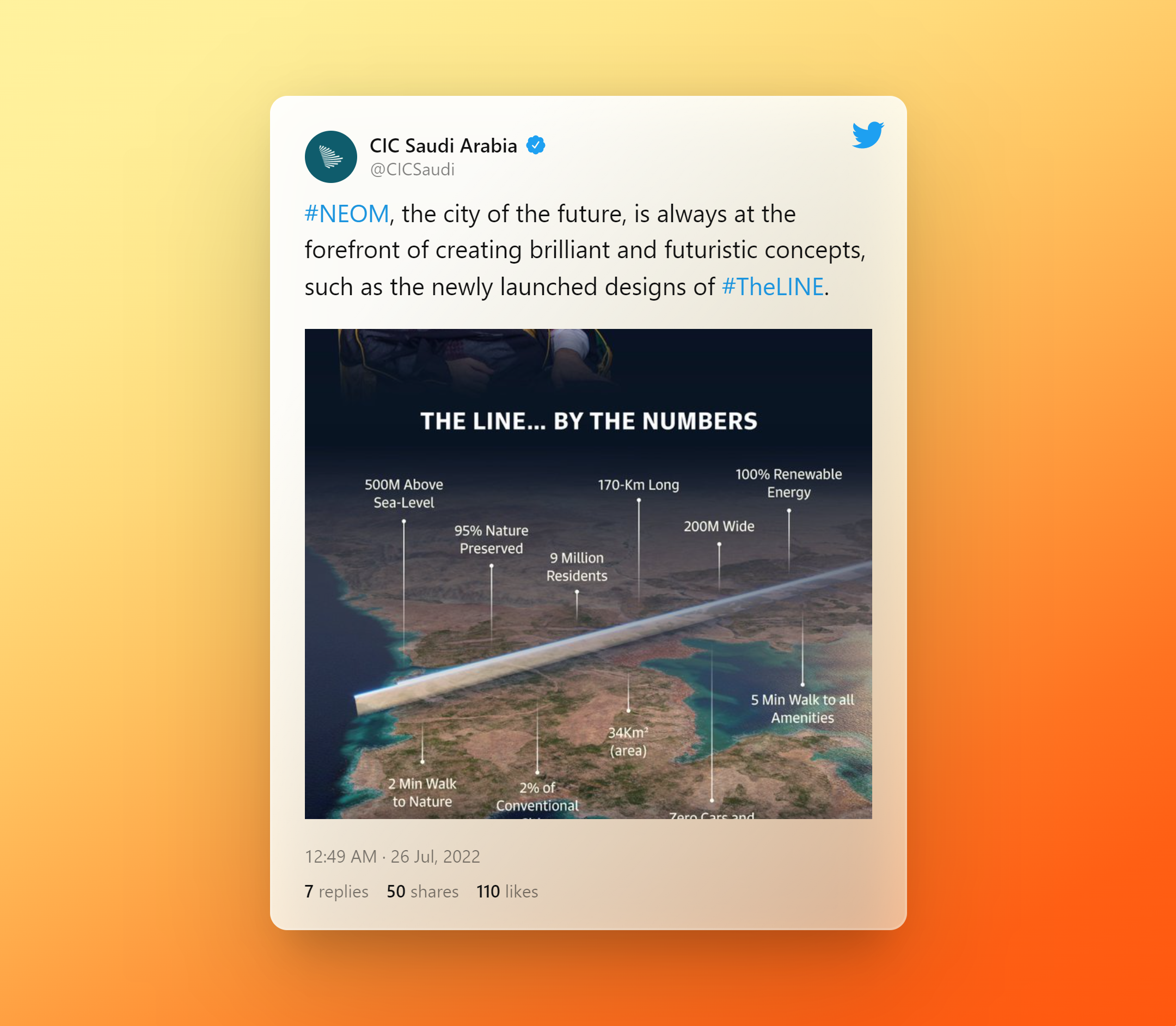 This particular project is a part of the NEOM concept, a projected smart city that was originally shown in 2017.
According to reports, The Line won't have any roads, automobiles, or pollutants since it would run and function purely on renewable energy.
Additionally, the vertical city will have a controlled environment, and artificial intelligence will be used to run everyday operations.
In this futuristic metropolis, there are even supposed to be flying taxis and robot maids.
Additionally, it has been claimed that all of the everyday necessities of the inhabitants of this vertical metropolis will be within a maximum 5-minute walk.
There will also be a high-speed train that can transport you from one end of the complex to the other in just 20 minutes if you wish to visit the other side of the building.
According to the Crown Prince of Saudi Arabia, the projects "would challenge the typical flat, horizontal towns and create a paradigm for ecological preservation and increased human livability."
The Line will examine the problems that modern urban living presents to humans and provide other ways to live.
According to Prince Mohammed, The Line will be the "most liveable metropolis in the world by far," and NEOM will replace the population's dwindling quality of living by offering a sustainable, effective, and healthy way of life.
He further stated that the major goal of the construction of Neom is "to increase the capacity of Saudi Arabia, gain more citizens, and increase the population in Saudi Arabia."
Due to the current population surge, the NEOM might contribute to the creation of 380,000 employment, which would be very beneficial.
Features of Vertical City
The Line, the world's first vertical city, is notable for the following reasons:
It will be longer than 170 kilometers or 100 miles.

Only 200 meters will separate it.

The city will be surrounded by glass walls that are 500 meters high.

It has enough space to house 9 million people.

There won't be any automobiles or roads in the city.

The entire city will be run on renewable energy.

This project is expected to cost $500 billion to develop.

The city will cover 26500 square kilometers.

The high-speed rail allows citizens to go from one end of the city to the other in 20 minutes.
When can we expect it?
Neom and The Line are a part of the Saudi Vision 2030 initiative, which was launched by the crown prince and has as one of its objectives the reduction of the nation's reliance on oil.
This is done by diversifying the economy and fostering the growth of industries like tourism, health care, and education.
The Line will be located within the larger Neom city, which was initially intended to be occupied by 2025. That idea has now been delayed by an additional five years.
Future
Uncertainty exists around whether or not the first vertical city will materialize within the ensuing ten years.
It's crucial to keep in mind that big projects like this require extensive preparation before they can be completed. Concerns about vertical living's health and safety must be taken seriously.
Aside from that, there are issues with electricity and maintenance.
Although the future holds much exciting potential for vertical cities, it is crucial to assure they are properly built.
Although it would be alluring to jump in and begin construction as soon as possible, doing so might create more issues than it resolves.
In addition to finding a solution for overpopulation and environmental damage, we also need to guarantee that it is done correctly. Any error in judgment or oversight might be harmful and devastating.
There is very little room for error when the future and lives of so many people are at stake. Vertical buildings, however, can provide the solution humanity has been searching for with the right forethought.
Conclusion
We are scrambling for a solution as the issues of population growth and environmental deterioration loom over us. The consequences of delaying action too long will be devastating and destructive.
However, going too quickly without the necessary awareness will probably be just as harmful.
The secret to making the vertical city reality is making sure it's done correctly. To prevent potential issues, it's imperative that we understand everything we can.
We can only wait for so long, though.
The Line, a 100-mile vertical metropolis that would run solely on renewable energy and emit no carbon dioxide, was recently unveiled by Saudi Arabia, and this news has excited the whole globe.