It is not only required for a developer to complete tasks, but it is also necessary to do tasks in a more efficient manner. There are several libraries available in JavaScript today that make working with variables easier for developers. We will learn how to utilize the Lodash library's most common functions in this tutorial.
If you haven't tried Lodash yet, now is the moment. Lodash is a contemporary JavaScript utility package that simplifies working with arrays, integers, objects, texts, and other data types easier.
It will assist you in dealing with various sorts of objects and will save you time by eliminating the need to code generic methods. Your code will be cleaner with fewer lines and will function in all browsers. If you aren't already utilizing it, you should carefully consider it.
Not adopting Lodash is a huge loss for our JavaScript codebases. It is a bug-free and elegant solution to common challenges we have at work, and utilizing it will only make our code more readable and manageable.
Let's delve into some of the more popular (or not!) Lodash functions and discover how extremely useful and beautiful this library is.
1. _.sortedUniq
All duplicated values will not be returned with this one. Because it is just for sorted arrays, this is mainly utilized for speed reasons. This is only useful if you are dealing with a large array. If you wish to improve speed, sort your array and use methods that operate better with sorted arrays.
Lodash has a number of other functions that are similar to this. You can look at .sortedIndex, .sortedIndexBy, .sortedIndexOf, .sortedLastIndex, .sortedLastIndexBy, .sortedLastIndexOf, .sortedUniq, .sortedUniqBy, .sortedUniqBy, .sortedUniqBy, .sortedUniqBy.
2. _.reduce
_.reduce is similar to a filter function. The only difference is that you have the option of selecting the form of the returned object. It's normal, if you don't comprehend what I'm saying; there's an example for it.
In essence, we return a new object containing users classified by age, but only for those aged 18 to 59. This Lodash helper function is one of the most commonly utilized. It's also included in ES6. I'd also want to point out two typical blunders: remember to return the result at the conclusion of the function, and supply the default value for the result as the third parameter (here).
3. _.get and ._set
For this one, I'll trick you somewhat by showing two functions that perform nearly the same thing. _.get returns a property value from an object, and _.set, well, you guessed it, set a property with a value. Nothing unique, except that you may access a property through its path.
Let us look at an example.
If the path does not exist while calling _.set, it will be generated. There will be no more "Cannot set property 'items' of undefined" errors. If the path does not exist, _.get will return undefined instead of an error. If the path resolves to undefined, you may also supply a default value (third parameter).
4. _.find
Instead of looping through an array to find a single object, we may use _.find. That's good, but it's not the only thing _.find can do. With a single line of code, you may also discover an object by utilizing numerous properties. Check it out!
5. _.keyBy
One of my favorites is _.keyBy. It is quite useful when attempting to obtain an object with a certain attribute. Assume we have 100 blog entries and want to grab the one with the id "34abc." How are we going to do it? Let's see what happens! This method can help you arrange an object collection if a server provides it as an array. A function can also be used as the second argument.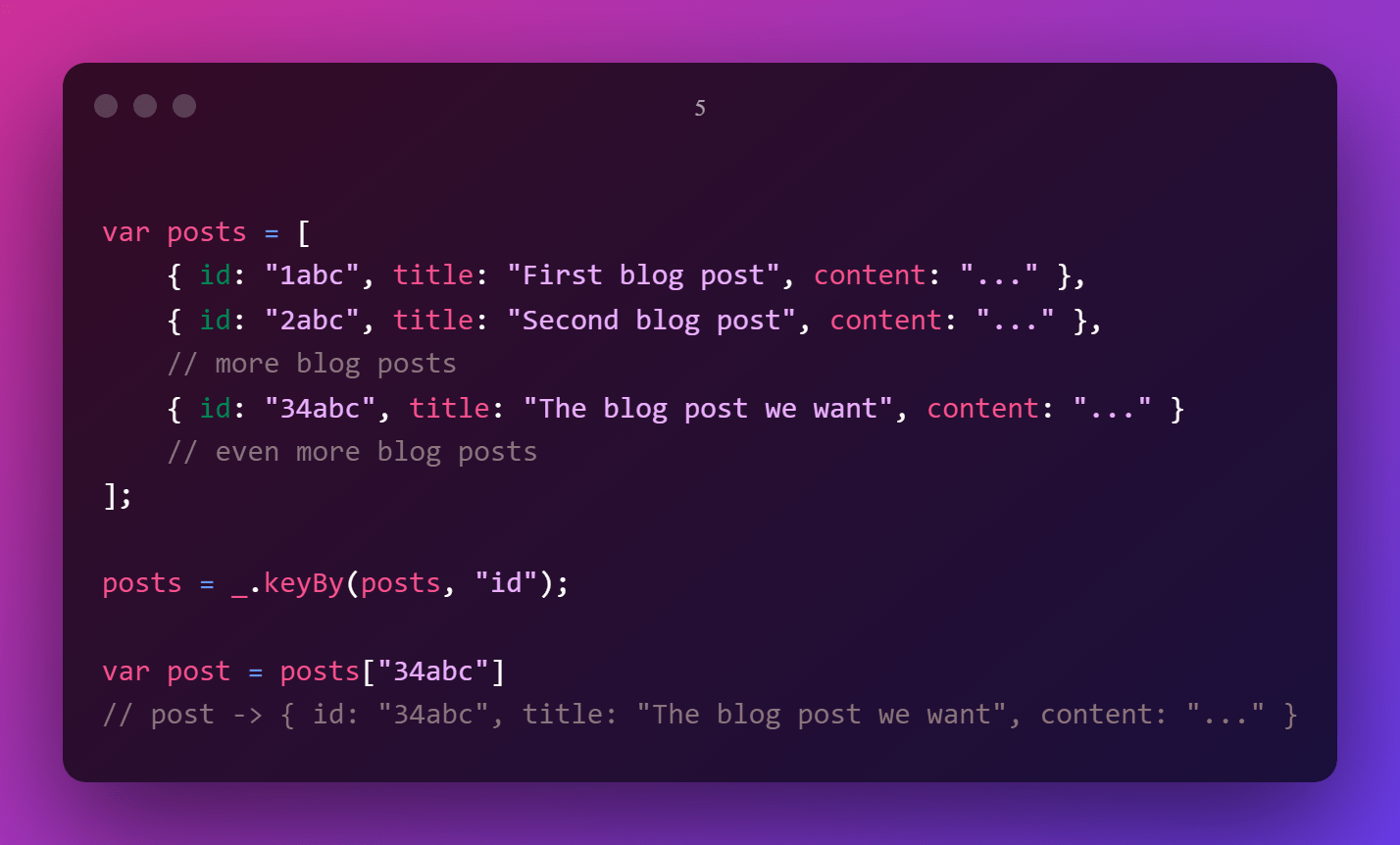 6. _.forEach
This method will iterate over an array of objects one by one, allowing you to do whatever logic you want. In this first example, I'll loop over a list of user objects, merging their first and last names to create a new property called fullName.
forEach of these accepts two parameters. The array we are looping over is the first parameter. The second argument is an iterate function, with the first parameter being the individual item reference and the second being the iteration's current index.
7. _.map
Map, like forEach, iterates across an array of values. The map function, on the other hand, returns a new array of values provided by the iterate function. We're utilizing the same collection of users as in our forEach example here. We may use _.map to generate a new variable that has a flattened array of all the users' complete names.
8. _.difference
The difference function will produce a new array of values that differ between the first and second arrays. It is vital to note that the locations of the arguments affect the outcomes.
9. _.get
The _.get() function can assist us in locating an element within an object. We can set a default value for the _.get() function to return if an element is not found at the supplied path. The _.get() function takes three parameters, the first of which is the object from which we wish to obtain an element. The path is the second. The third value is the default value we want to return if an element can not be located.
10. _.find
The _find() function may appear to be identical to the _.get() method. The _.find() function, like the _.get() method, accepts three parameters. However, unlike the _.get() method, the first argument can be an array or an object. The second argument specifies the function that will be called on each iteration. The third input is the collection's beginning index. Because the _.find() function iterates over each element in a collection.
11. _.groupBy
Create an object named by the result of a function (or a randomly selected property name), with each value being an array of objects with the same key.
12. _.set
The method _.set() is the inverse of the method _.get(). It will change the value of an element at a given path. The object or array is the first parameter, the path is the second, and the value you want to set is the third.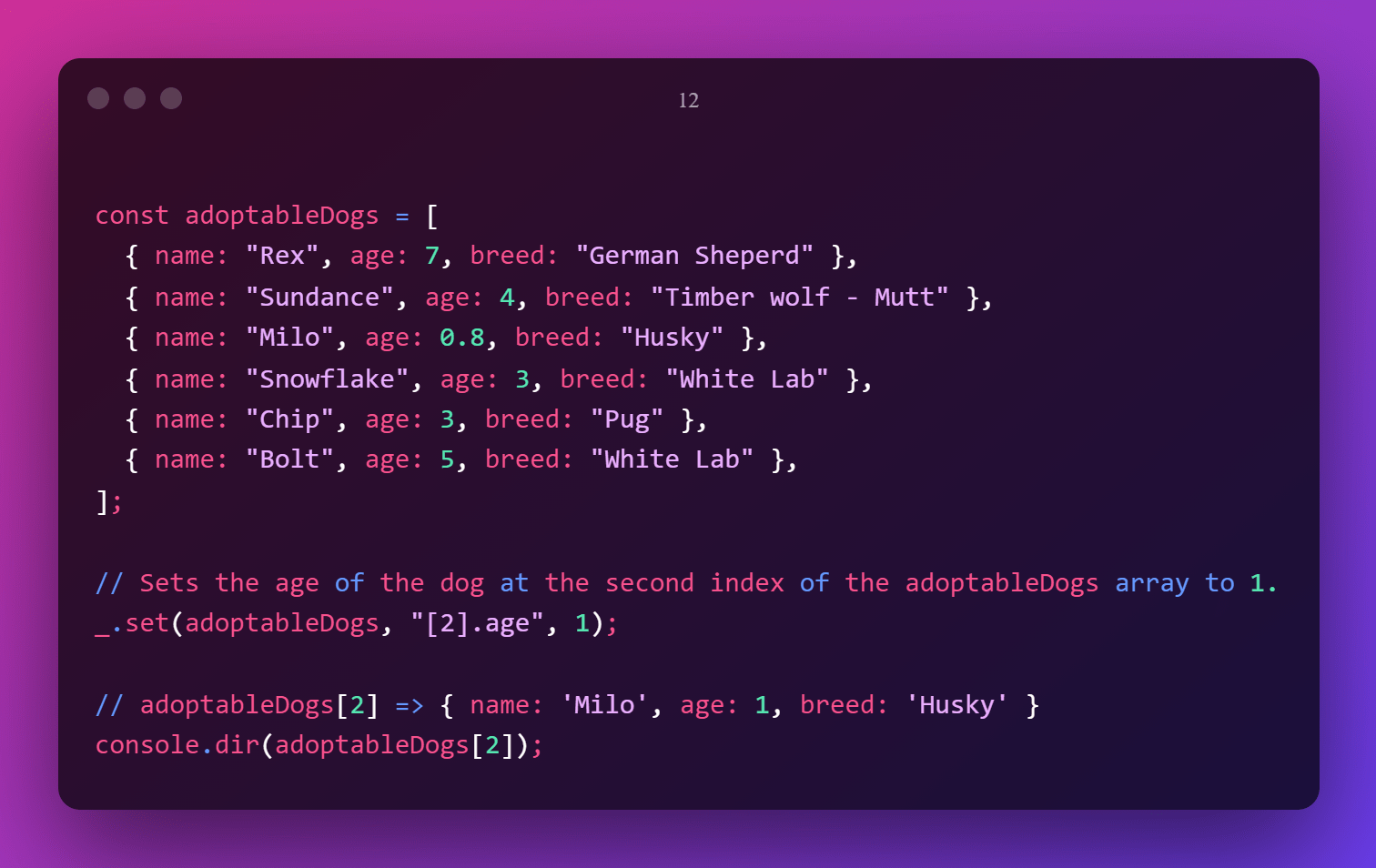 13. _.merge
It functions similarly to Object.assign, except it recurses deep into the underlying structure to update the deeper objects rather than replacing them.
14. ._deburr
This is a rather straightforward example. All "combining diacritical markings" are removed. Thus "é" becomes "e". When there is internationalization and localization, it is a good practice to deburr text for search functions.
15. _.debounce
This is one of the most effective Lodash strategies. It might also be difficult to grasp what it does and when you should use it. The _.debounce() method returns a function. The _.debounce() method's function will delay invocation until a specified number of milliseconds have passed since the function was last invoked.
Conclusion
Lodash is a powerful extension of the JavaScript language. With minimal effort, one may build succinct and efficient code. Lodash is also completely modular. Though some of its functionalities may ultimately be deprecated, I believe it will still provide numerous benefits to developers while also driving the evolution of the JS language.
I hope these few Lodash capabilities help you see how powerful Lodash can be when working with arrays, objects, and collections. You may visit the documentation to explore a plethora of other options that it has to offer.