In 2021, JavaScript was the most widely used programming language.
The appeal of this technology is undeniable, as seen by the vast number of frameworks that enable JavaScript programming.
There are Angular, React, and Vue on the frontend, as well as Express and Next on the backend, to mention a few.
With so many wonderful frameworks for backend programming in JavaScript accessible, you may be thinking why I would search for something different rather than simply using Express or Next.
Perhaps you need to jumpstart the development process quickly with a decent boilerplate, and manually adding not only new controllers but also services makes you ill.
Or you want to create large, scalable software that is simple to manage. Or perhaps you simply wish to work in a more efficient and convenient manner.
Regardless of which is true in your circumstance, Nest.js can be the perfect solution for your needs.
This post will provide NestJS insights as well as hands-on experience.
What is NestJS?
NestJS is a progressive Node framework that is open-source, expandable, and adaptable .Js framework for building, engaging and challenging backend systems. It is now the Node with the quickest growth rate.
TypeScript framework for js. NestJS is used to create applications that are scalable, testable, and loosely connected.
It adds scalability to Node. Js servers have been taken to a whole new level. PostgreSQL, MongoDB, and MySQL are among the databases supported.
NestJS is extensible because it can be used with other libraries; flexible because of its adaptable fully-fledged ecosystem. And progressive since it supports JavaScript features and design principles.
It is primarily influenced by Angular, React, and Vue and comes with built-in dependency injection.
Features
It's simple to use, learn, and master.

It's free and open-source (MIT license)

Powerful Command Line Interface (CLI) for increased productivity and development simplicity

Unit-testing programs that are simple to use

TypeScript, a tightly typed language that is a superset of JavaScript, is used.

Development and maintenance of an active codebase.

Support for hundreds of nest-specific modules that make it simple to interface with popular technologies and ideas like TypeORM, Mongoose, GraphQL, logging, validation, caching, WebSockets, and more.
What are the building blocks of NestJS?
The building components of Nest applications are listed below; there are others, but these three are the most significant. Let's have a look at them quickly.
1. Controllers
Controllers are in charge of processing incoming requests and responding to clients. It receives particular HTTP requests, and the routing system determines which controller gets which request.
It then drafts a suitable answer to send out. With the help of classes and decorators, a simple collector is built and each controller has its own set of routes for doing various tasks.
2. Providers
Providers are a key idea in Nest. Many of the core Nest classes — services, repositories, factories, helpers, and so on – can be handled as providers.
A provider's basic notion is that it can be injected as a dependency; this implies that objects can form various associations with one another, and the role of "wiring up" instances of objects can be mainly outsourced to the Nest runtime system.
3. Modules
A module is a class with the @Module() decorator that organizes the components of the application's structure. Each application has a root module that is utilized to construct the application graph, which further resolves the dependencies and interactions between the provider and the module.
This decorator gives metadata to Nest.js in order to identify which components, controllers, or other resources will be utilized in the application code and combine them into a single set.
Each module has a collection of capabilities that are connected in some way.
Getting started with NestJS
1. Installation
Let's install NestJS and make a project with it by following these steps:
The following directory structure will be created as a result of this:
2. Controllers
The Nest's building blocks are controllers. These are the locations where inbound requests will be handled. You can specify the route path using HTTP method modifiers (Get, Post, Put, Delete, and so on) decorators, as seen in the code below.
Nestjs employs the decorator approach and is mostly developed in Typescript, although it also supports JavaScript. You can also use a class validator to validate the request body.
I'm just going to make a Nestjs server instance and add ValidationPipe globally. Pipes are just methods that execute before Controllers. Pipes can also be applied at the method/argument level using the @UsePipes decorator.
3. Providers
Providers are another critical component of Nestjs. By far, I was storing data in a temporary variable. That is why such a simple task can be accomplished using Controller handlers.
However, for larger, more complicated logic, code separation and reuse would be difficult. This is when suppliers come in. You can declare/create a provider on top of a class by using the @Injectable decorator. Then, using providers, you can do dependency injection, logging, and other tasks.
4. Modules
Nestjs modules are not global; instead, they have depth.
However, it can be shared with any other modules as well. Though it, like Angular, offers Global Modules, it is more advisable to keep Services/Controllers in the module where they are most commonly used in Nestjs.
The NestCLI is used to produce modules most of the time, and providers/controllers generated in that module's context are automatically added by the CLI. These are known as feature modules.
5. Exception Filters
Exception filters are error handlers that are invoked when a Controller throws an exception. It automatically manages the issue and delivers an appropriate, user-friendly error message.
Many HttpException inherited Exceptions are provided by the package @nestjs/common, including NotFoundException, BadRequestException, NotAcceptableException, UnauthorizedException, and many others. You can even design your own ExceptionFilter.
6. Middleware
A function that is invoked before the route handler is called middleware. The request and response objects, as well as the next() middleware function in the application's request-response cycle, are accessible to middleware functions.
A variable called next is typically used to identify the next middleware function. Custom Nest middleware can be implemented in a method or a class using the @Injectable() decorator.
7. Guards
Guards are only responsible for one thing. It is their responsibility to assess whether or not a request will be processed by the controller based on specific circumstances (Specifically, user-defined logic).
It is helpful for authentication/authorization and is the recommended method in Nestjs.
Though authentication/permissions, etc., can be done using middleware, it is not done in express or other HTTP servers since they do not have a related strong context and have no reason to know which method will be used to process the request.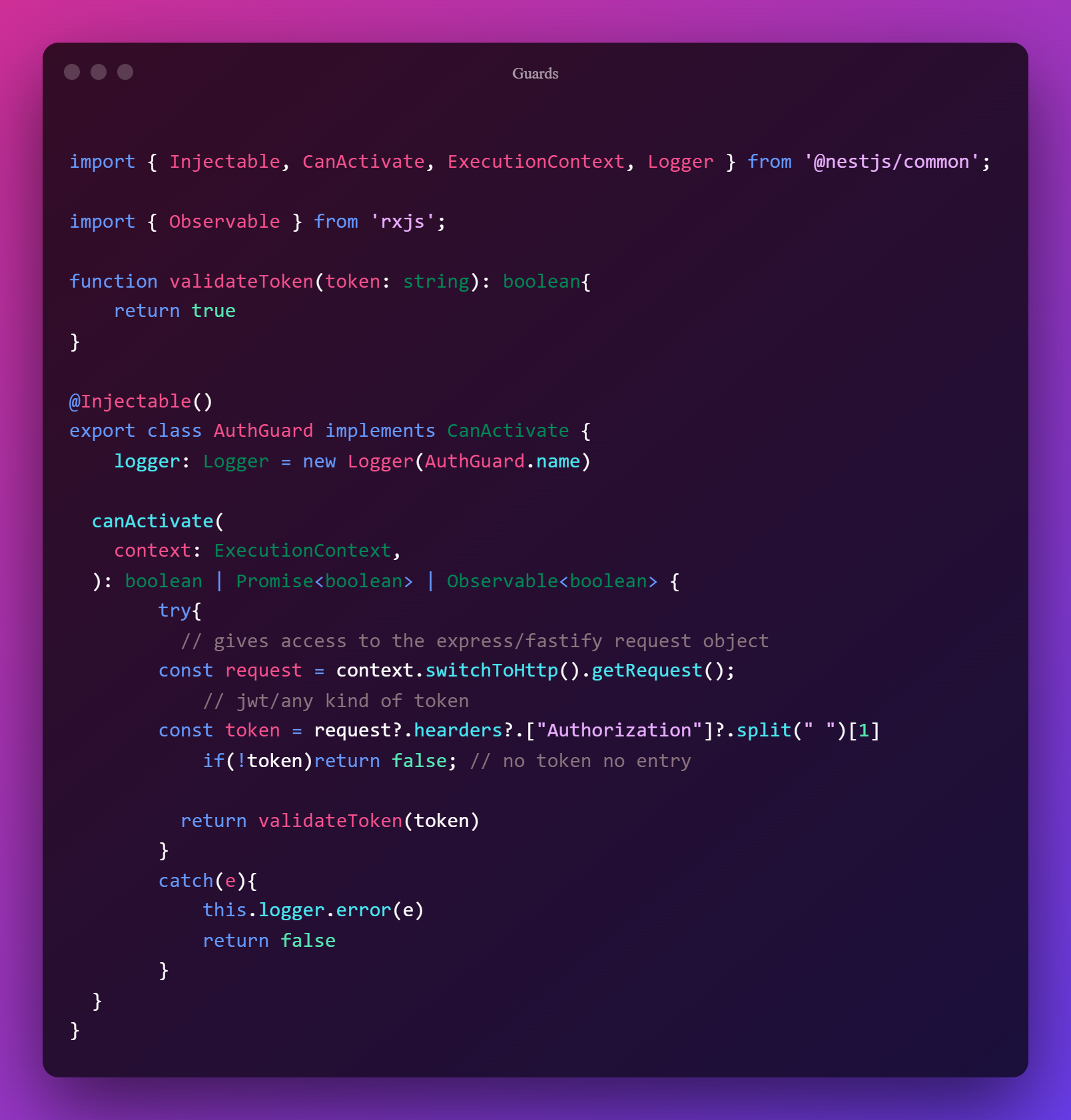 Advantages
The framework is heavily reliant on annotations, which are used to produce anything from endpoints to Swagger documentation. The endpoints are basic and tidy, and the annotations make development easier in general.

It's simple to externalize general-purpose modules and reuse code in many projects since Nest.js is a module-based framework.

Nest.js' folder structure is significantly influenced by Angular. When designing a Nest service, this allows for minimal downtime.

Components have their own directories, with the root containing the application module and main file. Because of the simplicity of the structure, more attention can be put to the design of endpoints and their customers rather than the structure of the application.

Nest, like Angular, offers a nice command-line tool, Nestjs/cli, which is available through Node Package Manager.
Disadvantages
Nest has an advantage in terms of TypeScript use and Angular integration, but it lacks the financial support of a huge corporation.

The lack of documentation poses the greatest threat to Nest users. Although the framework has excellent interactions with other frameworks, the documentation is sparse and does not address any potential difficulties.

Nest has an advantage in terms of TypeScript use and Angular.
Conclusion
NestJS provides developers with a huge leg up. To begin development, all you need to do is create a new app and you're good to go. This framework provides a significant boost straight away, while also assisting you in taking additional stages by establishing a suitable app architecture.
It makes use of cutting-edge methods and technology to produce applications that are both manageable and long-lasting. It can be used to connect to GraphQL, WebSockets, and construct microservices.