Major social media platforms are being criticized for censorship, data privacy breaches, and algorithm manipulation. The apps we use to pass the time in a queue, watch a silly video, or catch up with friends have become something more sinister— a trap.
Tech giants such as Facebook and YouTube see your attention as a commodity. After all, the more time you spend browsing, the more ads you'll see, and the more ad revenue these companies make.
With people becoming more aware of the shortcomings of these applications, users have started to try out alternative platforms. Users have started looking for platforms that compensate for their attention and for channels that do not censor content that may risk the company's bottom line.
Minds is a social network that hopes to address the issues of websites such as Facebook and Twitter by creating a new model of social media– one that hopes to take back Internet freedom and transparency.
After almost seven years since its launch, has it succeeded?
What is Minds?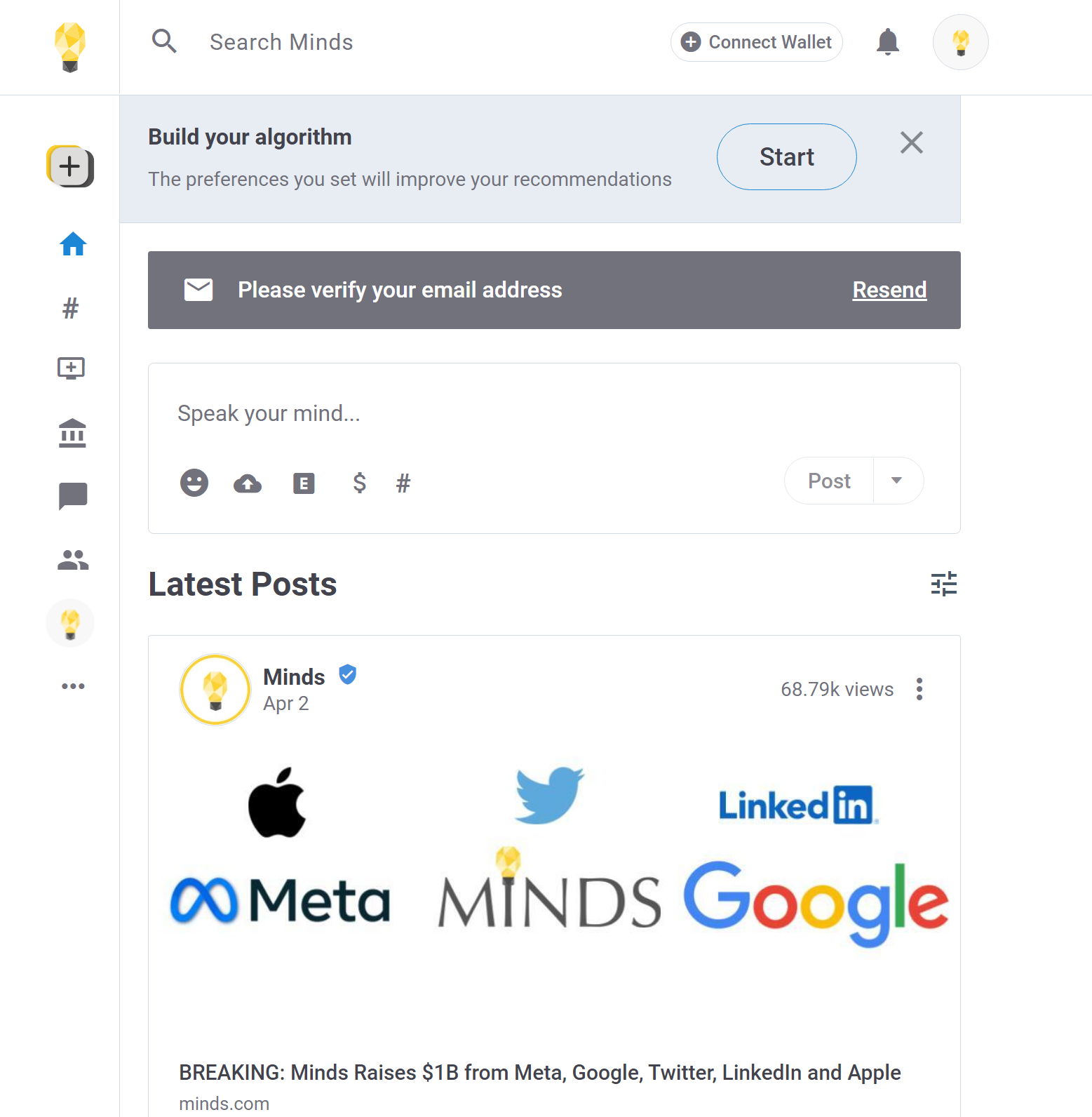 Minds is a blockchain-based social media network that was made to be an alternative to social networks such as Facebook and Twitter. It was launched in June 2015 and currently has over 14 million users and has raised over $17.4M in funding.
The platform was co-founded in 2011 by Bill Ottman and John Ottman as an alternative app to use instead of Facebook, which they believed was spying on their users and manipulating the algorithm.
Users can earn money for using Minds and can use tokens to boost their own content or support other creators. The Minds platform can be accessed through its official website and through a desktop and mobile application.
Minds claim that its platform is more privacy-focused than the more mainstream alternatives such as Facebook and Twitter. Any user can look at the code that runs Minds since it runs on an open-source codebase.
The company has received praise for its new approach as a free and open-source alternative to Twitter and Facebook. Despite this, various media outlets have criticized the platform for hosting hateful content.
A Vice article claims that Minds is becoming a "haven" for neo-Nazi and far-right groups who have been shunned from the major platforms.
Key Features
Here's a breakdown of some of the notable features available in the Minds platform.
Familiar cross-platform interface
The Minds platform has a UI that looks remarkably similar to the Twitter interface.
The news feed has similar interactions as well, including comments, shares, and likes. Unlike Twitter, however, Minds decided to incorporate both likes and dislikes into its platform. Interestingly, their version of retweets are called "Reminds".
A user's profile is known as a channel. Visiting a channel will give users the option to subscribe, browse their feed, and send them a direct message.
A unique feature of Minds is its tagging system. It is up to the users to tag content that is NSFW (not safe for work) and failing to do so will be considered a violation of their terms of use. Failing to tag content as NSFW three times will result in the user's channel being marked as NSFW.
The Minds platform can be accessed from either the website or mobile application.
MINDS Token
The MINDS token is the native digital currency of the Minds platform. The token uses the ERC-20 standard, which means its compatible with the Ethereum blockchain.
Users get rewarded with their MINDS token for creating viral content or referring friends to the platform. You have the option to either have OnChain or OffChain tokens.
While OnChain tokens cost Ethereum gas fees to use, they can be sold and held outside of the platform. OnChain tokens are stored on the blockchain, while OffChain tokens are stored on Minds servers.
The MINDS token can be sent to an off-chain wallet that can only be used inside the Minds platform. One token is equal to a thousand views or impressions.
Alternatively, users can withdraw their tokens to an OnChain wallet. This type of wallet can convert your MINDS token into Ethereum, which allows you to interact with other dApps in the ETH ecosystem.
Users can easily send tips to their favorite content creators by clicking on the Tip icon found in any of their posts. Minds also has the option to set up regular monthly payments to your favorite creators.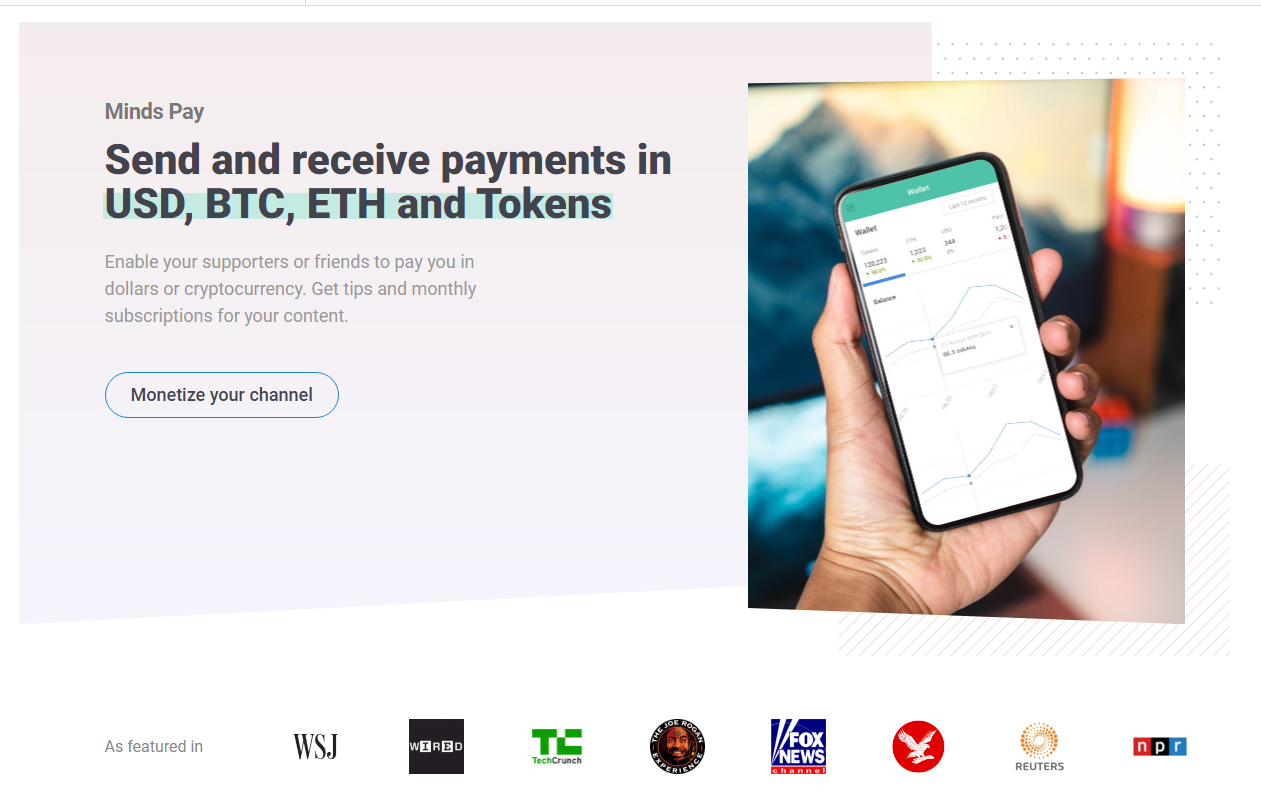 Users have the option to boost their posts by spending their tokens. At the moment each token is worth 1000 views. Becoming a liquidity provider of the MINDS token gives you the perks of automated boosts for your channel's posts.
Minds Wallet
The Minds wallet page gives you an overview of the various earnings and rewards you've received as a Minds user. Minds users can keep track of both OnChain and OffChain MINDS tokens.
The wallet page is also where you can connect the Minds platform to your Bank account to receive cash payouts.
Ad Network
Minds took additional steps to make their ad network, labeled "Boost", more transparent. Minds uses smart contracts for all their OnChain Boost transactions. This ensures that there is a public, auditable ledger of all advertising transactions on the platform.
The Minds white paper indicates that their Boost protocol is platform-agnostic and can be implemented anywhere on the web.
Minds+
Minds also offers a paid version of their service known as Minds+ or Plus. Users can pay $5 a month to unlock additional features such as exclusive content, and the ability to earn revenue for your content.
Minds claims that these monthly payments are shared directly with the most popular creators. This makes Minds+ similar to other existing premium services such as YouTube Premium, which also shares their monthly membership fees with creators.
Minds Plus also allows creators to migrate their YouTube library, allowing for unlimited HD video up to 95 minutes long.
Additionally, a Minds+ account gives your channel a badge and hides boosted content from your feeds.
Memberships
Users can easily create membership tiers for their subscribers to join. Users can specify the names of each of the tiers, how much they will cost per month, and the benefits of each tier.
Decentralized Governance
Instead of a content moderation team to check appeals for reported content, Minds has opted for a jury system.
Every time a post is moderated as either NSFW or spam, the original author of the post has the ability to appeal as to why the decision should be changed.
The appeal is sent to 12 unique active users who are not subscribed to the reported channel. If 75% of the jury votes in favor of the appeal, then the initial decision is overturned. Otherwise, the initial decision is upheld.
This system gives some amount of moderation power to the users of the Minds platform.
You can contrast this with moderation systems in platforms such as Facebook and YouTube, where content strikes are decided upon solely by the content moderation team. In a post, the Minds team emphasized that "the jury isn't about banning or removing content, it is about building a democratic tagging system."
Pros and Cons
Pros
User data is not monetized and sold to advertisers
The open-source codebase can be reviewed by anyone
Users can earn rewards for their content
ERC-20 token can be transferred and used easily with the rest of the Ethereum ecosystem
Unlike Twitter, Minds has no character limit.
Cons
Limited moderation may lead to widespread misinformation.
The platform itself may not be biased but the current user base may fit a certain profile.
Lack of content due to smaller number of users.
The chat app feels disjointed from the main application, unlike the chat features of Twitter or even Facebook.
Issues with Decentralized Social Networks
While decentralized social networks come with an array of benefits, the decrease or lack of moderation comes with negative results.
One of the main issues with platforms such as Minds is that their promise for uncensored speech attracts unfavorable companies. Hate groups and extremists, who have been de-platformed by the larger centralized platforms such as YouTube or Facebook, flock to these platforms to spread their messages.
These unmoderated platforms have become labeled as "Alt-tech" and include platforms such as 4chan, Gettr, and Parler. Many of these platforms have amassed a reputation of being a place for conspiracy theories and racist and extremist content.
Minds' Terms of Service do not prevent users from posting hate speech or misinformation. CEO Ottman says that the censorship that's happening on Twitter and Facebook is only causing extreme content to be swept aside to more hidden places. According to Ottman's vision, the best way to combat hate speech is engagement rather than censorship.
While the AI approach of Facebook and Twitter is sometimes imperfect, it has definitely curbed some of the hateful behavior found online. The same cannot be said for Minds, which for the most part stays unmoderated.
The terms of service itself is heavily US-centric, citing their constitution's First Amendment. This could pose all sorts of issues when it comes to content coming from other nations. Perhaps a ruling aligned with the UN's international covenant on Civil and Political Rights may be more appropriate, giving the platform a global standard to set its terms.
Conclusion
Like many of the young startups that have tried to battle against Facebook, Minds' main competitor is the network effect.
This is the network effect that keeps users on popular websites. After all, why should you move away from these platforms if everyone else you know is already there? Facebook, Twitter, and YouTube are by no means perfect, but they exist. And for most users, that is more than enough.
While the Minds social network was founded on the ideals of free speech, privacy, and user empowerment, it falls short in practice.
The common problems that plague unmoderated channels give the platform an extremist bent. While the jury system is a unique way to give power to users for moderation, it is an imperfect solution to a complex problem.
The Minds platform offers multiple ways to monetize and transact, and in many ways is more polished than its competitors. However, it is at risk of alienating users who do not wish to pay for a Plus membership.
Skipping a monthly fee means losing the ability to earn rewards from interacting with posts and being subjected to Boosted posts on your timeline.
Despite its shortcomings, Minds serves as a stark reminder that platforms such as Facebook and Twitter are imperfect. What Minds does best is what these popular platforms are sorely lacking – transparent codebases, lack of data mining, and the willingness to embrace decentralized technology.