Every day, over 500 million tweets are sent out – not all of them from human users. Indeed, if you've ever retweeted an item on Twitter, the odds are that the message was sent by a bot rather than a human.
According to a Pew Research survey, suspected bots disseminate two-thirds of all tweeted links. It's critical to understand what a Twitter bot is as bots become increasingly common on this popular social media network.
It's possible that you'll need to know how to create one. Because bots, can automate some or all of your Twitter activity, it can help you speed up your Twitter marketing approach while also saving time.
In this post, we will closely look at what are Twitter bots and the 20 best & most useful bots that you can use to save your valuable time.
What are Twitter bots?
A Twitter bot is an account that has been programmed to do tasks such as sending tweets at a set time or following accounts. The Twitter API is used to construct and manage these bots.
Twitter bots can help you develop an active presence on one of the most commonly used social media networks in less time by automating key operations.
You can schedule tweets to go out when you're not online using a bot. Responses to new followers can be automated. You can retweet information that has a certain term or hashtag. You can follow and unfollow accounts, among other things.
It can also be programmed or automated to carry out a single or a series of tasks. It can tweet, retweet, like, follow, unfollow, and DM other accounts on its own.
Most Useful Twitter Bots
If you're a frequent Twitter user who gets caught up in extended Twitter discussions, here are three words to remember: App for reading threads.
By integrating all tweets in a thread to form one big post, this bot makes it easier to sift through large Twitter threads, or as many people call them, tweet storms. On Twitter, this is referred to as "unrolling a thread." The character limit on Twitter is 280 characters.
This allows an author to share their thoughts on social media, but it also limits their capacity to convey themselves in a single tweet. The Thread Reader App is a godsend for Twitter users who enjoy reading complete tweets.
When you unroll a thread, the bot will show you the author's tweet on a single page. All you have to do is stick to this procedure. Mention the Thread Reader App in the author's comment field, and then write unroll. (Unroll @threadreaderapp).
Thread Reader App will provide a link to the thread, which will display all of the tweets in a blog format that you can bookmark or save as a PDF on your device.
Pikaso is a Twitter bot that is one of the most useful. This is a great application to use if you want to snap screenshots of tweets on Twitter and share them on other social media networks.
Mention Pikaso using @pikaso me and the words screenshot this whenever you wish to capture a tweet. It will provide you with a link to save the screenshot on your device.
You can also change the look of the tweet screenshot to fit your preferences. It also provides a handful of subscription options that include API access, automation tools, and a few other extras.
Colorize Bot uses artificial intelligence to turn black-and-white photographs into colorful equivalents.
Colorize Bot can transform a black-and-white image into a colorful image if you have an old black-and-white image that you wish had colors in it—or if you come upon a tweet with a black-and-white image.
To do so, simply mention the bot by its handle (@colorize bot) underneath the image you wish to colorize. You can also tweet an image and mention the bot to have it turned into a colorful version.
You can then save/download the colorful image on your device or bookmark it on Twitter after the bot returns it.
You may come across tweets when reading through your Twitter feed that you'd like to revisit later, perhaps in a few hours, tomorrow, or even a year. Remind Me of This Tweet is a bot that will do exactly that.
Simply mention @remindme ofthis underneath the tweet you'd want to be reminded of, along with the time you'd like the reminder to occur. For example, you can remark @remindme ofthis in 4 hours to be notified of a tweet 4 hours later.
The bot will then schedule your reminder, providing you with the precise day and time when it will be sent. If the time is incorrect, you can update it using the link given.
It can be expressed in minutes, hours, days, weeks, months, or even years, as well as in the precise time and date… Yes, the signal must be made in English; but, for people who do not have a strong command of the language, particularly the prepositions, it can be done in a fairly schematic manner just by noting the time or date.
poem.exe is a micro poetry bot that creates haiku-style poems throughout the day and posts them to Twitter and Tumblr. It is based on Raymond Queneau's A Hundred Thousand Billion Poems and employs an Oulipo approach.
A few hundred verses are chosen at random from a collection of several hundred, and a single line from each is used to create a new poem.
After putting together a poem in this manner, the algorithm looks for seasonal allusions and utilizes them to determine whether the poem should be published or rejected.
The majority of the corpus it reads from is made up of Kobayashi Issa's translated haiku; as a result, many of the poems are influenced by Issa's personality, particularly his affection for snails.
We recommend skipping to the following slide if you plan on ever viewing Shutter Island or Twin Peaks.
@EnjoyTheFilm has discovered one of the most amusing and nasty applications for a Twitter bot: ruining movies and television shows.
Hundreds of unlucky folks have tweeted that they want to admire the aforementioned works of art on their days off, only to have the finale spoiled for them.
We're sure we'd be furious if we were taken over by this Twitter bot, but because it hasn't happened to us, we have to confess we find it amusing.
Circleboom is without a doubt one of the greatest Twitter bots and Twitter management tools we've come across in this business since it can assist brands, users, and anybody else improves their Twitter profile, and it can even help you get started for free.
They have a big list of industry professionals that trust them, and their characteristics are exhibited in several areas with a wealth of information.
These folks depend heavily on Twitter analytics to ensure that your profile is viewed by the proper individuals, which we believe is one of the most effective strategies.
When it comes to picking a Twitter bot, SocialViral is an excellent option because they have a strong understanding of how the social media marketing sector operates in general.
In fact, when you first visit their site, you'll find that they heavily promote Instagram on their home page. This is because they began assisting their clientele with Instagram, but have subsequently grown to include Twitter.
They can also help you with Spotify and TikTok at this point, so if you have a multi-platform business, they can make things a lot simpler.
They are also competitive in terms of cost, which means you won't have to spend any more than you would elsewhere, and their findings are supplied immediately, so you won't have to ponder about them after you've made your purchase.
UseViral has a reputation for being one of the top Twitter bots in the business, and we appreciate that they are always trying to improve their features and website.
Their website was already user-friendly, but we appreciate what they've done with it and how they've modernized it to seem current and fresh. It's also quite user-friendly, so you'll be able to locate your Twitter activity right immediately.
They claim that their main goal is to help their clients increase their social media accounts through their extensive network, which implies that they have industry pros with whom they can link you to Twitter profiles.
Quoted Responses is a Twitter bot that allows you to locate quoted replies to tweets without having to copy, paste, or search.
If you're a regular Twitter user, you've probably seen or used the @QuotedReplies handle beneath some of the most popular messages. Simply reply to the original tweet or quote it with "@quotedreplies."
After that, the bot sends you a URL. After that, you can tap it to see all of that tweet's quotations on Twitter.
Every hour, the @everycolor bot tweets a new color swatch. The colors are based on hex codes that were created at random. This is one of the greatest Twitter bots to follow whether you're searching for a new color to paint your home or just want to look at a bright feed.
Every hour, the Emoji Mashup Bot makes new emojis from two (or three) random emojis, resulting in some useful, worthless, and extremely funny results.
If you're ever stumped for the right emoji to use in a circumstance, the Emoji Mashup Bot is a good place to start. This bot, as its name suggests, mashes random emojis to produce a new emoji.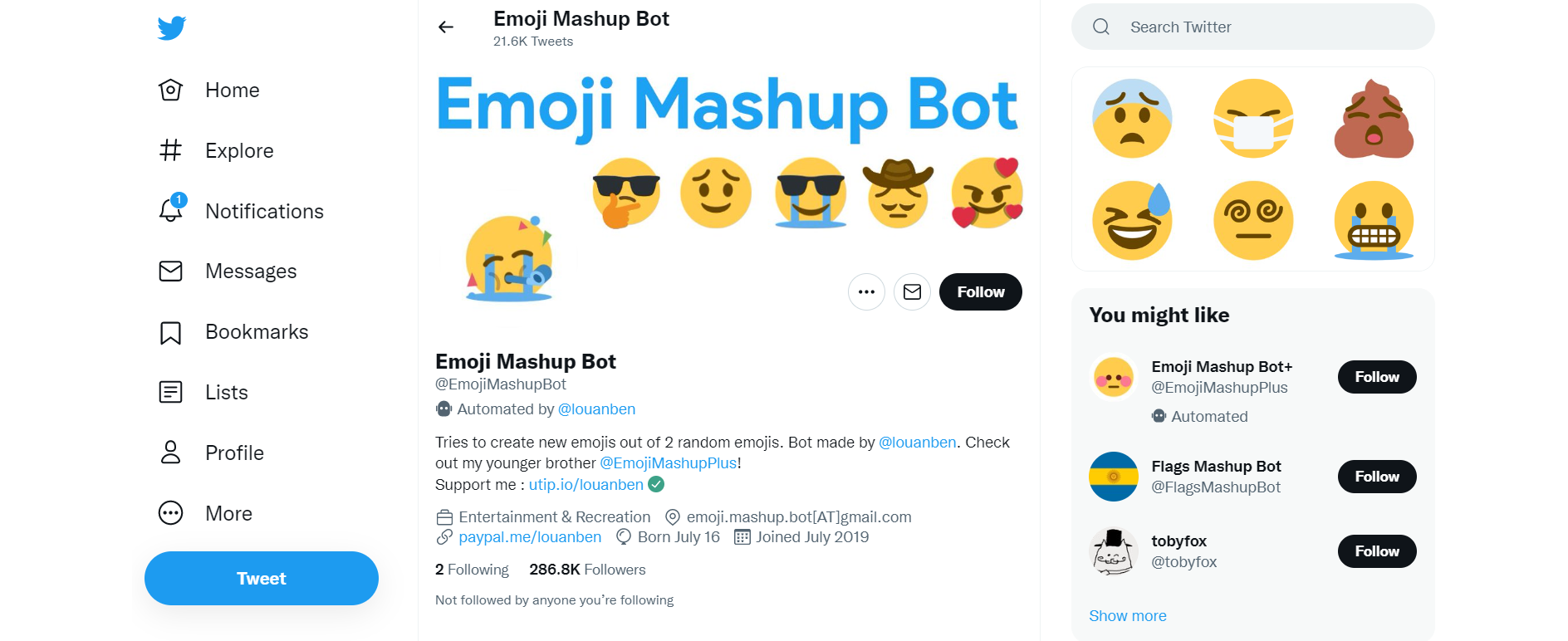 These emojis are ideal for moods that aren't represented by the usual emojis. Emoji Mashup Bot's younger sister, Emoji Mashup Plus (@emojimashupplus), produces new emojis from three random emoji pieces.
You can archive tweets against the OpenTimestamps timestamping proof standard, which is vendor and blockchain agnostic, using the Tweetstamp bot account.
Tweets that have been run via Tweetstamp will have the original tweet stamped and archived (using OpenTimestamps), as well as the OpenTimestamp, Stringifyed, and SHA256 data associated with it.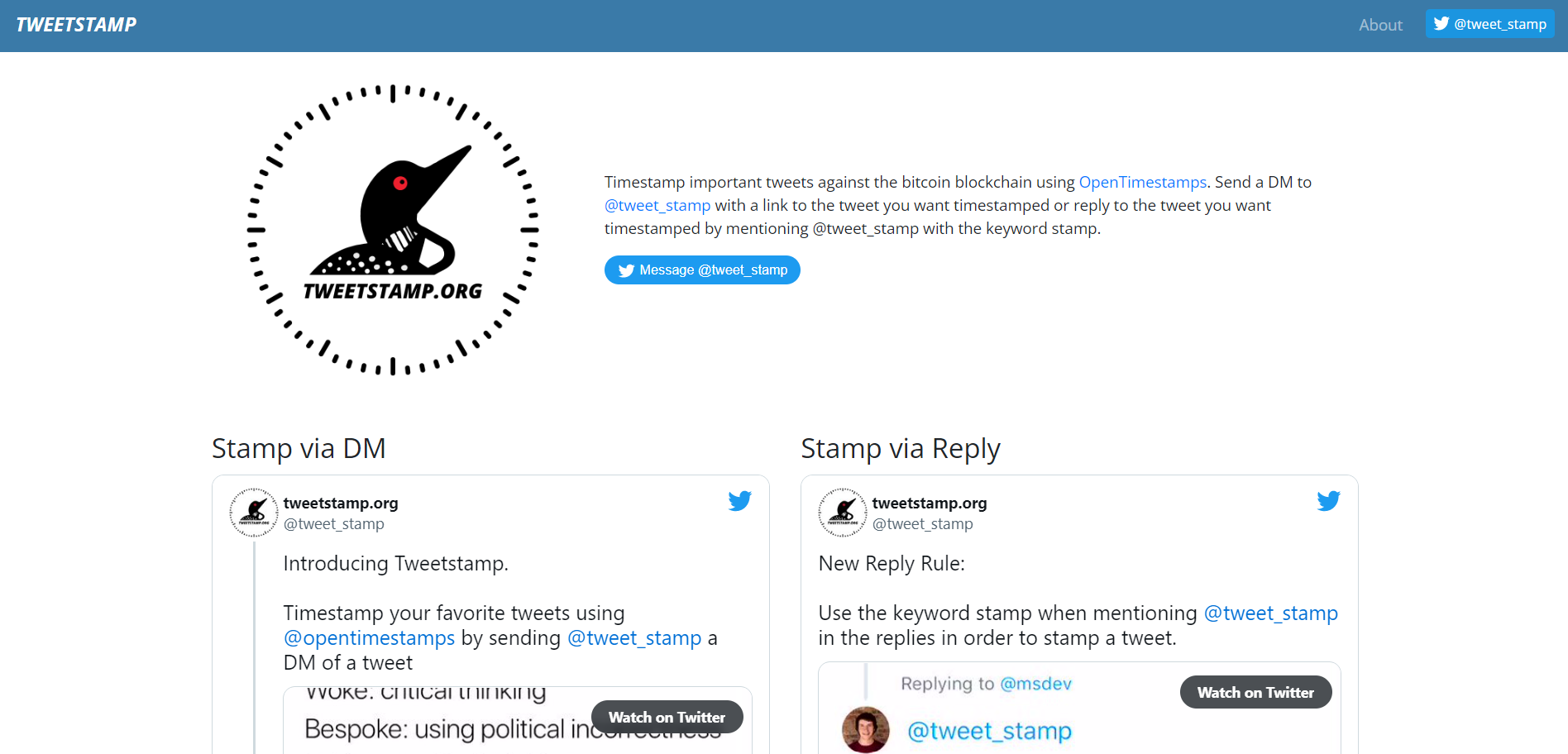 Simply reply to a tweet with the word stamp anywhere in it and mention the Tweetstamp.org Twitter account (@tweet stamp anywhere in your tweet). With a stamped permalink, the bot will respond to your tweet in a matter of seconds.
Tweepi is a well-organized Twitter bot that can assist you with your Twitter followers and ensure that only real individuals are viewing your tweets.
One of the things we like about this firm is that they go out of their way to avoid sending you fraudulent or inactive Twitter followers since they want you to benefit from the best. They will also promote your material on your behalf, which is always appreciated.
Twilert can assist you as a Twitter bot by linking your Twitter page to their service and providing them with the appropriate keywords based on your specialization and sector.
We like how they can help you manage your engagement, but they can also help you manage your reputation.
One of the things we enjoy about this Twitter bot is that it can assist you through private chat sessions, where you can communicate one-on-one with someone about your Twitter growth requirements.
If you've used Twitter for a while, you'll know that it's full of individuals who are enraged by other people's opinions.
The basic line is that Twitter can be a pretty hostile environment, so it's nice to see tweets in your feed that remind you to take a break from your hectic schedule and do things you enjoy.
It suggests a number of minor actions that can be carried out at any time and in any location. This is an excellent bot that you should definitely follow.
If you enjoy poetry, particularly the works of William Shakespeare, pentametron is a no-brainer.
While the Twitterbot does not really send tweets, it does look for tweets written in the Iambic pentameter metric line and retweets them one by one.
Does this seem perplexing to you? It's incredible if you understand poetry and the intricacies of English.
Headlines are necessary for keeping us informed about current events throughout the world. But what happens when you mash two entirely unrelated headlines together at random?
Simply follow TwoHeadlines, which tweets the outcome of combining headlines from two separate topics. It'll be difficult to restrain yourself from laughing out loud.
The acceptance of magic, as well as its relevance in the actual world, is argued by magical realism. And if you find it amusing, you'll like reading the tweets from the MagicRealismBot, which takes random practices or chores and exaggerates them with some type of enchantment.
Every two hours, the Magic Realism Bot creates a new 140-character narrative using a random combination of the numerous aspects that constitute the genre: academic people, mythological monsters, philosophical debates, and so on.
The largest assortment of eBooks is probably found on Amazon. But, if you're searching for some really fantastic eBooks, you're definitely going to have to pay for them, right?
Not really, according to HundredZeros, a Twitterbot that frequently tweets links to Amazon's free eBooks. This is an excellent example of a Twitter Bot that assists its users. If you want to read a lot of books, this is one of the greatest Twitter Bots you can follow.
Conclusion
Some of the top Twitter bots are listed above, and you can use them to conduct a variety of helpful tasks on Twitter other than following tweets.
While some of these bots provide useful information, others come in handy to assist you with tasks that would otherwise need many steps or the usage of extra applications.