The Internet was a game-changing invention for the entire planet. It enables people to have access to an infinite amount of knowledge and amusement. Everything, however, has two sides.
Social media has numerous positive effects on education, including improved communication, engagement, sharing material, exchanging details, learning and developing skills, and digitally sharing ideas.
However, the same has certain negative consequences, such as identity theft, cyberbullying, social isolation, and so on. However, when it comes to youngsters, the usage of social media has caused a slew of issues.
And the situation has deteriorated in recent years. Because of the multitude of threats on the internet, social media monitoring for parents has become more important in order to protect their children.
Fortunately, we've done some of the legwork for you and whittled it down to the 10 best social media parental control apps of 2022 below. Let's begin.
What are social media monitoring applications?
The act of knowing information related to your children's online behavior is the focus of a social media monitoring app. For example, you could be curious about how much time your children spend on social media while you are at work.
It's simple to accomplish if you have main access to your phone and download a smart social monitoring app on your child's phone. After that, you'll be able to simply determine how your child is utilizing a certain social networking platform. It is your duty to shape your child's future. And you must not postpone it at any cost.
You never know when your child will become involved in improper behavior. This begs whether parents should monitor their children's social media accounts if they trust them. So, embrace it. Because keeping an eye on your child's activities can assist you in determining which path they are on.
Best social media monitoring applications for parents
Let's look at them.
As a Parental Control, Qustodio takes its duty extremely seriously, as seen by its efforts. The Qustodio parental control software suite has one of the most extensive feature sets available.
You can use it to keep an eye on your child's social media accounts, read their communications, and track their whereabouts. It's also a full-featured program that lets you block websites with potentially offensive material.
You can set time restrictions on each device, as well as block games and applications that you don't want your youngster to use. You can also track down your child's electronic gadgets at any moment. Your youngster will also have access to a panic button that will notify you of his or her whereabouts instantly.
Qustodio provides a complete dashboard for monitoring your child's online activities and is accessible for Windows PCs, Macs, iOS, Android, and Kindle devices.
Pros
A dashboard that is simple to read
Current and past places are accessible.
Setting screen time restrictions, blocking material, and reviewing calls/texts are all options
The most popular social media monitoring tool for parents is Bark. It keeps track of text messages, YouTube videos, emails, and 30+ social network accounts to keep your kids safe online.
It scans text messages, emails, and over 30 different social media sites for possible security threats. It searches for internet predators, adult content, sexual content, drug usage, cyberbullying, and suicide ideation, among other things. Bark's location-sharing feature sends you notifications when your child enters or exits a designated location.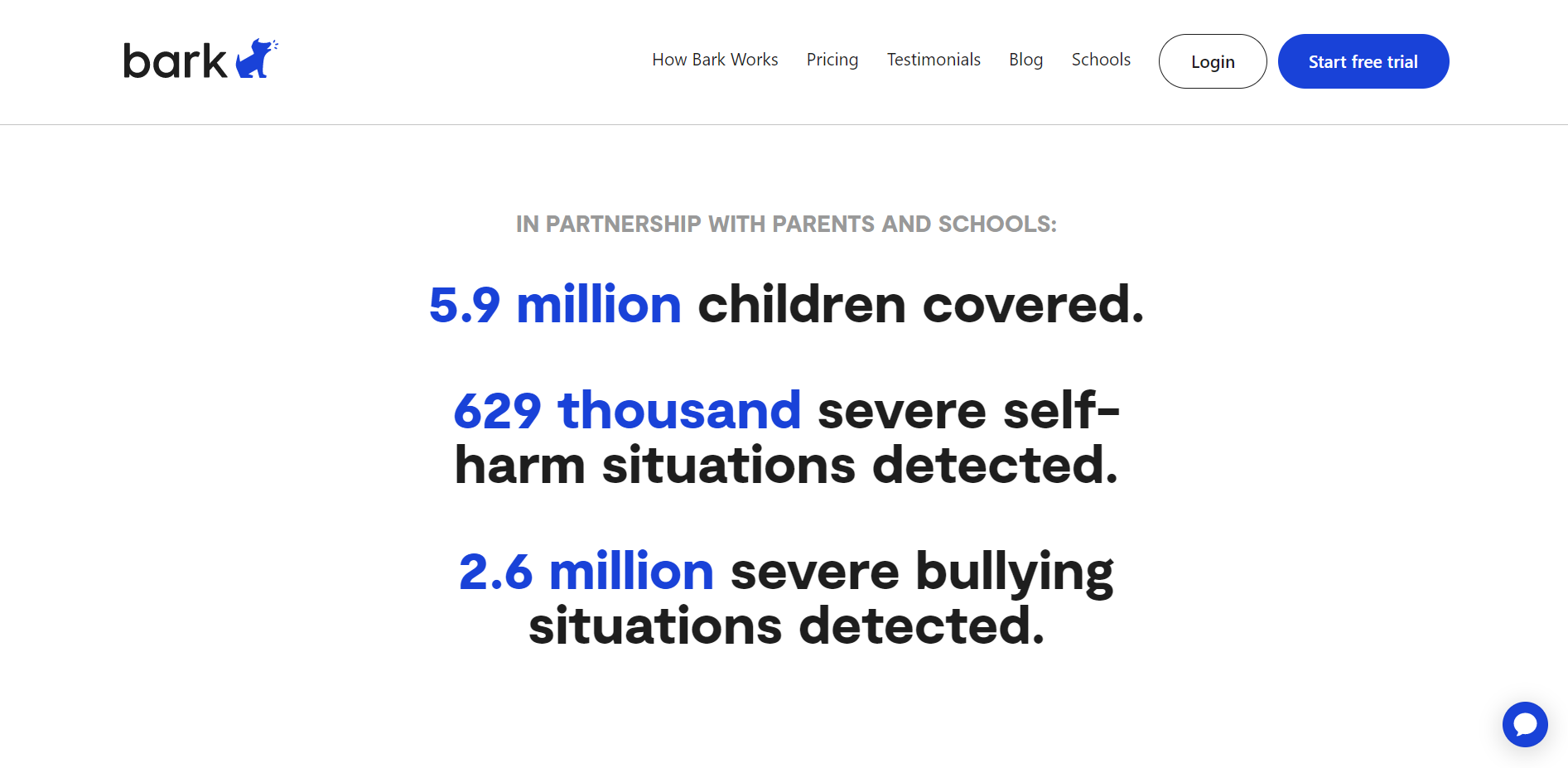 Bark combs through messages, images, and videos for any potentially dangerous exchanges and informs parents. When there are possible concerns, you will receive automated notifications via email and text messages.
One of the most excellent aspects of Bark is that you'll get advice from child psychologists on how to handle problems as they emerge.
You'll also get access to a dashboard showing how your youngster is using the internet. You'll find out how much time they spend online, which websites they visit, and how many possible dangers were discovered.
Pros
Parental controls and screen time are included in every plan.

In-app interactions and communications are monitored.

It keeps track of over 30 applications.

Sends out alerts when there's something wrong with something.

Allows you to regulate their screen time.

Any number of devices are covered under a single plan.
Cons
iOS users have few monitoring options.

You can only monitor texts and applications on premium subscriptions.
Pricing
Premium plans range from $49 to $99 per year or $5 to $14 per month, and there is a 7-day free trial available.
Net Nanny is one of the most dependable and thorough programs available. Net Nanny helps you to keep an eye on your family's online activities while also safeguarding them from hazardous information.
You can set screen time limits and protect your children from viewing unsuitable information. You'll get full reports on the searches your children are doing. You'll also receive real-time notifications about any pornographic, suicide, weapon, or drug-related content. Then you can block websites and applications that you don't want your child to use, as well as set particular periods for them to be online.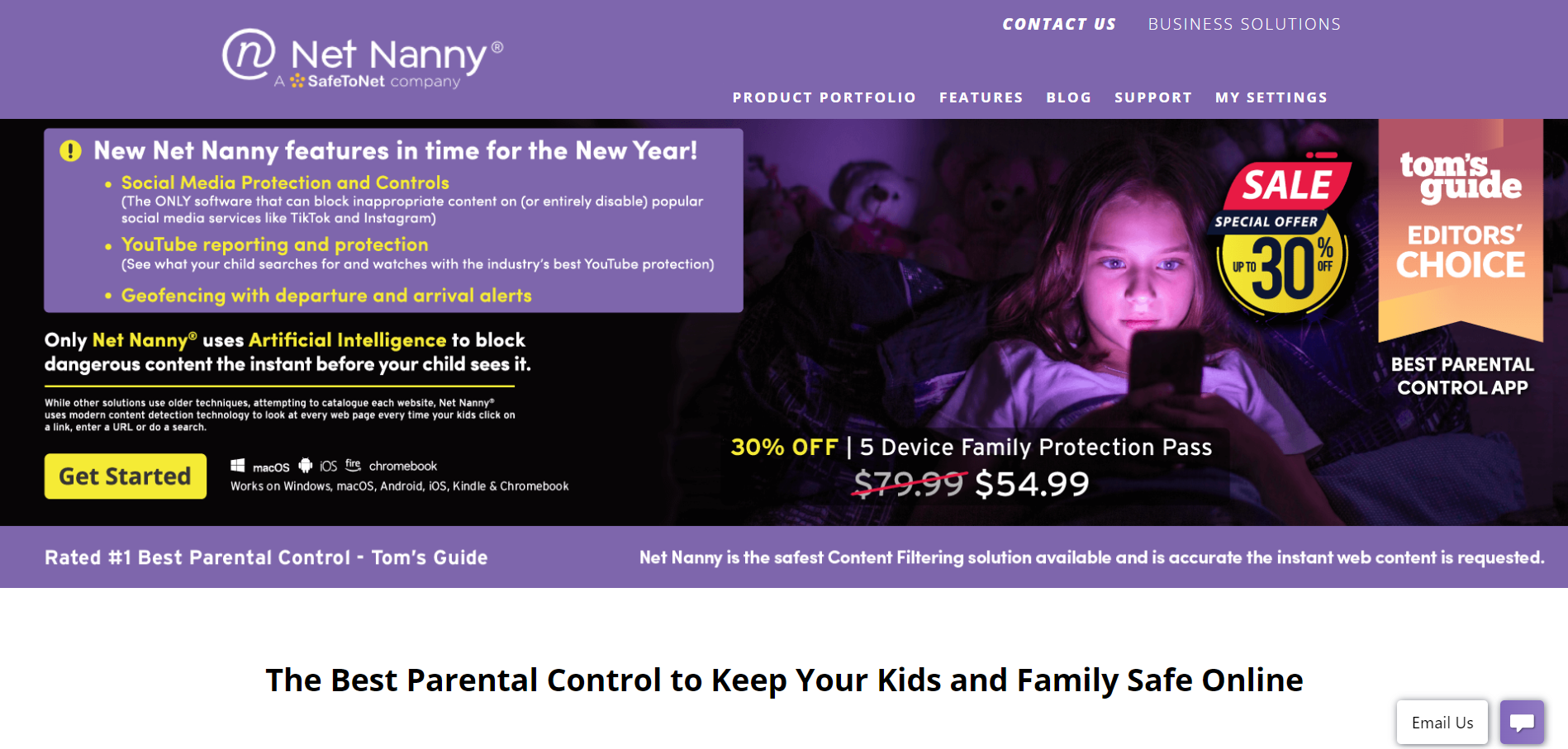 Parental controls must encompass all of a child's devices and activities in order to be successful. Net Nanny offers screen time management and app blocking options in addition to its internet filtering capabilities.
It gives parents the option of allowing, blocking, or receiving notifications when their children visit websites that include potentially unsuitable or harmful content, such as porn and cigarettes.
Pros
The website analysis system of the highest quality

Any computer can be used to access the application.

Children's gadget use might be restricted at certain times.

Content is blocked across web URLs and applications.

It keeps track of their real and virtual whereabouts.
Cons
Only a yearly subscription is available.

Calls and texts are not monitored.
Pricing
The annual subscription costs $39.99 and goes up to $89.99.
Norton Family is another parental control program that allows parents to educate their children on safe, creative, and healthy internet behaviors while fostering a good balance between a child's life and their gadgets. Norton Family is a beautiful alternative if you're searching for a low-cost parental control program.
It's a full-service alternative that gives parents visibility and control over their children's internet activity. Although Norton Family doesn't require a Windows PC (apps are available for iOS and Android), it does let you keep track of your children.
You can monitor and track your child's internet usage and online activities across various devices, including their desktop, laptop, phone, and tablet, if you use Windows. Norton Family, like other good parental control software, allows you to establish screen time restrictions, track whereabouts, block problematic applications and websites, and monitor your child's online activities.
The program also gives notifications when your child attempts to access banned websites, allows access to YouTube videos your child has watched, and offers a centralized parent portal where you can control the devices.
You can also change the settings and choose which kind of notifications you want to receive. You can also establish time limitations for games or social media access, disable phone use except for emergency calls, and track social media activity.
Pros
As many devices as you need to manage

It has a detailed dashboard.

As needed, keep an eye on things and limit the material.

Filters out improper stuff on the internet.
Cons
It's not compatible with Macs.

There are no monthly or annual subscriptions.

Apps on PCs cannot be blocked

It does not monitor social media sites.
Pricing
It comes with a 30-day free trial and can be purchased for $49.99 per year.
OurPact is a user-friendly parental control tool for mobile devices that provides a variety of kid monitoring choices and functions. OurPact's Parental Control feature allows you to ban text messages, select apps, and filter websites and location data. Furthermore, OurPact functions as an all-in-one family locator and time management tool.
It's easy to get caught up in the trap of spending hours on your gadget, no matter your age. The software is excellent for assisting parents in establishing appropriate limits on their children's internet activity habits. You can limit when and how long they can use their phone, as well as teach them how to manage their internet time autonomously.
In addition to the essentials, such as app banning, screening out unsuitable online material, and tracking your child's location, OurPact offers some unique parental control modifications. You can completely disable an app or just enable access on a certain timetable (for example, if you only want your child to use Instagram on weekends), and you can do the same with calls and messages to reduce distractions.
You can also offer your child a screen time allowance, which allows them to decide how to use their internet time within the parameters you set.
Pros
You can deactivate texting during specific hours.

It can monitor up to 20 devices.

You can choose which applications are educational and which are amusing.
Cons
The free edition has a limited feature set.

Calls and messages are not recorded.

You must purchase the advanced features in order to utilize them.
Pricing
You can start using the platform with its free version and it offers premium ($6.99/month) and premium+ ($9.99/month).
It's difficult to parent teenagers and young adults, especially when it comes to social media and the internet. You want to provide children independence while yet protecting them from harmful stuff. Canopy is ideal for parents of teens because of this.
It isn't unduly limiting or intrusive—you can't view the contents of their communications, for example—but it does constantly monitor their safety during virtual contacts.
Problematic content, such as "sexted" images, pornography, and other sorts of explicit content, is flagged if necessary by the system. It blocks the majority of prohibited information in real-time rather than in batches, and you, as the parent, can choose whether or not your child can see the photos or videos.
It protects young adults from pornography and harmful communications on the internet, making it a safer environment for them. It also allows parents to choose which applications and games their children have access to.
Pros
Nudity and pornography are filtered away.

Sexting is detected and prevented by analyzing photographs.

You can decide which applications are authorized on which devices.

Location tracking in real-time
Cons
No screen time restrictions

Content within applications cannot be filtered or blocked
Pricing
It has a free 30-day trial and prices range from $7.99 to $15.99.
With FamilyTime, you can set up a geo-fence and receive instant notifications when your children enter or leave geo-fenced locations. FamilyTime provides all of the basic features you'd expect from a good parental control app: it blocks pornography, restricts kids to safe searches, and filters out undesirable content.
It also allows you to establish device time limits and lock displays at specified times, such as before going to bed or when completing schoolwork. The finder is one of the best features.
It provides you with a complete location history of all the places your children have been to over a given time period. You can also track your children using a map that shows their exact position in real-time. You can even set up boundaries for your children using their powerful geofencing technology. You'll be alerted in real-time if they cross the borderlines.
This function keeps you informed 24 hours a day, whether you're using it to get notified when they get home from school or to prevent them from walking into a dangerous area of town.
Pros
Real-time location tracking for your children

Emergency and non-emergency notification systems

Teenage speed limit monitoring

The number of devices is limitless.

Notifications of the children's departure or arrival at certain locations
Cons
Windows is not supported.

Some features are brand new or in development.

The app can be simply removed by children.
Pricing
It offers 3 days of free trials and premium pricing starts from $2.25/month.
You can customize Screen Time by rewarding your child with additional screen time when they do their schoolwork or chores! Parents can also set up timers for things like sleep, homework, and school hours.
You can use "Free Play" to temporarily override settings without disrupting your screen monitoring routine when you're feeling particularly generous. You can allow or deny any downloads, and you can also monitor your children's online history.
Bonus: You can grant access to relatives or caretakers through one Screen Time account, and your kids won't be able to delete the program without a secure password.
The scheduling tool is its finest feature since it allows parents to set time limitations for programs to run. Parents can also completely prohibit applications or temporarily eliminate all restrictions.
Pros
It enables parents to monitor their children's online activity.

Task and schedule managers are included.

You can establish time limits, block applications, examine device use data, as well as set time restrictions, and ban applications.

The software is useful for managing devices from a distance.
Cons
Its most significant flaw is that it is insufficiently secure.

Android has certain features that iOS does not.
Pricing
You can start the platform with its free plan and premium pricing starts from $6.99/month. It also offers 7 days free trial on the premium plan.
Google Family Link is an all-in-one software that allows parents to monitor and approve or prohibit their children's internet behavior.
It's a free iOS and Android software that allows parents to manage their children's Android devices, including setting time restrictions, regulating which applications they have access to, and creating a device bedtime.
Parents can remotely lock down their child's tablets when they want them to play, study, or sleep, among other things. This program goes well beyond a basic blocker, allowing you to remotely lock your Android phone or another device.
Parents can set up several parental accounts for their children, but each youngster is limited to one device. The Family Link uses Google accounts, and after the child reaches 13, the gadget is automatically unpaired.
Pros
It allows you to filter web material.

It has a screen time management feature.

It can also track their location.

You can keep an eye on their apps.
Cons
It does not have extensive features like other parental control applications.
Pricing
There is no charge for using Google Family Link.
Kaspersky Safe Kids is another parental control program that is available for Android, iOS, Macs, and PCs. Kaspersky Safe Kids can be installed on an infinite number of devices.
It also has all of the features you'd expect from a parental control tool, such as app banning, location tracking, time management, and browser filtering.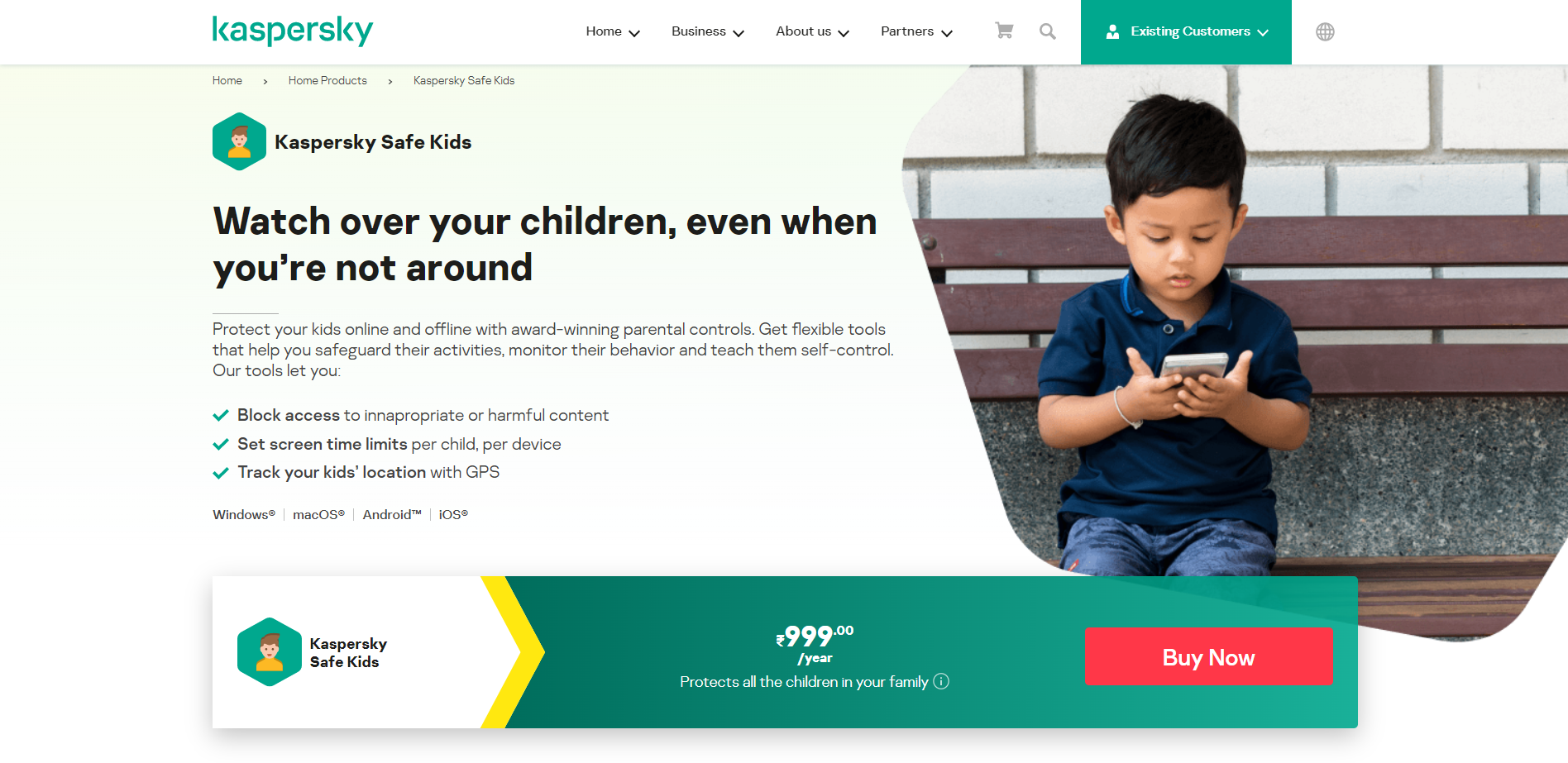 Texting Management is an outstanding feature of Kaspersky Safe Kids. Only Android users have access to text management. However, you can track all calls and SMS messages, or just one if you wish.
You can set up monitoring for a contact you're concerned about, and you'll get notifications anytime that contact gets or sends an SMS.
Pros
It provides content screening on the internet.

It has a safe search option from YouTube.

Real-time alerting is also available.

It has the potential to restrict the application's use.

It can also keep track of screen time.

It even keeps track of your position and keeps an eye on your battery.
Cons
Only Android devices can be monitored, while iOS devices do not have application control.
Pricing
Kaspersky safe kids free is free, whereas Kaspersky safe kids premium costs around ₹999 each year.
Conclusion
With all of the hazards and predators lurking online, the best approach to keep your children safe is to use parental controls and monitoring programs. Parents, on the other hand, should not interfere with their children's personal or social lives.
Parents must be able to discern between internet safety and invasion of their children's privacy. The price of freedom is the responsibility, and you can teach your child responsibility by talking to him or her about the things you are afraid of. Make your youngster realize that you are afraid of some things and that it is alright because parents care.
After all, being a parent means doing what's best for your children.