Table of Contents

[Hide]

[Show]
Twitter remains to be one of the most popular platforms on the internet. Latest reports show that an estimated 229 million users globally visit the platform daily. Needless to say, Twitter is a major player in the social media landscape.
With Twitter becoming the go-to source for all types of news and discussion, is there a need for Twitter alternatives?
Twitter has become the prime location for journalists, thought leaders, and political figures to engage in discourse. Social activism through hashtags has allowed movements to form overnight. Twitter's microblogging approach has somehow captured a new generation of users who crave short-form content.
Despite this success, Twitter has had its fair share of controversy. Proponents of free speech criticize Twitter for "de-platforming" users. Moderation continues to be a hot topic as hate speech and disinformation continue to proliferate on the site.
On top of this, Twitter's future is at stake, with Tesla founder Elon Musk hoping to push through with a $44B deal to acquire the company. Users who look for Twitter alternatives have an abundance of choices on where to post next.
While no other microblogging service comes close to the scale and prominence of Twitter, plenty of alternatives exist. This article will go through some promising alternative apps you can use instead of Twitter.
Mastodon
Much like Twitter, Mastodon is a microblogging platform where users can publish short-form content. Unlike Twitter, however, Mastodon is fully open-sourced and decentralized.
The Mastodon platform is not a single website like Twitter or Facebook. It is actually a network of servers managed by various individuals and organizations. Each server or node is known as an "instance", with Mastodon.social being one of the largest with over 700k people.
Though users and content can be hosted on different servers, a protocol known as ActivityPub allows users to find content outside their servers. Users have the option to view two timelines: local and federated. The local timeline is a stream of posts from everyone in that particular instance. The federated timeline allows you to see messages from people you follow in other instances.
Each message in Mastodon is known as a "toot". Toots have a variety of privacy options available. Public messages appear globally, while private messages can only be seen by the user's followers.
Users are known by both their instance and username, similar to how an email address is written. For example, the user Gargron in the instance mastodon.social is referred to by the full username @[email protected]
There are about 3 million registered Mastodon users, which still pales in comparison to Twitter's 200 million daily active users. But since recent news of Elon Musk's buyout of Twitter, tens of thousands of new users have flocked to Mastodon as an alternative microblogging platform.
Key Features
Mastodon includes a content warning feature that can help hide your content for specific reasons

Includes two timelines: local and federated

Ability to create your own community with custom terms of service and privacy and moderation policies.
Pros
Features and user experience closely resemble Twitter

Can send up to 500 characters for each toot.

Decentralized servers mean your data is not owned by a single company

built-in content warning feature

timelines are not affected by algorithms

Mastodon is an ad-free platform
Cons
Since usernames are instance-specific, you must specify both the username and instance when finding people

Mastodon does not have an official app for mobile and PC. Users have the option, however, to use third-party applications for Mastodon.
Diaspora
Diaspora is a privacy-aware, distributed, open-source social network first released in 2010.
According to the Diaspora Foundation website, the platform follows three key philosophies: decentralization, freedom, and privacy. Here's how Diaspora aims to address all three.
Diaspora uses a distributed social network consisting of independently owned nodes known as pods. Each node runs a copy of the Diaspora web server. The distributed nature of the network ensures that no central entity controls or owns all content and data posted on the platform.
Diaspora promotes freedom and free software. The source code of the platform can be viewed on GitHub. The project is completely community-run and depends on volunteers to find bugs and contribute new features.
Lastly, Diaspora takes privacy seriously. Unlike mainstream social media platforms, Diaspora does not earn money from selling ads or user data. Users can choose which pods they're comfortable sharing their data with.
Anyone can host and run their own pods to take control of their data and continue to strengthen the decentralization of the platform.
Key Features
Includes hashtags and mentions feature

supports embedding of media from YouTube and other video platforms

supports cross-posting to Twitter, Tumblr, and WordPress
Pros
decentralized social media platform

code that runs each pod is open-source

option to host your own node
Cons
not as active as other microblogging alternatives

no official mobile app is available
Minds
Minds is an alternative social media network that aims to use blockchain technology to create a new way for creators to earn money from their content.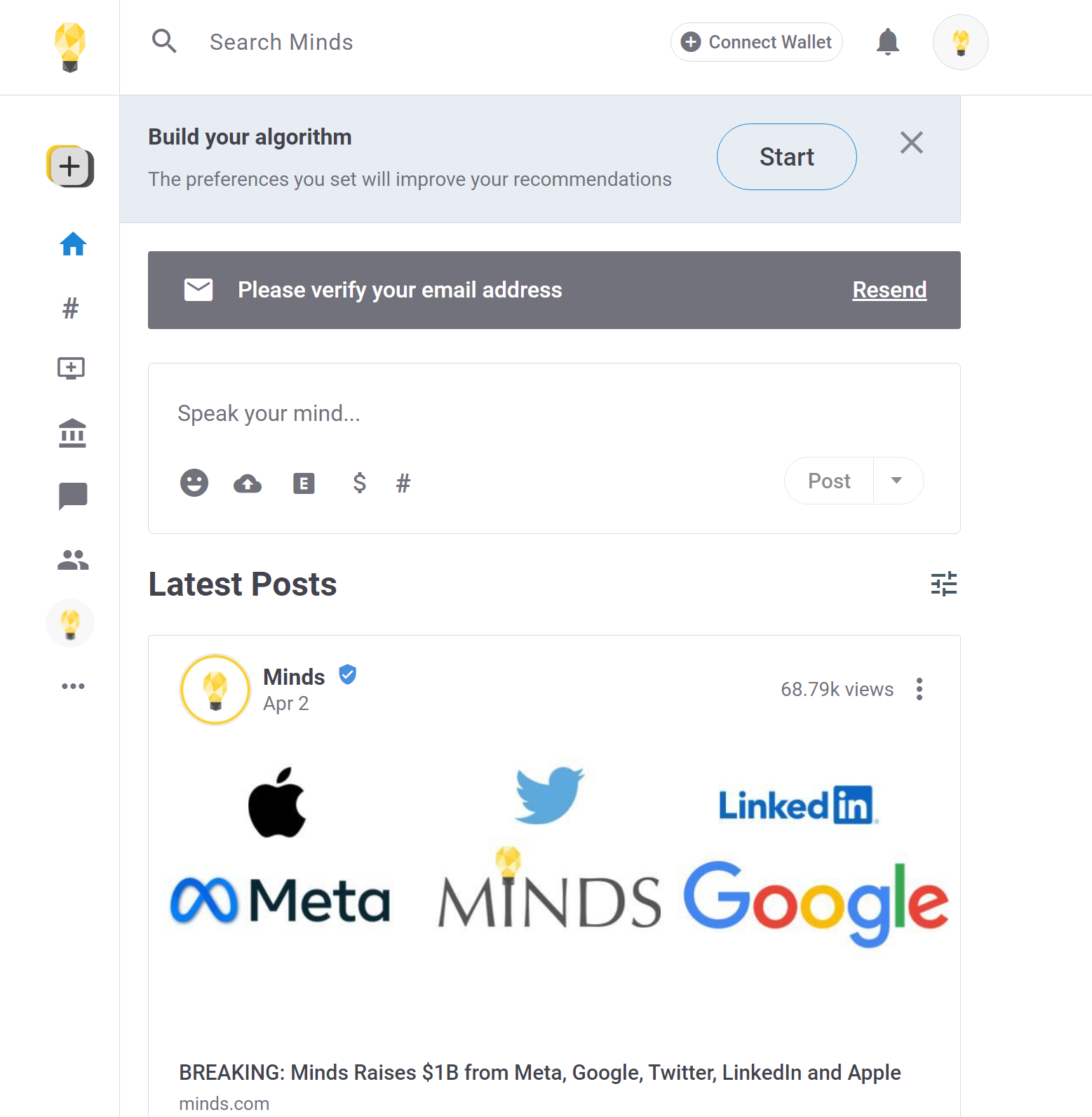 The platform introduced the MINDS token, an Ethereum-compatible cryptocurrency. Users have rewarded these tokens for creating viral content for Minds. Users can also purchase MINDS to tip their favorite creators and even boost their own posts.
To increase user trust and transparency, the Minds platform has open-sourced its codebase. They also
However, unlike the previous two alternatives Mastodon and Diaspora, Minds is not a federated social media platform. While the platform's blockchain features are decentralized, the company is still a centralized organization like Twitter.
Key Features
Native Minds Wallet to keep track of user rewards and earnings

MINDS token that uses the ERC-20 standard

Ability to Boost ads

Users can create membership tiers for subscribers
Pros
Open-source codebase can be reviewed and audited by third-parties

Minds has no character limit for posts

Users can earn MINDS for posting viral content

Minds does not sell user data to advertisers
Cons
Limited moderation

Lack of content due to a smaller user base.

Main platform still uses a centralized architecture

Various features such as blocking boosted content are placed behind a paywall
Micro.blog
Micro.blog is a community of various independent microblogs that aims to combat the current status quo of short-form social networks such as Twitter.
The platform provides a unique backend architecture that makes micro.blog serve content faster than other platforms.
Micro.blog hosts your blog for you but you still get the option to have your own domain name. Micro.blog is three separate systems that combine into single platform: a blog hosting services, a blog admin interface, and a Twitter-like feed.
The platform is a great lightweight alternative to services like WordPress, making it an excellent choice to publish short-form content. Unlike posting tweets on Twitter, your content in Micro.blog is independent of any company.
Key Features
every blog includes an RSS feed

Your own Micro.blog username

ability to reply to other blog posts

custom themes and CSS

includes a Discover page
Pros
self-hosted blogs allow you to own your data

ability to use your own domain name
users can register for free
Cons
a hosted microblog requires a subscription of $5 a month

lack of discoverable users and content
a bit difficult to set up for non-technical users
Conclusion
While Twitter remains dominant in the current state of the web, Twitter alternatives still exist for users who value privacy, freedom, and a decentralized web.
Platforms such as Mastodon show that communities can still thrive on the modern web without the need for billion-dollar companies to hold your data or restrict speech.
Do you feel that alternative microblogging services will succeed?