Today's social media is centralized. While access to a large amount of data is a tremendous help for corporations who want to improve their product, centralization comes at a price.
Centralized services are a target for hacking. Earlier in October 2021, Amazon's streaming platform Twitch suffered a major data breach which allowed hackers to release a large amount of sensitive data.
Centralized applications also make it incredibly easy for corporations to exercise their authority. Much of the current web culture relies on corporations like Meta and Google to store all your content. These tech giants rely on user content to profit and often take advantage of the user's personal data to further increase profits.
The Fediverse hopes to solve the issue of centralized social media. Federated social media platforms allow users to publish content on the web without having to rely on major corporations. With the Fediverse, you may finally have the power to create your own Facebook.
What is the Fediverse?
The Fediverse refers to a network of interconnected servers used for web publishing and file hosting. These servers communicate with each other using an open standard.
Applications in the Fediverse are usually presented as the better alternative to using centralized apps such as Twitter, Facebook, or YouTube.
For example, the microblogging platform Mastodon has features similar to Twitter but both run very differently. While Twitter relies on a centralized server run by the corporation, Mastodon is composed of multiple servers spread across the globe.
Each server may have its own rules, and account privileges. Since the number of fediverse applications is rising every year, websites like Fediverse.Party and fediverse.space can help users navigate and explore the different platforms.
To understand what the Fediverse does, we must first break down the meaning behind the name. Fediverse is shorthand for federated universe and as the name implies focuses on the concept of federation
How does the Fediverse Work?
Every server in the Fediverse has their own rules, accounts, and communities. With that in mind, how does that differ from the current landscape of Tiktok, Twitter, and Instagram?
If a user has a Twitter account, they can only follow other Twitter accounts. But, if you have a Fediverse account, you're free to follow any other account in any other application. For example, I can have an account in mastodon.social and follow accounts in other instances such as hackers.town without having to create an account there.
How is this possible? Every platform on the Fediverse uses a protocol known as ActivityPub to communicate with each other. Similar to how e-mail relies on the SMTP protocol to send and receive messages to and from different servers, the Fediverse relies on ActivityPub to allow users from various platforms to interact with each other.
ActivityPub
ActivityPub covers a wide number of actions including publishing content, follow requests, messaging, and more. An ActivityPub Object is in JSON format and contains several fields.
Each ActivityPub object must have a type and id. The id is a unique URL that stores all metadata about the message. Users can make a GET request to the unique URL to retrieve all data related to that object.
ActivityPub also defines a few actor objects such as person, group, organization, application, and service. Each actor also requires two properties: an inbox, and an outbox.
In the example below, we have an ActivityPub object where a user Deen sends a private message to another user Carla. The to field is set to only Carla's id to indicate that it is a private message between the two. Note that both users have accounts on different servers. Once Deen's server detects that the recipient is in another instance, the server should communicate with Carla's server to deliver the message.
Why Should Social Media Be Decentralized?
Ownership of Personal Data
Decentralization allows users to truly own their own data. Federated platforms allow users to download or delete all their data. By default, these platforms never sell personal data to ad platforms or data mining initiatives.
Privacy
Applications in the Fediverse are also more secure in theory. Rather than trusting your data to a centralized social media platform such as Facebook, you'll be trusting your data to an encrypted and open-source instance. Federated social networks rely on public-key cryptography for account security.
Free Speech
Each instance in platforms like Mastodon has its own set of moderation rules. Users who want to find an open outlet for their thoughts can choose which instances to join.
Examples of Fediverse Software
Mastodon
Mastodon is the most popular application so far in the Fediverse. The app is an open-source microblogging platform which is composed of a large number of Mastodon nodes.
First released in 2016, it now has over 3 million users. Mastodon continues to grow in popularity as tensions rise over the buyout of Twitter by Tesla founder Elon Musk earlier this April.
Peertube
Peertube is a decentralized and open source video platform powered by ActivityPub. Each PeerTube instance has a website interface where users can browse and watch videos.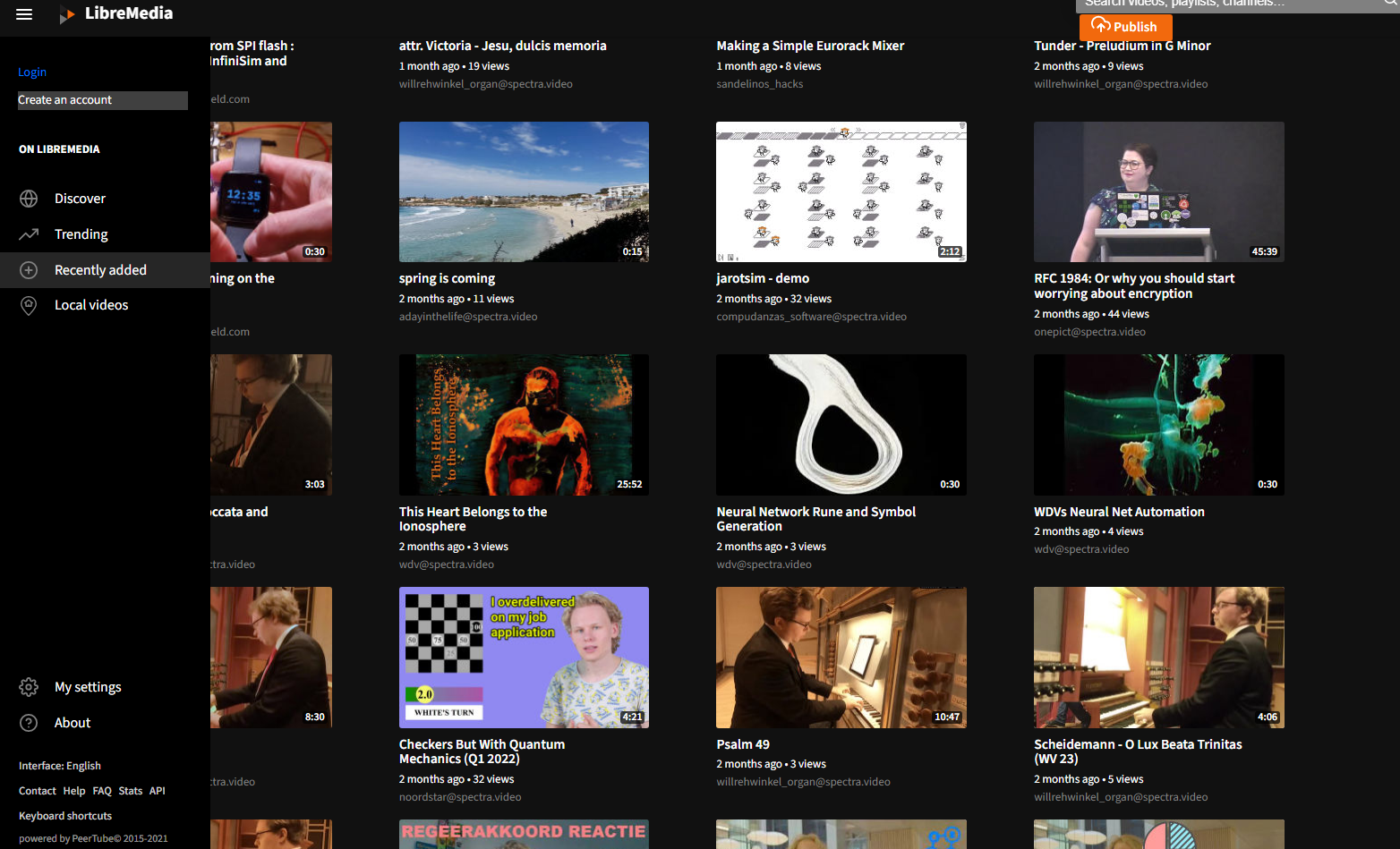 Videos run using WebTorrent technology. Each server hosts its own torrent tracker and shares the load of hosting videos between the server itself and the clients. Every PeerTube server can federate with other servers to let users watch the same video. This could potentially allow PeerTube to host millions of video without requiring the infrastructure that a billion-dollar company like Google uses.
Owncast
Owncast is a self-hosted live video and web chat server that you can use as an alternative to live streaming platforms such as Twitch.
Conclusion
Distrust in tech monopolies continues to grow within the public. Platforms such as Facebook and YouTube continue to use proprietary algorithms and data mining techniques to take advantage of their users.
These platforms have also become less inviting to users who prefer to publish content without the fear of being banned or censored.
While the Fediverse has been around for almost a decade, it remains to be seen if the public at large will have enough incentive to move there.