Large text-to-image models made a significant advancement in the development of AI by producing high-quality and diversified picture synthesis from a given text prompt.
These models are unable to synthesize unique representations of subjects in various settings or to replicate the appearance of subjects in a given reference set.
Newly released technologies like OpenAI's DALL.E2 or StabilityAI's Stable Diffusion and Midjourney are already taking the internet by storm. It is now time to customize the results. Yet how?
Google DreamBooth AI has arrived.
DreamBooth has the ability to recognize the topic of a picture, deconstruct it from its original context, and then precisely synthesize it into a new desired context. Additionally, it can be used with current AI picture generators.
In this article, we'll take a deep look at DreamBooth, its use, its tutorial, its limitations, and much more.
What is Dreambooth?
DreamBooth, a brand-new text-to-image diffusion model, was presented by Google. A written prompt can be used as guidance by Google DreamBooth AI to generate a wide range of photos of the user's selected subject in different settings.
A research group from Boston University and Google developed DreamBooth, a cutting-edge technique for altering text-to-image models that have undergone extensive pre-training.
The overall concept is rather straightforward: they want to increase the language-vision dictionary such that uncommon token IDs are associated with custom topics that users can define.
The main goal of the model is to connect users to the text-to-image diffusion model by giving them the resources they need to produce photorealistic representations of the instances of their selected subject matter.
As a consequence, this technique seems to work well for summarising challenges in a range of situations.
Google's DreamBooth differs from previous text-to-image tools, such as DALL-E 2, Stable Diffusion, and Midjourney, in that it gives users more control over the topic image before letting them manipulate the diffusion model using text-based inputs.
Features
DreamBooth AI might improve a text-to-image model with 3-5 images.

Original photorealistic photos can be created with DreamBooth AI.

In addition, the DreamBooth AI can create photos of a topic from multiple angles.
Application
Art Renditions
This task differs specifically from style transfer, which keeps the semantics of the source scene while incorporating the style of another image into the original scene.
Based on the creative approach, the AI can accomplish significant scene alterations while maintaining the identification and topic instance specifics.
Property Modification
The subject instance's characteristics can be modified by DreamBooth AI.
Accessorization
The strong compositional prior to the generation model is what makes DreamBooth AI's ability to adorn objects so interesting.
Recontextualization
DreamBooth AI can produce distinctive images for a certain subject instance by giving a trained model a sentence that includes the unique identifier and the class noun.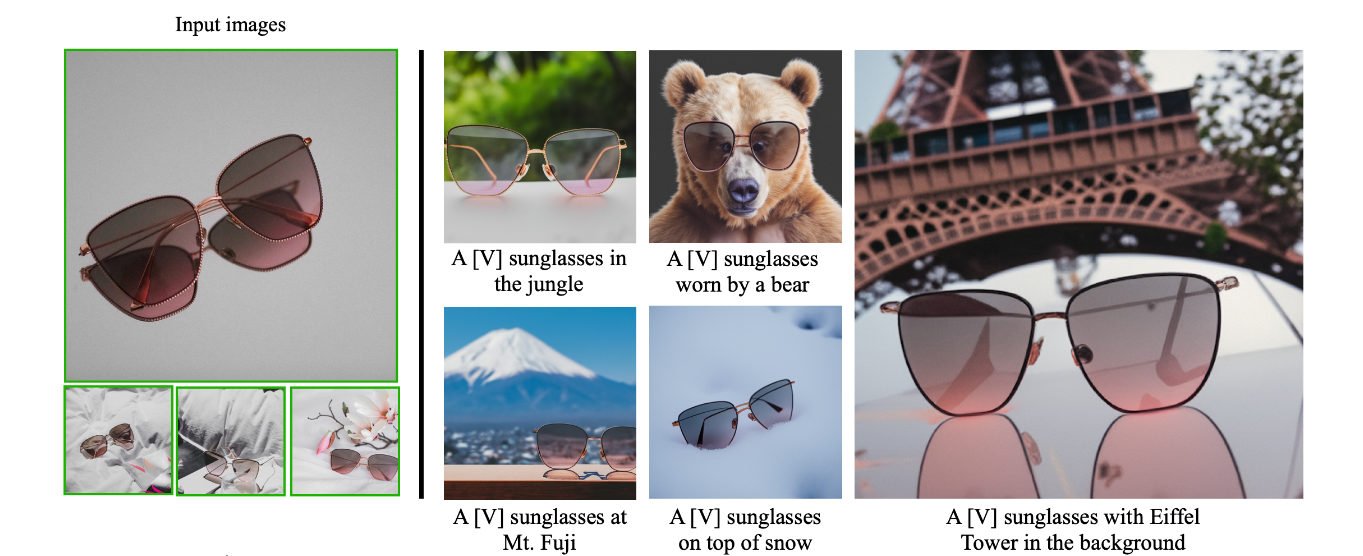 It can generate the subject in unique, previously unheard-of postures, articulations, and scene structure rather than changing the surroundings. Realistic reflections and shadows, as well as interactions between the subject and surrounding objects.
Dreambooth tutorial
In this tutorial, we will be following the Google Collab notebook, and I will walk you through it, which will make you understand and use it on your own.
Setting up GPU and installing libraries
Finding out what GPU and VRAM kinds are available is the first step. Installing a few requirements and dependencies is also necessary. Simply press the play button, then wait for it to finish.
Create an account on Huggingface and generate a token
The next step is to register for a Huggingface account. When you've finished, click settings in the top right corner. You will arrive on the next page.
Create the token and name as requested from here. The token should be copied and pasted into the Google collab in the cell below.
Install xformers
In this stage, you can simply press the play button to install xformers by clicking on the runtime.
Connect to Drive
Now, you just have to run this cell to connect to google drive.
Enter the prompt
In the following cell, you just have to enter the prompt.
Uploading pictures
In this step, you just have to upload the pictures you wanted to train.

Train AI model
This is the most important phase, as you will be utilizing DreamBooth to train a new AI model based on all of your submitted reference photographs. You must limit your attention to two input fields. "—instance prompt" is the first parameter. You must provide a highly distinct name here.
The '–concept list' argument is the second critical input field. It must be renamed to match the one used in the 'Change the prompt' section.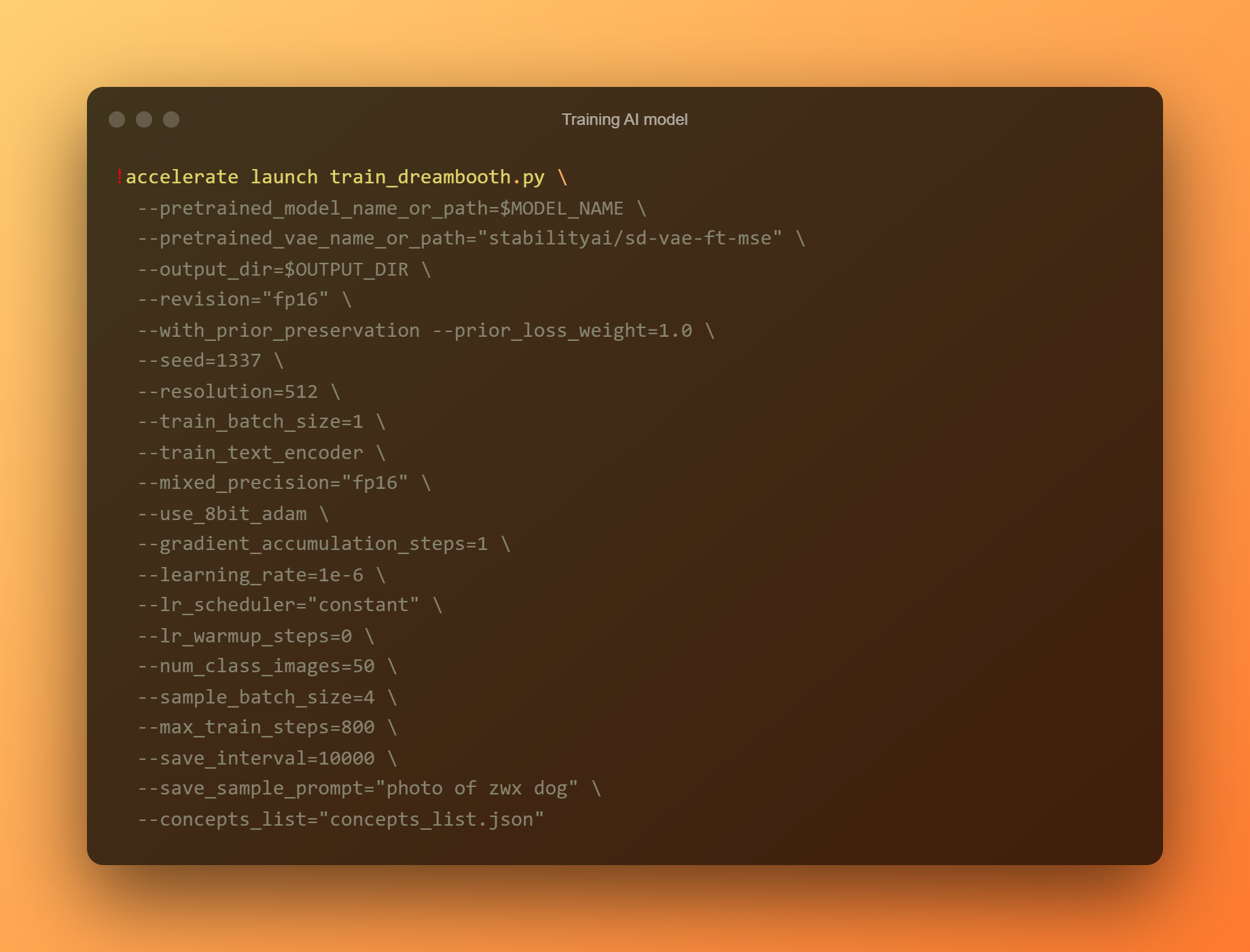 Generate AI images
The AI pictures will be created at this stage, where you can input the text instructions.

Dreambooth Limitations
The command prompt becomes a barrier to making iterations in the topic with high degrees of detail. DreamBooth can change the subject's context, but if the model wishes to change the subject itself, there are issues with the frame.

Another issue is overfitting the output picture to the input image. If there aren't enough pictures supplied, the subject may not be considered or may be blended with the context of the submitted images. When a context for an odd generation is asked, the same thing takes place.
Conclusion
To produce outputs from a single text input, the bulk of text-to-image models require millions of parameters and libraries.
DreamBooth simplifies content acquisition and usage for consumers by requiring just the input of three to five topic photographs together with a textual background.