Table of Contents

[Hide]

[Show]
A fresh strategy for creating software and apps is introduced by the development program Bubble.io.
Web apps can be built and hosted using a point-and-click programming system that doesn't need any coding knowledge.
There are several No-Code Development Platforms apart from Bubble.io. Experiment with several alternatives and choices. Forever be curious.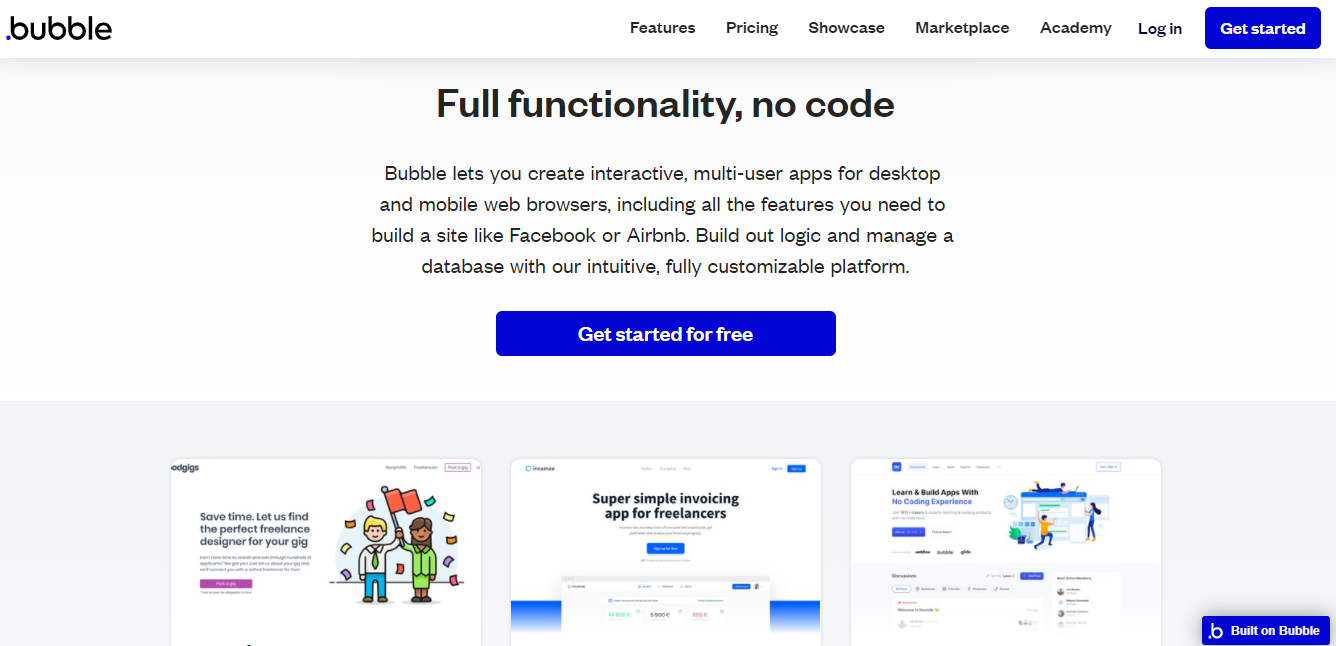 You can use this program to quickly present your concept to investors or create customer-facing online platforms for your business.
Using it, you can construct dynamic, multi-user browsing applications. It supports JavaScript plugins, so you can create a site that grows as you do.
Bubble.io Alternatives
There are a lot of No-Code Development Platforms available in the market. You can also try out different alternatives.
To help you with your decision, we've created a list of the best No-Code Development Platforms. You can choose one of them and start to create your web app with it.
Kintone is a no-code business software made for groups. Companies can handle data and procedures for partnerships efficiently because of their graphical application developer. Create amazing apps and interactive networks using this program.
Features
Visual Modelling: You can use the visual modeling tool to create the structure of your business application. Functions and tasks for each node of the model can also be defined. The program supports both back-end and front-end development and you can easily create a complete business app with this tool.
Drag-and-drop Interfaces: With the drag-and-drop interface, you can create any user interface for your app. You can also add custom UI components, charts, and elements to your app. The interface supports HTML5 and JavaScript.
Platform Security: The platform provides a secure environment for your app. It includes features such as a firewall and a data backup. The application runs on the cloud, so you can use the resources of any cloud service provider.
Third-Party Integrations: You can integrate your app with third-party services and use the APIs of the service provider to integrate your app with other services.
Customizable Fields: Kintone allows you to customize the fields of your app. You can create fields for the data and define their names and functions.
With Thukable, you don't have to be an expert in no-code development or a startup company wanting to expand your product to mobile devices.
It is a simple, easy-to-use platform that allows you to create any type of app without writing any code. Consider it as an alternative to the most popular development platforms like Bubble.io
Features
Advanced Logic: You can use the advanced logic tool to make your app feature-packed using more than 100 logical functions.
Device Native: The program supports the creation of mobile apps for iOS and Android. You can build native apps for the platform and create a web app that works on all devices. Your app can be made compatible with mobile devices and desktop computers.
Extensible Integrations: Thunkable supports third-party integrations. You can integrate your app with different services such as Facebook, Google, and GitHub. The integrations are effortless and you can add new services thanks to the drag-and-drop interface.
Direct Publishing: Now you can publish your app directly on the App Store or Google Play Store. You don't need to upload your app to a web server. How convenient this is! Right?
Multi-device Support: You can create mobile apps for iOS and Android using Notion. It has made the process of creating mobile apps more convenient. You can create apps for iOS and Android using the same code, and it is compatible with both operating systems.
The program supports both back-end and front-end development. You can easily create a complete business app with this tool.
A fully accessible framework for managing workflows, Bonita was developed by the French National Institute of Computer Science Research. It is accessible in both a public community version and a paid membership service.
Features
Process Designer: The program supports process design and lets you define the steps of your process. You can add, edit, and delete the steps and use the flowchart editor to define the process.
Model Execution: You can create a workflow for the process. It is very similar to the logic editor of Kintone. You can create and edit the flowchart and define the logic of the process.
Business Rules Engine: You can use the rules engine to create a business process that contains both data and business logic. The rules are triggered when a user performs an action.
Form Builder: Bonita supports a form builder. You can customize the form using CSS and embed images and files to the form. The program supports both back-end and front-end development. You can easily create a complete business app with this tool.
You can create forms for user registration, payment, or email sending. The forms are compatible with different web browsers.
Thanks to Google Sheets and an incredibly simple builder, Glide makes it possible for anybody to create an app without writing a single line of code.
That is, in fact, correct. With Glide, you can create applications graphically without writing a single line of code! As well as using Google Sheets to keep track of it all.
Features
Sync Data Or Start Over: You can sync data between users or even delete and start over with your app with Glide. This makes it incredibly easy to use Glide with users who want to build their apps and easily manage the data in Google Sheets.
Drag-And-Drop Elements: The Glide builder is designed for use with any platform, so users can build their apps using any operating system, using any software they want. With Glide, you can drag and drop elements into the app builder and customize the app's look in real-time. After you've connected your data, you can use rich graphic components to enhance the presentation and make it more engaging for users.
Transform Your Spreadsheets into Software: Glide allows you to create a functional app or website from a spreadsheet in a matter of seconds. With that being said, Glide also lets you connect your data and customize your app or website to suit your needs.
Easily Share And Update: With Glide, app updates are as simple as amending a document, and your users see the changes right away. This means that users don't have to worry about losing their progress or updating their apps every time they want to update.
Adalo is a tool for app developers that streamlines the creation process while saving time and money. Users can develop visually appealing applications simply by dragging & dropping visual elements easily.
The program allows users to develop their designs since it gives them full control over the process. It is no longer necessary to be a professional developer to create anything new. All records are preconfigured, and the program easily adds connections.
Features
Automatic Developer: Adalo provides a wide range of functions for developers. It lets users add new pages and new apps by dragging and dropping, saving time and money. It is possible to add and connect multiple pages or even create a new app.
Simple User Interface: It has a simple and intuitive user interface. The program is divided into two parts. The top part contains the main screen, and the bottom is for editing the app.
Support Multi-platform Apps: Users can develop apps for different platforms, such as iOS, Android, and Windows.
Safe and Secured: The program has the "Test Your App" feature, which allows users to preview their apps before publishing them. Moreover, users can save their projects to a local drive or Google Drive to continue to work on them later.
Automatic Updates: Users can check for updates automatically and download the latest version of the app.
One of Webflow's goals is to provide developers, creators, and businessmen with the tools and resources they need to develop optimized websites for the web.
With a range of solutions, the business hopes to enable consumers to build attractive, fully-customized websites without restricting their creativity or pushing them to conform to preconceived notions.
It is an excellent bubble.io alternative.
Features
Creative Templates: The templates can be used for various purposes, including creating a social media page, creating a blog, or even a professional website. They are fully customizable, which means that users can add their graphics and images and edit the layouts to fit their requirements.
Build Flows With Logic: Webflow is equipped with a powerful programming language, making it possible to create a wide range of features, including navigation bars, dropdown menus, and forms.
Connect To Your Tools: It is possible to connect to your favorite tools, such as WordPress, Google Analytics, Google Ads, and Mailchimp.
Data-Driven Development: Webflow can connect to data sources, which allows you to create dynamic and responsive websites.
Conclusion
Now that you have a clear understanding of the Bubble.io alternatives, you can easily choose the right program for your business.
All the programs are easy to use, and you can use them for free. The best part is that you can easily create an app that works on mobile devices and desktop computers.