Heroku has long been the cloud Platform-as-a-Service (PaaS) of choice for scalable app deployment and maintenance. It saves developers the bother of setting up servers and supporting infrastructure by delivering a cloud-based managed environment on a subscription basis.
PaaS, or Platform-as-a-Service, is a unified set of cloud-based tools and resources for developing and deploying programs without having to manage network infrastructure.
PaaS is often offered via a subscription package, where you will obtain access to the essential deployment tools to launch your projects.
It eliminates the need to set up servers, storage, network services, runtime environments, and other requirements to execute and administer cloud-based applications. These are handled automatically by the PaaS provider, enabling you to focus on developing outstanding apps.
PaaS solutions, like their offline counterparts, include software components that help you create, launch, and debug applications. Some systems also allow you to work with other members of your team in the same environment.
Despite being widely used, Heroku has drawn criticism for its price, performance, and other growing pains. Heroku might not always be a fantastic solution, so be prepared with some excellent Heroku alternatives.
Heroku has faced competition from a number of PaaS vendors, some of which have succeeded. You'll discover the top Heroku alternatives in this article, which you can utilize right away.
DigitalOcean was well-known for its IaaS products before launching its App Platform in 2020. Platform as a Service (PaaS) for maintaining and expanding apps on cloud infrastructures is called The App Platform.
It could be one of the potential Django Heroku choices given recent advancements. Similar to Heroku, the DigitalOcean App Platform offers popular programming languages and frameworks.
Direct deployment from Docker or Git repositories is possible. The platform takes care of setting up and managing the supporting infrastructure and safeguarding your apps from DDoS assaults.
Due to its low barrier to entry, the App Platform attracts developers searching for a less expensive alternative for resource-intensive programs.
Pros
Compared to well-known PaaS like Heroku, the DO App Platform is far more affordable to grow and deploy on. Additionally, the price difference between the basic professional packages and those that require more resources is reasonable.

Django, Docker, Express.js, Flask, Gatsby, Hugo, Jekyll, Laravel, Next.js, Juxt.js, React, and Vue.js all have native support.

You can debug real-time instances of the components using the self-contained console provided by the DigitalOcean App Platform.

There aren't many issues with the DO App Platform's interface for a relatively young PaaS. For a beginner, it's quite simple to use.

The DigitalOcean App Platform and Heroku share identical build kits, so you can create apps using widely known languages and frameworks on it.
Cons
There is a lack of documentation for various procedures, including writing pre- and post-build scripts.

Development time was longer than usual. Building from a Next.JS image can take 15 minutes.

Testing before deployment is made more difficult by the subpar CI/CD implementation.
Pricing
You can start using the platform for $0 and premium pricing starts from $4/month.
Elastic Beanstalk (EB) is a DevOps solution for delivering and scaling web applications and services. It supports Java,.NET, PHP,
Node.js, Python, Ruby, Go, and Docker web applications, among others. EB features a high level of customization, automation, and security.
This platform provides infrastructure deployment orchestration. It manages several AWS services, including Simple Notification Service (SNS), Elastic Load Balancers, CloudWatch, auto-scaling, S3, and EC2.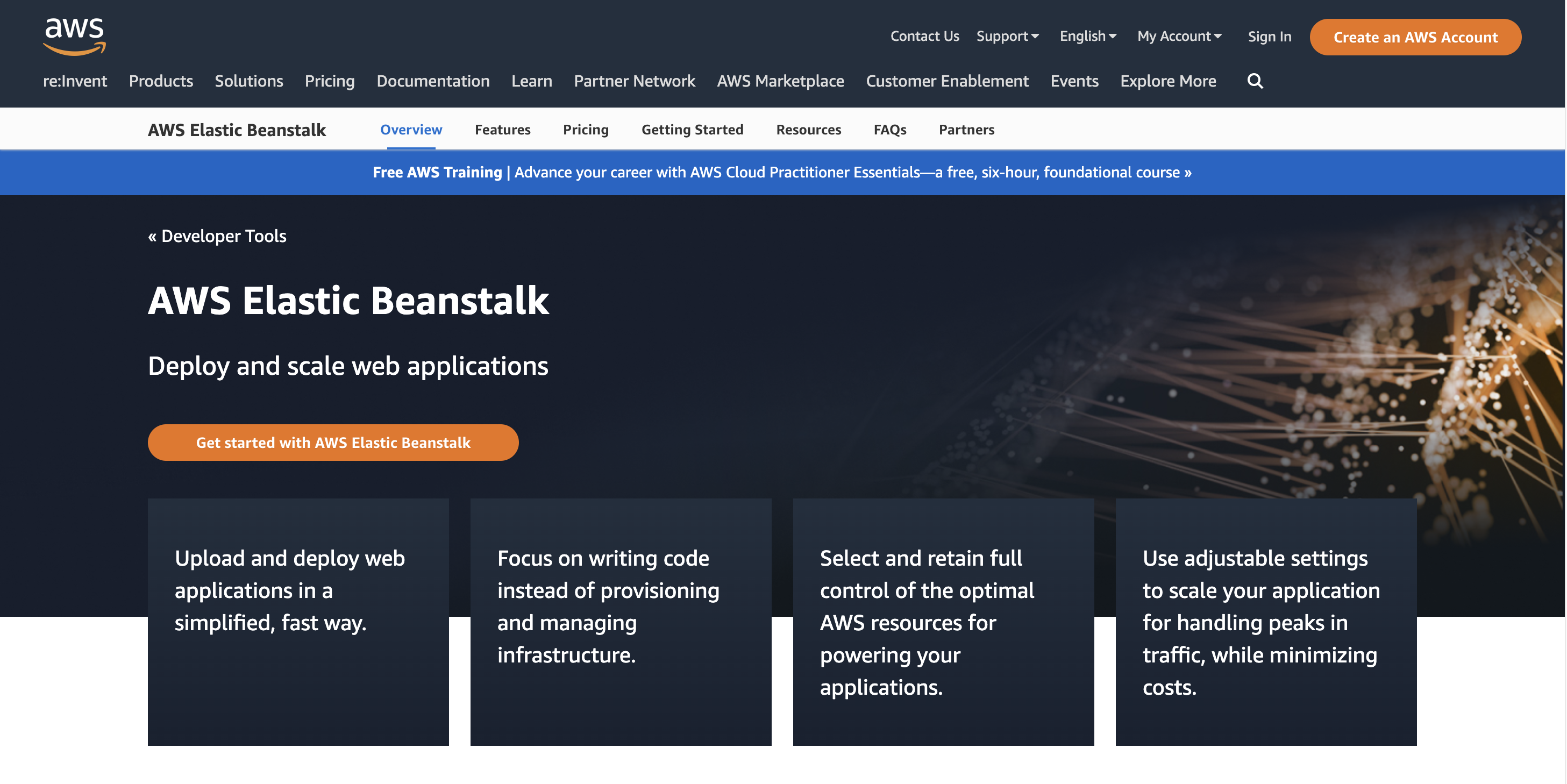 You can also utilize EB to establish an RDS database layer that links to your application. All of this can be accomplished without writing a single line of code.
To set up the deployment environment, use the EB command-line interface (CLI) or the EB administration Dashboard.
Pros
EB enables you to swiftly deploy extra servers. To deploy extra servers, just change settings with the press of a button.

If your update fails, the instance will immediately revert to the previous stable version. It also gives you the option to employ different upgrading tactics if you choose.

Elastic Beanstalk (AWS) lets you pick the level of security you desire.

You won't have to worry about integrating many AWS services because Elastic Beanstalk does it for you.

You will always receive software update notifications, allowing you to redeploy your application on an upgraded system if necessary.
Cons
Elastic Beanstalk (AWS) has less robust issue identification, application performance monitoring, and documentation than its rivals.

Even while the AWS instructional videos make it appear simple and charming, the platform's complex settings make it difficult for novice users to grasp.

Comparing Elastic Beanstalk (AWS) to its PaaS rivals, it has terrible CPU performance.

AWS offers several options for carrying out tasks, and if you're feeling overburdened, you could forget about all the features in your surroundings.
Pricing
Although Elastic Beanstalk (AWS) is free, you must pay for the server resources; as a result, you gradually use more resources and incur more costs.
Render has swiftly established itself as one of the top Heroku alternatives. It offers easy, automatic deployment for a variety of hosted services.
Developers are pleased with how simple it is to deploy an app on Render by simply submitting it to GitHub. Render has well-written documentation for seamless and speedy deployment, whether you're programming in Node, Python, Go, or Ruby.
Furthermore, Render has been generous in providing free SSL for any services placed on the platform.
Render's latest edition of the auto-scaling functionality guarantees that your app always has the resources it needs at the proper price. Unlike its competitors, Render monitors the CPU and memory used to modify resources for hosted services.
Pros
Render provides a hassle-free developer-centric environment with a basic interface but plenty of customization choices.

Setting up and deploying an app on Render is simple. Before your app is live, the procedure normally takes less than an hour.

Render's autoscaling is based on real-time CPU and memory utilization, allowing the app and background workers to be scaled.

Render has amazing customer service. Instead of sending request tickets, you can communicate with engineers.

Native Rust and Elixir support.
Cons
Scala and Clojure do not have native support.

As a relatively new PaaS solution, Render lags in the add-on ecosystem.

The number of regions is still relatively restricted. For the time being, your apps can only be hosted in Oregon, USA, or Frankfurt, Germany.
Pricing
You can start using it for free and premium pricing starts from $7/month.
Google Firebase is a backend cloud service platform. It is intended to be used to construct and power real-time applications that include features such as alerts, authentication, and other front-end services.
Firebase relieves developers of a significant load by handling hosting, backend servers, and developing backend services without the need for server-side coding.
Firebase configures the backend storage automatically using a basic NoSQL database that provides automatic SSL encryption and a GUI for manually entering database entries. Firebase is a good authentication tool; the abstraction of OAuth functionality through its powerful API simplifies authentication via Facebook, Twitter, Google, and other services.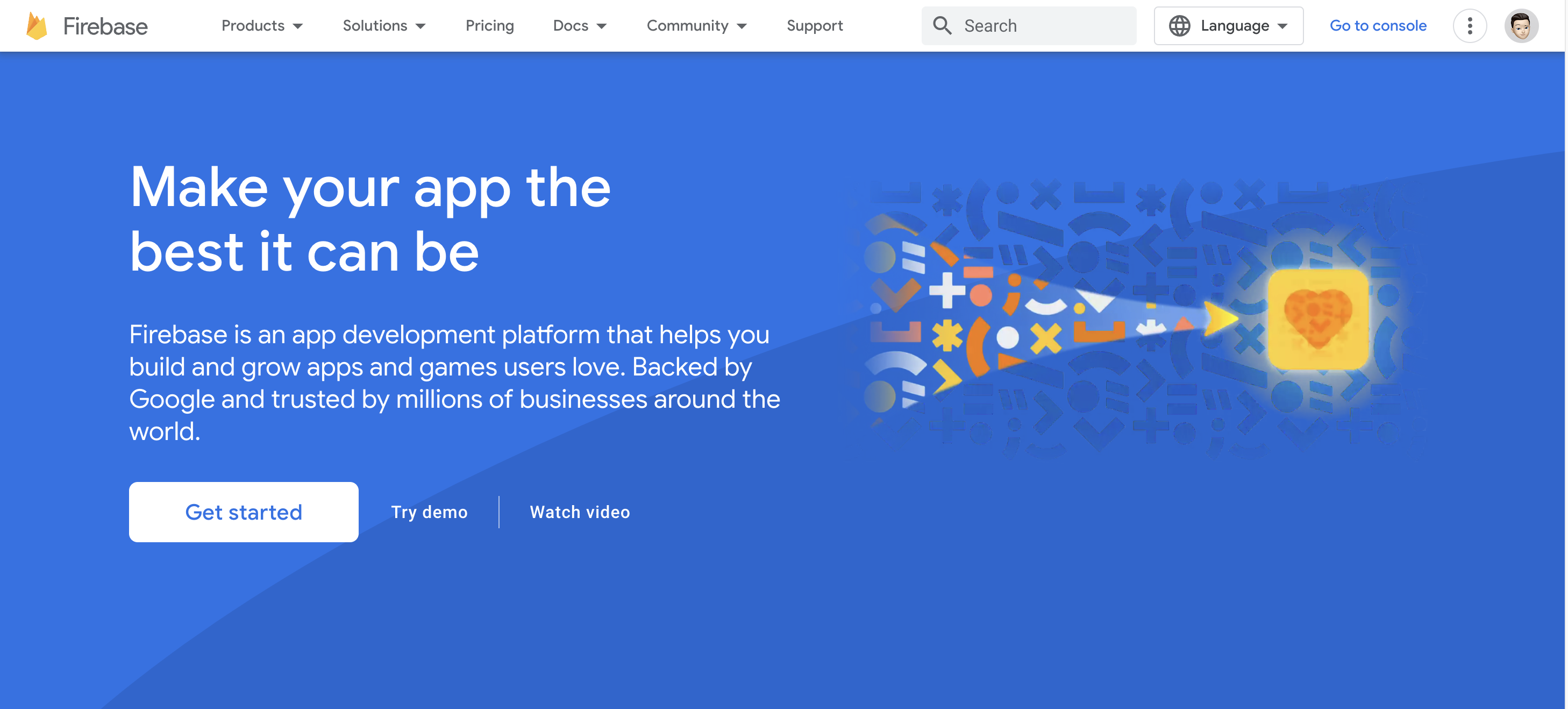 The built-in Google Analytics and AdSense integration saves developers the trouble of having to incorporate SDKs and other libraries for monitoring and advertising.
It also enables numerous devices running a Firebase app to rapidly sync data updates. The database platform employs JSON, which is appropriate for usage in a web or mobile application.
It supports Android, iOS, and Web applications, making it a good choice for developing native apps as well as web-based administration components. The most recent version is now entirely hosted on Google Cloud infrastructure and includes attractive features such as cloud storage and Push alerts for Android/iOS devices.
Pros
Firebase; real-time data authentication is the future of database technology. Most database platforms use HTTP calls to sync data on demand.

It enables you to treat data as streams in order to create highly scalable applications.

Firebase does not use traditional HTTP; instead, it uses a WebSocket, which is quicker than HTTP. You simply need one socket to automatically sync all of your data in a single connection.

A server isn't required for a basic UI on the Firebase platform.

Firebase provides simple cloud hosting services for all of your static files, which can be delivered from a single global CDN using HTTP/2.
Cons
The most important issue of the Firebase platform is its backend constraints. It has less flexibility than Heroku and may impede the development of more advanced apps.

It is difficult, if not impossible, to migrate your apps away from the Firebase platform. You must conduct due research to ensure that it is the appropriate platform for your applications.
Pricing
Firebase is free, you must pay for the resources; as a result, you gradually use more resources and incur more costs.
Netlify is a scalable cloud-based web development platform that is one of the top Heroku alternatives for Node. It's built on Jamstack, which the firm pioneered in order to provide developers with a unified experience.
Netlify, as opposed to Heroku, concentrates on the deployment and hosting of static websites. Netlify, which focuses on front-end development, provides a wealth of tools for developers to use.
It is compatible with major front-end frameworks such as Vue, Next.js, and React. The platform has complete CI/CD integration and allows you to deploy directly from GitHub.
It allows you to preview and obtain comments on your builds. Netlify's security is well-managed, with free SSL certification and authentication among the services available.
You can enhance your project with built-in features such as Forms and Analytics. Netlify is also one of the more liberal alternatives in terms of free-tier features.
Pros
Netlify is the most basic front-end development tool available. The whole build, versioning, and deployment process makes use of technologies that developers are familiar with. All installed websites receive free SSL certificates.

Netlify abstracts away the fundamental mechanism of static app deployment. You can simply commit the build from GitHub. It merely takes a few clicks to set up the CI/CD system.

Netlify has a plethora of plugins for web developers. The Check links plugin, for example, discovers broken links between web pages.

Ember.js, Gatsby, Nuxt, Eleventy, Svelte, React, Next.js, Vue, Angular, and Jamstack are all natively supported.
Cons
The number of members determines Netlify's price structure. The monthly charge might be rather significant if you have a huge workforce.

Particularly for custom-built programs, some setups could be challenging. For instance, configuring Forms and APIs requires some time.

There is no native support for Clojure, Go, Scala, Java, PHP, or Ruby.
Pricing
You can start using it for free and premium pricing starts from $19/ per member/month.
Google App Engine is a market leader in the PaaS space. Google App Engine, which was launched in 2008, provides a fully-managed serverless platform where developers can build programs without worrying about infrastructure administration or deployment settings.
You can use Google App Engine's broad standard framework support or provide your own runtime via the Docker container.
As diagnostic tools, Google offers Cloud Monitoring and Cloud Logging to assist you in tracking down faults in the app.
The App Engine is a wonderful resource for CI/CD processes. By dividing incoming traffic, you can host multiple versions of the app and do A/B testing. Because your apps are hosted on Google, you can anticipate more than 99.99% uptime.
Pros
It's simple to set up since Google App Engine delivers on its promise of minimal configuration and infrastructure setup.

Google App Engine's auto-scaling capability dynamically raises or reduces computing capacity for your app based on traffic. It assists you in cost-cutting measures.

You can simply interface with services like DataStore, Pub/Sub, and Cloud Storage since you are a member of the Google Cloud ecosystem.

Google App Engine is effective at handling time-consuming, asynchronous tasks such as large-file uploads.

It provides native support for .Net.
Cons
Beginners could have a difficult time getting used to the UI because there aren't any tutorials available.

When your software needs additional processing power, monthly costs might rise quickly. Google App Engine is not particularly efficient in terms of costs.

Neither Scala nor Clojure have native support.
Pricing
Google App Engine is free for new customers, you must pay for the resources; as a result, you gradually use more resources and incur more costs.
Redhat's OpenShift is a collection of containerization solutions. The principal product in this series is the OpenShift Container Platform, an on-premises PaaS (platform as a service) solution built on Docker containers.
The offering, which is controlled using Kubernetes, is powered by a Red Hat Enterprise. OpenShift Online is a software-as-a-service platform, and OpenShift also provides a managed service known as Openshift Dedicated.
Administrators and developers can use OpenShift Console's purpose-specific views. The administrator views make container health and resource monitoring, user administration, and operator functions easier.
Developer perspectives are focused on application resources contained within namespaces. OpenShift also provides a CLI with Kubernetes CLI action preset support.
Pros
OpenShift helps development teams to prioritize their critical functions, such as creating and testing apps.

For developers, container deployment and administration are hard and time-consuming processes.

OpenShift enables quick container orchestration, allowing for faster application provisioning, deployment, and scalability.

Developers can make greater use of their time than container administration and deployment tasks. As a result, the development process gets speedier, and the time to market is reduced.

OpenShift is a vendor-agnostic, open-source platform that allows customers to swiftly transition container operations to any new operating system.

The strong connection with GitHub and Docker makes deployment a breeze. Changes in the CI/CD pipeline are simple to handle.

Perl has native support.
Cons
It might be difficult to monitor and fix deployment concerns. Log management has space for improvement.

The delayed response impedes support. It's difficult to settle your difficulties on time.

There is no native support for Go, Scala, or Clojure.
Pricing
You can try the platform for free and premium pricing is based on hours ie. 0.76/hour.
Engine Yard is likely the only option if you're looking for the finest Heroku alternatives for Rails. Engine Yard has over ten years of expertise in the Rails stack and offers the greatest Rails deployment environment with top-notch support.
While Rails is the inspiration for Engine Yard, the PaaS also supports Node.js, PHP, and Python. Engine Yard delivers great scalability by deploying programs on Amazon EC2 cloud infrastructure.
This increases dependability since you can take advantage of AWS's different zone availability.
Engine Yard streamlines cloud app administration by automating stack upgrades and security fixes to the hosted environment. It is also feasible to scale app resources by supplying application metrics.
Pros
It automates the management of the Ruby on Rails stack. The PaaS's Rails knowledge translates to worry-free operations for developers.

It is hosted on AWS, which increases the stability and availability of hosted programs. In the event of an outage, recovery is quick.

Its GitHub connection allows you to deploy apps directly from the repo.

It takes care of infrastructure provisioning by automating database administration, AWS support, and other underlying resources.

Its customer service is excellent. You can genuinely rely on the support team to fix any platform concerns.
Cons
Engine Yard's administrative options and configuration can be confusing. You'll need to spend some time learning how things operate.

Python, Java, Go, Scala, and Clojure doesn't have native support.

Although there is a free trial available, Engine Yard is quite expensive. For startups looking for less expensive options, it might not be the best fit.
Pricing
The premium pricing starts from $150/month.
Platform.sh is widely considered to be one of the best Heroku alternatives for Python and other frameworks.
It is built on CI/CD concepts and has direct interaction with GitHub. This allows developers to deploy code directly from GitHub repositories.
Platform.sh provides the infrastructure, data services, and security abstraction required to construct a basic web app or serve hundreds of complex websites.
Platform.sh offers an advantage over Heroku in that no costly add-ons are required to get your software up and running. Essential data services are included at all Platform.sh membership levels.
Amazon Web Services, Google Cloud Platform, Microsoft Azure, and Orange Power Platform.sh are examples of cloud computing platforms. You can run your app on many clouds at the same time for the best user experience.
Pros
Platform.sh makes it simple to deploy apps because it is fully connected with GitHub. Pushing contributions to GitHub will result in the app being deployed. A competent CI/CD solution also entails effectively duplicating Dev/Stage/Prod branches on GitHub and having them mirrored on Platform.sh.

It includes a sophisticated CLI tool for project management and control over numerous dependencies and stacks.

it includes all the tools you need to take your eyes off setting up the environment, whether you're hosting a basic website or a complex web app.

It offers an excellent support team that is eager to assist developers in every way possible.

C#/.Net core, Elixir, and Lisp are all supported natively.

It includes detailed deployment documentation for common languages and frameworks.
Cons
The SLA agreement only applies to the Enterprise plan, thus if you subscribe to the basic plan, you could occasionally encounter outages.

The native support for Scala and Clojure is absent.
Pricing
You can try the platform for free and please request the quote for its pricing.
Popular Backend as a Service (BaaS) supplier Back4app is a great open-source alternative for Heroku.
It offers a fully managed backend with automatic application provisioning and scaling, backup and recovery, round-the-clock monitoring and alerting, web-based administration tools, technical support, and many more features.
Back4app has a user-friendly interface, smooth app scaling, and best-in-class support, among other benefits. Back4pp deploys and scales apps' backends entirely using serverless technology.
Because of its serverless design, developers are able to concentrate on creating apps rather than spending their nights worrying about infrastructure.
It is a dependable serverless database platform that encourages quick app creation, backend development without writing any code, hosting apps without infrastructure headaches, and scaling apps without facing technical difficulties.
Pros
It is a supplier of BaaS and a backend generator developed with open-source technology.

It is simple to use, and the platform includes capabilities such as a scalable real-time database, ready-to-use APIs, alerts, and authentication.

It is a versatile choice for developers that works with both GraphQL and REST API.

As with other PaaS systems, there is no need to maintain any infrastructure. There is no software to install or runtime to manage. The platform DevOps team handles all infrastructure management issues.
Cons
Back4App's database is MongoDB. Mongo has a history of data corruption and loss.
Pricing
You can start using its free tier and premium pricing starts from $25/month.
Conclusion
Finally, there is no such thing as a good or bad vendor, and the best choice will be determined by the needs of your project. More customized applications, such as MVPs and internal apps, can be better suited to Back4app or Firebase.
Heroku and Netlify perform distinct functions. Heroku's strength is its ability to effortlessly deploy backend web programs on the cloud.
Netlify, on the other hand, is a platform for hosting and delivering static webpages over worldwide CDN. Heroku and Netlify both automate infrastructure management, data services, and security, allowing developers to concentrate on design and coding.
Both platforms include GitHub integration, which allows for speedy deployment and version control. Both can be an amazing fit for you depending on the sort of project you're working on.
We covered the finest Heroku alternatives, and you will undoubtedly discover a solution that delivers capabilities and a price structure that meets the demands of your project.