Artificial Intelligence (AI) is a modern marvel of human creativity in the fast-paced world of digital interactions.
This technical marvel is a living, developing organism that easily integrates with our everyday internet duties; it is no longer limited to the realms of science fiction.
Artificial Intelligence is the unsung maestro of arranging a streamlined, effective digital experience, from the straightforward task of asking a virtual assistant to set a reminder to the intricate ballet of big data research.
AI's history is one of unrelenting curiosity and the quest to make the digital world not just accessible but also naturally interacting.
Every day, artificial intelligence (AI) gains a little bit of new knowledge, advances somewhat, and makes progress toward comprehending and imitating human-like cognition.
This is about technology becoming an intimate companion in our daily digital efforts, not just about robots getting smarter.
We are at the beginning of a time when conducting an online search is more of a dialogue than a task.
With AI's increasing sophistication, our interactions, searches, and even thought processes in the digital realm are being gradually changed. One important aspect of AI's usefulness is its ability to increase productivity.
AI has become the hero in this era of time scarcity, automating mundane jobs and simplifying work.
AI is always working behind the scenes to keep the productivity wheels turning, whether it's processing emails, setting up meetings, or even sifting through enormous databases.
The secret to AI's magic is its capacity to handle routine jobs, freeing up human labor to be directed into more strategic, thought-provoking projects.
However, the story doesn't stop at productivity; it also touches on simplicity. With a stroke of computational wizardry, AI systems can simplify complicated operations, much like the magicians of today.
They take something confusing and make it understandable, or take something difficult and make it easy.
This is about making the digital world more approachable and less intimidating for both tech-savvy people and non-techies alike, not only about simplifying activities.
The use of AI in online platforms is a trend toward more naturalistic digital interactions rather than a passing fad.
AI is developing; it's assisting the digital world in expanding along with it with each new algorithm it learns and each pattern it finds in data. As a result, we have compiled a list of the finest AI tools for daily chores.
Motion is a go-to platform for those who love productivity. It claims to revolutionize the way that tasks, meetings, calendars, and projects are managed.
But Motion's incorporation of cutting-edge AI capabilities is what really makes it stand out.
Motion, which aims to increase productivity, intelligently manages your day, arranges appointments, and creates the perfect to-do list using automation and artificial intelligence at its heart.
The days of painstakingly creating your calendar or feeling overtaken by to-do lists are long gone.
Motion takes charge and creates a timetable that suits your requirements. It reschedules incomplete jobs, automatically prioritizes work, and makes sure deadlines are completed without fail.
Motion's AI also organizes all of your tools into a single, unified platform and protects your time so you can focus uninterrupted.
Additionally, it has an Intelligent Calendar, which automatically prioritizes activities according to relevance in addition to displaying your daily agenda.
It helps you stay on top of deadlines and even restructures your calendar in response to unforeseen disruptions.
Additionally, the platform has an Automatic Task Manager that generates to-do lists for you, saving you from having to use traditional ones.
Motion's Automatic Project Manager gives project managers a distinct viewpoint by automating job and project scheduling and offering time allocation insights.
However, it goes beyond assignments and projects. With Motion's Meeting Scheduler, meetings won't take up all of your day. You can even design unique meeting templates, manage meeting durations, and share availability.
Motion's AI primarily uses three productivity strategies: time blocking, intense work, and thorough preparation.
With the help of its exclusive "Happiness Algorithm," these tactics seek to increase productivity while maximizing user pleasure.
Pricing
You can try the platform free for 7-day and premium pricing of the platform starts from $19/month (billed annually).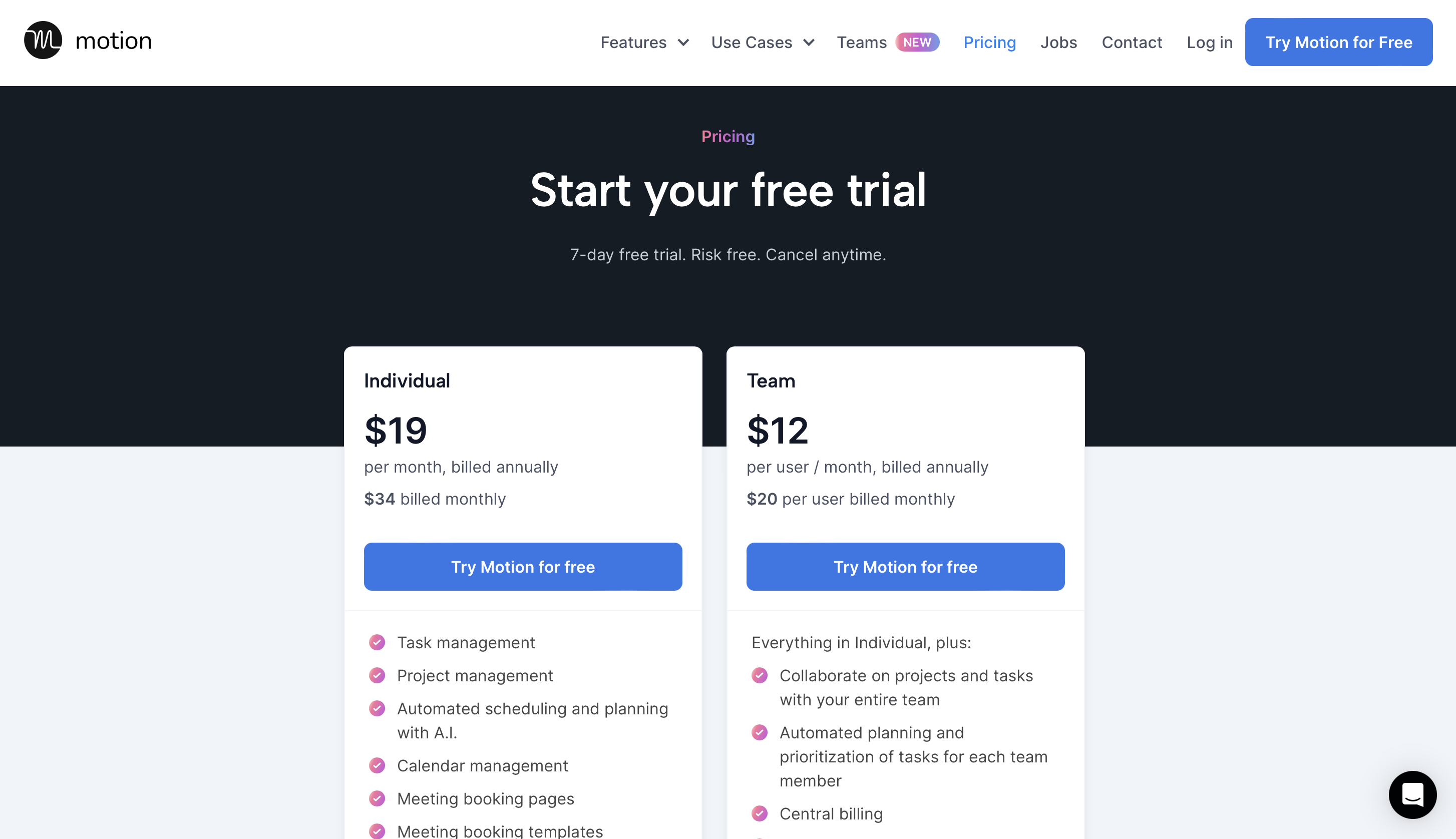 Reclaim is revolutionary in the field of productivity and scheduling. Reclaim is an AI-powered scheduling automation program that works in harmony with Google Calendar to maximize users' workweeks.
Reclaim goes above and beyond just making reminders and organizing meetings. It makes sure that users maximize their time by using artificial intelligence (AI) to determine the optimal times for assignments, meetings, breaks, and habitual activities.
Reclaim has a lot of capabilities. It supports concentrated periods and days with no meetings, enabling professionals to work deeply.
Task lists and calendars are integrated to guarantee effective job assignment and prioritization across teams.
Features like auto-booking 1:1 meetings with important accounts and high-priority scheduling connections are quite helpful for anyone working in sales or HR.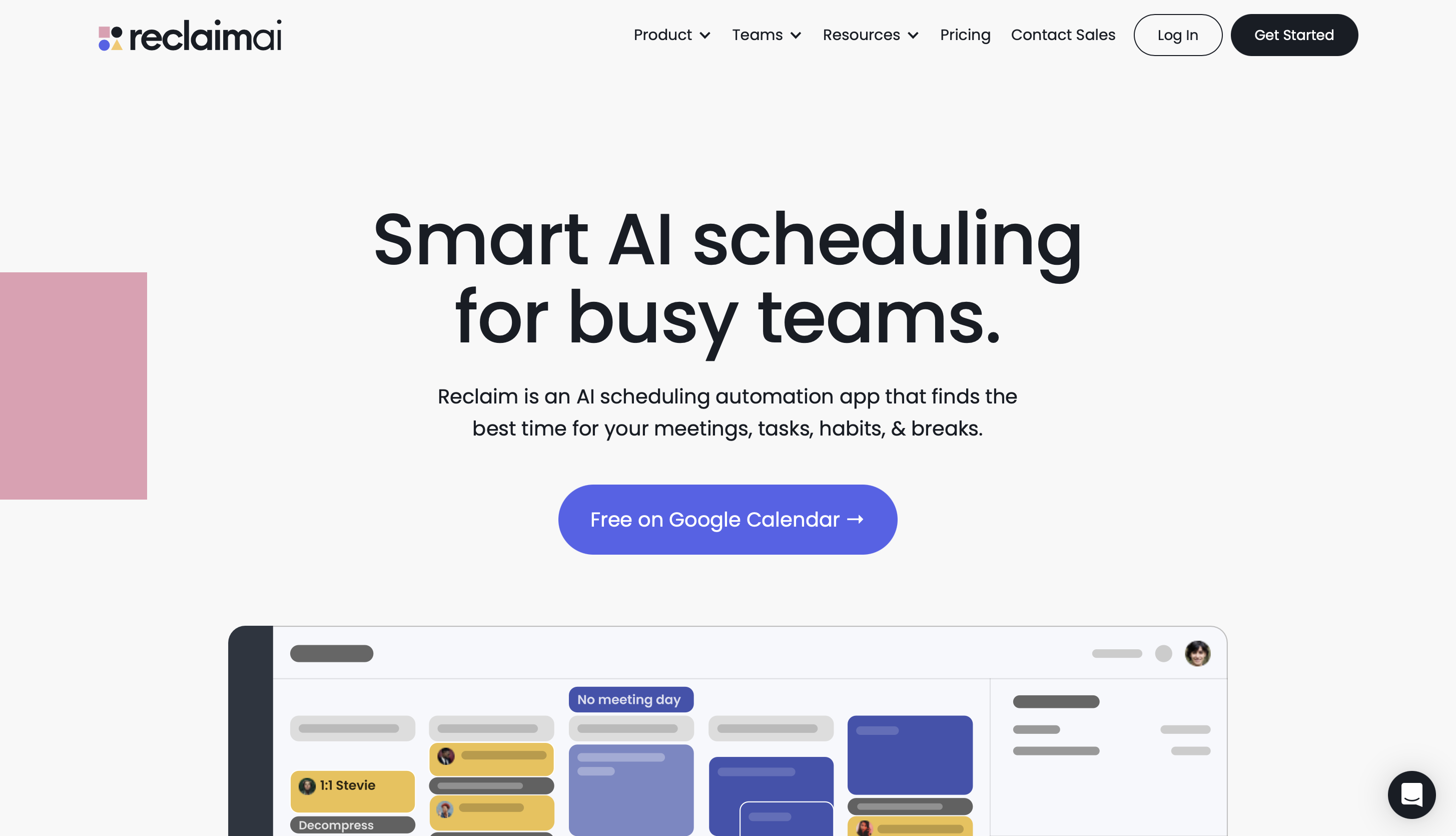 Furthermore, it highlights the significance of work-life balance and provides strategies to avoid encountering fatigue and burnout.
The defense of concentration time on the calendar is one of Reclaim's most notable characteristics. It determines when work is most productive and allows for flexibility in case things change.
Furthermore, using sophisticated priority controls, maximizes team meetings and promotes a more productive meeting atmosphere.
Reclaim provides sophisticated calendar restrictions to safeguard workers against mandatory overtime and unending back-to-back meetings, thereby improving work-life balance.
However, it goes beyond employment. Reclaim also provides insights on individual time tracking, enabling you to examine your time allocation across meetings, work, and personal obligations.
These data enable users to pinpoint their most productive days and make well-informed scheduling decisions.
Pricing
You can start using it for free and premium pricing for the platform starts from $10 per user/month.
Notion appears as a simplified solution that unifies several work processes into one easy-to-use platform.
By balancing simplicity of use and capability, its elegant design makes it possible to integrate notes, databases, and collaboration tools seamlessly.
Notion is frequently praised for its adaptable features, which enable a fully customized workplace that can accommodate a wide range of business needs. It's a canvas ready to meet both the group and individual goals of today's professionals.
It is flexible enough to change into a company-wide knowledge base, a collaborative project board, or a personal to-do list based on user demands. It's more than just a storehouse; it's a lively work area that promotes conversation and creates an atmosphere that's ideal for ideation and goal-setting.
All clients can readily access and thrive in an environment of shared information, thanks to the platform.
In Notion AI is viewed as a catalyst that can elevate the platform's value by automating repetitive operations and providing insightful data insights.
Today, Notion is not one to be behind when it comes to advancing into the field of AI.
Although it hasn't been acknowledged for its AI skills in the past, new developments have encouraged Notion to investigate AI solutions that improve user experience and operational effectiveness even more.
With its ability to automate repetitive activities and offer insightful data insights, artificial intelligence (AI) is viewed as a catalyst in Notion, increasing the platform's usefulness.
The use of data has been significantly enhanced with the advent of AI-powered capabilities like automatic tagging and smart search.
Notion has been able to provide more accurate predictions and efficient processes because of the introduction of AI.
Making well-informed decisions is made easier by automation and clever analysis, which also saves important time.
Pricing
You can start using it for free and premium pricing for the platform starts from $8 per user/month (billed yearly).
Canva is a well-known online graphic design tool that has completely changed how people and companies create visual content.
Canva offers a wide variety of design templates, from social media graphics to presentations and more, all of which are easily navigable through its intuitive interface.
But Canva's use of AI capabilities is what really makes it stand out. These AI-powered tools help you to create designs that are both visually beautiful and customized to meet their own requirements.
For example, Canva's "Color Palette Generator" utilizes AI to extract colors from supplied photos, guaranteeing design consistency, and its "Magic Resize" feature uses AI to automatically modify designs to fit multiple platforms.
Canva is a really useful tool for everyday activities.
With Canva's extensive collection of templates and components, generating a social media post, making a birthday invitation, or making a presentation for work becomes easier.
Moreover, teams can work on designs concurrently because of its collaborative capabilities, which boosts output.
To ensure that even individuals not experienced in design can create visuals of high quality, the site also provides materials and lessons.
Canva uses AI to simplify the design process and provide tailored recommendations, which helps users accomplish their goals more easily.
It is a top tool in the field of digital design because of its creative features and flexibility to adapt to a variety of work.
Pricing
You can start using it for free and premium pricing for the platform starts from €99.99/year for one person.
Otter AI is a leader in speech transcription and meeting support. This cutting-edge platform has a number of features intended to improve efficiency and facilitate collaboration.
Otter AI's primary function is to deliver real-time transcription services, accurately translating spoken speech into written text. However, it doesn't end there.
The AI capabilities of the platform can be used to record and automatically join meetings via platforms like Zoom, Microsoft Teams, and Google Meet, as well as to capture action items and generate meeting summaries. Otter AI is invaluable when it comes to daily duties.
Imagine having an AI assistant that captures audio, takes notes, and underlines important points during a meeting, saving you the hassle of frantically writing down notes.
Team members can also give tasks and provide comments right in the live transcript thanks to collaborative capabilities.
Additionally, Otter AI automatically records and incorporates shared slides into the meeting notes in the event that someone uploads them during a virtual meeting, guaranteeing thorough documentation of conversations. An additional noteworthy attribute is the "Live Summary."
Otter AI creates a real-time summary of meetings so you can easily catch up if you chance to miss any parts. This summary is emailed after the meeting, saving time reading through long transcripts.
Furthermore, Otter AI's "OtterPilot for Sales" generates follow-up emails, uploads call notes to Salesforce, and extracts insightful sales data for sales people.
Pricing
You can start using it for free and premium pricing for the platform starts from $16.99 per user billed monthly.
Jasper AI is a cutting-edge technology that aims to transform how business marketing teams approach content generation.
Jasper is positioned as an AI copilot with the goal of producing not just faster but noticeably better results.
The "Company Intelligence" function, which guarantees that every material is based on corporate strategy, competition intelligence, and audience research, is the core of Jasper's products.
The ability to incorporate brand and product positioning into content further strengthens this by guaranteeing a consistent message throughout. Jasper has a lot of ability for routine jobs.
With the "Campaign Acceleration" package, marketing campaigns can be created and modified automatically in a matter of seconds. It also provides automated project management, content generation, and repackaging.
AI comment summaries, one-click edit integration, style guide compliance, and SEO considerations speed up the review and optimization process.
A single brief can be nearly instantaneously transformed into a multichannel campaign with the help of the "Content Acceleration" tool, which also guarantees quick concept execution with on-brand AI support.
The platform provides "Performance Analytics & Insights" that give practical suggestions for improving the caliber of content.
You can post AI-optimized content straight to the platforms of your choice, guaranteeing a smooth process. Jasper also offers more flexibility and dependability because of its compatibility with different AI models.
Pricing
It offers a 7-days free trial to use the platform and premium pricing of the platform starts from $99/month (billed yearly).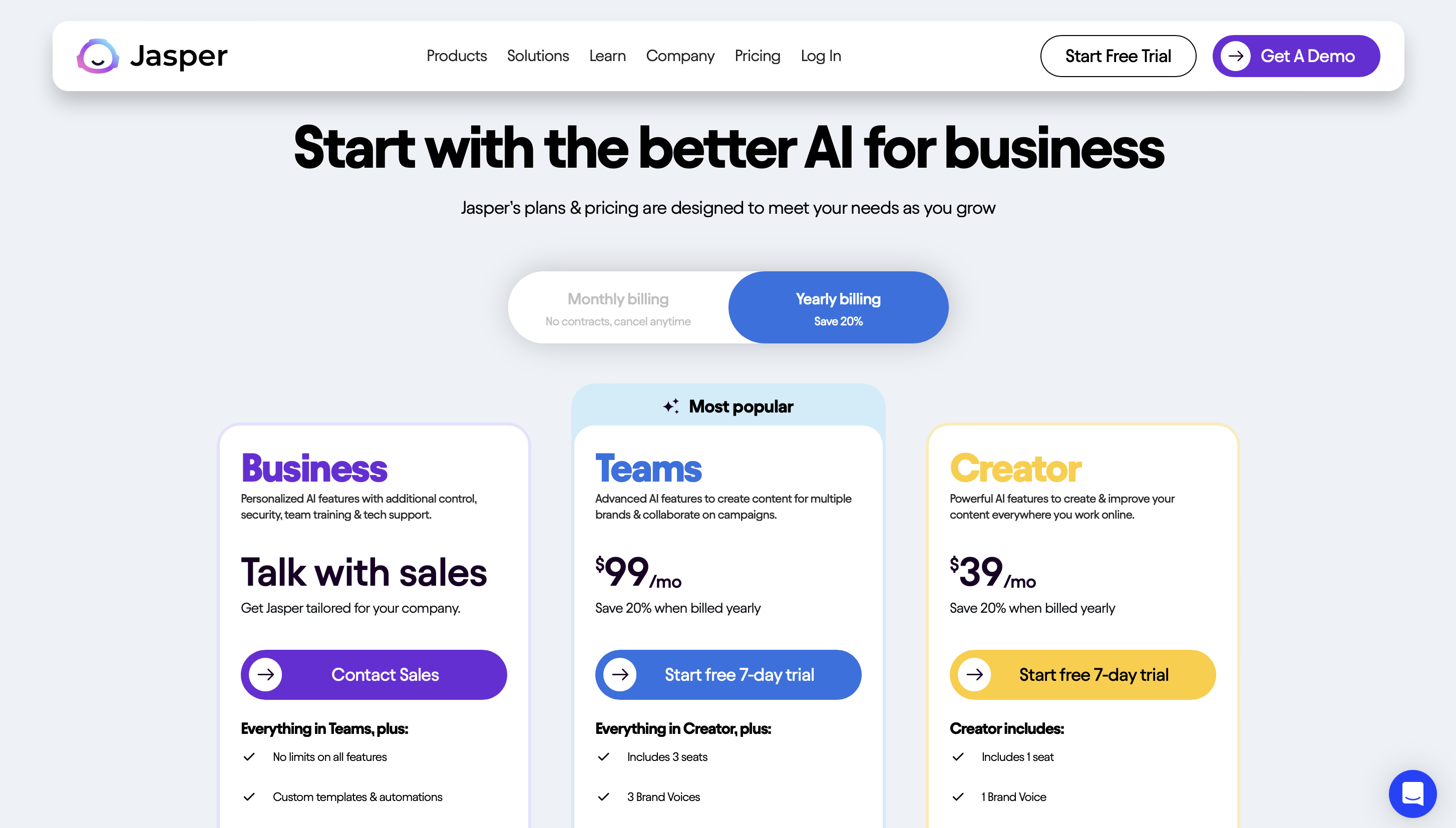 Play.ht is a leading AI voice generator platform that specializes in turning text into speech that sounds realistic.
It gives customers the power to create sounds that are almost exactly like human speech thanks to its sophisticated AI features.
Text can be translated into natural-sounding voice performances across a wide range of languages and dialects using the platform's AI Voice Generator. This guarantees that voice selections are varied and catered to the individual requirements of video makers.
Play.ht offers a wide range of options when it comes to everyday duties. Play.ht provides voice acting services for gaming characters, story narration, and video voiceovers.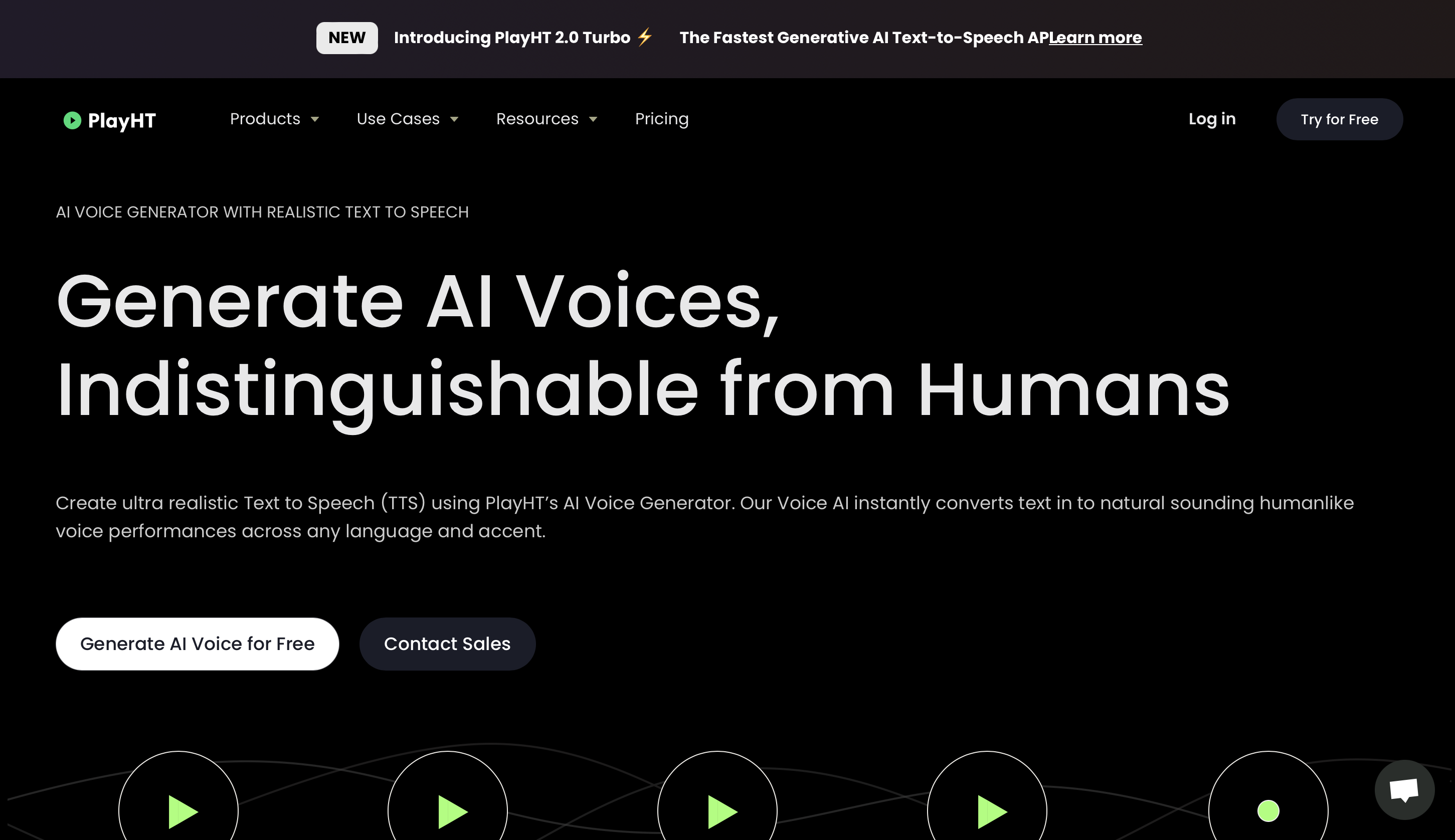 Among its features are "Audio Publishing," which enables you to convert written information into captivating audio forms, and "AI Voiceovers for Videos," which is ideal for explainer and marketing films.
The platform also provides companies looking for a distinctive vocal identity with "Custom Voice Creation" and "Conversational AI" for realistic voice interactions.
Also, it provides a "Voice Generation API," which enables programmers to incorporate speech functionality from the platform into games, chatbots, and live streaming.
Additionally, consumers have an abundance of options because of the over 800 AI voices available in over 142 languages and dialects.
The platform also places a strong emphasis on using AI ethically, making sure that the technology is applied sensibly.
Pricing
You can start using it for free and premium pricing for the platform starts from $31.20 per month.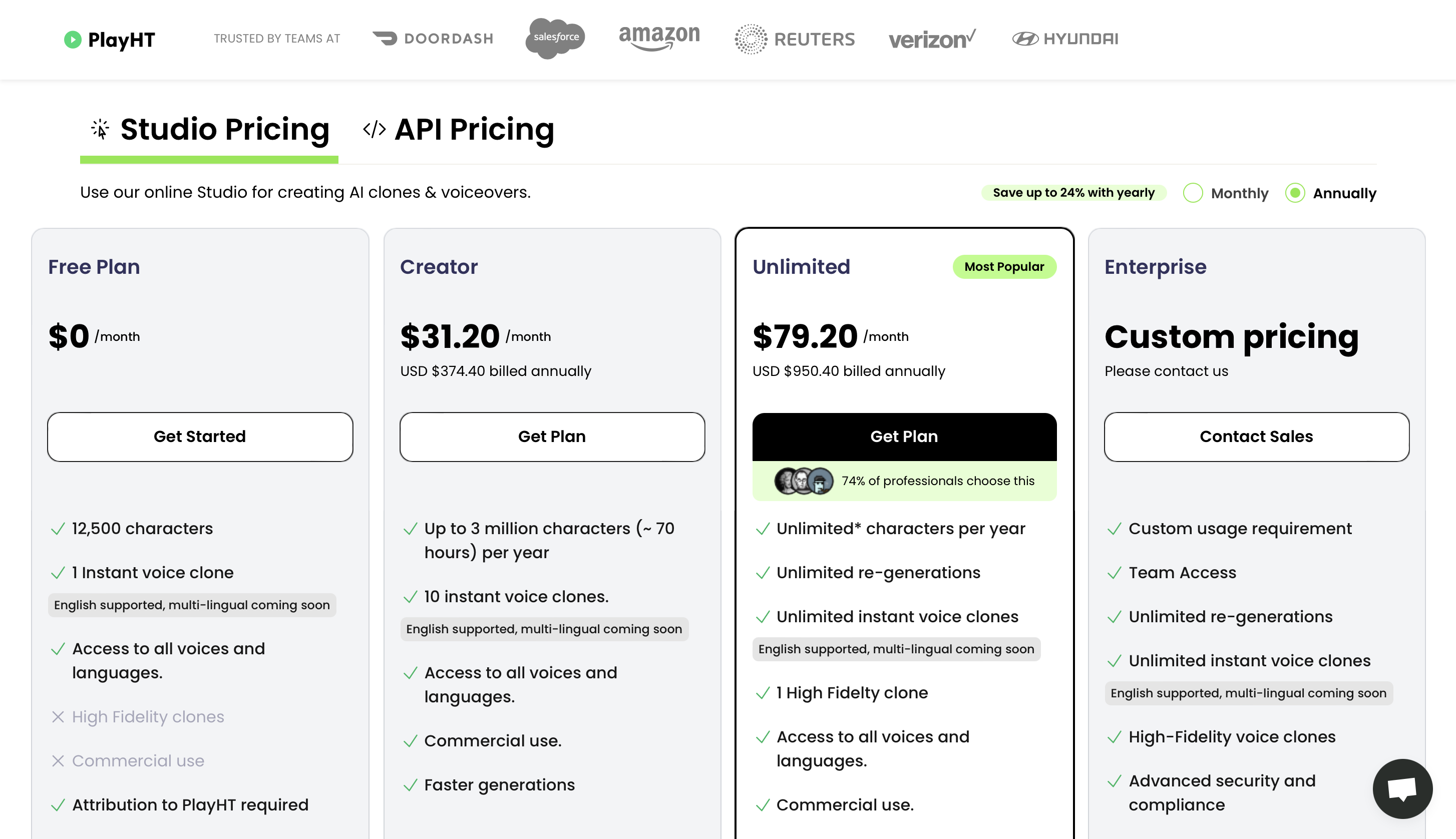 ContentBot distinguishes out as a prominent AI-driven technology dedicated to content production automation.
A set of tools called ContentBot is specifically made for digital marketers, content marketers, entrepreneurs, and even SEO professionals. Its purpose is to improve and expedite the process of creating content.
Fundamentally, the platform has cutting-edge AI capabilities that lets you to create excellent landing pages, blog articles, marketing copy, and even eCommerce content.
This is accomplished through its cutting-edge AI models, like GPT-3 from OpenAI, which is famed for producing human-like writing. ContentBot is revolutionary for daily chores.
Content marketers can use the "Flows" function and "AI Importer" tool on the platform to enhance their output, while digital marketers can easily generate a variety of blog articles and copy.
Copywriters can produce more persuasive marketing materials, and founders can create content faster. Furthermore, SEO experts are able to create material that is optimized for search engine rankings, guaranteeing presence in search results.
It is a remarkable tool because of its "Flows" function, which lets users automate content creation tasks like tweet scheduling and daily blog posting.
Additionally, the platform has a "Import" tool that makes it easier to upload big data sets to create content more quickly.
ContentBot guarantees that customers can effortlessly reach audiences throughout the world with support for more than 110 languages.
Pricing
The premium pricing of the platform starts from $9.5 per month.
Scheduler AI is a cutting-edge technology that uses artificial intelligence to completely transform the scheduling experience.
This platform, known as the "#1 AI Scheduling Assistant," is intended to turn the sometimes tiresome process of scheduling into a source of income.
It distinguishes itself from its rivals with its sophisticated AI features, which enable it to effectively comprehend user intent and translate it into practical scheduling processes.
Scheduler AI has several capabilities that meet different scheduling requirements when it comes to everyday duties.
Scheduler AI can help you with many types of scheduling tasks, including handling large-scale conferences, scheduling internal team meetings, and scheduling client appointments.
You can use the platform's AI assistant to schedule appointments by simply CCing Scheduler in a message, or it can be turned on automatically in web forms and outgoing messages.
Scheduler AI assumes control by requesting times on your team's behalf, putting calendar holds on them, and liaising with guests from outside the organization.
You can provide the desired scheduling specifications, for example, suggesting many times for a half-hour meeting.
With the help of scheduler AI, meetings can be accelerated across teams and time zones, doing away with the back and forth that is frequently involved in determining an appropriate time slot.
Furthermore, Scheduler AI promptly reschedules in the event that arrangements alter, guaranteeing that no meeting is missed.
In order to increase show rates and guarantee that meetings go as scheduled, the platform also includes features like tracking, reminders, and rescheduling tools.
Pricing
The premium pricing of the platform starts from $25/user per month.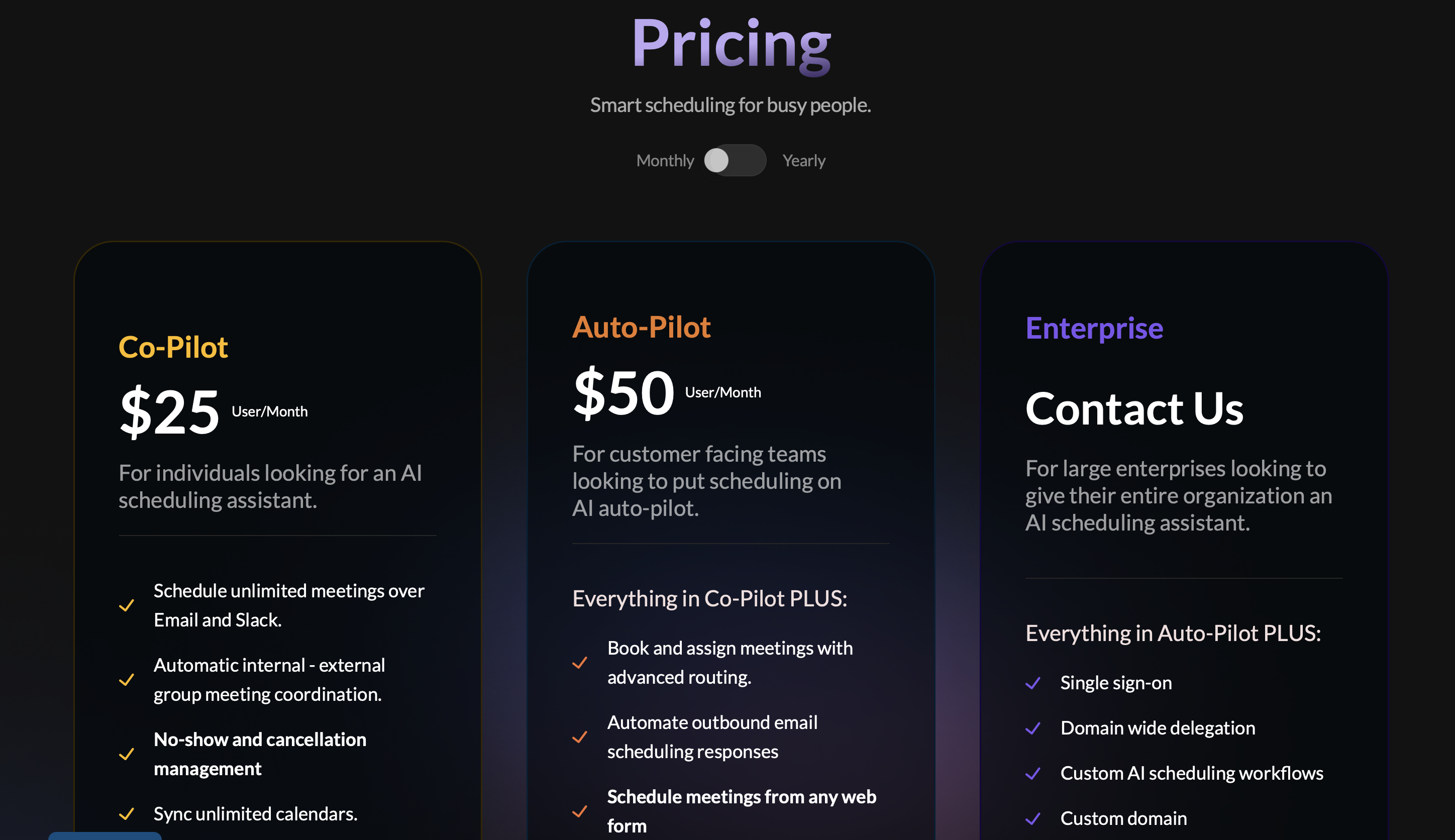 Ocoya is a dynamic platform that combines social media management with artificial intelligence in a seamless way. Ocoya is positioned as a one-stop shop for copywriting, social media posting, and content marketing.
It has a distinctive feature set that is akin to well-known programs like Hootsuite, Canva, and ChatGPT.
The core of Ocoya's services is its AI-powered capacity to produce marketing copy for blogs or social media postings in an astounding 26 languages, guaranteeing a worldwide audience.
Ocoya shows to be a great help with daily duties. Ocoya can help you with creating engaging social media content, scheduling posts for the best times to post, and gaining insights from analytics.
You can prepare and approve content up to years in advance with the platform's scheduling features, and its "AI Writing" function helps you create content.
To help consumers make informed decisions, Ocoya also provides real-time performance analytics. Ocoya's "Generative Social Media" function is one of its best qualities.
With the help of this tool, you can create content at a never-before-seen pace, from visuals and copywriting enhanced by AI to real-time performance data and trending hashtags.
Ocoya also supports Facebook, Instagram, Twitter, and even e-commerce behemoths like Shopify and WooCommerce thanks to its extensive integration capabilities.
It gives e-commerce professionals the opportunity to quickly create expert visuals and create hashtags and descriptions using AI.
Pricing
The premium pricing of the platform starts from $19/month.
Monday also sometimes called a "Work OS," is a flexible platform designed to change how teams communicate and oversee projects.
Monday.com is designed to increase productivity, efficiency, and alignment by letting you modify procedures to suit your own requirements.
Its capacity to combine work, procedures, resources, and documents into a single Work OS—which creates a single source of truth for all organizations—is a key component of its allure.
Monday.com is a powerful tool for everyday activities.
The platform provides customized solutions for anybody working in creative design, software development, marketing, or sales.
A variety of views, including Gantt charts, calendars, timelines, and Kanban boards, are available for you to visualize your work.
The automation features of the platform demonstrate its AI capabilities, enabling you to simplify tasks and concentrate on what really important.
For example, automation can be configured to reduce manual interventions by triggering particular tasks depending on predetermined parameters. Its integrative powers are also noteworthy.
By integrating easily with well-known technologies, it makes sure consumers have access to all of their resources in one location.
It provides an all-encompassing method of job administration, from organizing product roadmaps to monitoring sales pipelines and managing activities.
Its communication tools and real-time notifications also guarantee that teams stay in sync and produce significant outcomes.
Monday.com is a comprehensive solution for organizations looking to improve their operations in today's digital workspace, thanks to its extensive feature set and AI-driven automation.
Pricing
You can start using it for free for 2 seats and premium pricing for the platform starts from $8 per seat per month.
Smarty is a complete platform that maximizes daily planning, centralizes work, and unifies calendars.
Designed to be more than simply a scheduling tool, Smarty unifies contacts, notes, calendars, and tasks into a single, harmonious system.
Fundamentally, Smarty offers real-time workflow recommendations based on your intent and is driven by AI.
This guarantees that you can handle chores, prioritize their priorities, and navigate their schedules with ease. For everyday work, Smarty is a productivity ray.
Smarty's features are designed to make organizing meetings, taking notes, and keeping contacts easier than ever.
AI-powered "Natural Language Commands" on the platform enable you to communicate conversationally with the system.
Furthermore, the "Predictive AI" provides recommendations in real-time, guaranteeing that you never overlook crucial assignments or occasions.
Additionally, you can efficiently organize their days, set aside time for particular chores, and prevent schedule conflicts with the help of Smarty's "Time Blocking" and "Smart Scheduling" features. Smarty's "Natural Language" function, which deciphers human intent and makes pertinent recommendations, is one of its best features.
The platform's "Meeting Notes" function, which enables you to record significant facts during conversations, complements this.
Furthermore, Smarty provides "Scheduling Links," which facilitates meeting scheduling by eliminating the need for you to exchange details in order to identify a mutually convenient time.
Pricing
Pricing is not listed on the website, please share your email address with them to get started.
Lumen5 is an innovative technology that enables you to effortlessly produce engaging movies. Known for its user-friendly interface,
Lumen5 lets people and companies turn textual material into captivating video presentations. The platform's AI-driven features are a major draw.
The AI of Lumen5 scans written material, highlights important details, and then recommends appropriate pictures, videos, and audio to go along with the story.
This guarantees that you can create aesthetically stunning and contextually relevant videos.
For everyday chores, Lumen5 is revolutionary. Lumen5 serves various types of users, including content marketers who want to turn blog entries into videos, businesses that want to produce promotional content, and individuals who want to communicate their thoughts in a more engaging way.
The drag-and-drop interface of the platform makes the process of creating videos easier, especially for individuals who are not experienced in video editing. Its extensive media collection also guarantees that consumers have plenty of options for both audio and visual components.
Lumen5's "Smart Video Templates," which are created using industry best practices, are one of its most notable features.
By giving consumers a head start, these templates guarantee that the finished product complies with industry requirements.
Moreover, Lumen5's AI-driven scene recommendations support the optimization of video pacing, guaranteeing that the material is interesting from start to finish.
With its focus on streamlining the process of creating videos using AI and offering an intuitive user interface, Lumen5 has established itself as a vital resource for contemporary content producers.
Pricing
The premium pricing of the platform starts from $29/month.
Lovo AI is a cutting-edge technology that uses artificial intelligence to create lifelike voices.
Lovo AI, which is designed to convert text into natural-sounding speech, provides a varied selection of voice options, guaranteeing that content producers can discover the appropriate voice for their projects.
Deep learning techniques and complicated algorithms that replicate the tone, intonation, and subtleties of human voice are at the heart of Lovo AI's technology.
As a result, AI-generated voices are almost indistinguishable from actual human voices. Lovo AI is a flexible tool for everyday activities.
Its capabilities appeal to a wide range of demands, whether you're producing voiceovers for animations, providing narrations for e-learning courses, or designing virtual assistants and chatbots.
Lovo AI's "Emotional Voices" suite is one of its highlight features, allowing you to inject their material with a variety of emotions ranging from appreciation and wonder to boredom and confidence.
This guarantees that the created voice matches the desired message exactly and resonates with the audience.
Additionally, Lovo AI provides tools such as the "Pronunciation Editor," which ensures that certain words are articulated correctly, and the "Sound Effects" function, which enriches the entire auditory experience.
It supports over 100 languages, allowing you to easily reach a worldwide audience.
Pricing
You can start using it for free and premium pricing for the platform starts from $25 per month.
Midjourney has carved out a place for itself by combining artificial intelligence with creative expression.
Fundamentally, Midjourney is a generative AI service that excels at producing engrossing visuals from written prompts, or descriptions.
Its clever AI powers go beyond natural language processing to produce amazing creative qualities that distinguish it even from well-funded competitors in the field.
Midjourney has received praise for its V5.2 model, which delves into its AI skills and produces crisper pictures, better colors, and more detailed photos.
This development demonstrates Midjourney's dedication to continuously improving its AI models for higher-quality image production.
The impending v6 is expected to improve the platform's ability to understand natural language cues even further.
It can also generate more specialized images that are tailored to the preferences of individual users or to meet the demands of particular industries
. Midjourney is unique in the field of AI art production because of its sophisticated comprehension and ability to create images from text.
Midjourney is a useful tool when the daily grind demands a smooth interaction between creativity and mundane duties.
The platform demonstrates its strong ability to support a large user base and expedite job execution with its ability to execute 20 to 40 tasks per second5.
Additionally, Midjourney is being used by people and companies to create original artwork, which elevates their brand appeal.
Pricing
The premium pricing of the platform starts from $10/month.
Conclusion
To sum up, AI technologies have become invaluable resources for handling everyday activities more accurately and efficiently.
They fit in well with our daily schedules, taking care of menial chores and freeing up time for more important projects.
These intelligent helpers can greatly increase productivity when used properly, both for personal and business endeavors.
Their capabilities are always expanding, which makes them a dependable friend in the modern world.
They can be used for anything from handling emails to organizing appointments to even helping with data analysis. Everyone can find tools in this post based on their needs. Thus, give them a try to boost your productivity.