The idea of productivity has developed into a pillar for professionals in a variety of areas in today's fast-paced world. It's not just about getting more done; it's about producing valuable results in the quickest possible time.
But many people struggle to be consistently productive, frequently juggling many jobs, dealing with distractions, or having trouble with time management.
Enter Motion, also known as Usemotion to some. This cutting-edge technology aims to fundamentally alter the way we approach routine chores.
Motion strives to lessen the manual strain that many professionals face with a purpose founded on automated productivity tactics.
But the way that Motion incorporates AI is what really makes it stand out. Motion delivers solutions that, by leveraging AI, not only prioritize and arrange work but also foresee user demands, ensuring that every day is set up for maximum efficiency.
Therefore, Motion can be the game-changer you've been looking for if you've ever thought your to-do list was too big to handle or wished there was a better way to go about your day.
If you dig a little further, you'll find a platform created with the modern professional in mind, fusing technology and intuition to boost productivity to new heights.
In this article, we'll take a detailed look at Motion, how it employs AI to boost productivity, and much more.
Understanding Motion
Motion, an AI project management app, has entered the field of project management, where complexity frequently rules, to help flatten the playing field.
Motion, which was created with the modern professional in mind, uses artificial intelligence to completely change how projects are planned and carried out. The arduous manual planning processes and conflicts over team alignment are a thing of the past.
By using Motion, you can put an end to time-consuming, siloed platforms. Instead, 90% of project planning is automated by Motion's AI, which also evaluates team skills and creates unique timetables.
Not just organizing chores is important; you also need to prioritize them and include them into your daily routine.
Imagine a scenario in which your project work is automatically put into the team's calendars, tasks are prioritized, and individual schedules are created for each team member. Motion urges you to explore this universe. However, innovation does not end there.
Motion's Intelligent Calendar has been educated to be a productivity expert by studying the routines and tactics of highly productive people. It's like having a personal assistant who organizes all the time-consuming tasks and meetings for you, allowing you to concentrate on the things that really important.
And if you've found that attending meetings is a waste of time, Motion's Meeting Scheduler is here to help. It will serve as your personal assistant and make sure that you arrange fewer appointments at more advantageous times.
Integrations? With seamless connectivity to well-known products like Google Calendar, Zoom, Zapier, Gmail, Microsoft Team, and Google Meet, Motion has you covered.
It is a comprehensive solution that has been painstakingly designed to match the demands of the hectic workplace of today.
Motion is more than just a tool; it's a productivity partner who's here to help your professional life more effective, more controllable, and ultimately more successful. It has capabilities that range from intelligent calendaring to task management, meeting support, and integrations.
How Motion Uses AI to Improve Productivity?
Motion's Intelligent Calendar stands out as a real productivity pro in the crowded field of productivity software.
This feature is more than just a calendar; it's a personal assistant powered by artificial intelligence that was created via rigorous research of how the most efficient people organize and carry out their days.
And how does it operate? The Intelligent Calendar from Motion mimics the methods of highly productive people by using AI to arrange their days minute by minute, rank activities, and set aside time for intense, concentrated work.
Not only is scheduling important, but it's also important to take care of your time, schedule meetings only during specific hours, and achieve maximum productivity.
The Intelligent Calendar makes everyday planning less time-consuming with features including task planning, meeting scheduling, and time protection.
It sets flexible time blocks, organizes your chores for you, and even reserves significant amounts of time for necessary intense work sessions.
For just 62 cents each day, imagine having a personal assistant who takes care of all these tasks for you. That is Motion's Intelligent Calendar's value proposition.
The result? It's about efficacy more so than just ease. Users claim to feel more in charge, more laser-like in their attention, and ultimately more productive. It's a program that does more than simply manage your time; it improves it by utilizing AI to make sure that each day is a step in the right direction.
Motion's Intelligent Calendar is made to be your buddy in the pursuit of maximum productivity, whether you're an experienced executive or a freelancer managing many projects.
Motion's AI Project Management App is a game-changer in the ever-evolving field of project management, promising to "Plan Less, Do More."
This ground-breaking solution fundamentally transforms how projects are managed and carried out by using the power of artificial intelligence.
But how exactly does it increase productivity? Motion's AI thoroughly examines tasks, timeframes, and team skills by automating a startling 90% of project planning, ensuring that every project aspect is optimized for success.
It's important to thoughtfully incorporate chores into your daily routine rather than just listing them. Its ability to effortlessly add project tasks to team members' calendars is a remarkable feature. This guarantees that everyone is on the same page, informed, and accountable.
Additionally, it creates personalized timetables for every team member, taking into account their workload, priorities, and availability.
The outcome? a simplified project management process that maximizes efficiency while minimizing manual interventions.
No more combing through never-ending task lists or switching between different planning apps. You can manage projects holistically and intelligently with Motion's AI Project Management App, ensuring that you spend less time planning and more time doing.
This application is a shining example of contemporary project management for professionals looking to complete their assignments quickly and effectively.
Task management is given new life by Motion's AI Task Manager. With the bold declaration that "To-do lists are dead," Motion ushers in a new paradigm in which tasks are intelligently prioritized and planned in addition to being managed.
How is this accomplished? Motion's Task Manager goes beyond simple organizing by utilizing the power of artificial intelligence.
It examines your workload, recognizes your due dates, and incorporates them into your daily calendar to make sure everything is finished on time.
Motion's AI eliminates the uncertainty of what to do next, so you can stop gazing at a daunting list of unchecked tasks. It's a flexible, responsive solution that adjusts to your workflow and supports your objectives and ambitions.
Traditional to-do lists are no longer used, which signals a change from passive task monitoring to active task execution. Making your chores work for you, rather than the other way around, is the goal.
The effect on output is apparent. Users report feeling more in control, more focused, and more aligned with their goals.
It's a tool that helps you accomplish your tasks by giving you instructions on how to execute them, guaranteeing that every day is productive.
Motion's AI Task Manager is a testament to what is achievable when technology and human intelligence are combined in the pursuit of efficiency and effectiveness.
It's a more intelligent manner of working than merely a new method of task management.
Professional life requires meetings, but they may sometimes turn into a time-consuming nuisance. Enter Motion's AI Meeting Assistant, a technology made to streamline meetings and increase their effectiveness.
Motion's Meeting Scheduler serves as your personal assistant, handling time-consuming scheduling and communication tasks to make sure meetings are scheduled at the most convenient times for everyone involved.
How is this accomplished? The Meeting Scheduler uses artificial intelligence to assess schedules, preferences, and priorities in order to determine the most advantageous time slots.
Finding the appropriate moment is more important than simply finding a time.
As a consequence, scheduling meetings is simplified, and all you need to do is show up. The era of back-and-forth communications and scheduling conflicts is over.
Meetings become a smooth, integrated, and productive component of your workflow with Motion's AI Meeting Assistant.
Imagine living in a future where organizing meetings only requires a click, where rescheduling is taken care of automatically, and where you can concentrate on the meeting's agenda rather than its logistics. Motion invites you to live in that environment.
Less time spent on scheduling means more time spent on activities that are genuinely important, which has a clear influence on productivity.
Motion's AI Meeting Assistant is available to make sure that meetings are no longer a time waster but rather a catalyst for success, whether you're organizing a team meeting or scheduling a client call.
5.
Integrations
: Connecting with Popular Tools
Integration is crucial in the networked world of contemporary productivity tools, and Motion is well aware of this.
Motion makes sure that your workflow is smooth and cohesive with a variety of connectors that link with well-known products including Google Calendar, Zoom, Zapier, Gmail, Microsoft Team, and Google Meet.
But how does this increase output? Motion's integrations enable intelligent synchronization and automation across several platforms by utilizing artificial intelligence.
Imagine setting up a Zoom call right from Motion or automatically synchronizing all of your meetings and tasks with Google Calendar.
The goal is to integrate all of your tools into a coherent ecosystem using Motion's AI-driven insights. There are several advantages.
No more navigating between applications or forgetting to complete chores on several platforms.
By automatically coordinating your tasks, meetings, and communications, Motion's integrations put everything under one roof.
Motion's connections make it simple to do anything, from setting up a team call using Microsoft Team to sending a fast reminder through Gmail if you're running late for a meeting.
It's a comprehensive strategy that acknowledges the many tools professionals now utilize and combines them in a straightforward and effective method.
Motion's integrations serve as a testament to the value of intelligent connection in today's time-constrained environment by combining many technologies into one cohesive productivity machine.
It's not only about ease; it's also about making the most of your time and energy by making sure that each click, each job, and each meeting is set up for success.
How to Use the Motion?
1. Calendar
The Intelligent Calendar from Motion is intended to serve as your personal assistant while organizing and arranging your day. It is simple to get started thanks to a clear user interface. This is how:
Interface of Calendar: Just sign in to Motion and go to the calendar tab. You'll discover a straightforward, user-friendly structure that enables you to quickly examine your assignments, appointments, and time blocks.
Calendar Top Header: You can easily scroll through your daily, weekly, or monthly view thanks to user-friendly layout.
Edit Your Sub-Calendars: You can customize it to suit your needs whether it's a personal calendar or one that's specialized to a project.
Auto-Scheduling: Take use of auto-scheduling's capability. To ensure maximum efficiency, Motion's Intelligent Calendar will construct adaptable time blocks, safeguard intervals for in-depth work, and even place a cap on meetings.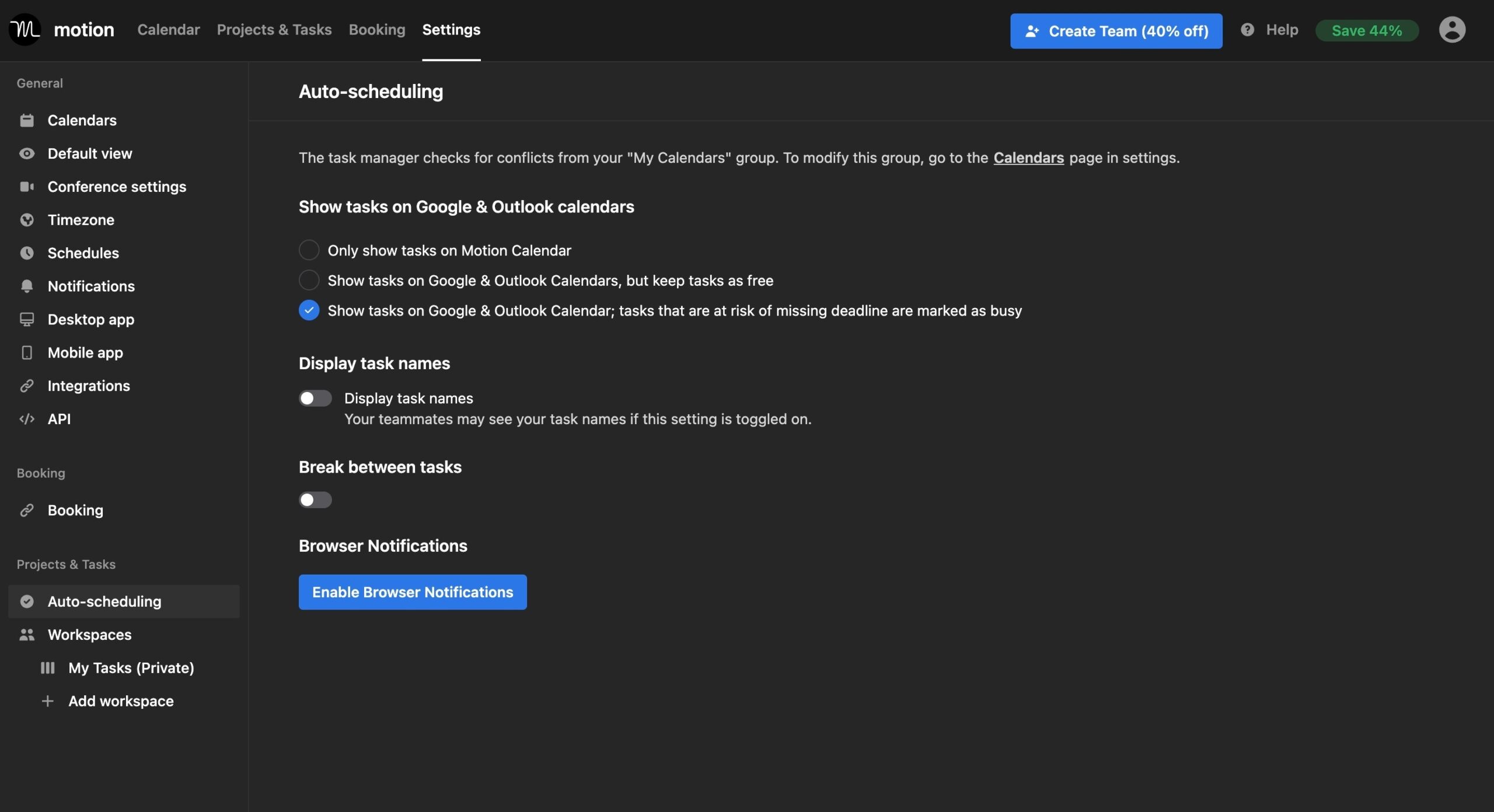 2. Project Manager
With Motion's AI Project Management App, managing projects has never been simpler. Here's a how-to manual to get you going:
How to Add Your Project: Just go to Motion's Project Manager area and select "Add Project." After entering the required information, you can proceed.
Creating Tasks: You can establish distinct tasks for your project.
Motion provides a project template that makes it easy to organize your activities and make sure everything is in line with your project objectives.
Kanban Project View: With the help of the Kanban view, you can see how your tasks are arranged into columns that correspond to the various project stages. It's an easy approach to manage workflow and monitor progress.
Project List View: The project list view offers a clear, succinct summary of all your tasks, due dates, and priority if you prefer a more conventional approach.
3. Tasks Manager
Adding New Tasks: It's simple to add new activities to Motion. Simply choose the "Add Task" option, enter your assignment, specify a due date, and you're ready to start. It is simple to use and made to improve task management.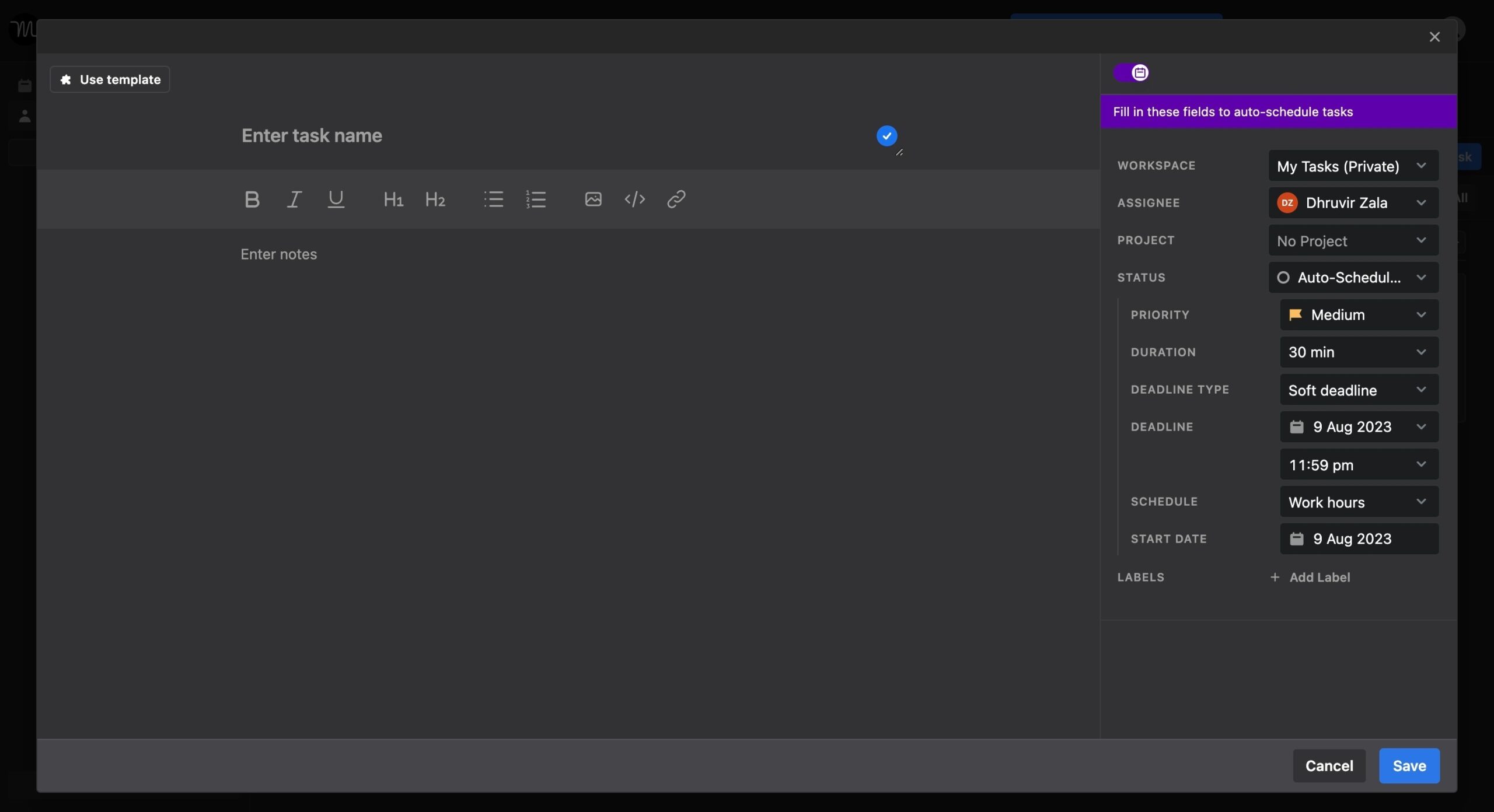 Adding Recurring Tasks: Motion can take care of those repetitive activities for you. You can easily create repeating tasks, whether it be a weekly meeting or a monthly report. You only need to select the frequency; Motion will take care of the rest, making sure you never miss a beat.
Drag & Drop Tasks Scheduling: Drag and drop scheduling is what makes Motion unique. Your chores can be moved around to meet your timetable using a visual organization system. You have complete control over your day with only a few clicks and drags.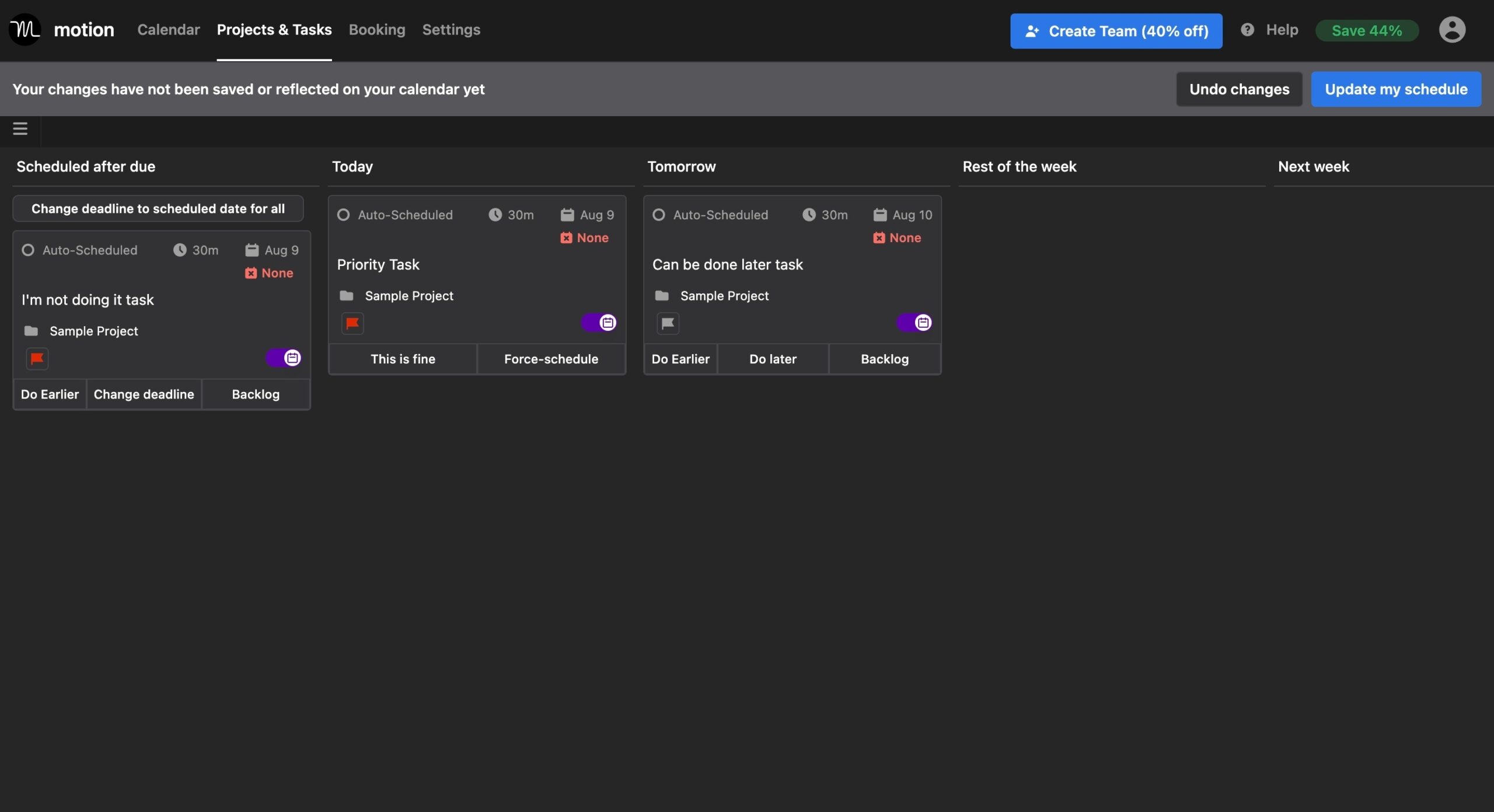 4. Meeting Assistant
Conference Meetings: You can plan and manage every meeting, whether it's a team meeting or a client conference, in one location.
Meeting Booking Links: You can announce your availability and let others choose an appropriate time using Motion's meeting booking links.
Set Multiple Time Zones in Calendar for Meetings: No matter where they are situated, everyone will be on the same page thanks to the ability to establish various time zones on your calendar.
Share Meeting Availability: You can select your available hours and share them directly with others. Scheduling problems are eliminated because to its transparency and simplicity.
5. Integrations
With the help of Motion's Integrations tool, you can connect your workflow to several other programs including Google Calendar, Zoom, Zapier, Gmail, Microsoft Team, and Google Meet.
The integration procedure is designed to be simple and straightforward, whether you're managing all of your events within the platform or booking meetings directly from Motion.
Simply go to the Integrations area, choose the relevant application, and sync by according to the prompts on the screen.
Integrating Motion with the tools you currently use, it's a smooth approach to increasing your productivity.
Pricing
It offers a 7-day free trial to test out the platform and premium pricing starts from $19 per month, billed annually for individuals, and $12 per user/month, billed annually for teams.
Conclusion
Motion, which uses artificial intelligence to reimagine the way we work, is a shining example of innovation in the world of contemporary productivity.
Motion's collection of solutions is made to automate and improve every part of your work life, from intelligent task management to effective meeting scheduling.
However, doing more correctly is more important than simply doing more. Motion is more than just a platform; it's a productivity partner thanks to features like the Intelligent Calendar, AI Project Management, and smooth interfaces with well-known third-party programs.
Why not give Motion a try with a 7-day free trial if you're interested in learning how AI can change your everyday routine?
It offers a peek at a time in the future when AI will not just be an idea but also a practical tool that will enable us to be more successful, laser-focused, and content.
Take the first step toward becoming more effective by embracing the productivity of the future with Motion.