In today's rapidly evolving digital landscape, providing exceptional customer support and engaging with customers effectively has become crucial for business success. That's where SiteGPT comes in.
It's an AI chatbot platform that allows businesses to create personalized chatbots trained on their website content. With its user-friendly interface and advanced capabilities, SiteGPT empowers businesses of all sizes to revolutionize customer support, enhance engagement, and streamline operations.
To analyze and understand the natural language input from visitors, SiteGPT utilizes the power of OpenAI's GPT-3.
It has undergone extensive pre-training on vast amounts of text data, equipping them with the ability to grasp the nuances of human language and generate logical and contextually relevant responses.
By leveraging these sophisticated language models, SiteGPT ensures accurate comprehension of visitor queries and enables the chatbot to provide meaningful and appropriate replies.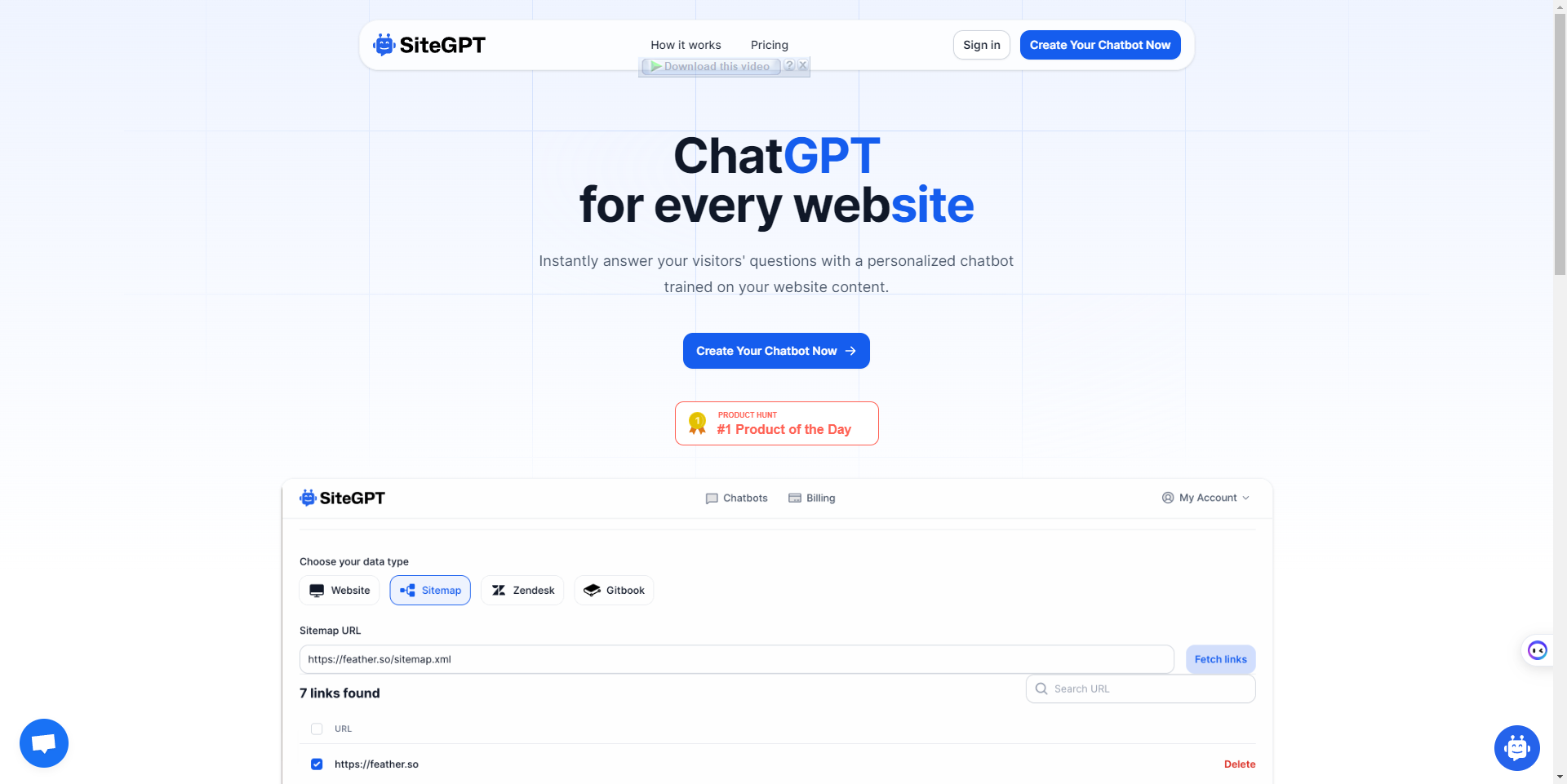 Features of SiteGPT
Simplified Chatbot Creation
SiteGPT simplifies the chatbot creation process, making it accessible to everyone. Businesses can quickly develop their chatbots by entering their website URLs and selecting the pages they want the chatbot to learn from.
No coding is required! This intuitive setup ensures that businesses can harness the power of AI without the hassle of traditional development methods.
Training on Website Content
SiteGPT's strength lies in its ability to create chatbots trained on your own website content. By automatically fetching website pages and training the chatbot on selected pages, SiteGPT ensures that the chatbot's responses are relevant and accurate.
This personalized training enhances the overall customer experience as the chatbot can provide tailored support and deliver accurate information based on the content available on the website. Customers feel understood and valued when receiving responses that directly address their needs and inquiries.
Real-Time Customer Engagement
With SiteGPT, businesses can engage with their customers in real-time.
The chatbot is available 24/7, promptly handling customer inquiries, even outside regular business hours. This immediate availability ensures that customers receive timely assistance, leading to increased satisfaction and loyalty.
By providing real-time engagement, businesses can effectively cater to their customers' needs and provide solutions when they need them most.
Cost-Effective Solution
Implementing SiteGPT offers cost savings for businesses. By automating conversations and reducing the reliance on human support teams, businesses can optimize their resources and allocate them more efficiently.
This cost-effectiveness is particularly beneficial for small and medium-sized enterprises with limited budgets. With SiteGPT, businesses can enhance their customer support without incurring additional staffing costs, resulting in improved operational efficiency and a higher return on investment.
Pricing
There are 4 plans you can opt for to get started with SiteGPT:
| | | | |
| --- | --- | --- | --- |
| Plan | Price | Number of Chatbots | Number of Web Pages |
| Essential | $19/month | 1 | 25 |
| Growth | $49/month | 2 | 100 |
| Pro | $99/month | 5 | 500 |
| Elite | $499/month | Unlimited | 5000 |
Use Cases and Benefits
SiteGPT caters to a wide range of industries and businesses, delivering significant benefits across various use cases:
E-commerce Websites: Online stores can leverage SiteGPT to provide instant product information, answer frequently asked questions, and assist with order tracking. This enhances the customer experience, reduces support response time, and ultimately drives sales.
Service-Based Businesses: Whether it's a travel agency, healthcare provider, or consulting firm, service-based businesses can use SiteGPT to offer appointment scheduling, handle service inquiries, and provide basic guidance. This streamlines processes, frees up staff to focus on more complex tasks, and ensures that customers receive quick and accurate assistance.
Informational Websites: Websites that primarily provide information or resources can benefit from SiteGPT. The chatbot can assist with content navigation, recommend related articles, and deliver quick answers to common queries. This enhances the user experience, keeps visitors engaged, and encourages them to explore more of the website.
Educational Institutions: Schools, colleges, and online learning platforms can integrate SiteGPT to address student queries, provide course information, and offer study resources. This ensures that students have access to timely and relevant support, leading to enhanced learning experiences and improved satisfaction.
How to use SiteGPT
You'll have to first sign up with your email address.
You can locate the option to create a new chatbot after you've logged in.

You must provide the name, description, and root URL of your documentation for your chatbot in the add chatbot form (I'm experimenting with the Saleor documents here)


When you click the Fetch Links button, a list of sublinks from your documentation will appear. You must choose which links you wish to teach the chatbot on before clicking Start Training. The amount of links depends on the subscription plan you have chosen.


You must now wait till training is complete and the status changes to training.




Move to the Embed tab to test your new chatbot after all the links have been trained. There, you will have two choices for a different web page that you may share; a piece of JavaScript code to include the chatbot in your website and a standalone shareable web page.

Here is the outcome.

Is it Viable?
SiteGPT viability is exceptionally good if you have a small website with simple data.
However, it's important to consider the limitations of the product.
The chatbot's responses are based on the information available on your website and may not be able to provide more detailed or nuanced responses.
SiteGPT may not be suitable for businesses with highly complex or technical products or services that require specialized knowledge.
Ultimately, the decision to use SiteGPT depends on your business's specific needs and goals. Evaluating your customer support requirements, budget, and technical capabilities is recommended before implementing any chatbot solution.
Conclusion
SiteGPT empowers businesses to enhance their customer support and engagement by creating personalized chatbots trained on their own website content.
With its simplified chatbot creation process, training on website content, real-time customer engagement capabilities, and cost-effectiveness, SiteGPT offers a comprehensive solution for businesses of all sizes.
By leveraging SiteGPT, businesses can deliver exceptional customer support, enhance engagement, optimize resource allocation, and foster long-term customer loyalty. Embrace the power of SiteGPT and unlock the potential of AI-driven chatbots to drive your business forward in the digital age.