Large neural networks that have been trained for language recognition and generation have demonstrated outstanding results in a variety of tasks in recent years. GPT-3 proved that large language models (LLMs) could be used for few-shot learning and obtain excellent outcomes without requiring extensive task-specific data or changing model parameters.
Google, the Silicon Valley tech behemoth, has introduced PaLM, or Pathways Language Model, to the worldwide tech industry as the next generation AI-language model. Google has incorporated a new artificial intelligence architecture into PaLM with strategic aims to improve the AI-language model's quality.
In this post, we will examine the Palm algorithm in detail, including the parameters used to train it, the issue it solves, and much more.
Pathways Language Model is what PaLM stands for. This is a new algorithm developed by Google in order to strengthen the Pathways AI architecture. The structure's principal goal is to do a million distinct activities at once.
These include everything from deciphering complex data to deductive reasoning. PaLM has the ability to surpass current AI state-of-the-art as well as humans in language and reasoning tasks.
This includes Few-Shot Learning, which mimics how humans learn new things and combine diverse bits of knowledge to tackle new challenges that have never been seen before, with the benefit of a machine that can use all of its knowledge to solve new challenges; one example of this skill in PaLM is its ability to explain a joke it has never heard before.
PaLM demonstrated many breakthrough skills on a variety of challenging tasks, including language comprehension and creation, multistep arithmetic code-related activities, common-sense reasoning, translation, and many more.
It has demonstrated its ability to solve complicated issues using multilingual NLP sets. PaLM can be used by the worldwide tech market to differentiate cause and effect, conceptual combinations, distinct games, and many other things.
It can also generate in-depth explanations for many contexts using multistep logical inference, deep language, global knowledge, and other techniques.
How did Google develop the PaLM algorithm?
For Google's breakthrough performance in PaLM, pathways are scheduled to scale up to 540 billion parameters. It is recognized as the one model that can efficiently and effectively generalize across numerous domains. Pathways at Google is dedicated to developing distributed computing for accelerators.
PaLM is a decoder-only transformer model that has been trained using the Pathways system. PaLM has successfully achieved state-of-the-art few-shot performance across several workloads, according to Google. PaLM has used the Pathways system to expand training to the biggest TPU-based system configuration, known as 6144 chips for the first time.
A training dataset for the AI-language model is made up of a mix of English and other multilingual datasets. With a "lossless" vocabulary, it contains high-quality web content, discussions, books, GitHub code, Wikipedia, and many more. Lossless vocabulary is recognized for retaining whitespace and breaking Unicode characters that aren't in the vocabulary into bytes.
PaLM was developed by Google and Pathways utilizing a standard transformer model architecture and a decoder configuration that included SwiGLU Activation, parallel layers, RoPE embeddings, shared input-output embeddings, multi-query attention, and no biases or vocabulary. PaLM, on the other hand, is poised to provide a solid basis for Google and Pathways' AI-language model.
Parameters used to train PaLM
Last year, Google launched Pathways, a single model that can be trained to do thousands, if not millions, of things—dubbed the "next-generation AI architecture" since it can overcome existing models' limitations of being trained to do only one thing. Rather than expanding the capabilities of current models, new models are often built from the bottom up to accomplish a single job.
As a result, they have created tens of thousands of models for tens of thousands of different activities. This is a time-consuming and resource-intensive task.
Google proved via Pathways that a single model could handle a variety of activities and draw on and combine current talents to learn new tasks more quickly and efficiently.
Multimodal models that include vision, linguistic comprehension, and auditory processing all at the same time might be enabled through pathways. Pathways Language Model (PaLM) allows for the training of a single model across numerous TPU v4 Pods thanks to its 540 billion parameter model.
PaLM, a dense decoder-only Transformer model, outperforms state-of-the-art few-shot performance across a wide range of workloads. PaLM is being trained on two TPU v4 Pods that are linked via a data center network (DCN).
It takes advantage of both model and data parallelism. The researchers employed 3072 TPU v4 processors in each Pod for PaLM, which were connected to 768 hosts. According to the researchers, this is the biggest TPU configuration yet disclosed, allowing them to scale training without employing pipeline parallelism.
Pipe lining is the process of gathering instructions from the CPU through a pipeline in general. The layers of the model are divided into phases that can be processed in parallel via pipeline model parallelism (or pipeline parallelism).
The activation memory is sent to the next step when one stage completes the forward pass for a micro-batch. The gradients are then sent rearward when the following stage completes its backward propagation.
PaLM Breakthrough Capabilities
PaLM displays ground-breaking abilities in a range of difficult tasks. Here are several examples:
1. Language creation and understanding
PaLM was put to the test on 29 different NLP tasks in English.
On a few-shot basis, PaLM 540B outperformed previous large models such as GLaM, GPT-3, Megatron-Turing NLG, Gopher, Chinchilla, and LaMDA on 28 of 29 tasks, including open-domain closed-book variant question-answering tasks, cloze and sentence-completion tasks, Winograd-style tasks, in-context reading comprehension tasks, commonsense reasoning tasks, SuperGLUE tasks, and natural inference.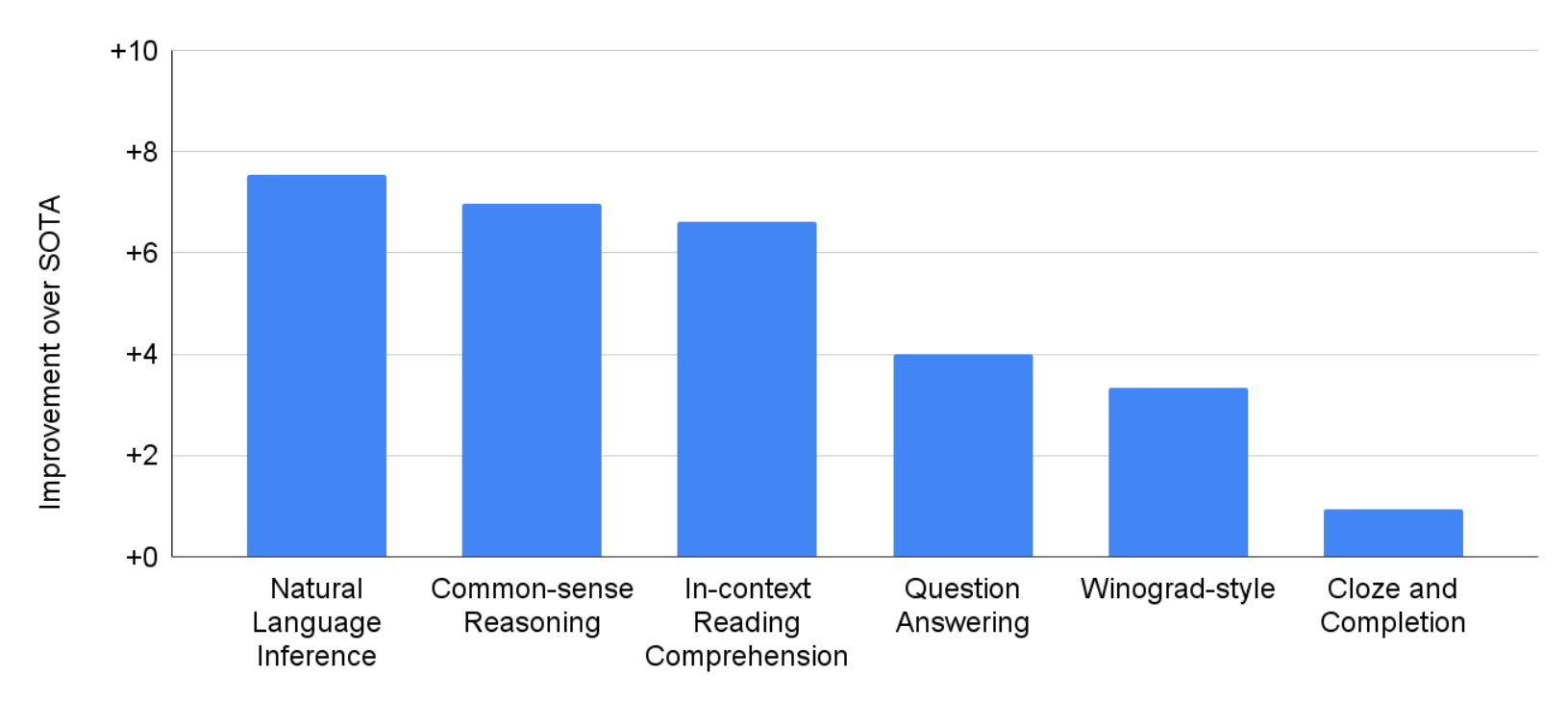 On several BIG-bench tasks, PaLM demonstrates excellent natural language interpretation and generation skills. For example, the model can distinguish between cause and effect, understand conceptual combinations in certain situations, and even guess the movie from an emoji. Even though just 22% of the training corpus is non-English, PaLM performs well on multilingual NLP benchmarks, including translation, in addition to English NLP tasks.
2. Reasoning
PaLM blends model size with chain-of-thought prompting to demonstrate breakthrough skills on reasoning challenges requiring multistep arithmetic or commonsense reasoning.
Previous LLMs, such as Gopher, benefitted less from the model size in terms of enhancing performance. The PaLM 540B with chain-of-thought prompting fared well on three arithmetic and two commonsense thinking datasets.
PaLM outperforms the previous best score of 55%, which was obtained by fine-tuning the GPT-3 175B model with a training set of 7500 problems and combining it with an external calculator and verifier to solve 58 percent of the issues in GSM8K, a benchmark of thousands of difficult grade school level math questions using 8-shot prompting.
This new score is especially noteworthy since it approaches the 60% average of obstacles experienced by 9-12-year-olds. It can also respond to original jokes that aren't available on the internet.
3. Code Generation
LLMs have also been shown to perform well in coding tasks, including generating code from a natural language description (text-to-code), translating code between languages, and resolving compilation errors. Despite only having 5% code in the pre-training dataset, PaLM 540B performs well on both coding and natural language tasks in a single model.
Its few-shot performance is incredible, as it matches the fine-tuned Codex 12B while training with 50 times less Python code. This finding backs with prior findings that larger models can be more sample efficient than smaller models because they can more effectively transfer learning from multiple programming languages and plain language data.
Conclusion
PaLM shows the Pathways system's capacity to scale to thousands of accelerator processors over two TPU v4 Pods by effectively training a 540-billion parameter model with a well-studied, well-established recipe of a dense decoder-only Transformer model.
It achieves breakthrough few-shot performance across a range of natural language processing, reasoning, and coding challenges by pushing the bounds of model scale.