New Layer 1 blockchains are becoming more popular because of the limitations found in larger Layer 1 blockchains like Bitcoin and Ethereum.
One of the main limitations of these older blockchains is their lack of scalability. Because of the number of people being onboarded every year to the blockchain ecosystem, it's difficult to say how capable these networks are at handling the load.
Ethereum's gas fees are nearly unusable during periods of high traffic and Bitcoin transactions are slow and expensive as well.
Shardeum is a new Layer 1 blockchain launching soon that tackles the issue of blockchain scalability in a unique way. The blockchain startup behind the network is already gaining the attention of various investors, with a funding round that values the startup at about $200 million.
Let's take a closer look at what Shardeum is and how it stands out from other blockchain networks.
What is Shardeum?
Shardeum is an EVM-based smart contract platform that operates on low gas fees through their unique dynamic state sharding technology.
The blockchain also uses a combination of proof-of-stake and proof-of-quorum consensus to reduce the cost of running the network.
According to their CEO Nischal Shetty, the startup plans to target Indian and emerging markets. The startup states that the Shardeum mainnet will not launch until the last quarter of 2022.
Why is Shardeum More Scalable?
One of the main issues with the Ethereum network is how high the gas fees have become. Part of why the gas fees are high is because the amount of computation needed rises significantly as the network scales up.
To keep the cost of running the network lower, developers can use a concept known as sharding.
Sharding allows the blockchain network to partition the entire chain into smaller pieces. Sharded blockchains allow nodes to avoid the need to download the entire blockchain during validation. This, in turn, increases network efficiency and allows the network to scale up.
Linear scalability refers to the fact that a network can increase its throughput linearly by simply adding more resources. For example, if we were to add 10% more CPUs to the network, the throughput increases by 10% as well.
The Ethereum network can only handle about 15 transactions per second. As it increased in popularity, the fact that each node had to process every transaction hindered the ability for the network to scale.
Shardeum's dynamic state sharding technology hopes to solve this issue.
Shardeum Team
Shardeum is led by software engineer and entrepreneur Nischal Shetty. He is co-founder of the Indian crypto exchange WazirX, the largest crypto exchange in India. WazirX is now backed by Binance and continues to grow with a trading volume of over $43 billion in 2021.
Helping create the Shardeum platform is Omar Syed, a blockchain architect who has extensive experience building linearly scalable blockchains. Syed previously worked with organizations such as NASA, Yahoo, and Zynga to build scalable and distributed systems.
Key Features of Shardeum
Here are some key features that set Shardeum apart from other EVM-based Layer 1 blockchains:
SHM Native Token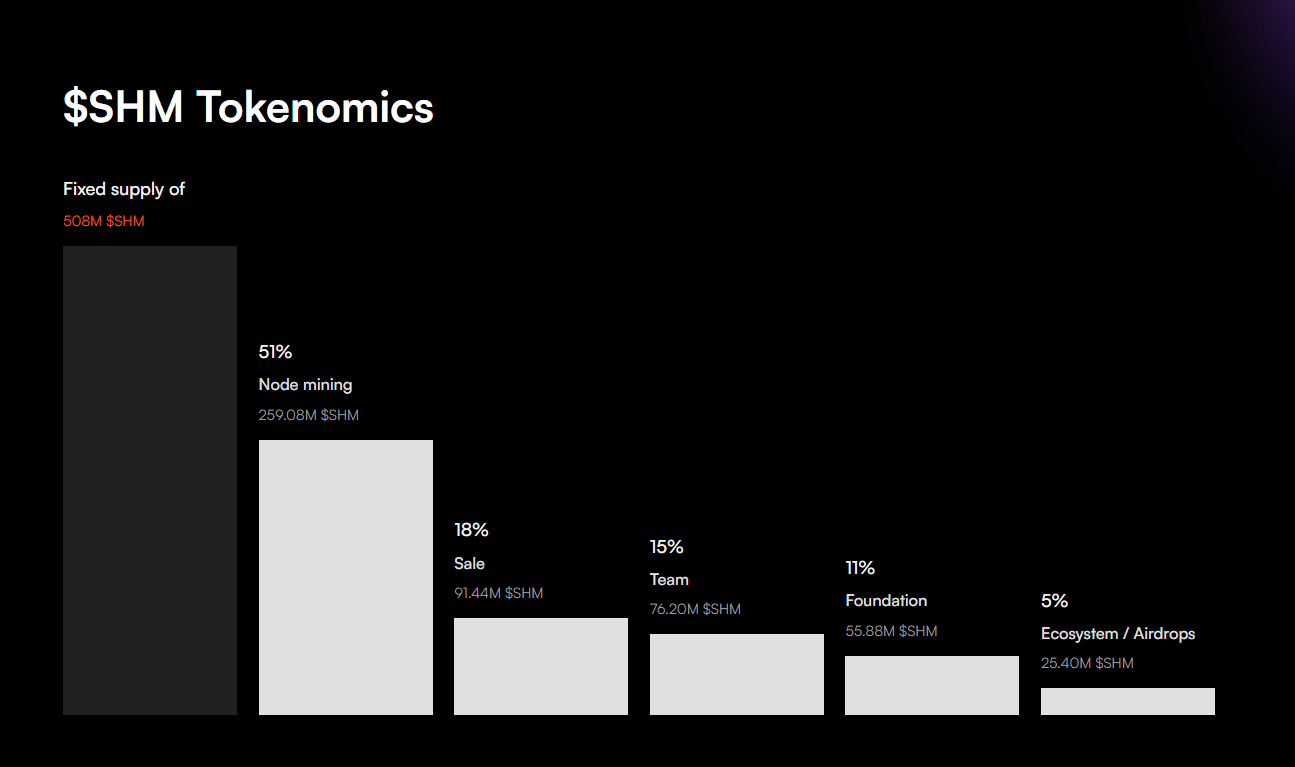 Shard or SHM is the native token of the Shardeum network. Various nodes mine the token as a reward for running the network. The coin currently has a maximum supply of 508 million SHM with 51% of it distributed as a mining reward.
Dynamic State Sharding
Shardeum will use dynamic state sharding to allow for true linear scaling.
Compared to static state sharding, where all nodes in a shard cover the same range, dynamic state sharding has each node holding different ranges with significant overlap among nodes.
Sharding the network this way allows for the ability to increase the throughput of the system by simply adding more nodes.
The Shardeum lightpaper provides a table that shows how their network fares against networks such as Harmony and Near, which use static sharding.
Consensus Algorithm
Shardeum plans on having a separate consensus for each transaction, rather than validating at the block level.
The algorithm should be able to process transactions that affect multiple shards simultaneously. This method reduces the time to process the transaction.
The team tells us to expect their mainnet to have 10 shards minimum, with each shard having 127 nodes each.
Three Types of Nodes
The Shardeum network has three types of nodes: validator nodes, archive nodes, and standby nodes.
Validator nodes validate the transaction by participating in the consensus. Shardeum will reward validators with SHM.
Archive nodes are specifically run to maintain the entire transaction history. They earn a portion of the network reward to incentivize the storing of historical data. These nodes are mainly in charge of offloading historical transaction data from the main validator nodes.
Finally, standby nodes are a special type of validator node that help scale the Shardeum network in times of traffic spikes.
Conclusion
Every new blockchain network tries their best to solve the blockchain trilemma of scalability, security, and decentralization.
Shardeum steps up in terms of scalability but it is still unproven in terms of security and decentralization. Hopefully, once the mainnet is launched, we'll start to see signs of progress in making a functional and scalable network.
Based on what we know so far, do you think Shardeum can live up to their promise?