The growth of voice-activated technology has increased the demand for text-to-speech software that can generate human-sounding voices that can be translated into various languages.
While there are already decent text-to-speech programs on the market, such as Listnr, Murf AI is a new product with Artificial Intelligence capabilities that can help take the industry to the next level.
If you've ever needed to make compelling and realistic voiceovers that seem like an actual human rather than a machine, you've required an AI voiceover tool like Murf AI. But what makes this instrument so unique?
Let's talk about it in our review of Murf AI, an AI-powered text-to-speech application on the market.
The Murf AI voice-over tool is an internet program that lets you create an ultra-realistic voice overflowing from the text in a delightful and entertaining manner due to its precision and capabilities.
Text-to-speech and artificial intelligence (AI) is used to construct voiceovers, and you can make modifications till you're satisfied. You can even create a voiceover in a matter of minutes by picking the voice you want to utilize.
The tool will then feed text to the AI and even add various effects to the end result.
Murf AI voiceover can assist you in creating ultra-realistic voice overflows from text. It features a voice collection of over 100 professional voices in 20 languages that it handpicks.
Furthermore, these voices can be utilized for a variety of applications, including YouTube podcasts, E-learning, and even commercialization. It can also be used to generate audiobooks, videograms, and product videos.
Murf AI is an easy-to-navigate application that allows you to match even the time of your voice to your films. And the greatest thing, which I really appreciate, is that you can tweak the speech and voice to make it completely unique, which is a feature that you don't often see in TTS software.
I recommend this tool to small- to medium-sized businesses, enterprises, and independent content creators that want to generate voices that are remarkably realistic across a range of ages, languages, and accents without having to employ expensive voice actors.
Who can use Murf AI?
This DIY voice-over creation tool is ideal for content makers from L&D, writers, and podcasters to educators, animators, product developers, and corporate trainers. The platform is ideal for anyone looking to make voiceovers on a budget.
You'll be able to make out-of-this-world recordings, such as:
YouTube videos and podcasts

Product and explanation videos

Corporate training advertisements and promotional films

E-learning training modules

Demos and software applications

Games and audiobooks

Customer care
…and much more.
With the platform's AI-powered audio, you can simply produce and modify your material, as well as make future modifications. You can also use this tool to add voiceovers to your social media posts to make them more interesting. This is a high-quality, low-cost option for creating voiceover narrations for a variety of applications. It's simple to use, quick, and provides excellent results, making it a must-have tool for all of your future tasks.
What do I like about Murf AI – Features of Murf AI
I was really impressed with Murf's text-to-speech engine's voice generator, also known as text-to-speech software. That is how future generations will seem, and this instrument is entirely futuristic.
Murf Dashboard
Murf Studio was designed with unique features that aid in the creation and editing of voiceovers. It assures that everyone, including those who are new to the Platform or who need to develop experience or skills, will benefit from it.
So, whether you're young or elderly, you can utilize it with the built-in speed adjustments and pitch shift functions to make even high female sounds sound like low male tones and vice versa.
Murf's provides the following options for modifying sound quality by adding various effects:
Reverberation

Flanging

Phasing

Chorusing.
It has expanded the possibilities for creating outstanding voiceovers, and the best part is that you can watch your voice in real time. This allows you to make any required changes before the final result.
Starting with the Software is simple, and you can pick whether you want to build a new project or alter one of the numerous ready-made templates.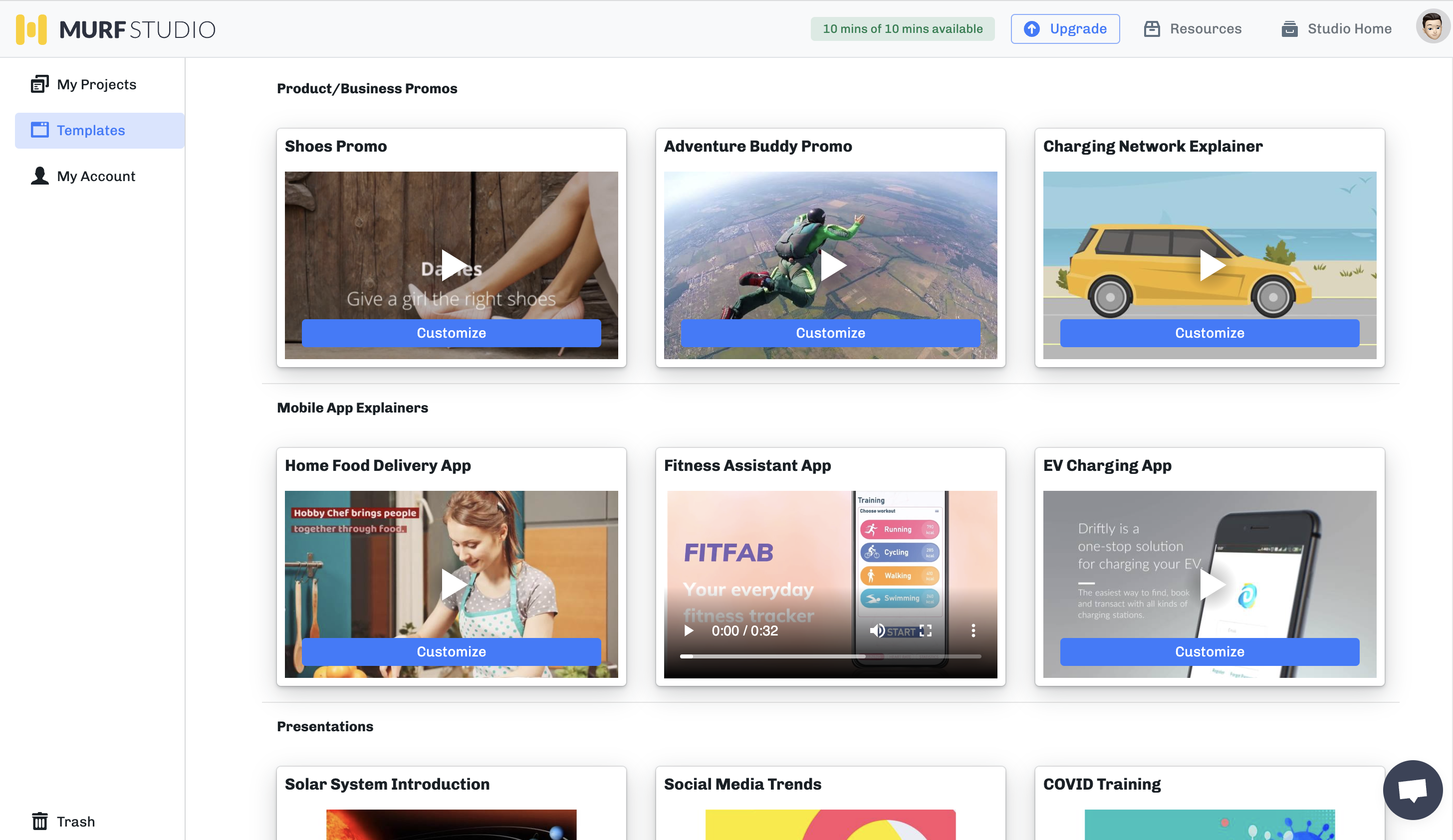 You can also select one of the various templates available, which include:
Shoes Promo

Adventure Buddy Promo

Charging Network Explainer

Home Food Delivery App

Fintness assistant App
After you make your selection, you will be taken to the next editing pages, where you can add videos and images and even make changes.
You will be given the following options:
Voices

Video/images

Script

Soundtrack
You'll see boxes under these tabs where you can enter in or copy/paste your script for the audio blocks. If you're using a pre-designed template, the script will already be in place; all you have to do is update it to fit your needs.
Then, choose "Voice," select your preferred voice from a large selection, and configure your voice style choices.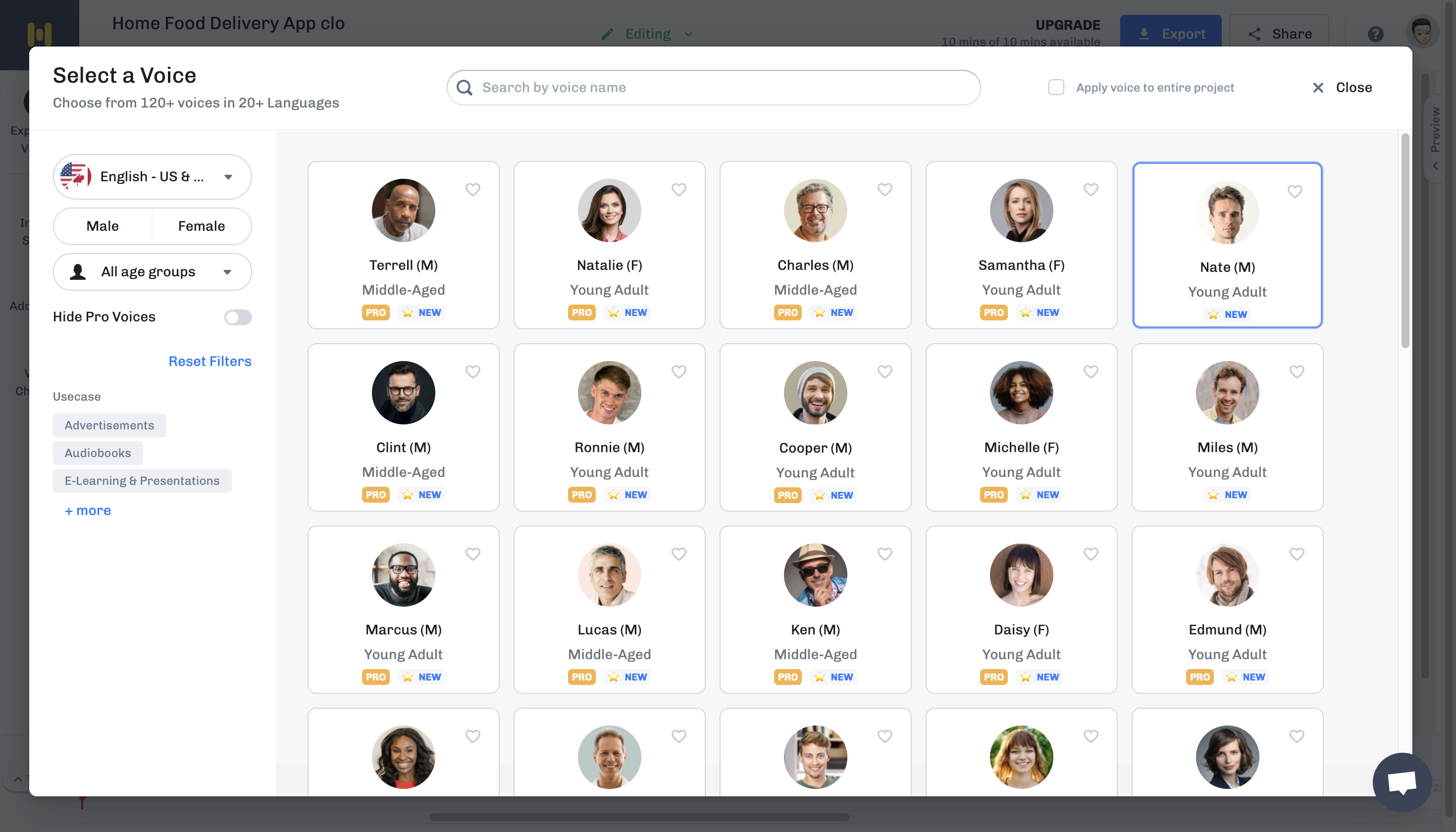 Next, you can change the pitch and pace of your voiceover to suit your needs. You can also modify the volume, insert pauses, and highlight keywords. After that, you must upload your soundtrack. You can also upload a soundtrack from your device or select one from the gallery for this. You can also import audio clips from sites like DailyMotion, YouTube, and Vimeo.
2. Murf AI Voice Generator
Murf's AI provides more than 120 authentic AI voices in 20 languages. With such diversity, you can be confident that the voices will appeal to a wide range of worldwide audiences, both young and old.
The languages and accents available are as follows:
English

Chinese

Spanish

Italian

Russian

Portuguese

Norwegian

Romanian

German

French
There are also many additional languages. You can even have your recorded audio transcribed, and you can transform the text to AI voices with a simple click. You can even replace your voice with an AI voice to add a professional touch to your home-recorded audio.
3. Murf AI Voice Changer
With this function of Murf's AI, you can use AI to elevate your voiceover from a basic recording to a professional one. And this application provides you with a ton of choices from which you can pick to simply modify your voice.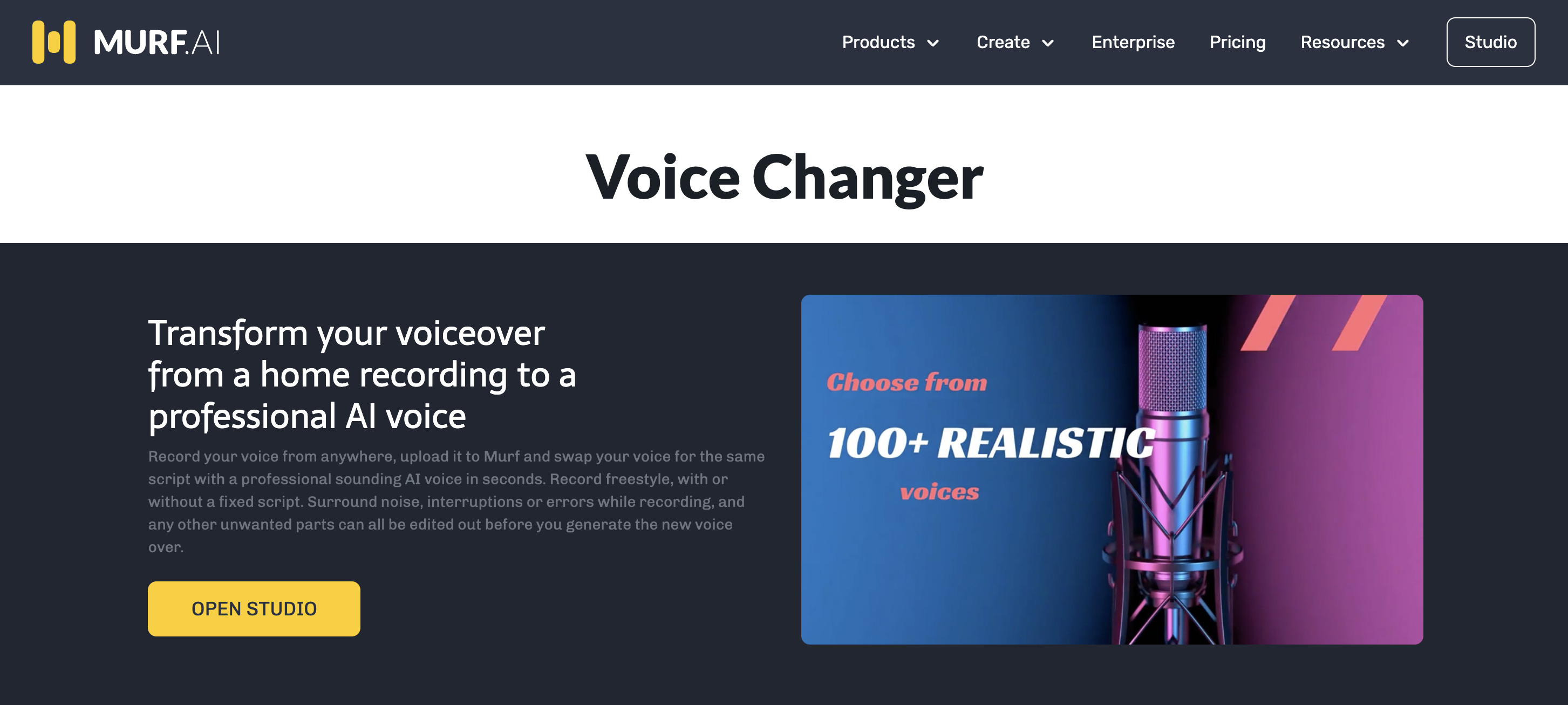 Murf's AI creates voiceovers with the required personality and tone using machine learning and natural language processing.
4. Team Collaboration
This application can also be used by teams because it has a function that allows them to work with their colleagues all around the world to make voiceovers.
With the Enterprise Plan, you can even perform eLearning narrations on a scale and generate best-in-class, natural-sounding voices.
You can modify your projects and voices in the future, and you can present them to your team for editing, as well as share and collaborate with them on the platform. Furthermore, you can upload and import scripts, which further simplifies your job.
5. Premium AI Voices
For your premium content, the platform also offers a vast bank of voices. You can access a large and constantly growing collection of real-sounding voices in a variety of dialects and languages with just one membership.
Murf continues to routinely add additional voices, most recently including a few African American AI voices. The fact that it offers African American AI voices can make it the only text-to-speech platform with a diverse voice selection.
In this method, producing high-quality voiceovers doesn't need investing as much time and money.
How to use Murf AI for your youtube channel?
If you want to deploy Murf AI on your YouTube channel, you must first identify the right voice for your audience. Keep in mind that the voice must sound human. So, let's take a deeper look at this tool and listen to some samples.
Murf, like many other products aimed to simplify things, has an easy-to-use interface. I've started a new endeavor, and I'd want to put this statement to the test.
These voices can be simply filtered by gender, subscription plan, language, and even purpose. I select YouTube from the Use Case option because I want to find a voice for YouTube videos.
I can simply verify each one by clicking the sound button next to each narrator's name. You should also be aware that the Murf AI Basic plan only allows you to use a subset of these voices. If a PRO label appears next to the narrator's name, it is exclusively available to PRO members.
When you've found the voice you wish to use, click the narrator and then the produce voice button. If you are pleased, simply click the green download button to export the voice.
Pros
Murf.AI provides male and female voices with a variety of tones, pitches, and accents.

There are 120 voice-overs available in 20 different languages.

In addition to creating a voice, you can alter its pace, tone, and other characteristics.

Within Murf Studio, you can precisely time your voiceovers.

Murf.AI can communicate with Google Slides, allowing you to construct a presentation with text-to-speech audio without leaving the site.
Cons
You only get 10 minutes of free voice creation before you have to pay to continue using it.
Pricing
You can start using the platform for free and premium pricing of the platform starts from $13/month.
Conclusion
After doing this in-depth Murf AI review, one thing is for certain: I am really pleased with this AI Voicecover program.
It provides a wide range of tools, making it one of the most cost-effective and time-efficient tools available.
I also had a lot of fun with the tool. I created a number of amazing voiceovers in just a few minutes. It's worth using Murf AI.