Choosing the finest AI voice generator is critical for developing a natural and seamless voice. You can use an AI voice generator to produce voiceovers for your videos, convert blog content into videos or podcasts, and more.
Text-to-speech (TTS) technology is used in AI voice generators to read text aloud in a human-like voice. These generators are employed as a sort of assistive technology to assist persons with learning disabilities such as dyslexia and ADHD, as well as by businesses and producers as the voiceover component of their video footage.
Additionally, artists utilize it to reinvent the lives of textual works. The useful settings that AI voice generators offer to users frequently include the ability to alter the accent and reading speed.
You can save time and avoid spending any time in front of the microphone with the aid of these text-to-speech technologies. The environment for voice creation has undergone a significant transformation as a result of recent advances in AI.
Nowadays, it might be challenging to distinguish between a real human voice and an AI voice. We'll examine the top AI text-to-voice generator in this article so you can utilize it to meet your needs.
Murf is a text-to-speech voice generator that can produce studio-quality voiceovers. You can use this software to generate a voice for films, podcasts, and professional presentations.
This voice-generating program has over 100 unique voices and supports 20 languages. The number of supported languages and different voices is always expanding.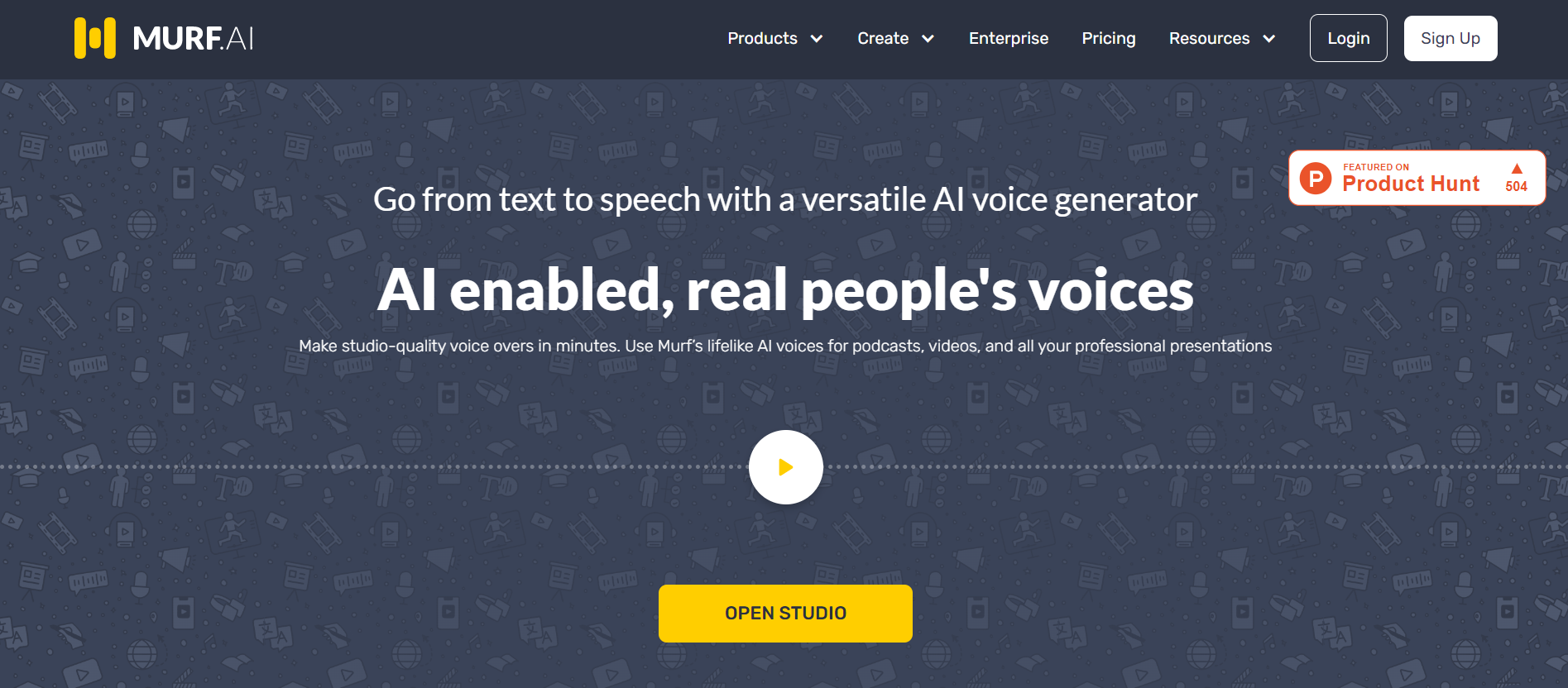 Murf generates speech using cutting-edge AI techniques. Because of smart AI algorithms, the tool can reproduce your voice in the correct tone while keeping punctuation such as question marks and exclamation points in mind.
Murf features a wonderful audio editor that is simple to use and suitable for beginners. Furthermore, the audio editor allows you to match up perfectly with video, music, or pictures.
Pros
Allows you to simply put voiceovers with photographs and videos.
AI avatars that are realistic and sound natural
A simple studio with a drag-and-drop timeline and a plethora of voices to pick from.
Cons
Background music gallery is limited.
Pricing
You can begin utilizing the site for free, and a premium subscription begins at $19 per month.

Notevibes is a straightforward text-to-speech program. It employs AI to make the spoken language sound more empathetic.
There are 221+ male and female voices available to you. Furthermore, the application supports more than 25 languages, making it simple to create multinational content.
This tool has all of the controls for the voices that are created. You can change the pitch, pace, and volume. As an example, you can utilize Notevibes to generate interesting and realistic voicemail greetings in a variety of languages and tones.
Of course, you can create speech material for your e-books, courses, or commercials.
Pros
The platform provides a wide variety of voices, both male and female.

It supports a wide range of the most often-used languages worldwide.
Cons
Unable to combine audio files

There are no audio previews available. You must immediately produce the audio and use credits.
Pricing
The platform has a monthly cost of $8 that is payable annually.
The online voice generator Play.ht can produce text-to-speech conversions of excellent quality. The platform is exceptionally simple to use because of its clear user interface.
On the website, you can input your content and then choose the appropriate voice style, language, gender, and conversion speed. The platform has 570 distinct AI voices, supports over 60 languages, and can be used for both professional and personal reasons.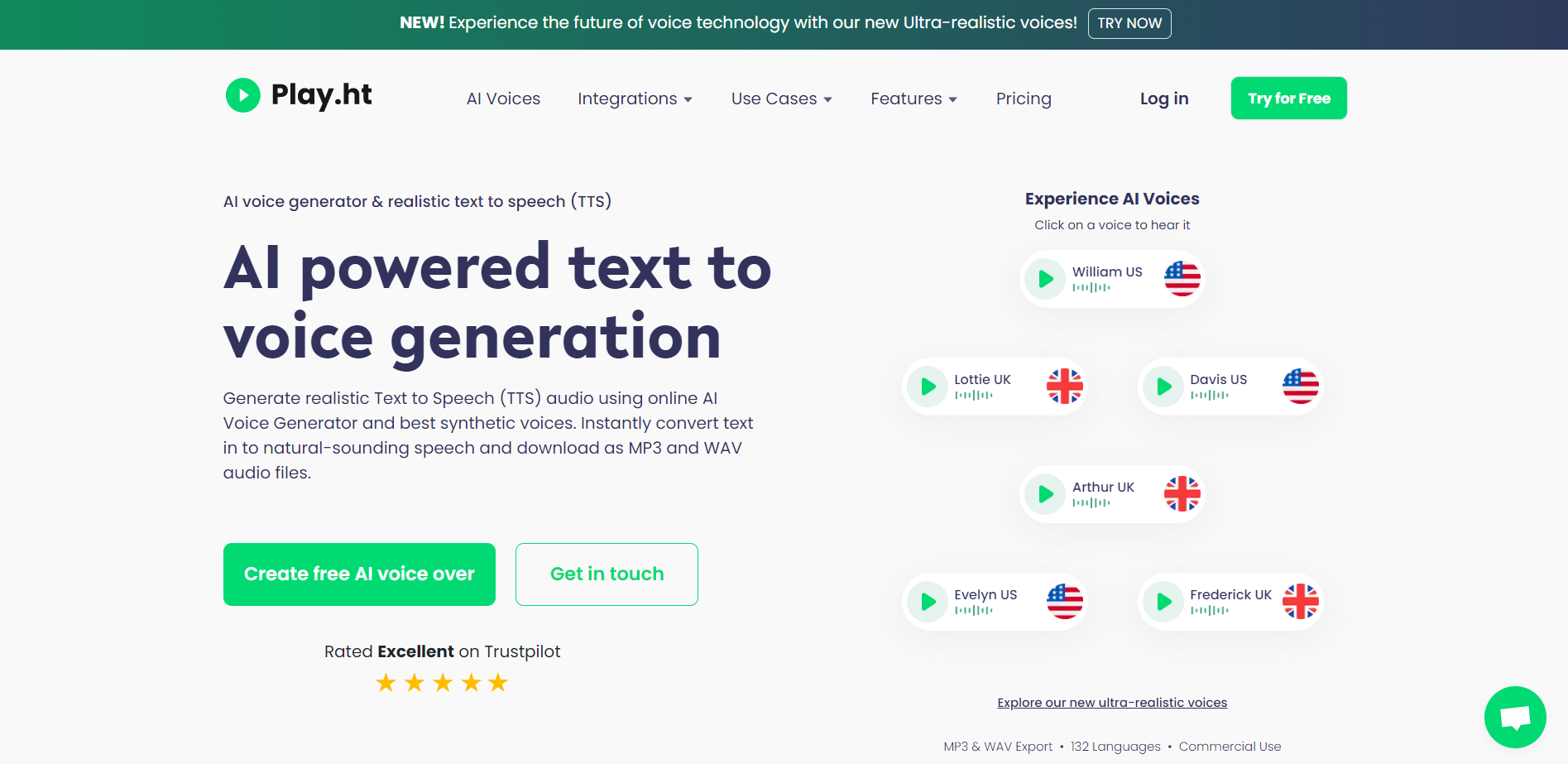 The range of voice kinds is restricted in the free version. Your works are also available for download in WAV and MP3 formats. You can use Play.ht for both professional and personal purposes.
It saves you time no matter how you utilize it. You don't have to spend time in front of the microphone if you don't have the time or inclination to do so. Instead, you could provide the audience with an equally impressive voice experience.
The tool is powered by Google, IBM, and Microsoft's cutting-edge AI algorithm.
Pros
Excellent timeline drag-and-drop functionality.

Changing the voice selections is simple.

There are many excellent voices to pick from.

Overall, a fantastic application that is simple to use and provides a genuine voice.
Cons
Some foreign languages sound robotic.

There are no picture or video coupling possibilities with the voiceovers.
Pricing
You can try the platform for free, and a premium subscription starts at $19 per month.
Lovo.ai is a fantastic voice generator for text-to-speech. This program makes use of the most recent advances in artificial intelligence to generate human-like voices from text.
Lovo is an excellent tool for audio advertisements, e-learning, audiobooks, and video games. Lovo is an excellent tool to use if you don't want to record your own voice.
When you use AI to produce speech from text, you can save time and effort. You can test Lovo without having to join up for the service. On their home page, there is a free text-to-speech window with a restriction of 180 characters.
The application can develop custom voices for you in about 15 minutes. This software makes text-to-voice conversion straightforward.
Pros
It is simple to use.

180 high-quality voice skins from 33 languages

Lovo's voice cloning technology is a game changer, allowing users to automate voiceover production that is identical to their natural voices.

Utilize the Voiceover API to include cutting-edge text-to-speech technologies in your products.
Cons
There are no video editors included.

Some voice skins cannot be fully customized.
Pricing
You can begin to use the platform for free, and premium pricing begins at $17.49/month, payable yearly.
If you're a game developer or animator looking for an AI voice actor, Replica could be the finest option. This program quickly translates your script into spoken language.
Replica features a large variety of AI voices that have been educated by industry professionals. You can also change the emotions and pitch of your voice to match your requirements.
You can, for instance, make the voice pleasant, sad, or furious. When you're ready, you can save the voiceover in one of several standard sound formats. Before subscribing, feel free to test out the demo voices.
Replica offers a free 30-minute sample of AI-generated speech. This is an excellent opportunity to investigate all available alternatives and voices before making a purchase.
Pros
It provides realistic voices.

Simple to use

Different languages are supported.

Excellent for in-game voice acting
Cons
The platform is expensive.

Sometimes there are faults in the voice.
Pricing
The platform is free to try, and premium pricing starts at $24 for 4 hours.
Voicera is an excellent tool for creating voiceovers for blog posts and websites. You can turn your blog article into a voiceover with a simple click of a button using this application.
This is fantastic since some individuals prefer to listen to written stuff rather than read it. Including a voiceover in your blog articles is an excellent technique to enhance interaction and give your site a more dynamic vibe.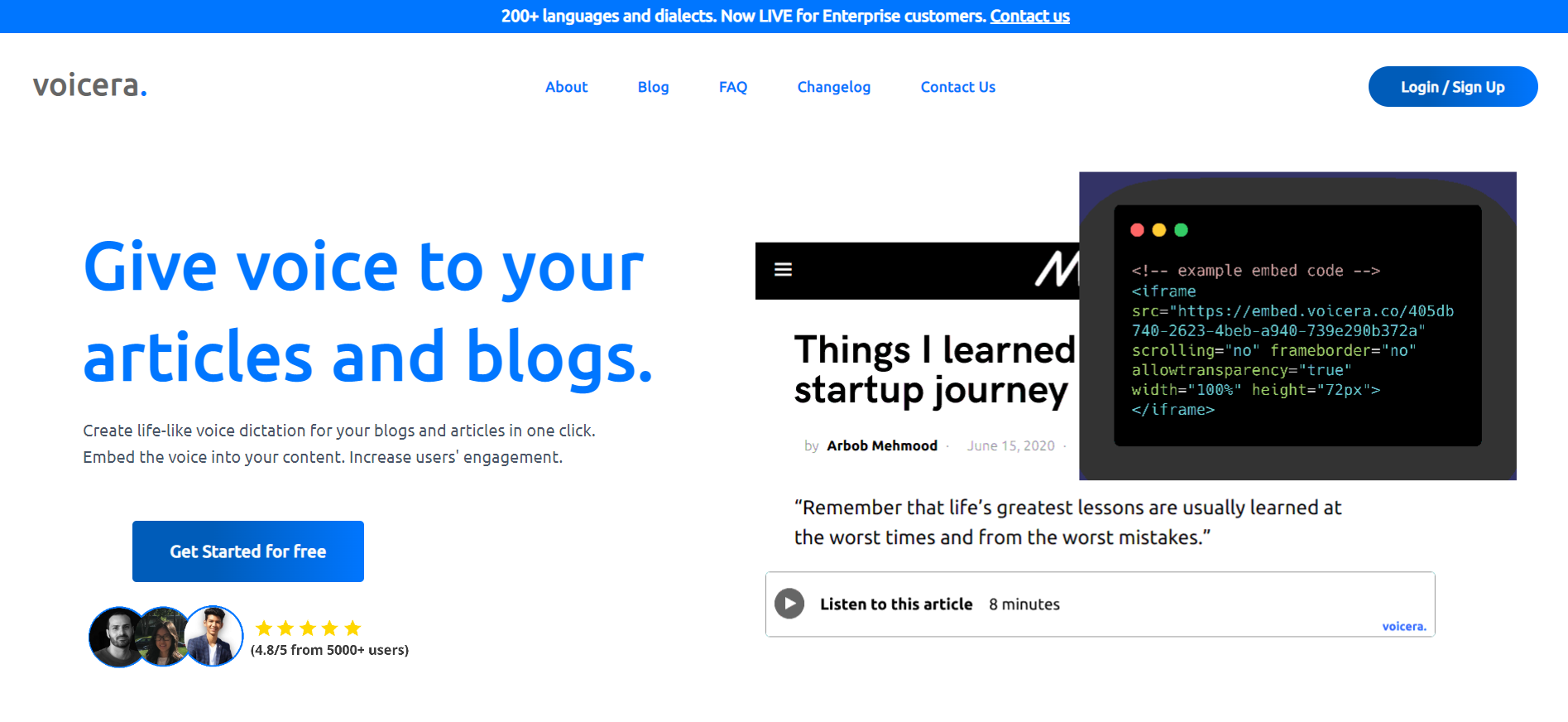 Voicera generates lifelike sounds that sound like actual humans using a cutting-edge AI system. Voicera now supports over ten languages, with more on the way.
In addition to plain text, the application offers a variety of accents for a more participatory experience.
Pros
The tool has been thoughtfully developed to be simple to use for novices.

You have complete control over the voices.

Vociera provides a variety of voice and language options. This is critical for maintaining interaction with diverse users who can have varied needs.
Cons
Only Enterprise programs get responsive customer support.
Pricing
You can utilize the platform for free, which provides you with 5000 credits, and premium pricing starts at $9, which offers you 100,000 credits.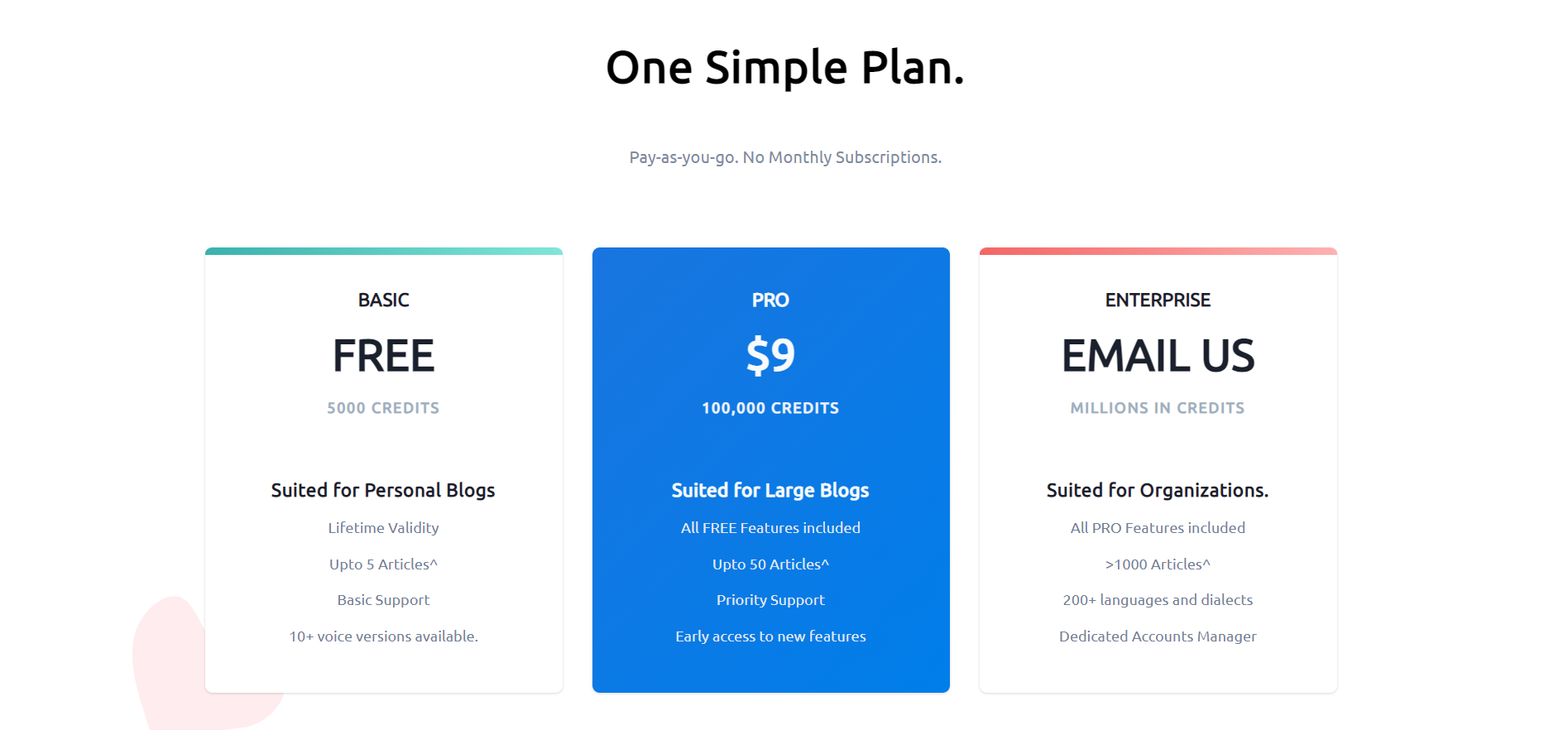 With the help of the artificial intelligence voice generator Woord, you can create a wide variety of voices from just about any amount of text.
Its artificial voices are of the highest caliber, accurately reproducing human speech. There are two practical methods you can use to create speech using Woord.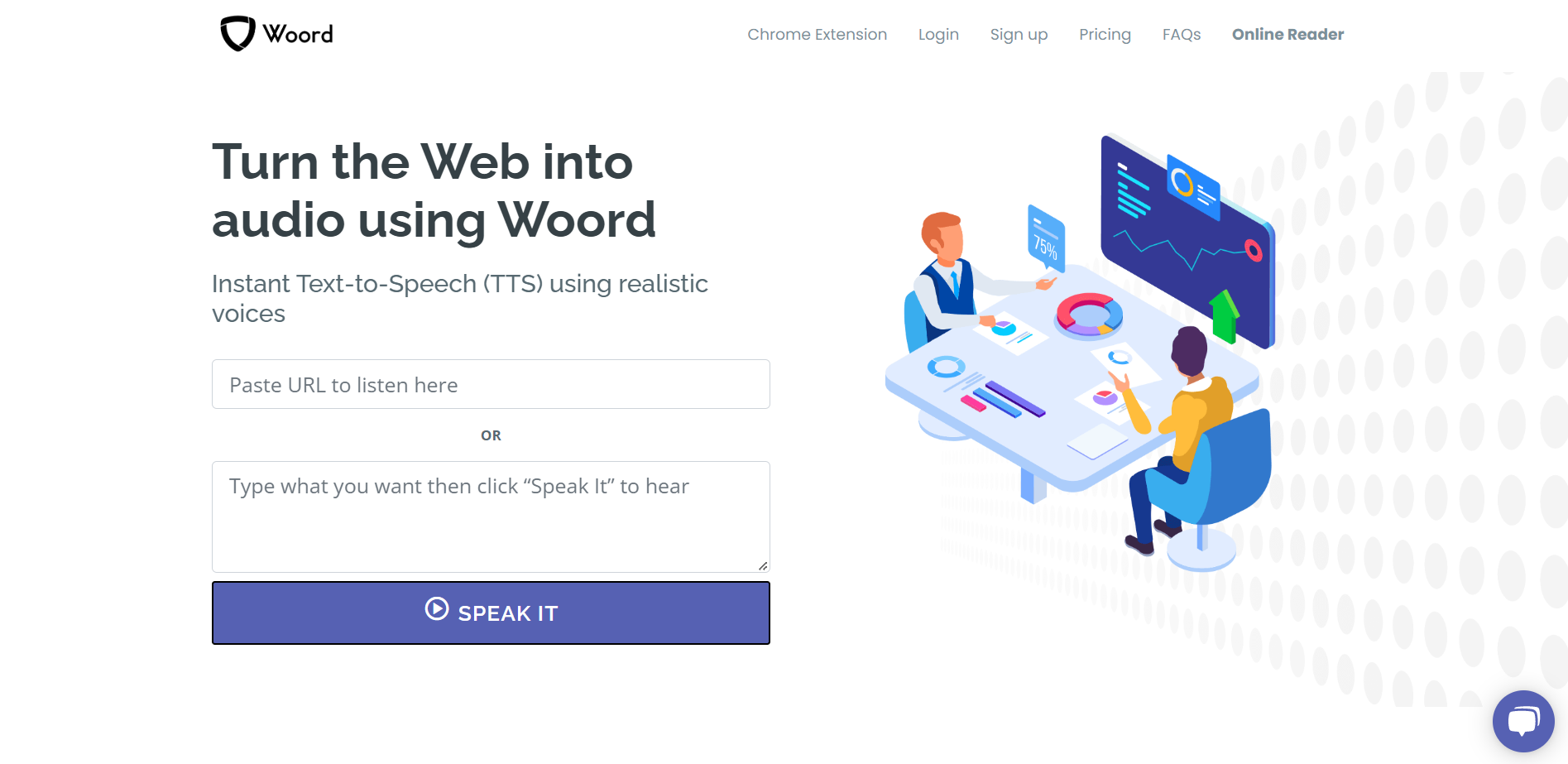 To start the conversion process, either write the text you want to convert or paste the URL of a whole article. Like any good voice-producing program, the Woord voice generator offers a huge selection of unique voices.
It offers a library from which you can select the design, the gender, the language, and even the accent. More than 60 voices speaking in more than 10 languages are available on the platform.
Pros
Reads blog posts aloud

Natural voices and a variety of languages are supported.

APIs and third-party plugins

Excellent for reading documents like PDFs or MS Word files aloud.
Cons
Limited free version

Expensive for casual users
Pricing
You can begin utilizing the platform for free, and a premium subscription begins at $24.99 per month.
Resemble AI is working on several fronts. It can not only help you make voice from text, but it can also help you generate text for advertisements with a simple click of the mouse.
It is an advanced artificial intelligence text-to-speech generator with several business applications. It can produce a personalized voice that can be used as a Google or Alexa voice assistant.
A call center might use the application to clone and tweak the voices of its agents. The API can be used to create voices.
You can record up to 50 samples directly on the site, select from a large pool of voice actors, or upload raw audio without a script.
Pros
A selection of voices to choose from

A brief learning curve

GPT integration is also available on the platform.
Cons
The user interface is somewhat slow.

To make the tool more adaptable, a few extra voices are required.
Pricing
You can try the platform for free, and it has a pay-as-you-go approach that costs $0.006 per second.
NaturalReader is a capable text-to-speech voice generator powered by artificial intelligence that has a specific goal.
It converts any text you input into AI voices that sound like human speech. Additionally, the platform contains OCR technology, which makes it easier to extract text from images and scanned PDFs among other things.
The AI voice generator also provides a useful Chrome plugin that you can download to improve the user experience. Convenience is a key component of the artificial intelligence speech generator known as NaturalReader.
With its help, you can turn any text into a high-quality, clear MP3 file that you can listen to whenever you like. The software can be used for a variety of purposes, including broadcasting, interactive voice response (IVR), and giving narration for YouTube videos.
Pros
20 free minutes of voice production every day

It works well for reading aloud from webpages and blogs.

Supports both Windows and Mac, and also includes an online editor

Lifetime access with all the updates for a single fee
Cons
There may be times when the synthesized voice sounds a little strained.
Pricing
The program is available for free download, and the premium version costs $99.50.
Listnr is a text-to-speech platform that employs cutting-edge voice synthesis technology supported by Artificial Intelligence (AI) and Deep-Learning algorithms to replicate the most human-sounding sounds from your text.
The platform can learn and understand human interactions and subtleties thanks to the use of AI and deep learning, and it can record audio with its own speech style, precise pronunciations, and more than 600 different voices in 75+ different languages.
Listnr distinguishes itself from the other text-to-speech applications on the list with its thorough support for several languages and the ability to utilize distinctive voices. For all of its features, it is very reasonably priced.
Pros
The audio is of high quality and free of any distortion.

It allows persons who are unable to read to get access to information.

It uses Al technology to automate the entire recording process.

Listnr offers a number of accents and voices from which to adapt the results to your specific requirements.

It can convert virtually any text or article into speech.
Cons
The most premium packages are pretty pricey. A beginner podcaster may find the software to be prohibitively expensive.

It is very hard to capture genuine emotion in recordings, therefore the resulting speech may seem robotic.
Pricing
The pricing of the platform starts from $4/month.
Conclusion
That much voice-generating AI software is a lot. As a last thought, it is now feasible to create lifelike voices using the most recent advances in AI. The AI does not just read your content aloud.
Instead, it infuses the text with feelings, tone, and organic breaks. You can significantly reduce the cost and time of voiceovers by using these technologies.
Additionally, they can help you be more creative by bringing stories and other written materials to life. You can select the tools depending on your needs and requirements because each platform has its own features and cost.