Listening to books rather than reading them has become the new standard. You are correct. People are so busy with their lives, careers, and families that they rarely have time to read books or blogs.
Audiobooks and podcasts are quite popular these days and have become part of a wider trend in the audio business. Particularly podcasters, since an increasing number of commuters, prefer to listen to a podcast than read a news piece.
These days, there is a comparatively huge number of audio content available. The absence of sufficient resources is one issue, nevertheless, that restricts the creativity of artists in this field.
Despite having technological resources, some people have trouble using digital resources, or the other way around. Here is Listnr. Using this text-to-speech program, you can produce voiceovers from texts.
In this post, we'll go into Listnr in detail, including its features, what you can do with it, and much more.
So, what is Listnr?
Listnr is a podcasting service that converts text to audio. It offers individualized audio material based on each listener's habits and tastes, as well as radio, podcasts, music, and news.
It allows you to easily create, manage, and broadcast your podcast so that listeners can hear what you have to say on any topic. Listnr allows you to create several programs for different podcasts and manage them all in one place.
Listnr can also convert your blog posts or other text into podcasts or voiceovers with human-sounding voices. It should be used by both commercial podcasters and independent freelancers who want to generate money from their work through advertising.
Al allows users to convert text to speech. Listnr also allows you to share and convert your audio material everywhere, thanks to commercial broadcasting rights on sites such as Apple and Google Podcasts, Spotify, and other apps.
You can quickly create and upload intriguing podcasts based on the content on your website. Listnr allows users to produce podcasts in over 17 different languages without any recording.
It employs Al to translate blog entries into a number of languages and dialects. It supports over 600+ voices in 75+ languages, including English (US, UK, and Indian), German, and Spanish in both male and female versions, allowing you to diversify your material.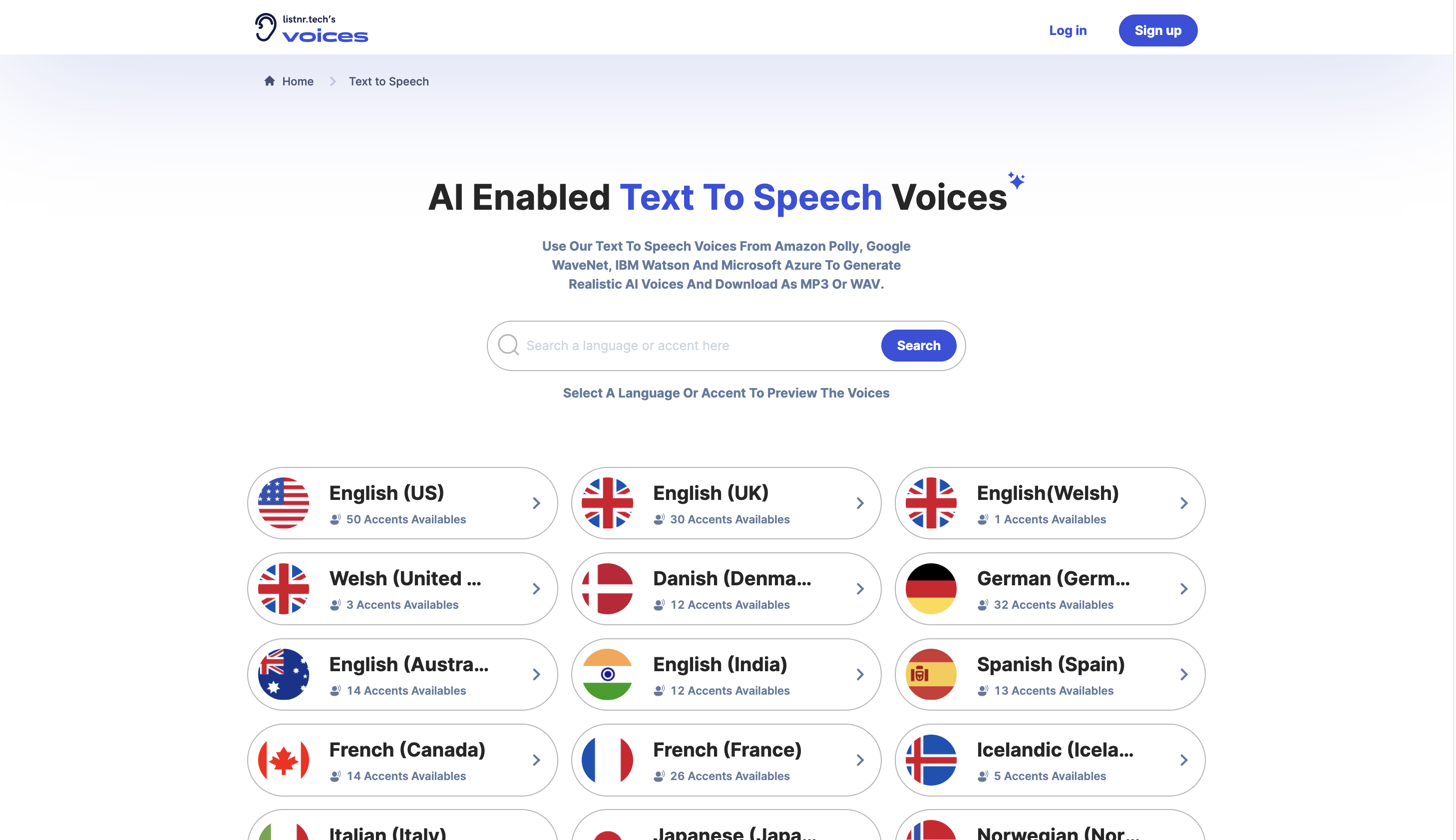 Listnr makes use of APIs from some of the industry's leading providers, including Google, Amazon, and IBM. In addition, a powerful toolbox powered by artificial intelligence is included to aid users with voiceovers.
One of the finest features of Listnr is that you can either utilize its voice synthesis engine to convert your text into audio or upload your own audio.
Features
Selection of Voices
Listnr offers hundreds of human-sounding voices in 22 different languages. Based on their names, speech patterns, accents, and voice-over styles, you can select the voices that best suit your preference and brand.
Depending on your goals, you can freely select the voice-over using these options. If you want to produce an instructive video, you might want to use a more official voice.
If you need it for a podcast, on the other hand, you can go for a more casual one. Listnr puts all of your resources at your disposal, depending on what you require.
Services for Podcasting
This allows you to publish your podcast on all of the main hosting platforms, including Spotify, Google Podcasts, Transistor, and many others, giving you a plethora of alternatives for reaching your target audience.
Insert into a blog or website
You can use Listnr to embed a link to your podcast or video on your website or blog.
One-click conversions have been simplified.
Listnr converts your blog into a podcast using Google WaveNet TTs. You have the option of selecting information from a variety of websites or just creating your own content on the dashboard, downloading your audio file, and sharing it wherever you wish.
Social Media Sharing
When you convert text to audio, Listnr allows you to share your voice-over on any social media platform, including Twitter, Facebook, Instagram, and many more.
As you are surely aware, social media marketing is one of the finest methods to stay in the business. It is also the most easily obtained. If you want to control the digital marketing field with podcasts, start by sharing them on your social media profiles.
RSS Fees
Listnr has an automated RSS feed that you can use to create a podcast. Because of this feature, your account will be updated whenever you add new material. It will handle the appropriate sign-in processes for you.
As previously indicated, podcasters are Listnr's target market. As a result, you can host your podcast on this platform in addition to having an automated RSS feed. You can broadcast your podcast on platforms other than Listnr, such as Spotify, Translator, and Google Podcasts.
How you can create your podcast with Listnr?
Creating a podcast is as simple as following a few steps. Here's how.
Log in to your Listnr account. Make an account if you don't already have one.
You will land on the dashboard page.
You will now be redirected to the Podcast Gallery. Here, select Create a new podcast or import an existing podcast. Click the Start a Podcast button on the Dashboard page and create a show by filling in the details of your podcast.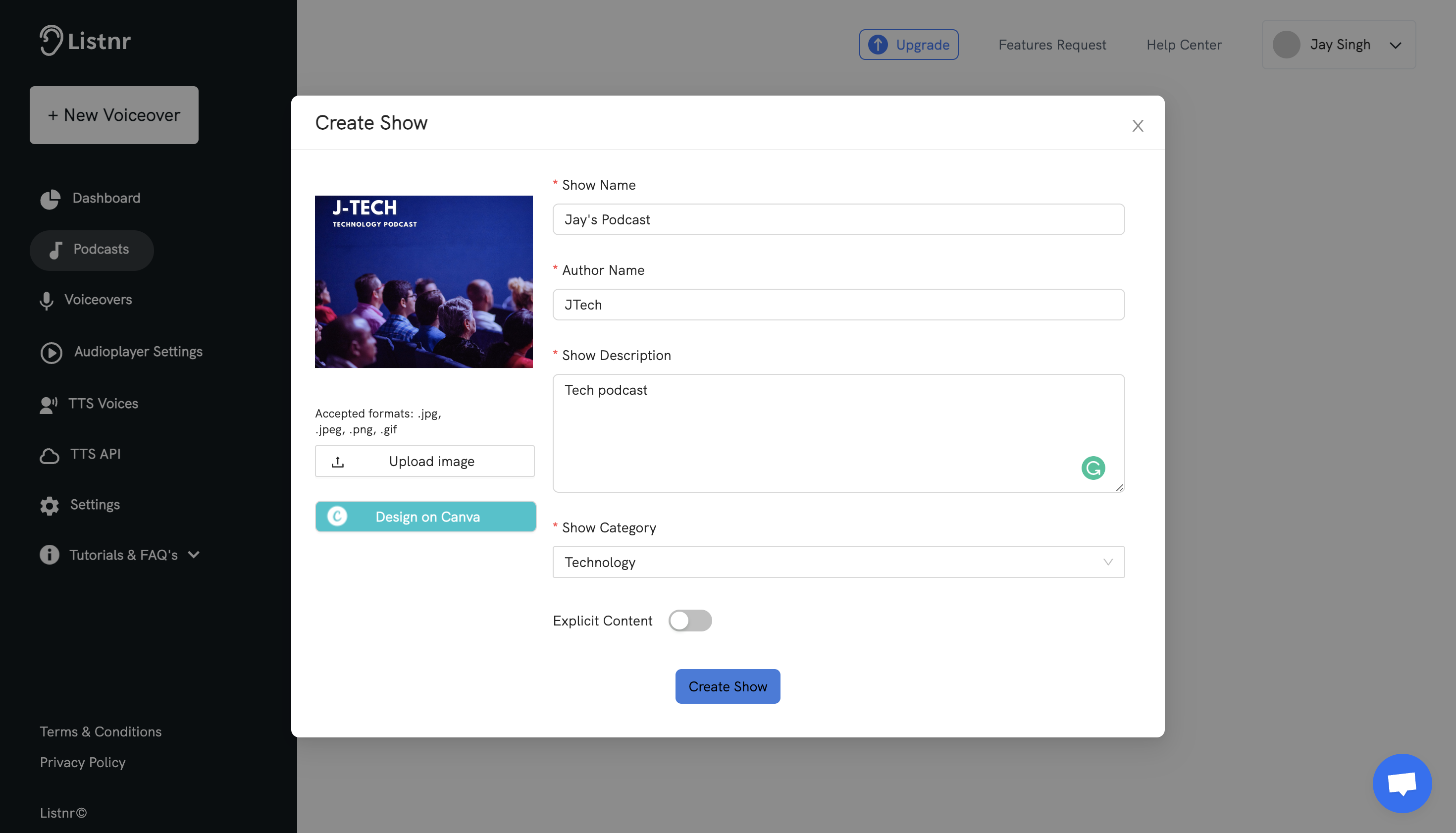 Now that you've arrived at the podcast dashboard, it's time to start creating episodes.
You can simply submit your episode or make it using the editor.
Using either option, enter your episode script into the Show Editor box and adjust its aspects to your liking. Listnr lets you customize the voice emphasis, volume, pace, and pitch.
Now your first episode is ready.
Pricing
You can try the platform for free and premium pricing starts from $4/month.
Pros
Listnr offers a number of accents and voices from which to adapt the results to your specific requirements.

Using Al technology automates the entire recording process.

The audio is of high quality and free of any distortion.

It can convert virtually any text or article into speech.

It allows persons who are unable to read to get access to information.
Cons
Some conversions are unsuccessful.

It is very hard to capture genuine emotion in recordings, therefore the resulting speech may seem robotic.

The most premium packages are pretty pricey. A beginner podcaster may find the software to be prohibitively expensive.
Conclusion
In conclusion, one of the most well-regarded text-to-speech apps on the market right now is Listnr. Its target audience is podcast producers, but that doesn't mean you can't make the most of it.
In addition to its enormous market, there are other tools you can employ, most notably the automated RSS feed. The 'go' signal to attempt Listnr is provided by this article if you haven't already.