The automated translation of text from one language to another has long been a goal of computer science. Machine translation has only become a feasible technology in broad usage for the past 10 years.
Natural language processing, artificial intelligence, and computer power advancements all help to make this technology more helpful. Machine translation is the process of translating text from one language (the source) to another (the destination) without the need for human intervention.
The meaning of a text in the original (source) language must be fully restored in the target language, i.e. the translation, in order to process any translation, whether human or automated. While it appears simple on the surface, it is significantly more complicated. The translation is more than just a word-for-word replacement.
A translator must be able to evaluate and analyze all of the text's aspects, as well as understand how each word influences the others. This necessitates considerable knowledge of the source and target languages' grammar, syntax (sentence structure), semantics (meanings), and other aspects, as well as familiarity with each local locale.
DeepL Translator does the same function. In this post, we'll take a closer look at DeepL Translator, including how it works, its benefits, and more.
DeepL is a cutting-edge free translation service that uses artificial intelligence techniques based on deep learning, a branch of AI that aims to imitate learning models in ways that are comparable to those of the human brain.
It is a Cologne-based German firm that develops artificial intelligence (AI) technologies for language and communication. DeepL offers both a free machine translation tool that allows common internet users to translate up to 5,000 characters per translation in 26 languages and a commercial version, Deepl Pro, that is utilized by professional translators, multinational corporations, and developers.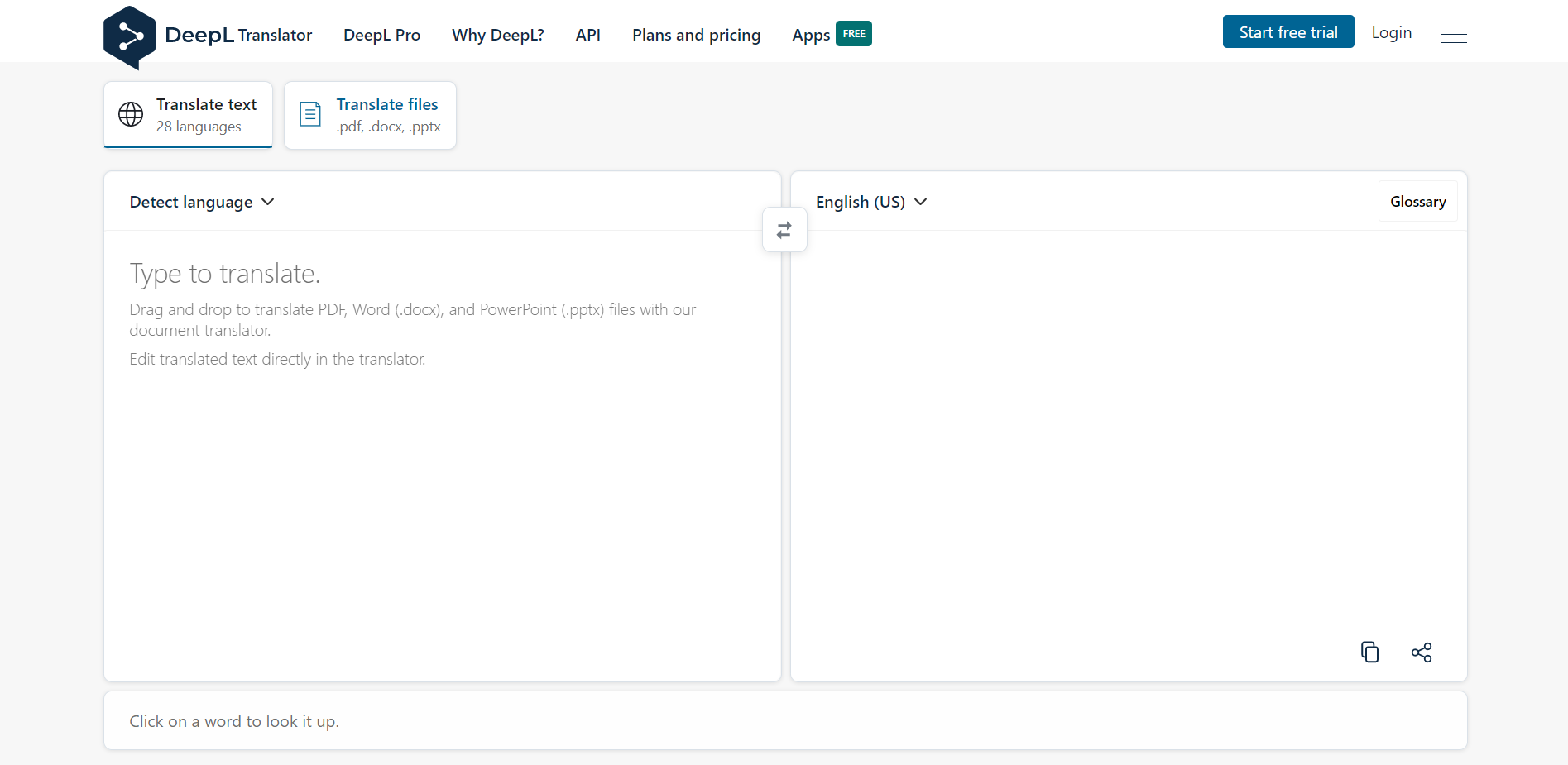 In self-conducted blind tests, the corporation claims to have surpassed its competitors. Google, Amazon, Microsoft, and Facebook are among the contenders.
DeepL provides translations that read naturally, akin to those produced by a human translator since it employs more advanced technology than Google. One of the disadvantages of this translation service is that it cannot currently translate an entire page from the web browser.
How does DeepL Translator work?
DeepL Translator, like other translation systems, uses artificial neural networks to translate texts. These networks have been trained on millions of translated documents. However, researchers have been able to make significant advances to the entire neural network approach, primarily in four areas.
The architecture of a network
Most publicly accessible translation systems are known to be direct derivatives of the Transformer design. Of course, aspects of this design can be found in DeepL's neural networks, such as attention processes.
However, there are substantial changes in network architecture that lead to a large improvement in translation quality above the current state of the art in public research.
When they internally train and compare topologies with the most well-known Transformer architectures on the same data, they can clearly detect the variations in network architecture quality.
Data for the training
The majority of their immediate rivals are large tech firms with a long history of producing web crawlers. As a result, they have a significant edge in terms of training data.
DeepL, on the other hand, places a premium on the focused gathering of specialized training data that aids the network in improving translation quality. They have built specific crawlers that automatically search and review translations on the internet, among other things, for this purpose.
Methodology of training
The "supervised learning" approach is commonly used in public research to build training networks. Various samples are repeatedly displayed to the network. The network compares its own translations to the translations from the training data on a regular basis.
If there are any differences, the network's weights are modified to compensate. When training the neural networks, they also apply approaches from other fields of machine learning. This also enables us to make important advancements.
Size of the network
Meanwhile, they use billions of parameters to train translation networks. These networks are so big that they can only be trained on very large dedicated computing clusters in a distributed approach.
However, we place a high value on the fact that the network parameters are utilized effectively in their study. This is how, even with our smaller and quicker networks, they were able to attain equivalent translation quality. As a result, consumers of their free service can expect very excellent translation quality.
DeepL Translator Benefits
Accuracy
DeepL's greatest strength is undoubtedly its accuracy; when compared to the competition, DeepL surpassed them by a factor of three. DeepL is a translation service that uses superior AI (artificial intelligence) technology and offers a wide range of customization possibilities.
DeepL, for example, suggests alternate words or phrases for a more natural and nuanced translation. Then you just click and select the one that sounds the greatest to you. In languages where this is important, such as German, the program even offers formal and casual voices for you to pick from.
You can also make your own dictionary to define the meanings of certain terms and phrases for your brand or project. DeepL also has a built-in dictionary, allowing you to look up terms and learn the translation for yourself.
Security
You don't have to worry about sensitive data being stored because all DeepL texts are erased immediately after translation. DeepL also has end-to-end data encryption and is completely compliant with EU data protection standards for further security.
Scalability
All DeepL premium subscriptions include limitless text translations and the ability to collaborate on translations with two or more people. You can also translate a limited number of files up to 10MB in size (depending on your price plan), including HTML pages. Finally, you can link with your CAT tool, like Trados Studio, memoQ, or Across, using DeepL's top price levels (Advanced and Ultimate).
Is it possible to use DeepL to translate a whole website?
DeepL is one of the most popular text translators because of its nuance and accuracy, as we've already stated. This is why you can rely on it to translate certain areas of your website, like an 'about' page or individual blog entries, flawlessly.
However, there isn't a DeepL tool that can translate your entire website for you. In this case, a third-party solution is required. You'd have to manually copy and paste your whole website into the DeepL translator if you just used DeepL. The translation would then need to be copied and pasted back into your website. This isn't viable for a variety of reasons, including the fact that it would take a long time.
Furthermore, there's a considerable chance of human mistakes because you could miss buttons, banners, and other little text snippets that need to be translated.
DeepL offers a translation API that allows your website to communicate with DeepL's translator. Essentially, this sends the content of your website to DeepL's translation program. DeepL gives you with the translated version of your material once the translation is complete.
Pros
When translating texts, the DeepL algorithm uses artificial intelligence to mimic human intellect. DeepL Translation, according to different studies, appears to provide more natural translations, including subtleties that Google Translate sometimes misses.

DeepL uses user input and ratings, as well as machine learning technologies, to enhance the quality of translations.

It provides a free version of its program that anybody can use. They have subscription-based solutions accessible to take benefit of their entire set of capabilities.
Cons
One drawback of DeepL is the restricted number of languages that can be translated. DeepL can now translate 11 languages, the bulk of which being European languages. Google Translate, on the other hand, supports over 100 languages.

Despite the fact that the commercial version of DeepL claims that they will not save any of your text, crucial enterprise data is still processed through their servers. DeepL will save your messages for a length of time if you use the free version in order to develop and upgrade their algorithm.

DeepL gives you a bigger number of synonyms per word, but it ignores critical criteria like your company's needs, culture, and target audience. As a result, translations might be obviously incorrect at times.
Pricing
You can start utilizing the platform's free edition from anywhere in the world. The pro edition is only available in a few countries; for more information, see the price page.
Conclusion
In terms of quality and accuracy, automatic translation software has gone a long way. It does, however, have certain restrictions. Deep L Translate should never be used alone; it should always be used in conjunction with a professional translation.
When employing online software translation tools, not only might there be quality difficulties, but there are also privacy concerns. Despite the fact that the commercial edition of Deep L Translate deletes your data, it remains on their servers for a period of time.