Artificial Intelligence (AI) was originally thought to be a faraway dream, a technology for the future, but that is no longer the case.
What was once a research topic is now exploding in the real world. AI is now found in a variety of places, including your workplace, school, banking, hospitals, and even your phone.
They're the eyes of self-driving vehicles, Siri's and Alexa's voices, the minds behind weather forecasting, the hands behind robotic-assisted surgery, and more.
Artificial intelligence (AI) is becoming a commonplace feature of modern life. In the last several years, AI has emerged as a major player in a wide range of IT technologies.
Finally, the neural network is used by AI to learn new things.
So today we will learn about Neural Networks, how it works, their types, applications, and a lot more.
What is Neural Network?
In machine learning, a neural network is a software-programmed network of artificial neurons. It tries to imitate the human brain by having numerous layers of "neurons," which are similar to the neurons in our brain.
The first layer of neurons will accept photos, video, sound, text, and other inputs. This data flows through all of the levels, with one layer's output flowing into the next. This is critical for the most difficult tasks, such as natural language processing for machine learning.
However, in other cases, aiming for system compression to reduce model size while maintaining accuracy and efficiency is preferable. Pruning a neural network is a compression method that includes removing weights from a learned model. Consider an artificial intelligence neural network that has been trained to distinguish people from animals.
The picture will be divided into bright and dark parts by the first layer of neurons. This data will be passed into the following layer, which will determine where the edges are.
The next layer will try to recognize the forms that the edges' combination has generated. According to the data it was trained on, the data will pass through numerous layers in a similar manner to determine if the image you presented is of a human or an animal.
When data is given into a neural network, it begins to process it. After then, the data is processed via its levels to get the desired result. A neural network is a machine that learns from structured input and displays the results. There are three types of learning that can take place in neural networks:
Supervised Learning – Inputs and outputs are given to the algorithms using labeled data. After being taught how to analyze data, they forecast the intended outcome.

Unsupervised Learning – An ANN learns without the assistance of a human. There is no labeled data, and the output is decided by patterns found in the output data.

Reinforcement Learning is when a network learns from the feedback it receives.
How do Neural networks work?
Artificial neurons are used in neural networks, which are sophisticated systems. The artificial neurons, also known as perceptrons, are made up of the following components:
Input

Weight

Bias

Activation Function

Output
The layers of neurons that make up neural networks. A neural network consists of three layers:
Input layer

Hidden layer

Output layer
Data in the form of a numeric value is sent to the input layer. The network's hidden layers are the ones that do the most calculations. The output layer, last but not least, forecasts the result. Neurons dominate one another in a neural network. Neurons are used to construct each layer. Data is routed to the hidden layer after the input layer gets it.
Weights are applied to each input. Within the hidden layers of a neural network, the weight is a value that translates incoming data. Weights function by multiplying input data by the weight value in the input layer.
It then starts the first hidden layer's value. The input data is transformed and passed to the other layer via the hidden layers. The output layer is responsible for generating the final result. The inputs and weights are multiplied, and the result is delivered to the hidden layer neurons as a sum. Each neuron is given a bias. To calculate the total, each neuron adds the inputs it receives.
After that, the value passes via the activation function. The result of the activation function determines whether or not a neuron is activated. When a neuron is active, it sends information to the other layers. The data is created in the network till the neuron reaches the output layer using this method. Forward propagation is another term for this.
The technique of feeding data into an input node and obtaining the output through an output node is known as feed-forward propagation. When the input data is accepted by the hidden layer, feed-forward propagation occurs. It is processed according to the activation function and then passed to the output.
The outcome is projected by the neuron in the output layer with the highest probability. Backpropagation occurs when the output is incorrect. Weights are initialized to each input while creating a neural network. Backpropagation is the process of readjusting the weights of each input to reduce mistakes and provide a more accurate output.
Types of Neural Network
1. Perceptron
The Minsky-Papert perceptron model is one of the simplest and oldest neuron models. It is the smallest unit of a neural network that performs certain calculations in order to discover characteristics or business intelligence in incoming data. It takes weighted inputs and applies the activation function to get the final result. TLU (threshold logic unit) is another name for perceptron.
Perceptron is a binary classifier that is a supervised learning system that divides data into two groups. Logic Gates such as AND, OR, and NAND can be implemented with perceptrons.
2. Feed-Forward Neural Network
The most basic version of neural networks, in which input data flows exclusively in one direction, passes via artificial neural nodes and exiting through output nodes. Input and output layers are present in places where hidden layers may or may not be present. They can be characterized as either a single-layered or multi-layered feed-forward neural network based on this.
The number of layers used is determined by the function's complexity. It only propagates ahead in one direction and does not propagate backward. Here, the weights remain constant. Inputs are multiplied by weights to feed an activation function. A classification activation function or a step activation function is utilized to do this.
3. Multi-layer perceptron
An introduction to sophisticated neural nets, in which input data is routed via many layers of artificial neurons. It is a completely linked neural network, since every node is connected to all neurons in the following layer. Multiple hidden layers, i.e., at least three or more layers, are present in the input and output layers.
It possesses bidirectional propagation, which means it can propagate both forward and backward. Inputs are multiplied by weights and sent to the activation function, where they are changed via backpropagation to minimize the loss.
Weights are machine-learned values from Neural Networks, to put it simply. Depending on the disparity between expected outputs and training inputs, they self-adjust. Softmax is used as an output layer activation function after nonlinear activation functions.
4. Convolutional Neural Network
In contrast to the traditional two-dimensional array, a convolution neural network has a three-dimensional configuration of neurons. The first layer is known as a convolutional layer. Each neuron in the convolutional layer only processes information from a limited portion of the visual field. Like a filter, input features are taken in batch mode.
The network understands pictures in sections and can perform these actions numerous times to finish the entire image processing.
The picture is converted from RGB or HSI to greyscale during processing. Further variations in pixel value will aid in detecting edges, and pictures can be sorted into several groups. Unidirectional propagation occurs when a CNN contains one or more convolutional layers followed by pooling, and bidirectional propagation occurs when the output of the convolution layer is sent to a fully connected neural network for image classification.
To extract certain elements of an image, filters are utilized. In MLP, the inputs are weighted and supplied into the activation function. RELU is used in convolution, while MLP employs a nonlinear activation function followed by softmax. In picture and video recognition, semantic parsing, and paraphrase detection, convolutional neural networks produce excellent results.
5. Radial Bias Network
An input vector is followed by a layer of RBF neurons and an output layer with one node for each category in a Radial Basis Function Network. The input is classified by comparing it against data points from the training set, where each neuron maintains a prototype. This is one of the training set's examples.
Each neuron calculates the Euclidean distance between the input and its prototype when a fresh input vector [the n-dimensional vector you are trying to categorize] has to be classed. If we have two classes, Class A and Class B, the new input to be categorized is more similar to class A prototypes than class B prototypes.
As a result, it might be labeled or categorized as class A.
6. Recurrent Neural Network
Recurrent Neural Networks are designed to save a layer's output and then feed it back into the input to assist forecast the layer's outcome. A feed-forward neural network is usually the initial layer, followed by a recurrent neural network layer, where a memory function remembers part of the information it had in the previous time step.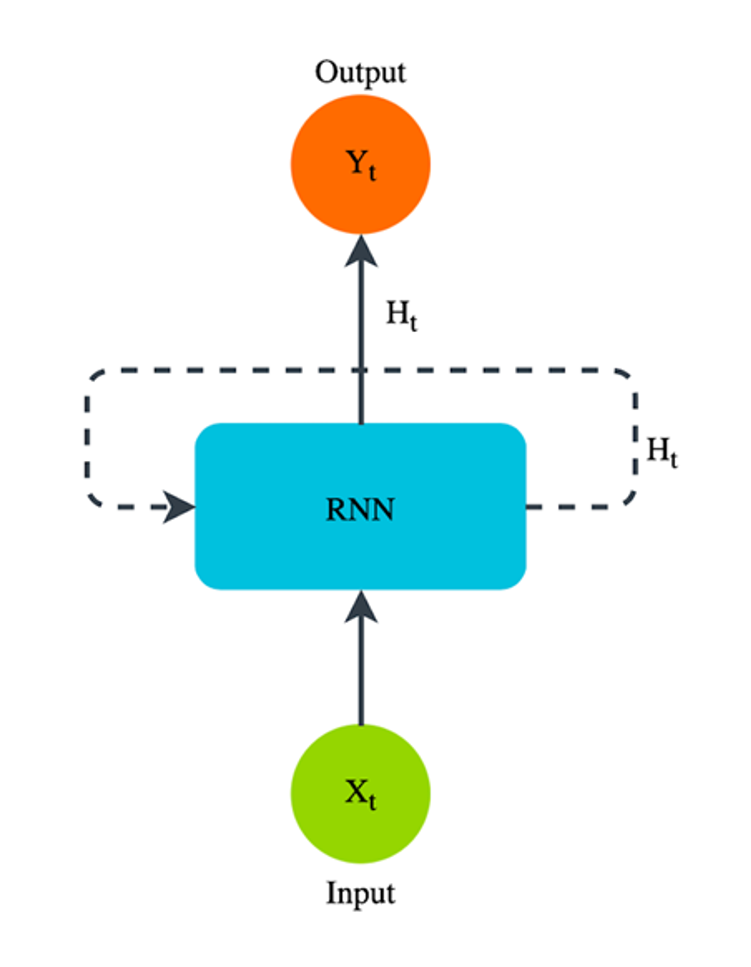 This scenario uses forward propagation. It saves data that will be needed in the future. In the event that the prediction is incorrect, the learning rate is used to make minor adjustments. As a result, as the backpropagation progresses, it will become increasingly accurate.
Applications
Neural networks are used to handle data problems in a variety of disciplines; some examples are shown below.
Facial Recognization – Facial Recognition Solutions serve as effective surveillance systems. Recognition systems relate digital photos to human faces. They are used in offices for selective entry. Thus, the systems verify a human face and compare it to a list of IDs stored in its database.

Stock Prediction – Investments are exposed to market risks. It is practically hard to foresee future developments in the extremely volatile stock market. Before neural networks, the constantly shifting bullish and bearish phases were unpredictable. But, what altered everything? Of course, we're talking about neural networks… A Multilayer Perceptron MLP (a type of feedforward artificial intelligence system) is used to create a successful stock forecast in real-time.

Social Media – Regardless of how corny it may sound, social media has changed the mundane path of existence. The behavior of social media users is studied using Artificial Neural Networks. For competitive analysis, data supplied daily via virtual interactions are piled up and examined. The actions of social media users are replicated by neural networks. Individuals' behaviors can be connected to people's spending patterns once data is analyzed via social media networks. Data from social media applications is mined using Multilayer Perceptron ANN.

Healthcare – Individuals in today's world are making use of technology's benefits in the healthcare industry. In the healthcare business, Convolutional Neural Networks are used for X-ray detection, CT scans, and ultrasound. The medical imaging data received from the aforementioned tests are evaluated and appraised using neural network models, as CNN is used in image processing. In the development of voice recognition systems, the recurrent neural network (RNN) is also used.

Weather Report – Prior to the implementation of artificial intelligence, the meteorological department's projections were never precise. Weather forecasting is done largely to predict the weather conditions that will occur in the future. Weather predictions are being utilized to anticipate the likelihood of natural disasters in the modern period. Weather forecasting is done using multilayer perceptron (MLP), convolutional neural networks (CNN), and recurrent neural networks (RNN).

Defense – Logistics, armed assault analysis, and item location all employ neural networks. They're also employed in air and sea patrols, as well as to manage autonomous drones. Artificial intelligence is giving the defense industry the much-needed boost it needs to scale up its technology. For detecting the existence of underwater mines, Convolutional Neural Networks (CNN) are used.
Advantages
Even if a few neurons in a neural network aren't functioning properly, the neural networks will still generate outputs.

Neural networks have the ability to learn in real-time and adapt to their changing settings.

Neural networks can learn to do a variety of tasks. To provide the correct outcome based on the data provided.

Neural networks have the strength and capability to handle several tasks at the same time.
Disadvantages
Neural networks are used to solve problems. It does not disclose the explanation behind "why and how" it made the judgments it did due to the intricacy of the networks. As a result, network trust may be eroded.

A neural network's components are interdependent on one another. That is to say, neural networks demand (or are extremely reliant on) computers with sufficient computing power.

A neural network process has no specific rule (or rule of thumb). In a trial-and-error technique, a correct network structure is established by attempting the optimal network. It's a procedure that requires a lot of fine-tuning.
Conclusion
The field of neural networks is rapidly expanding. It is critical to learn and comprehend the concepts in this sector in order to be able to deal with them.
The many types of neural networks have been covered in this article. You can use neural networks to tackle data problems in other fields if you learn more about this discipline.